OK, I'm clearly not that awake because I was just trying to figure out if it was really day 11. It was. This is the next morning because I was out having dinner with my friend Suzuki-san. We went back and forth about the venue but more on that at the end.
We had to go across Tokyo this morning because my sister got us tickets for TeamLab Planets. We saw the old big venue and this is a smaller one which is about to end its run as well. I'd try to make it if you can. BE FOREWARNED: you will be wading in almost knee-high water. They will loan you shorts but you're barefoot through most of the displays.
Anyway, we headed out especially early to get breakfast and we usually avoid the morning rush hour. Not so lucky today. However, I think a lot of people are telecommuting because nothing is as crowded as it used to be.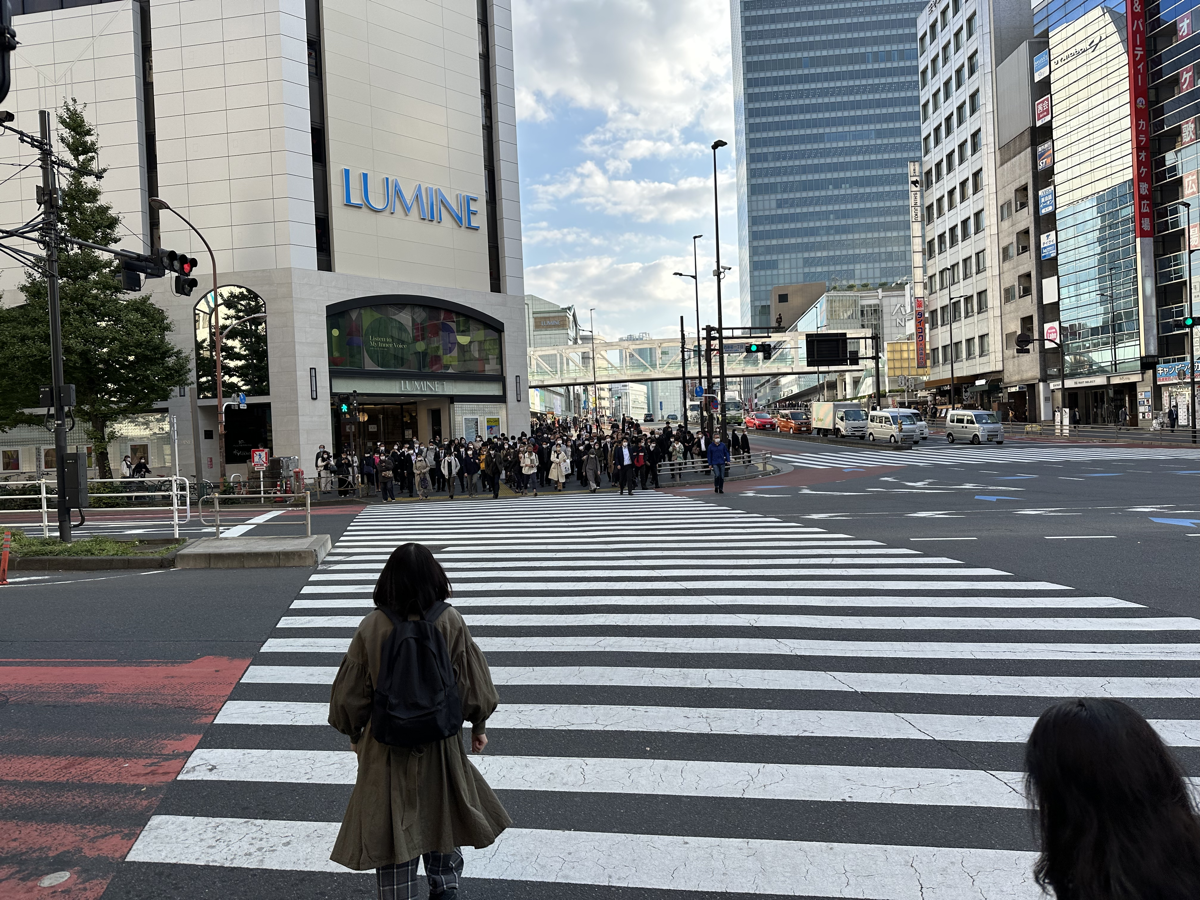 We went to a musubi place that my sister knew and here's the breakfast set. No coffee! It was good but nothing special.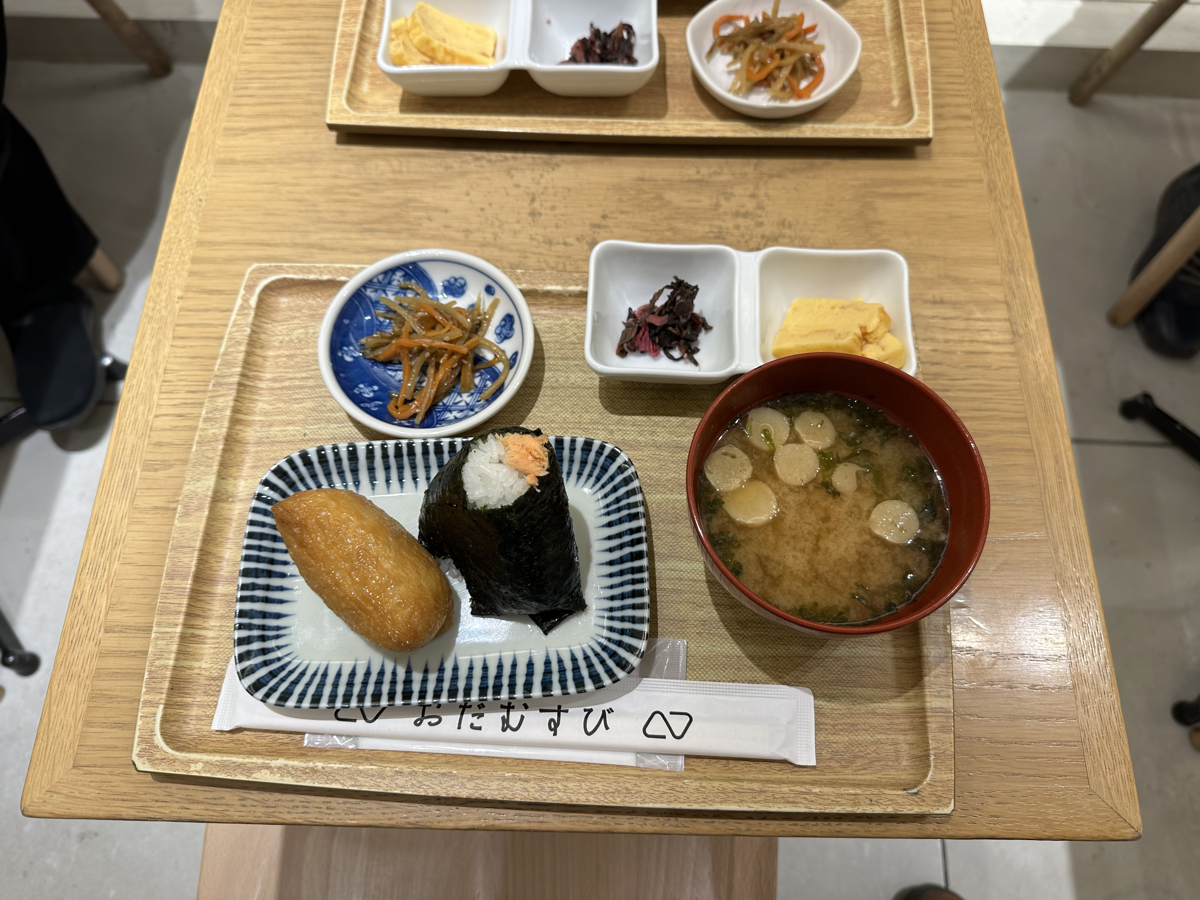 Then it was off to Shin-Toyosu station. Two subway trains and one monorail ride later, we were at the venue which mostly just looks like a warehouse from the outside.
The first thing you do after you make it in is take off your shoes and socks and roll up your pants. Then it's up a sloped hallway where water is cascading down!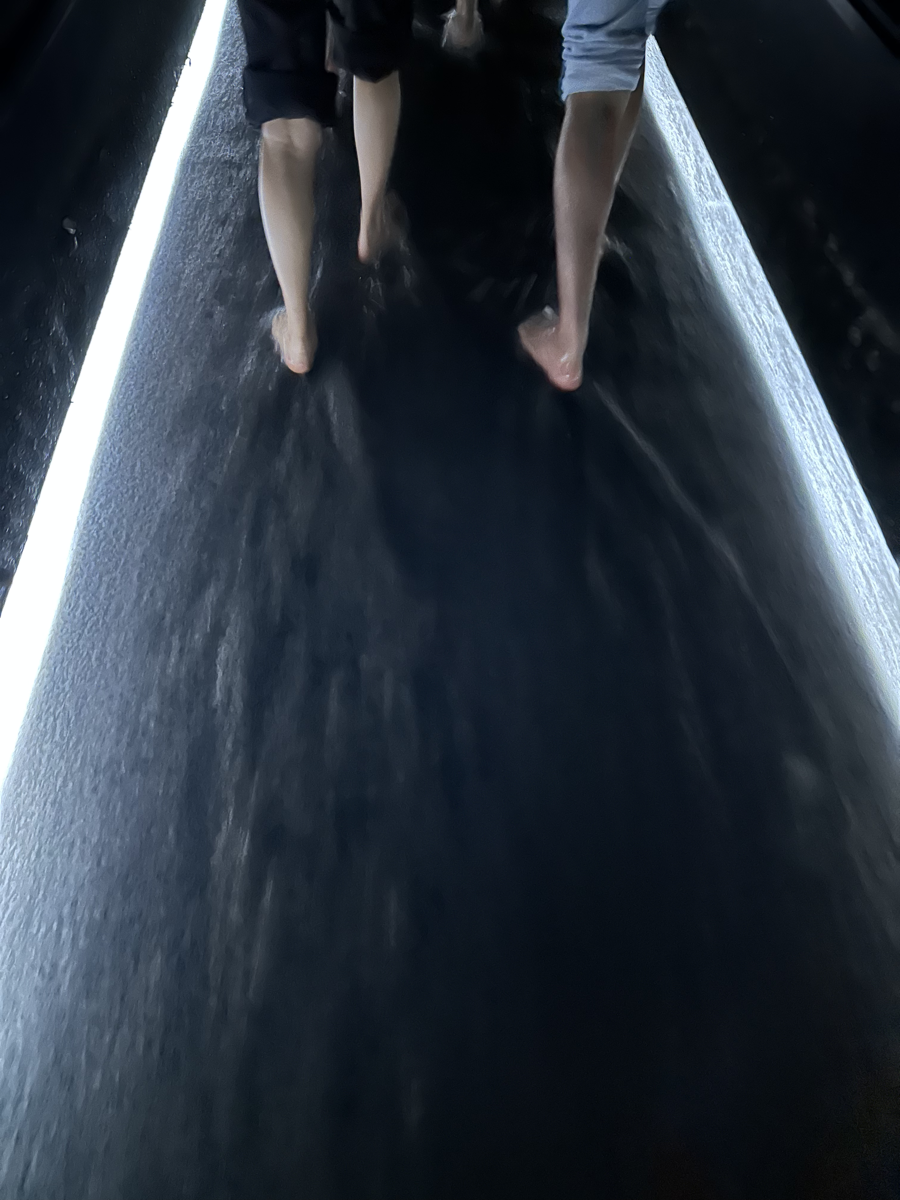 Then it's into a room with strings of lights & mirrors. This is similar to something we saw in the other TeamLabs Planets. You can download an app and control the effects.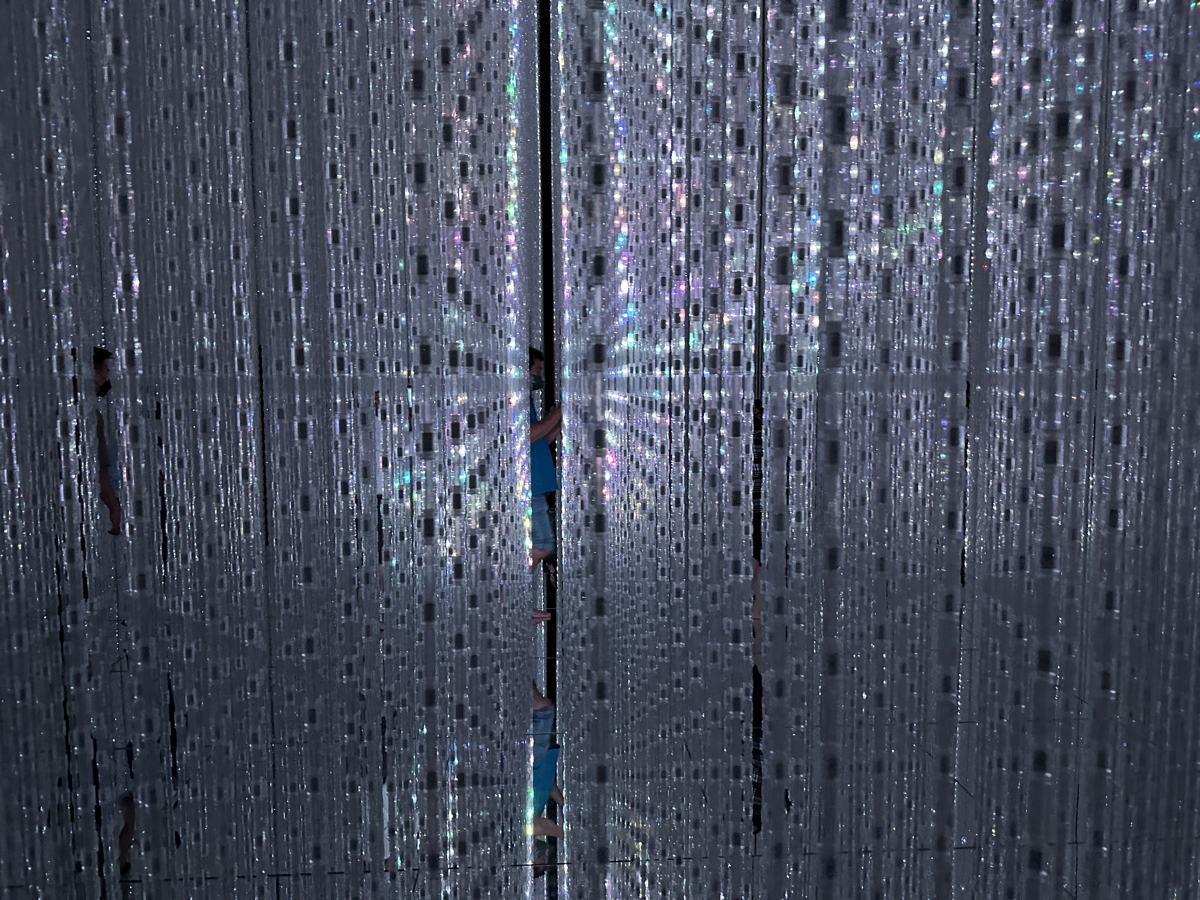 Then it's a hallway and room of knee-deep water. The room has a projected light show onto the water's surface.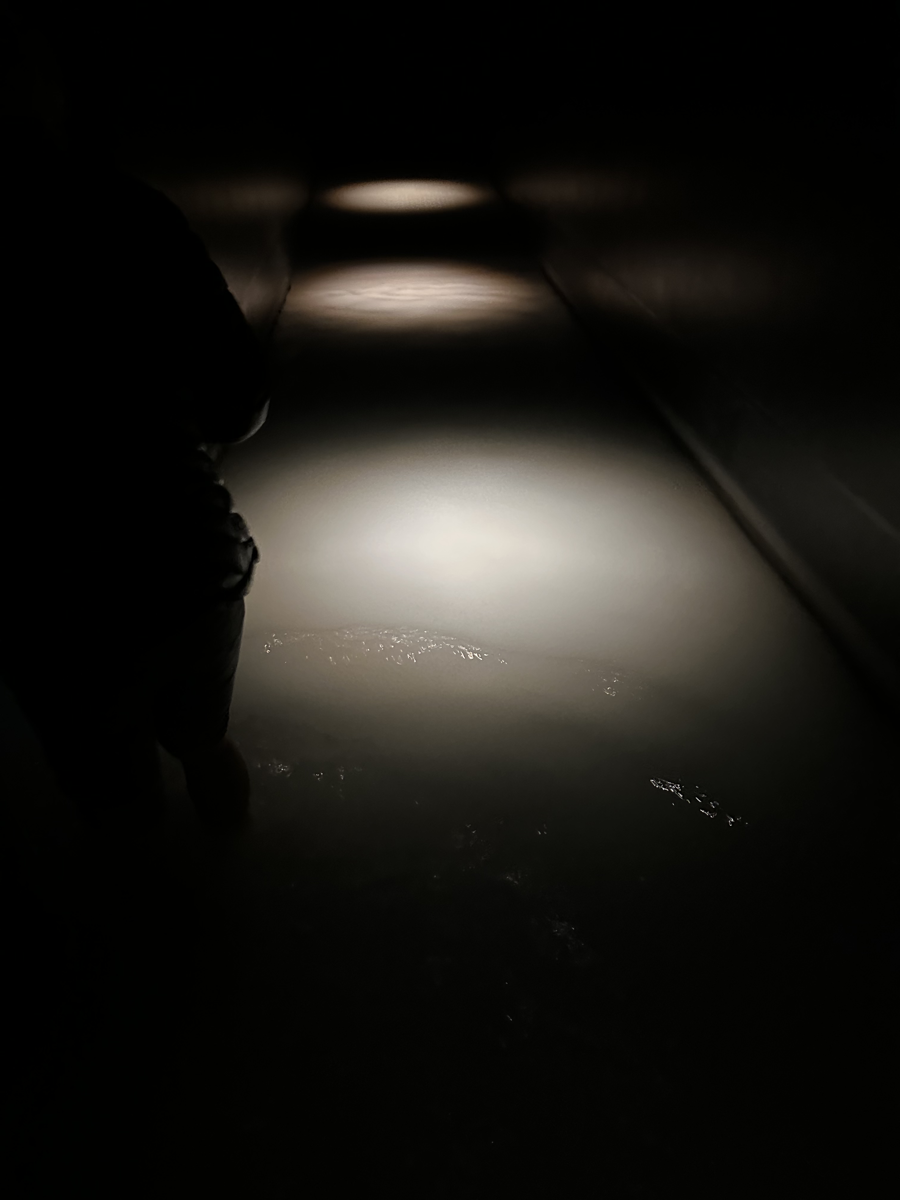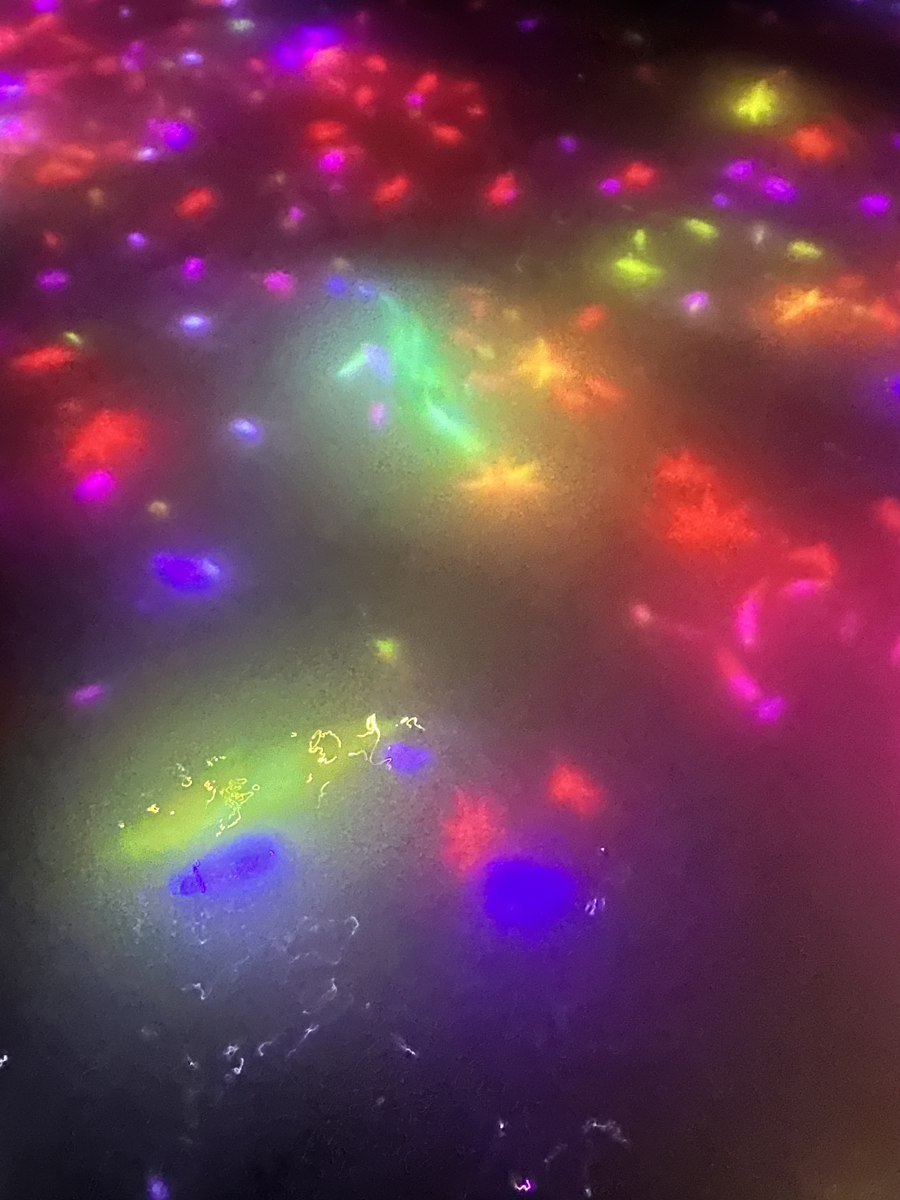 If the projected koi get near you, they split into the leaves. After that it was the vertigo room. It was a dome with a mirrored floor with flowers projected onto the ceiling. It looked best if you lay down on the floor. Walking through it, though, made me a little dizzy.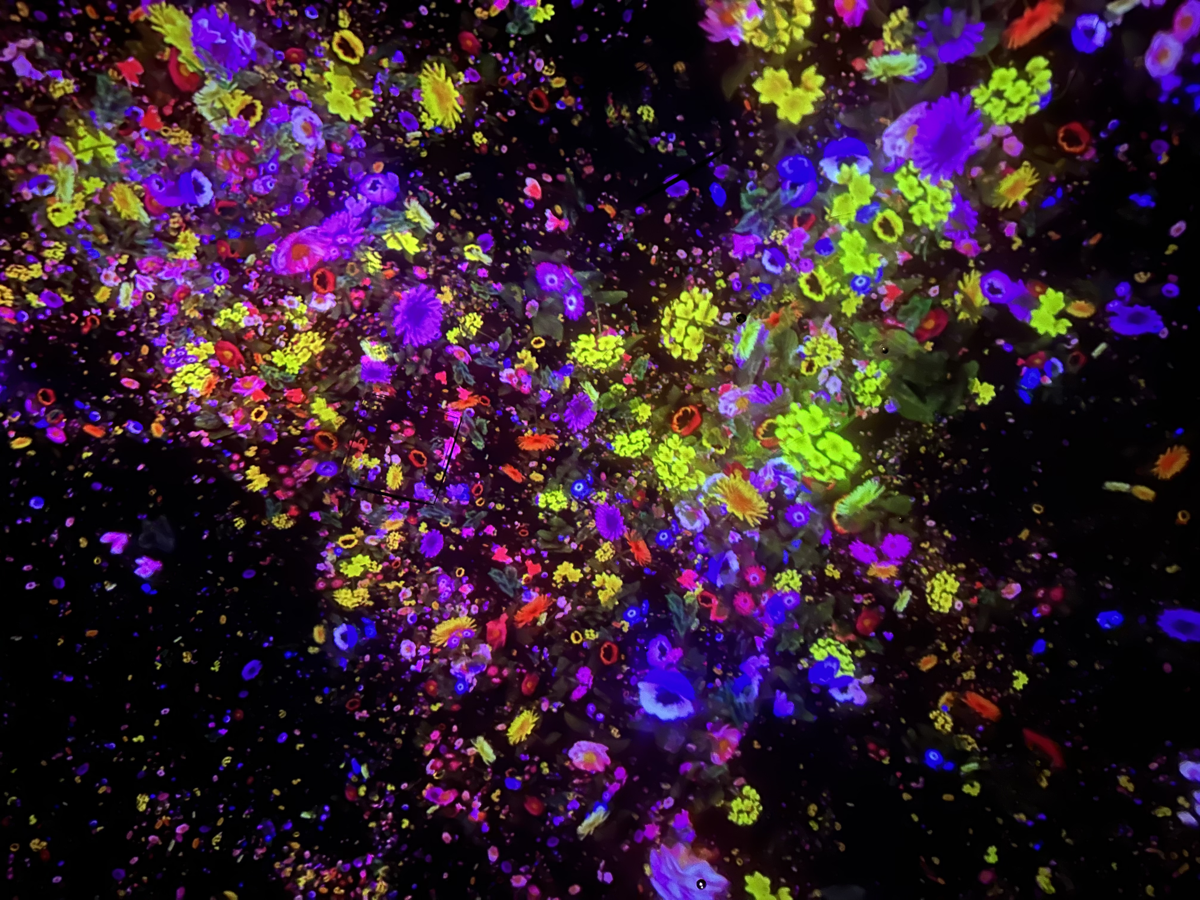 After that, there were two gardens. One was orchids suspended from the ceiling that would move up and down over a mirrored floor.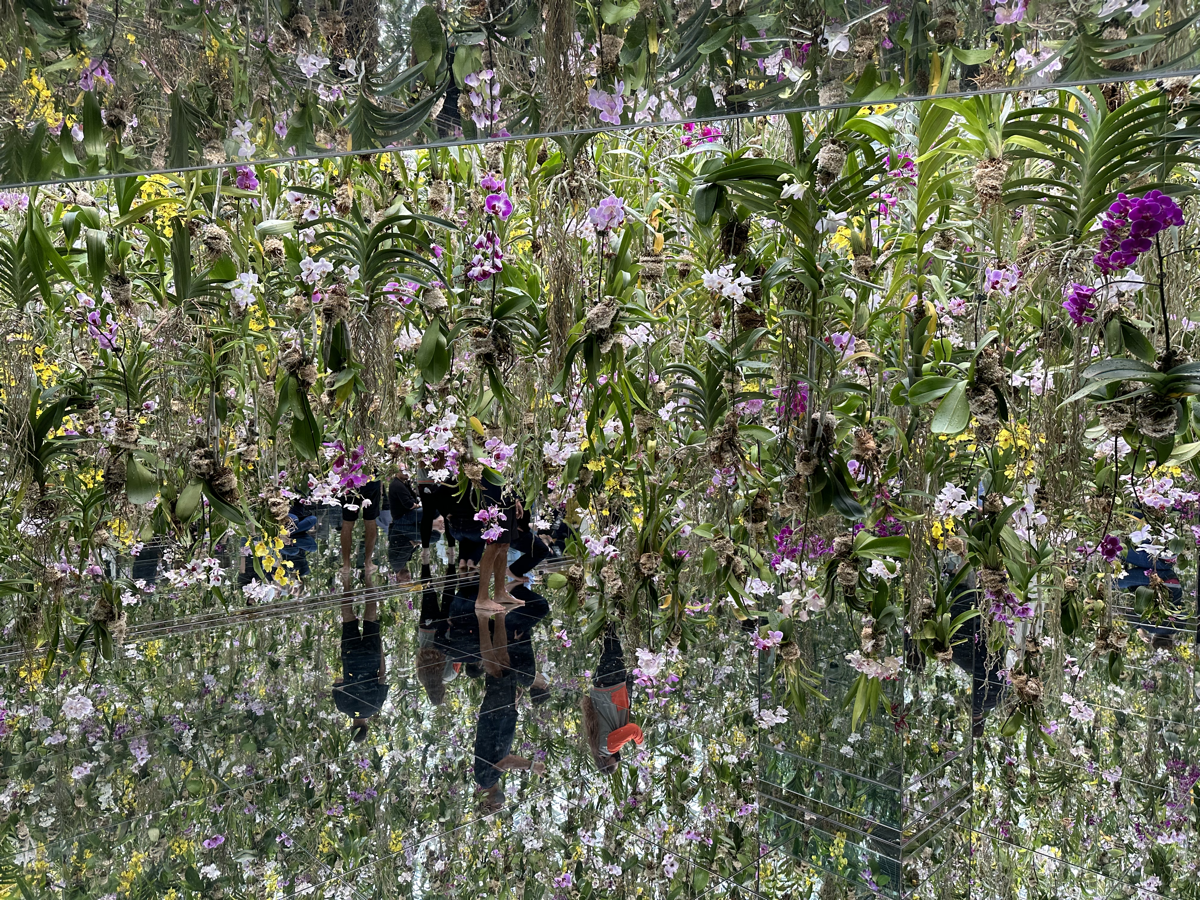 The second was mirrored sculptures.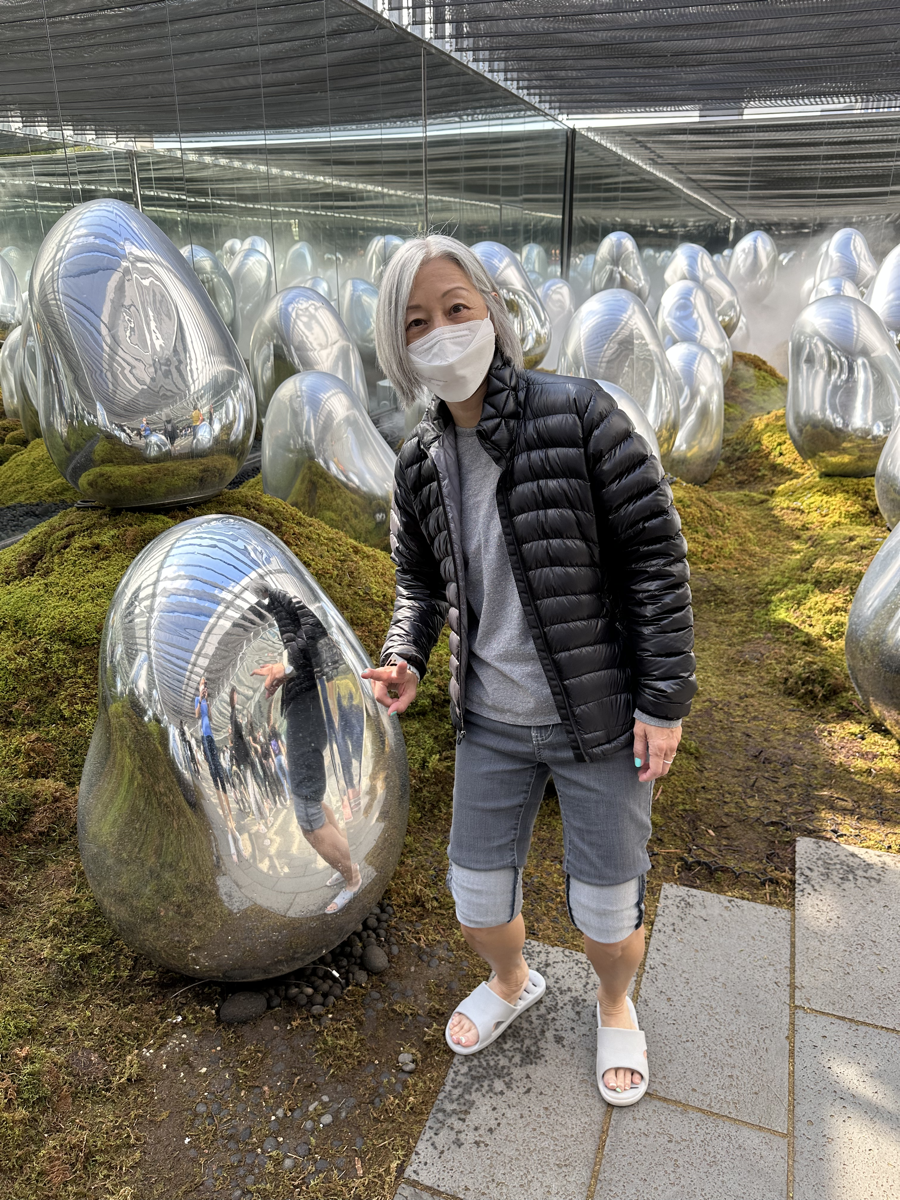 They lend you slippers. Somehow my sister picked big ones and I picked little ones and we had to swap.
It was a nice day so my sister and I walked along the seashore to Lalaport.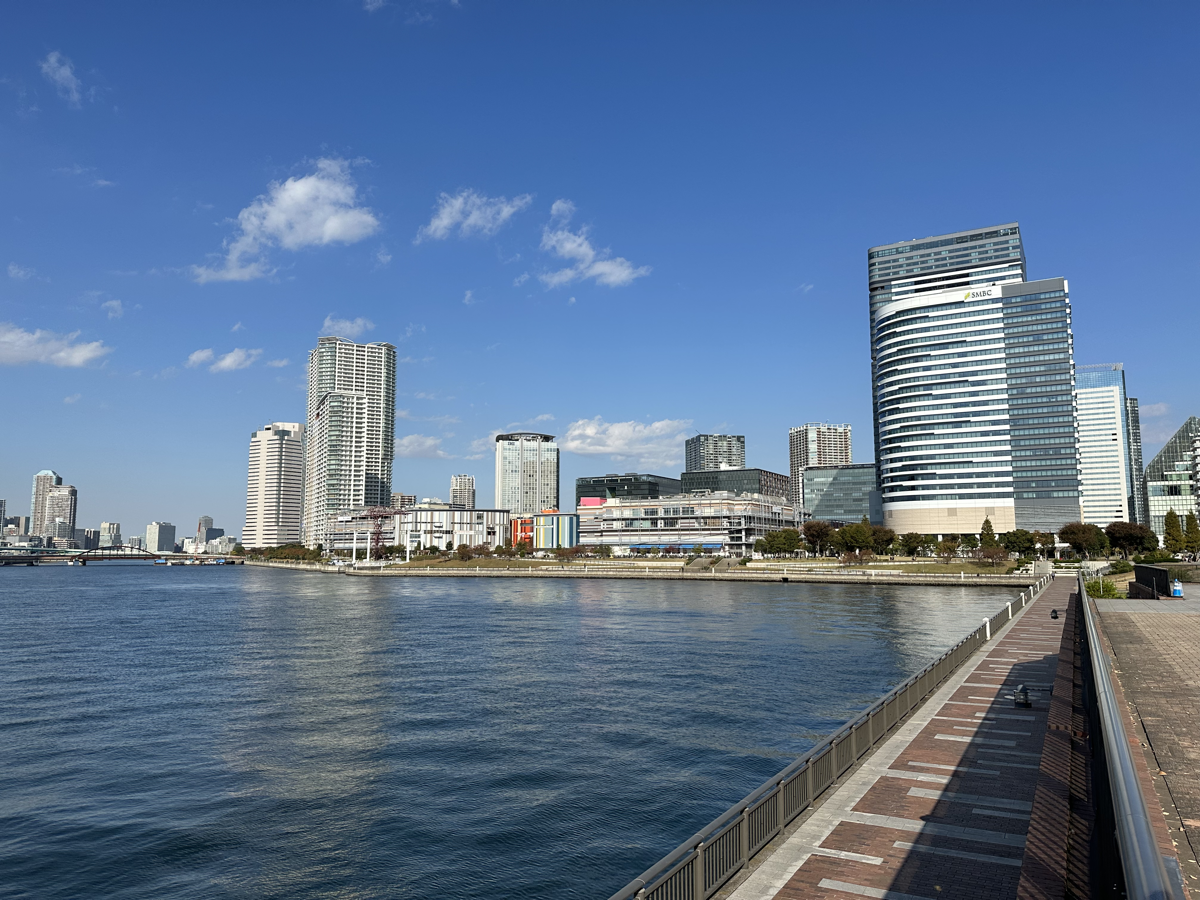 I always thought Lalaport was a little trashy but that's because I ate in the food court and not in the "other building". We went to a Hawaiian restaurant that Shinichi from the TabiEats YouTube channel likes. We both had the weekly special, a chicken katsu in demiglace sauce.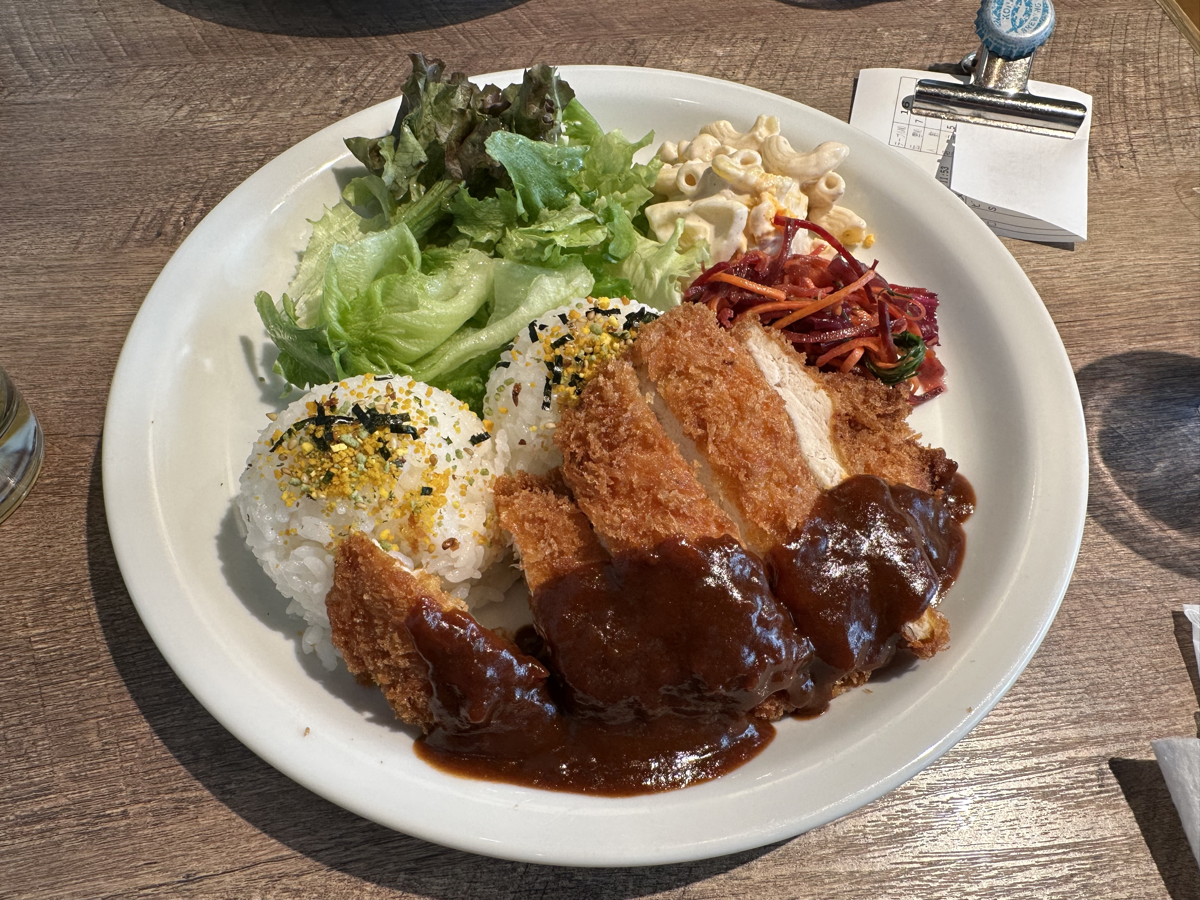 I figured it would be more fun to take the monorail back. Of course I got us off a station early, as always, and we walked to Ginza where we stopped at TokyoSando's parents' restaurant to say hello. Then we went to Harbs for some cake!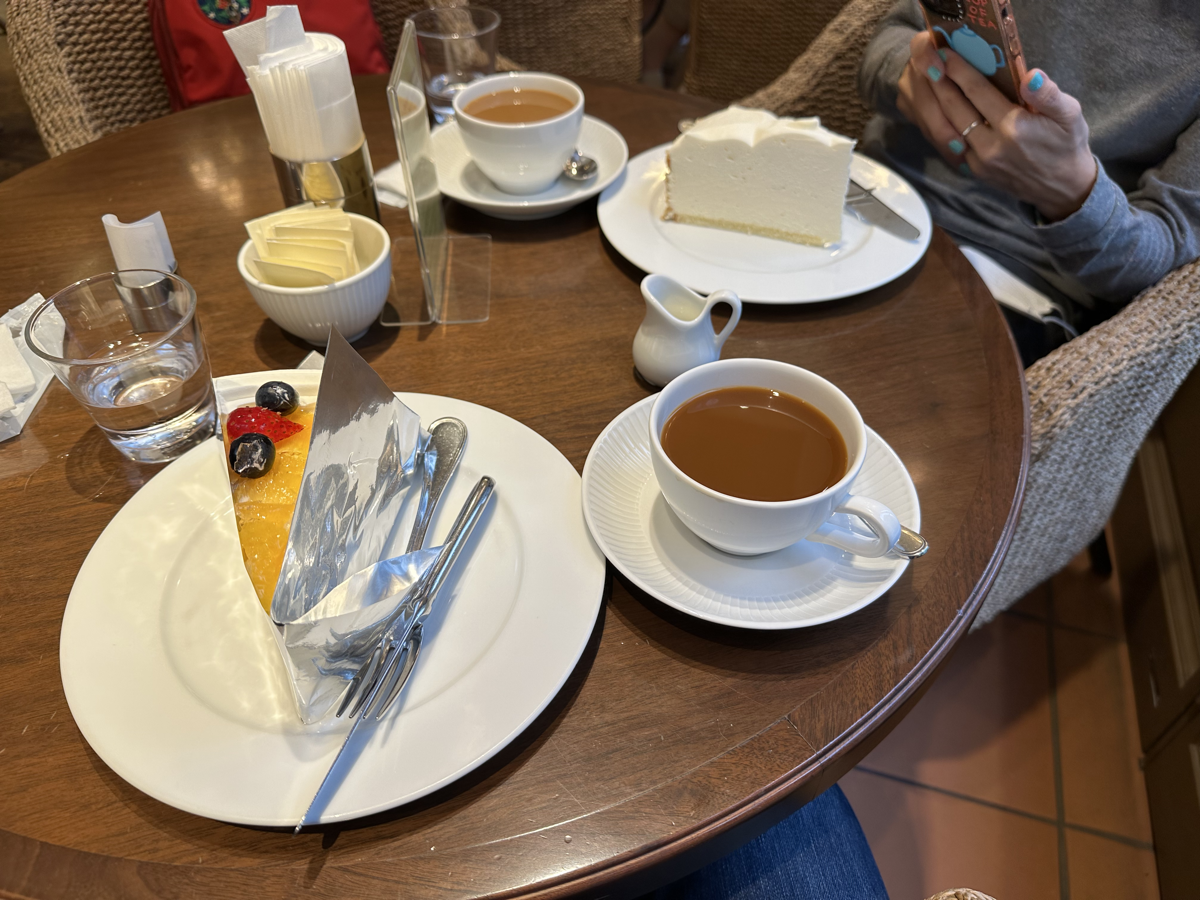 It's hard to show the scale, but that's a large fork next to my cake. It's a large piece even by US standards, but very fluffy and not dense.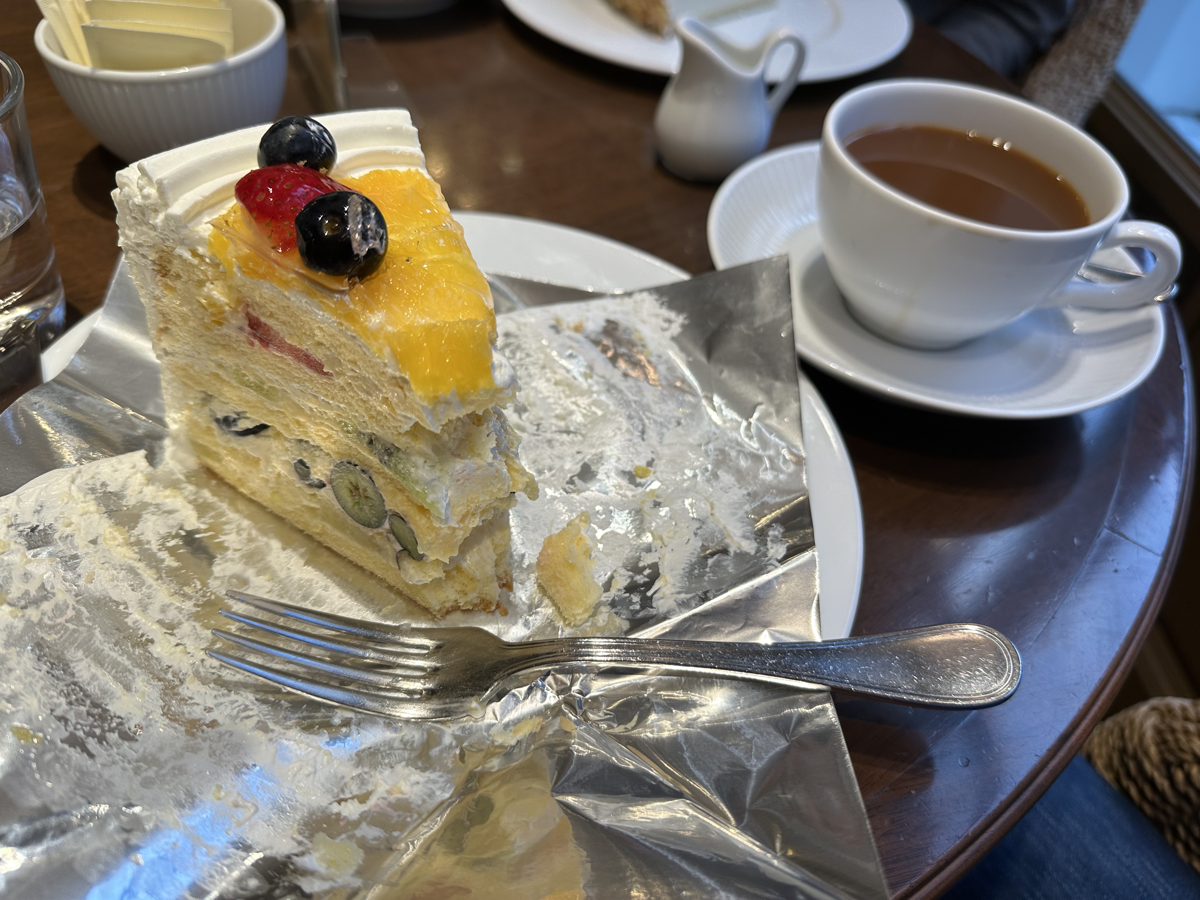 Then it was back to the subway to head back to the hotel. Check out this weird underpass. There's a lot going on underground in Japan and I guess this is as large as they could make it. The right-hand side has stairs going down to a dip to avoid the dip in the ceiling.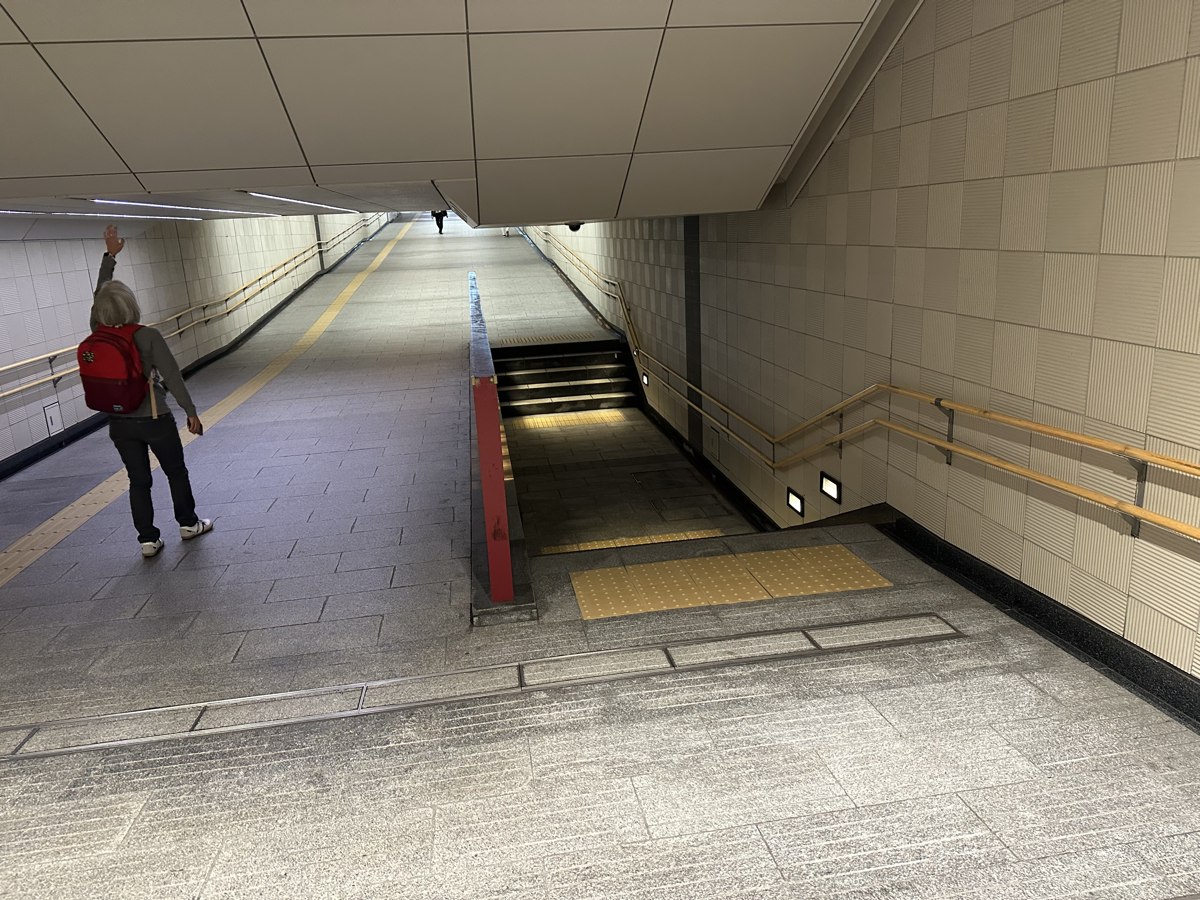 My sister stayed in and I went to Kichijoji to meet my old co-worker. They start the Xmas decorations right after Halloween here.
We went back and forth about where to eat. We usually go to a steak restaurant but the place is tiny and Suzuki-san wasn't sure about the ventilation. But they have a huge hood to get rid of the grill smoke so it's probably fine. The place only seats six at the counter, and there's three tables, two 4-tops and one 2-top. Tiny Japanese tables. It didn't seem all that crowded and after a five-minute wait we were able to sit at a 4-top.
As always, the steak was excellent.
And that's about it for the day. I think I only hit 15,000 steps today, unlike the 30,000 yesterday.