Not much different in my sleep or back pain issues, besides not washing my legs right now made it so I could continue my morning routine without having to lie down after my shower. Walking any distance still hurts, though.
First, breakfast. I keep going to the same place (it's close and tasty) and I even got the same thing I did yesterday. This time I remembered to take a picture before I ate most of it.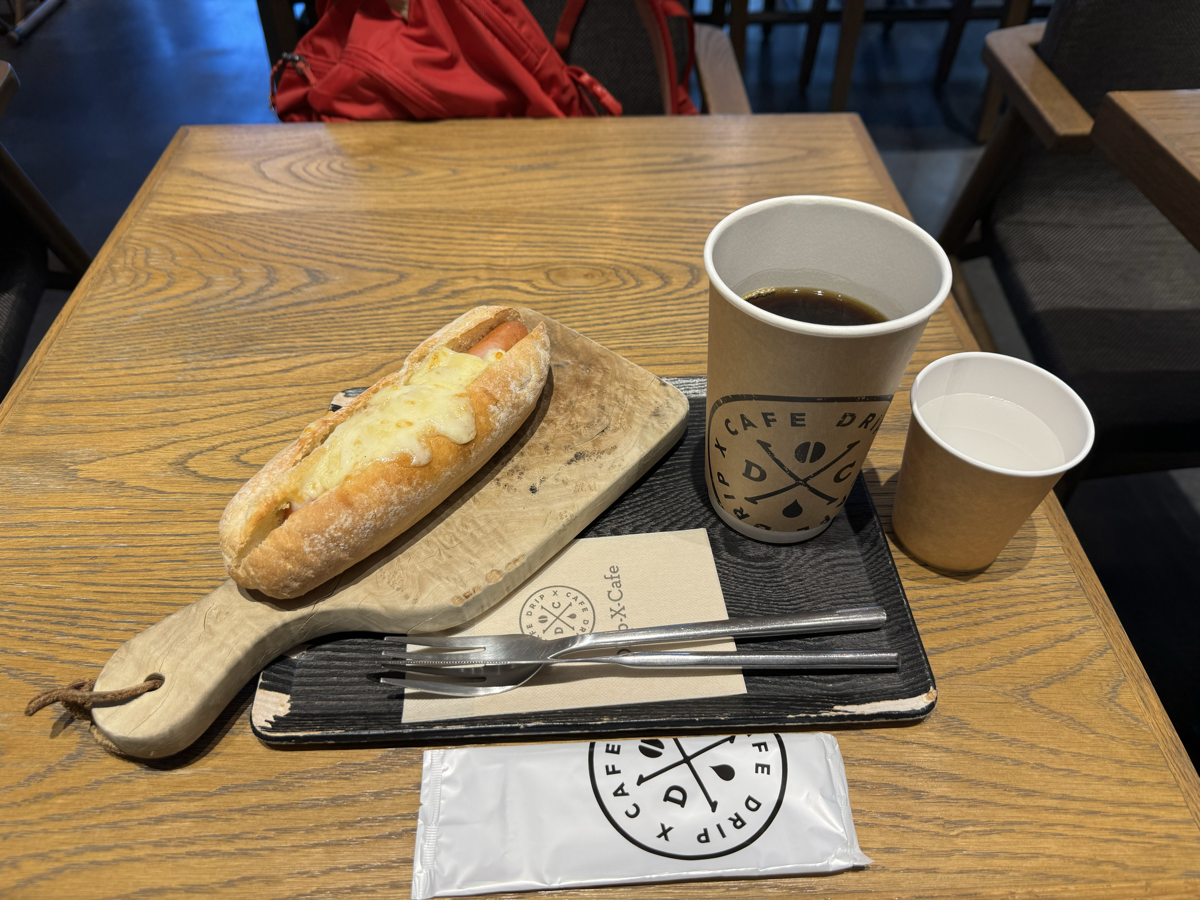 The most important thing today was visiting my cousins but I had a lot of time to kill beforehand. I decided to get an all-day pass on the Hankyu Railway and just check out a couple of things. First, I took the train from Umeda (Osaka) to Takarazuka. Then back to the Minoo spur. I got out at Minoo and thought about looking around but walking was still painful so I just got back on the train. Then I decided to go to Itami Station, my local station from 1986 to 1991. I got out there and looked for some lunch but Itami station was still the same boring place and I couldn't find anything. I also tried to go to the ¥100 shop but it was closed today! Then I tried to buy some Mister Donut, but it there was no place to sit and eat. I ended up just getting back on the train and heading to Nishinomiya Kitaguchi which is about 20 minutes from my cousin's house.
Nishinomiya Gardens is a sorta fancy mall there and my sister wanted me to look for a sweatshirt at the Graniph store. I was dreading it because it's a bit of a walk to the store and blah blah butt pain. Of course they could get my sister the shirt if I gave them three days and I'm leaving Osaka in the morning. They also said it was "old stuff" and it was just released on Halloween (it's 11/14 today). I still had a lot of time to kill so I thought I'd get a snack. The closest place was Tokyo Soup Stock, where the menu had absolutely no English on it. Somewhere else I did see some English but I don't really remember. I got the two soup set with upgraded bread and upgraded black sugar ginger ale. One was a seafood lobster bisque and the other one was something like Vermeer milkmaid soup They were both quite good and the bread was kind of sweet. The restaurant was filled with women and that meant some screaming babies as well. I'd do it again, though.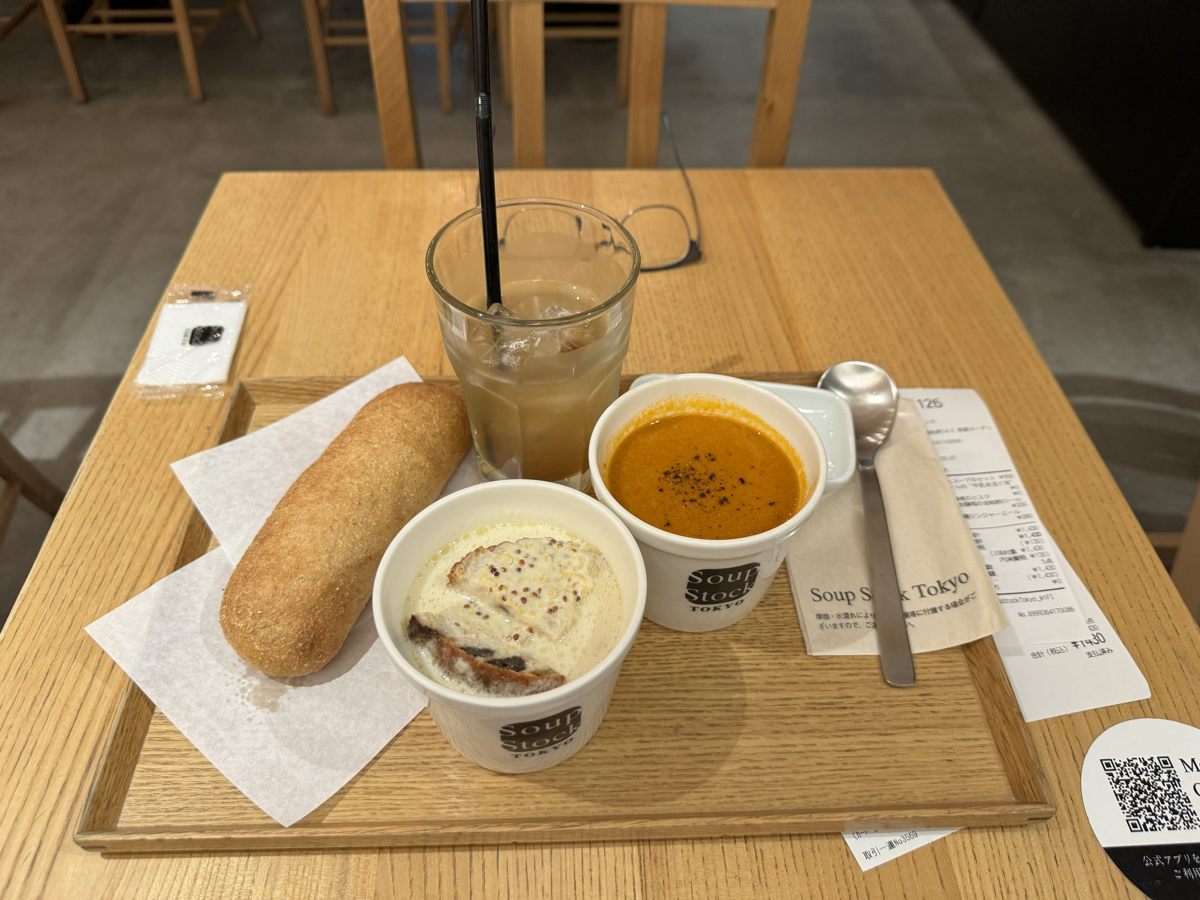 I had even more time to kill before I got a taxi for my eldest cousin's place. Three of my four cousins and one of my cousin's wives showed up and we all spent the afternoon talking. It was fun. I'm not posting their picture because I just took it to send to my sister.
Then my eldest cousin and I had dinner. She'd been practicing for a piano recital, more than usual, so she said she was too tired to cook and got pressed sushi which is an Osaka delicacy. I found out she didn't really like raw fish, so this is what we had.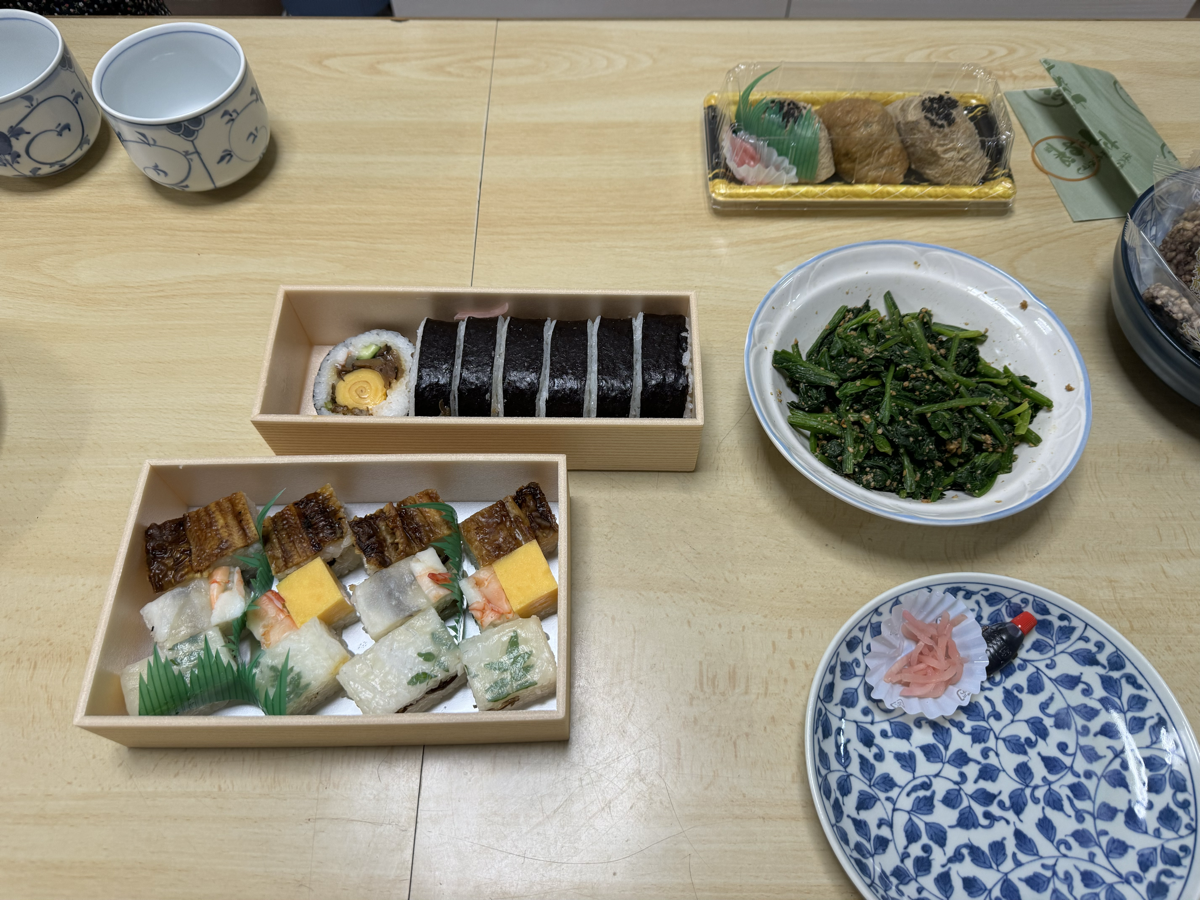 It was pretty good. I thought about getting a taxi to use the train day pass, but that would mean spending ¥1000 on the cab to save ¥230. I realized that as I limped to the closest train station. It didn't really hurt until I got there, so I was fine.
In any case, that's about it for the day.