Today was my last full day in Tokyo. I was trying to figure out what to do but there were a couple of regular stops that I haven't made yet.
First, Hoshino Coffee again for the Eggslut. Why not? I like it. I went to the nearby Hoshino Coffee and I think they might have less on the morning set menu than the other one. But it's close.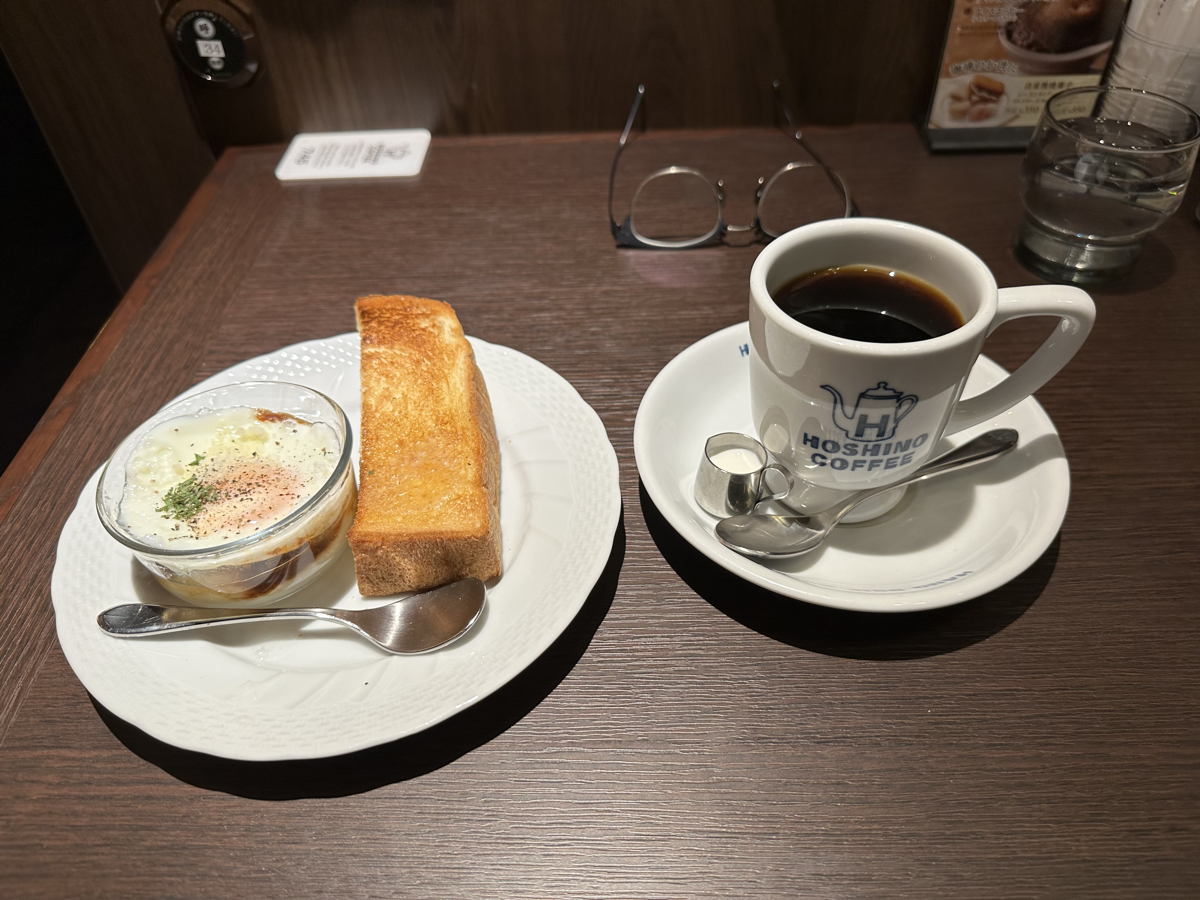 Then I went to Akihabara to see all the electronics stores. I was initially very happy when I got there and then I realized that most of the small stores had closed. All the weird little parts stores and kit shops were gone. It was the saddest I've been this whole trip. I realized that I'm just a dinosaur with no job and even my hobbies are leaving me. I didn't give up for a while. I went looking for a store, any store, that might have a cable tester I wanted. No dice. It's on Amazon, but I'm leaving soon. I had to get out of there.
I took a train to Shibuya and the whole area is still under a lot of construction. At first it seemed impossible to get out of the station. When I finally got out and got my bearings, I went to the new Shibuya Scramble building to see the observation deck. I found out it's ¥2000(!) to go up to the deck. Screw that. I got on the next train to Nakano.
Before I went to Nakano Broadway I got out of the arcade and saw a tsukemen restaurant. I have never tried tsukemen so I figured this  was my chance. This is the "medium" sized bowl of noodles and it was a lot.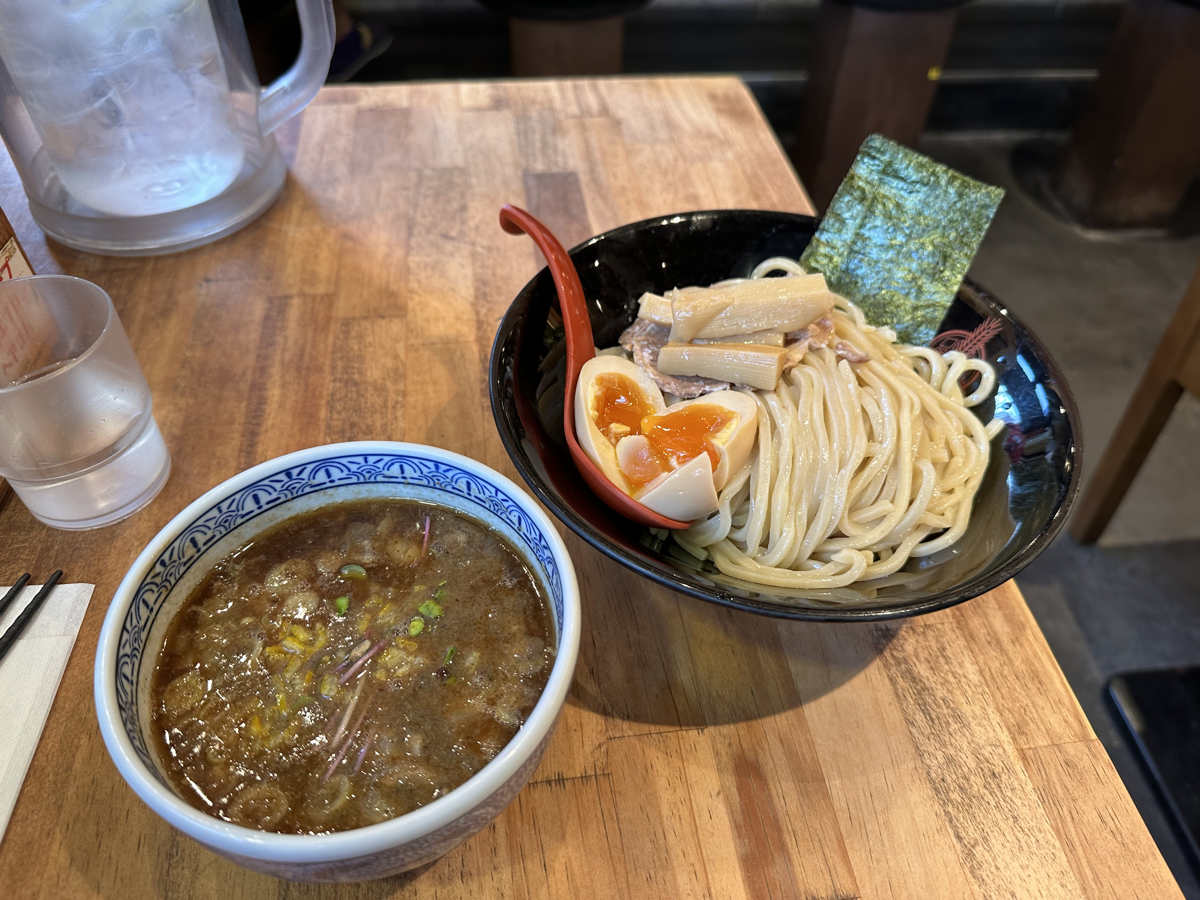 I think I'll have to get used to tsukemen. I'm used to regular udon and ramen which are a lot thinner soup.
Nakano Broadway was the perfect place for this old dinosaur. There are a lot of stores with tchotchkes, mostly anime-related but other stores as well. There's a LOT of watch stores and I almost bought a Wakmann Cricket alarm watch but it was ¥45,000 and looked in rough shape. I saw some Grand Seikos that were as old as I am.
There were figures that I hadn't thought about since I was a kid! Obake no Q-taro? The second run of the manga ended in 1974!
Anyway, I felt better and went back to my hotel as the sun was setting. My last tasks were to have some dinner and to buy some new tchotchkes for my sister. I completed those tasks and I'm back in my room.
I got Indian food for dinner because why not? Japanese Indian food is different than US Indian food as it's probably adjusted to the palate. The butter chicken was sickly sweet, however, and tasted like it was sweetened with honey.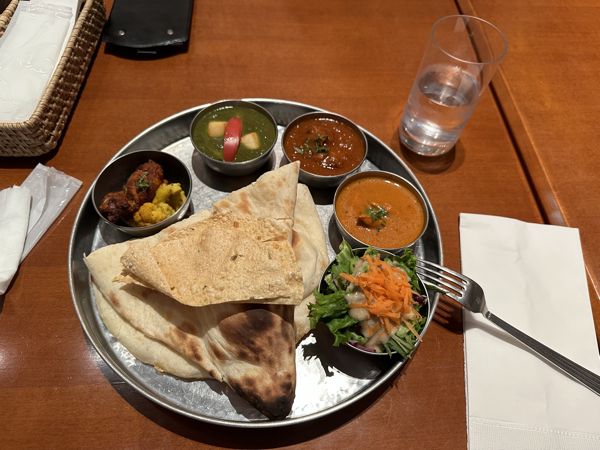 Tomorrow is a travel day. The plane doesn't leave until 5:20 but I have a 1PM taxi scheduled. My unreliable app says it'll be raining so I'll probably hang out in my room for as long as I can and then hang out in an airport lounge as long as I can. Basically I get up at the usual time 6am Saturday morning (about 1pm US time on Friday) and try to stay up until 9pm Saturday evening. I don't even land in the US until 2am Japan time.
Oh well, them's the breaks.