I'm in Okinawa now and this place is kind of weirding me out. I'm guessing it's like going to Waikiki and realizing it's not like the rest of the US (says the old guy who hasn't been to Hawaii since he was 5). But anyway, I'm getting ahead of things like usual. Chronological blog, right?
So I had a hell of a time getting to sleep last night. I kept thinking about things I couldn't change or at least couldn't even do until I got home (like deleting all my work email) and thought about quitting the watching of YouTube cold turkey, etc. I knew it was probably because of the STRONG green tea served at dinner last night so I wasn't really "worried" worried, but my brain wouldn't shut off. I was OK.
Breakfast was the same "free" stuff as the last couple of days. It's funny. The potato salad was much tastier today. I think different people make it differently so it's not just from a box. The fried thing on the right and the brownish bit on the bottom was chicken, and tasty. And, since it's Monday, it wasn't that crazy crowded. I think my sister said it was $130US for three nights.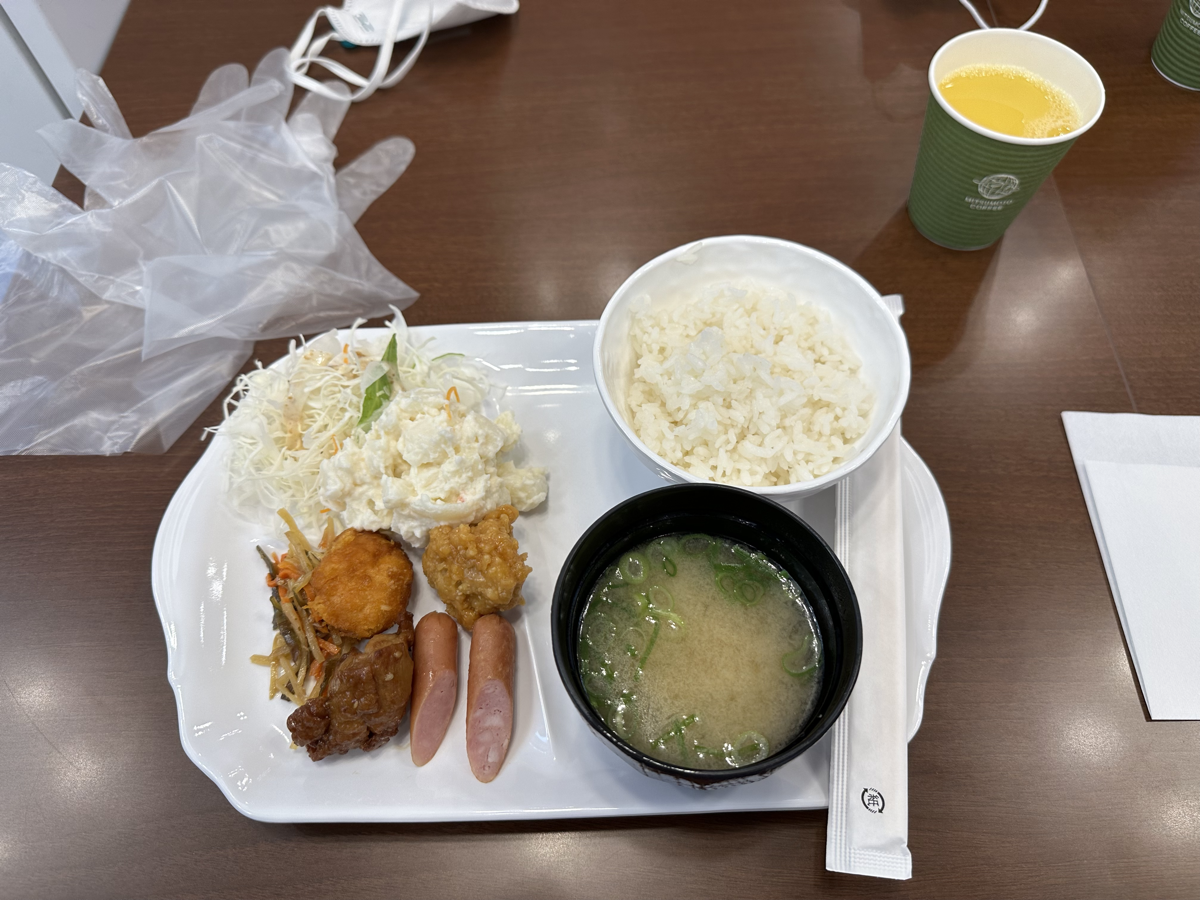 Anyway, it was a slow morning and then off to Tokyo for my sister, and off to Kobe for me. I was flying from Kobe to Okinawa on what turned out to be a packed 737-800. We both took the same Shinkansen to Kobe and she just stayed on when I got off. I had to wolf down the sandwiches we bought because the trip from Okayama to Shin-Kobe was only about half an hour.
Then I was kind of lost. I asked how to get to the airport and they wouldn't give me the options. I just said, "How about the bus?" and "How about the subway?" Well the bus only ran once an hour but the next one came in 10 minutes, so that was good timing. I was warned it could be full, but it only had three people on board, including the driver. He said it's never crowded.
Japanese airports are funny. The liquids check went like this: "Have you opened this bottle yet?" "No." "Well, OK then, you're good." Kobe airport is one of the smallest I've been to and I've been to the corners of Hokkaido.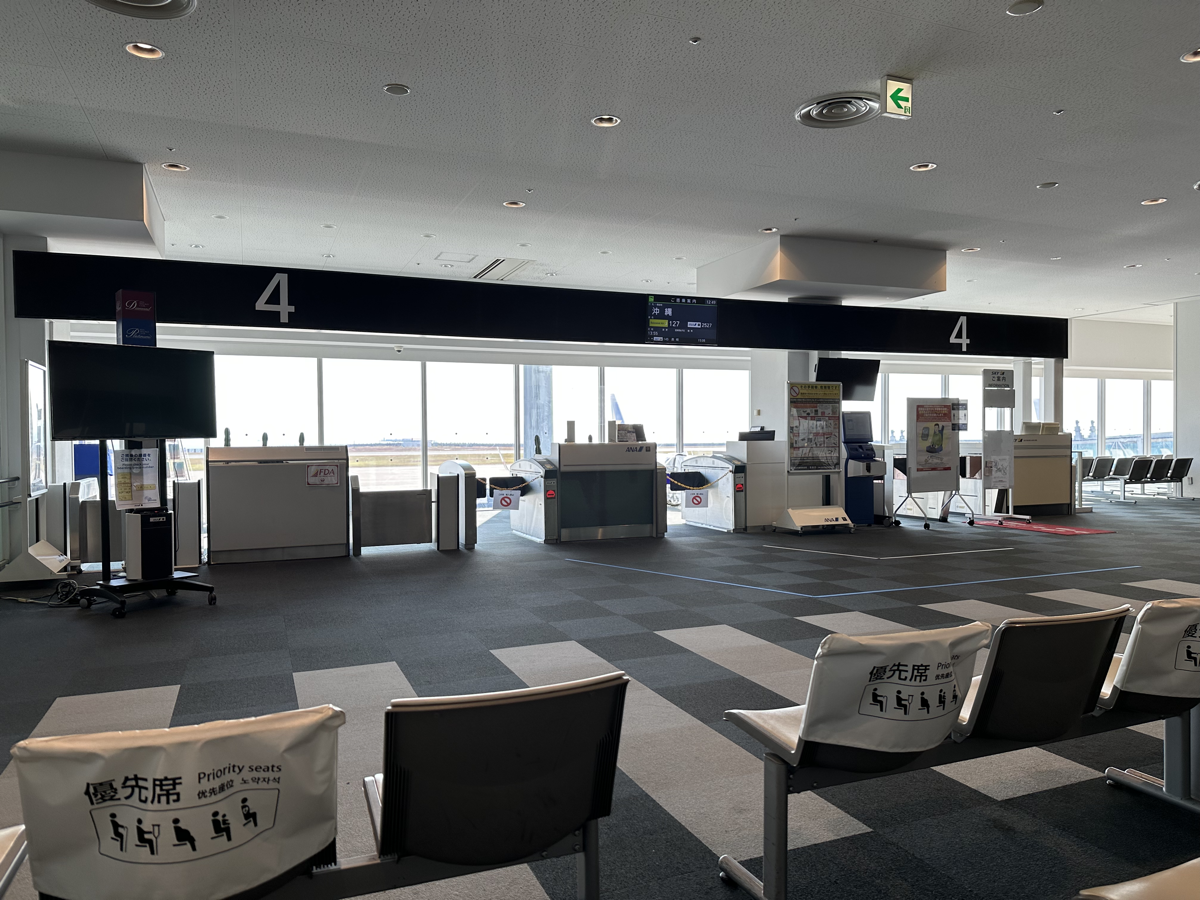 The plane to Okinawa was packed and I made a huge mistake. I wore my compression socks but didn't take baby aspirin, or Sudafed, or use my Afrin. Ignoring my continually stuffy nose was the problem. On descent the pilot changed the pressure suddenly and I thought someone had stabbed me in the eyes. At least I knew what it was. My stuffy nose was getting its revenge (revenge for what I don't know). I stumbled out of the Naha airport which is HUGE and made it to the WRONG information booth (don't go to Information, they only know about the airport). At TOURIST INFORMATION I was told to take a bus which would cost ¥240 and they DON'T TAKE SUICA down here. Oh well. I had some change, fortunately, and the change machine took ¥500 coins.
Then I got to my "hotel". It's fine. But it's a repurposed apartment building and the "front desk" is only open from 2PM to 8PM. I'm in an apartment, complete with washer/dryer (though I shipped all my dirty clothes to Tokyo) and I think I have the run of this place until I check out. At least they put in two days of toothbrushes and towels. And the TV is huge and has Netflix. You have to use your own login, but I'm OK with that. It's also dead center in the busy part of town.
As I said, Okinawa is kind of weirding me out. It has a decidedly SE Asian vibe (not helped by all the SE Asians here). I went to dinner and to have Okinawan food and it was being prepared by South Asians. There were Japanese people there but it was about half and half.
I must say, I found out I am not a huge fan of "traditional" Okinawan food. It might grow on me but most of it was kind of meh. For example, the goya champuru. Goya is bitter melon. I thought, "How bad could it be?" It tastes like poison.
Oh the Orion beer is fine. It's probably cheap Kirin in a relabeled bottle.
Next I had the purple sweet potato croquettes and fermented tofu. Too sweet on the croquettes and the tofu just tasted like it was soaking in cheap liquor.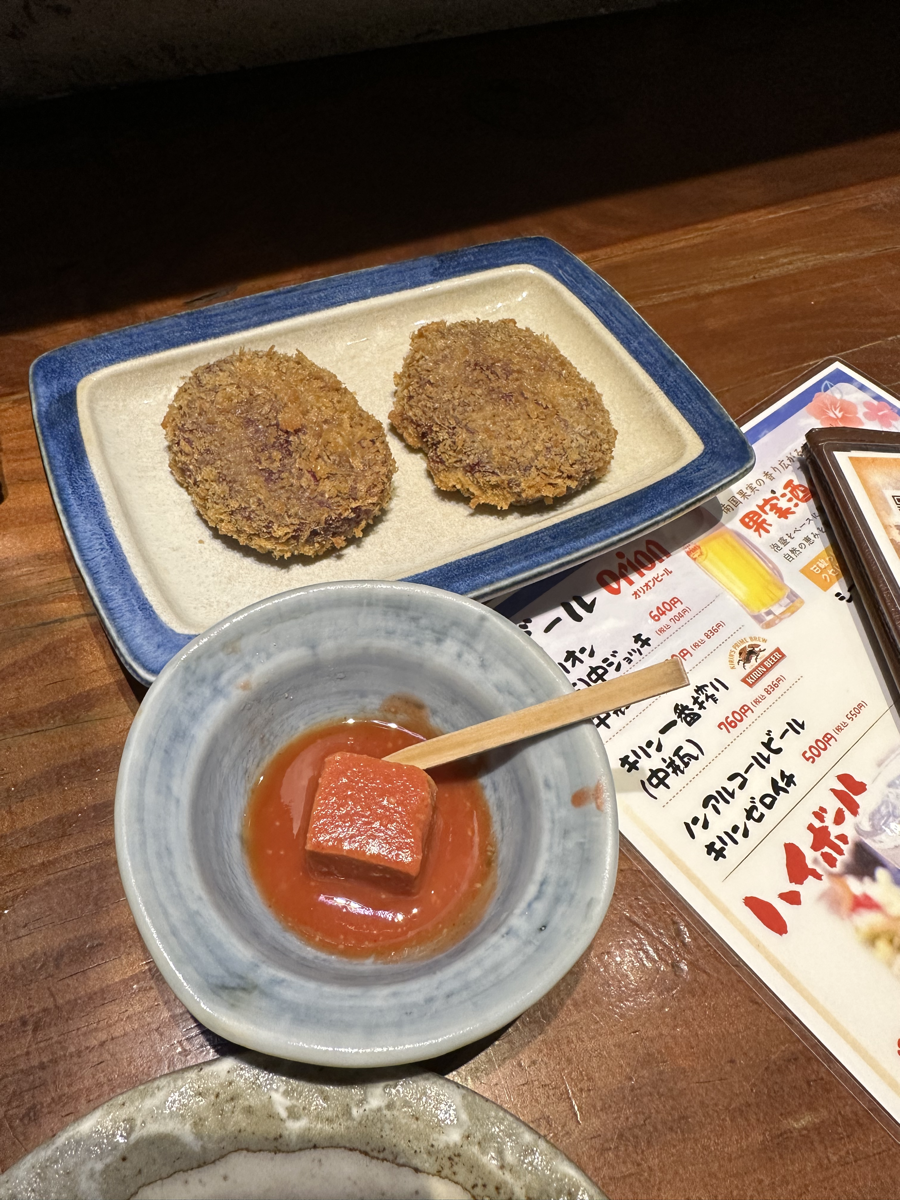 I had the simmered pork belly and really liked that but I've had it before and I knew I liked it.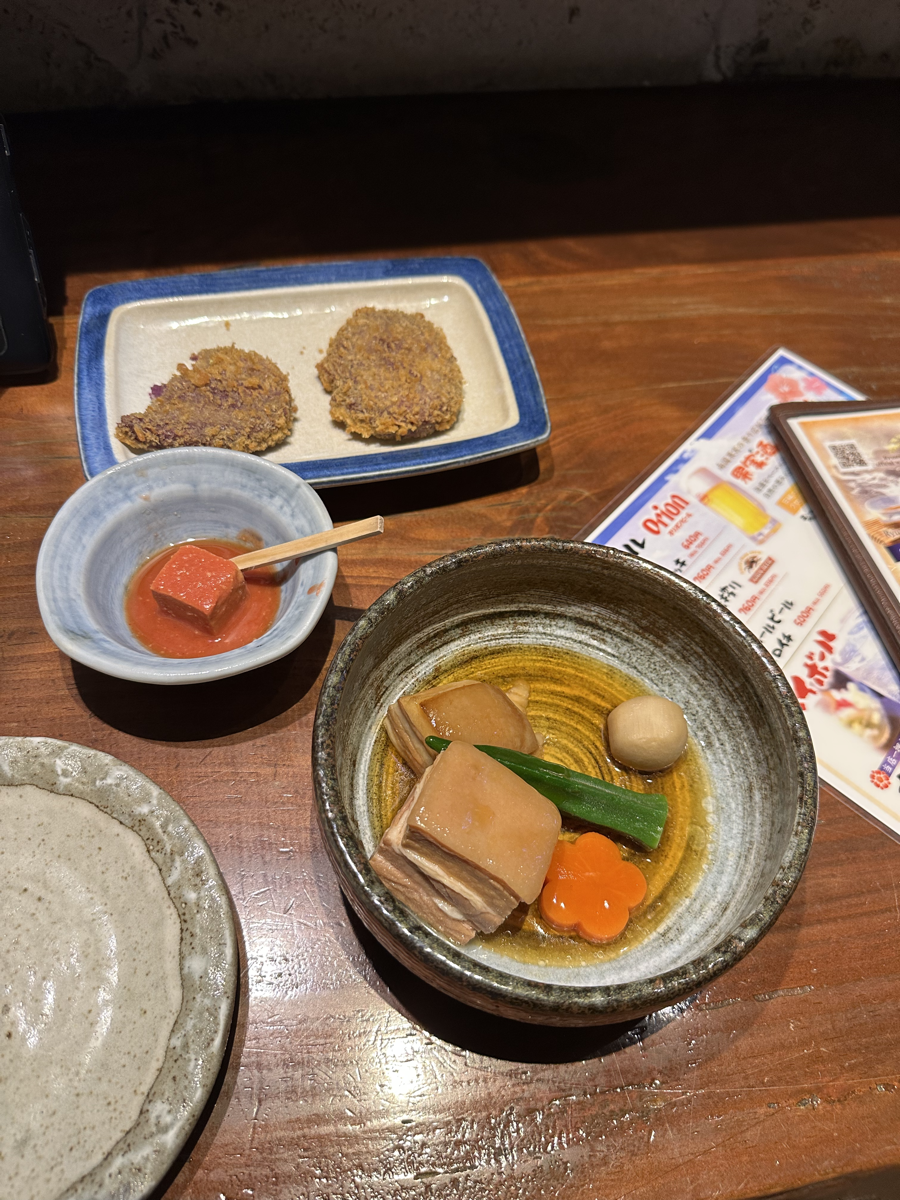 Finally I got something that was described as an Okinawan pancake and it was like a flat okonomiyaki. It wasn't bad.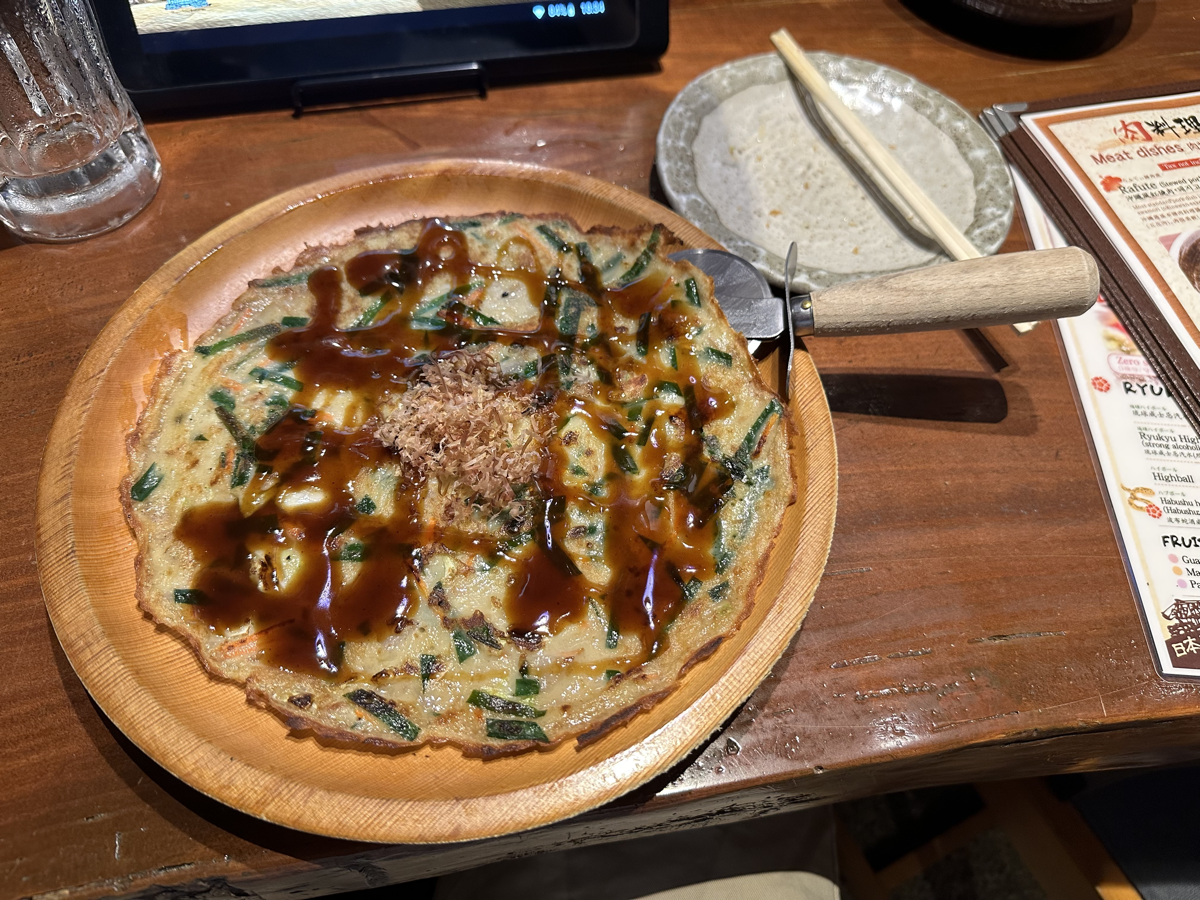 Then it was off to the Lawson before I headed back to my Airbnb or whatever it is I'm staying at. I got some strawberry almond candies which were good but were regular Japanese candies and not Okinawan.
So now it's time to watch some Netflix and get some rest. My plan is to just take it easy here and be warm. I think I can do that.