One of the biggest disappointments was finding out our regular Pronto was closed. It's right next to the hotel and we'd see this one guy eat there every morning. There's nothing to special about Pronto. It's a coffee chain and they have a morning set. We had to find our way to another coffee shop that my sister found online. She didn't read the reviews closely enough, though and the shop turned out to be super-smoky. Tokyo seems to have cut way back on the indoor smoking but there are still spots in Osaka that allow it. Especially morning coffee shops. We had to go to plan B, and we just ran into another Pronto. Cheese toast and salad plus coffee for ¥470.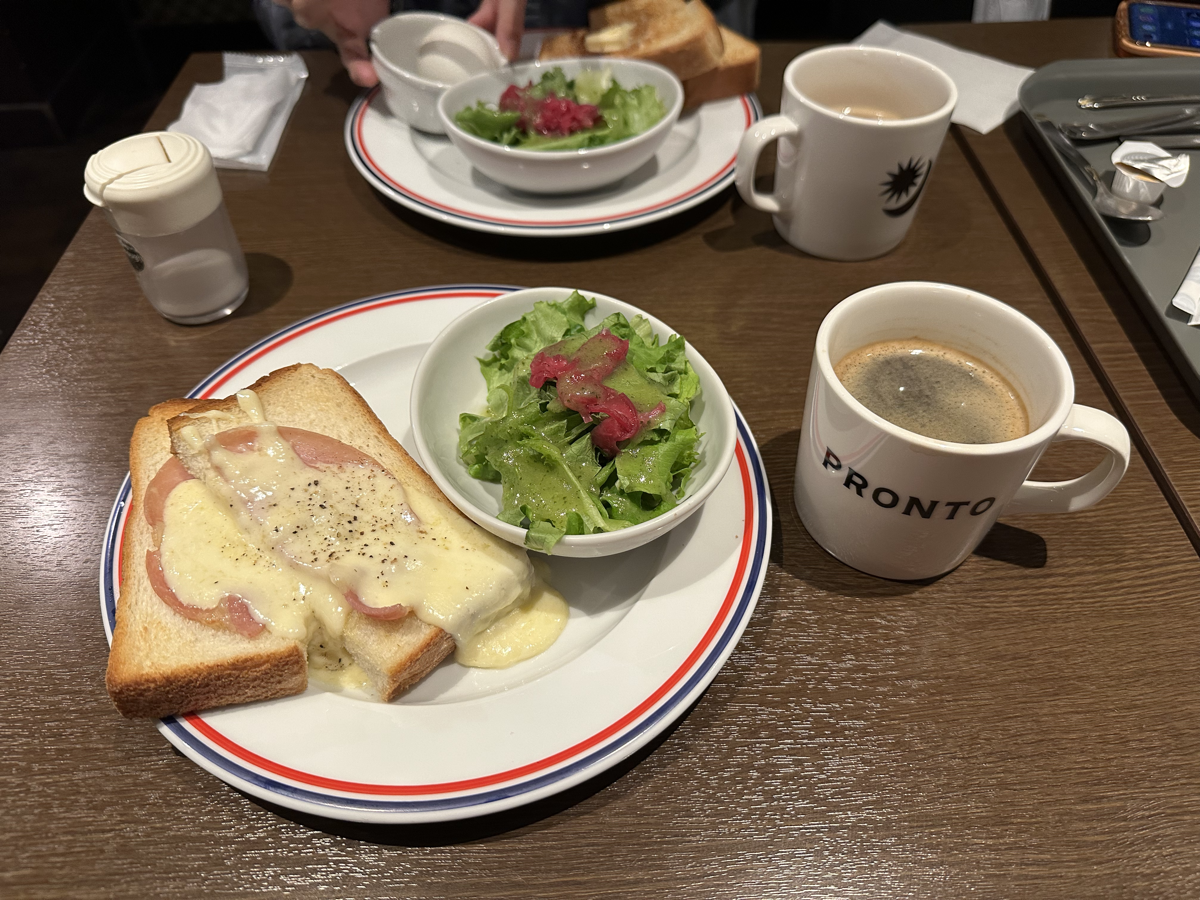 Then we hung out at the hotel because my sister wanted to go to a book release event for a knitting book she wanted. It was POURING out. Fortunately we found the shop and my sister bought a book and a sweater kit. She didn't want to get the book signed, but I insisted that she try. They were happy to sign the book and rather than just sign it, they doodled in it for her. It was pretty nice.
I wasn't feeling 100% (I think my blood pressure meds are making me dizzy the last few days) so we went to a coffee shop for some sandwiches for lunch. It was quite good, but it didn't beat the sandwiches that the little old lady made at the retro cafe near Inuyamayuen station.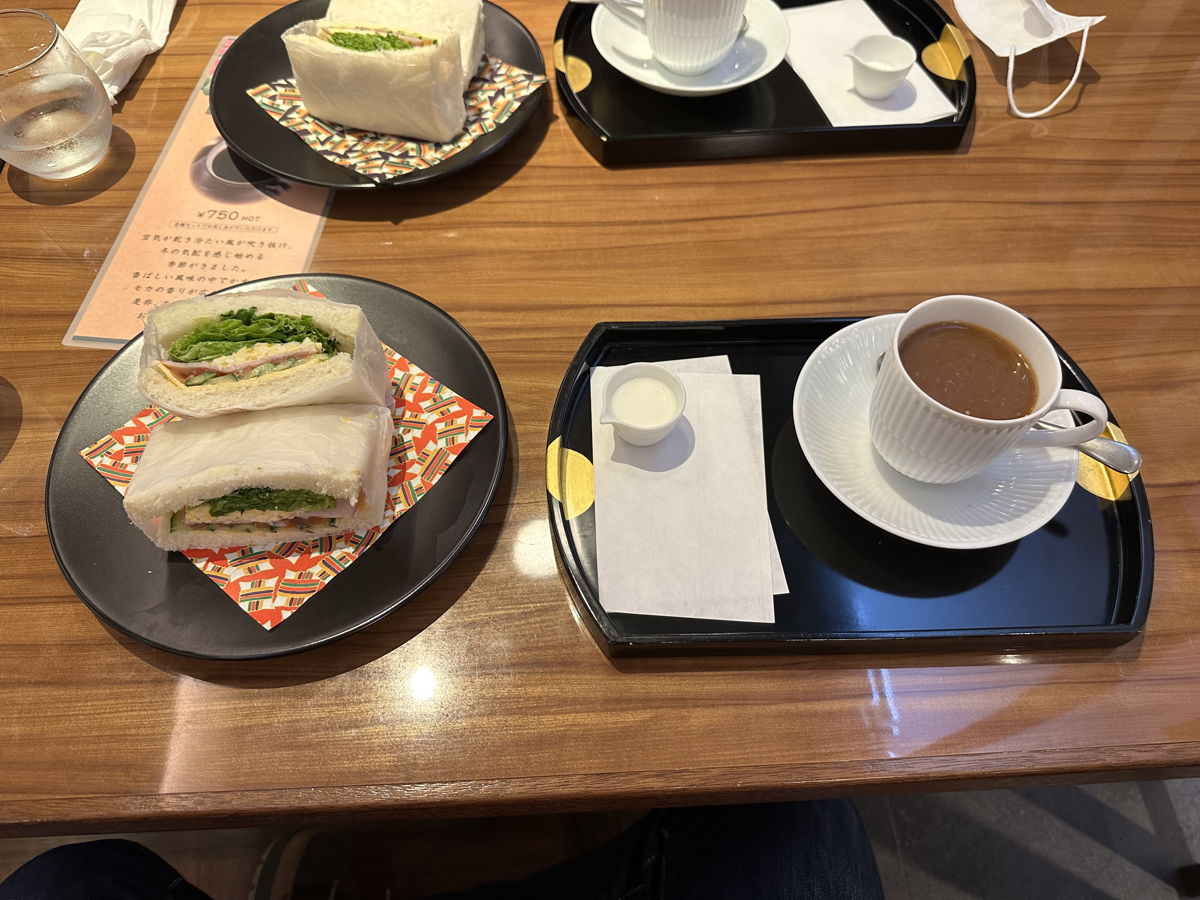 My sister has this clothing store she likes to go to that's a little hard to get to and it was still pouring down rain, but we went (why not?) Totally hipster, but there's some nice stuff there. Not for me, I'm a slob, but there's some stuff she likes to buy. And they have had purple-label North Face goods there (Japan-only).
On the way back we stopped at Toki again for our favorite matcha treats, matcha shiratama with cold matcha tea. Yes we were just there yesterday but we did not have our favorite.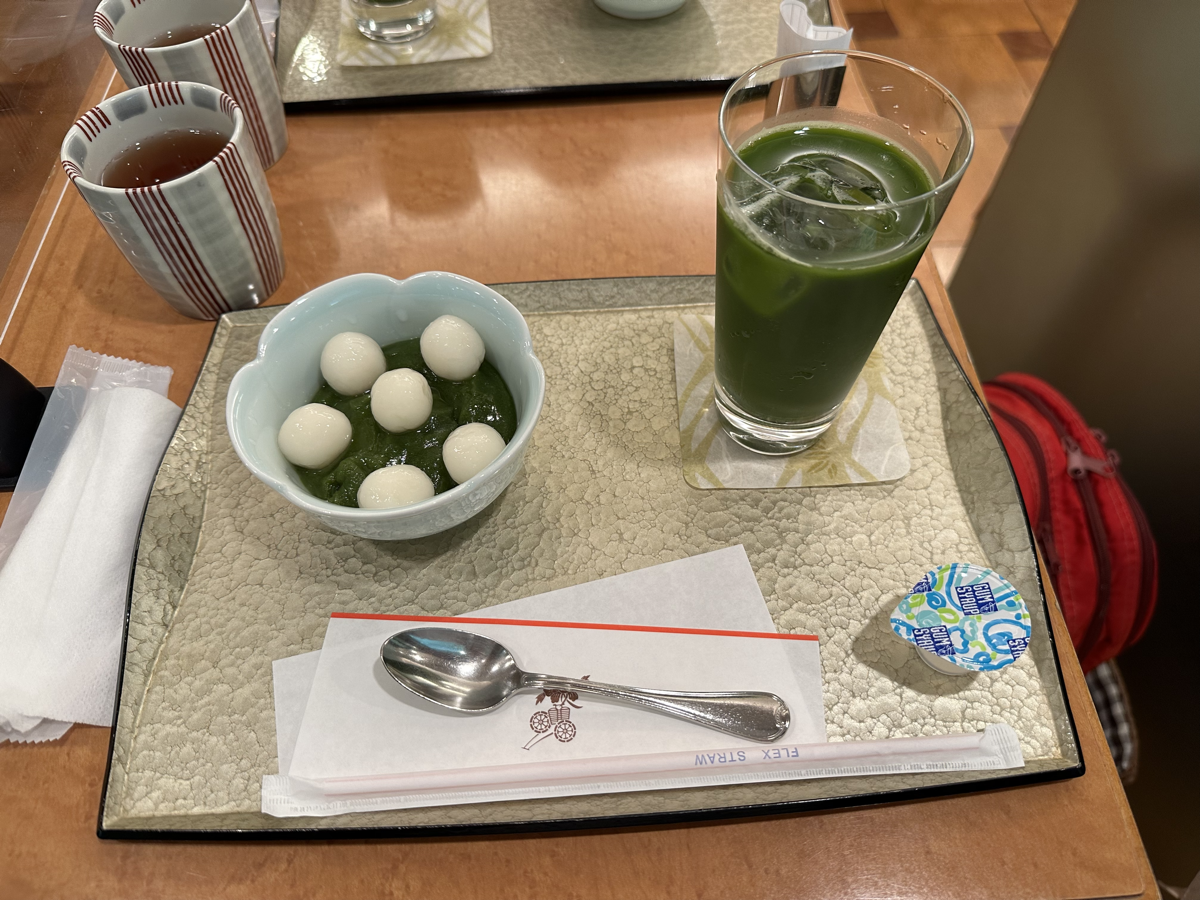 Then it was back to the hotel for a bit before we were supposed to do some more shopping. I tried my best not to pass out at 4pm and my sister said we should go get massages. Instead of our planned evening (we had several tasks we were planning to carry out) we went to Raffine where they beat the hell out of me and gently massaged my sister. I was starving before the massage but only hungry afterwards.
We decided to get some dinner at a pasta place and I forgot to take any pictures. I had an excellent Bolognese and my sister had carbonara. We also had spectacular garlic toast. You can imagine what it looked like.
And now it's already almost 10pm, my usual bedtime here, so that's it for the day. I guess we did more than I thought. Oh, and my travel umbrella gave up the ghost. Parts were bent and when I bent them back straight it quit staying open. I hope I don't break too much more on this trip.