More mistakes were made.
I decided it was time to sleep in. Being an old man, I usually am in bed by 10 and get up at 6, but with my spotty sleep I've been pretty tired when the alarm goes off. I set the alarm for 7 but of course I first woke up around 5:45. It was pretty nice except that my room is 26.5°C according to the A/C and that's 80°F. I woke up in a sweat and got the worst cramp in my inner thigh. I'm so lucky I have that massage gun. It took some doing to get that worked out, but I was able to get back to sleep. I also found some Ca/Mg/Zn "with BioPerine" today so I'm going to take some of that as well.
But first, breakfast at Tully's. It's no Drip-X-Cafe but it's also not that bad. It's a sad tiny eggamuffin but I think they used Camembert cheese which is very flavorful. And the coffee is large and at least not completely weak.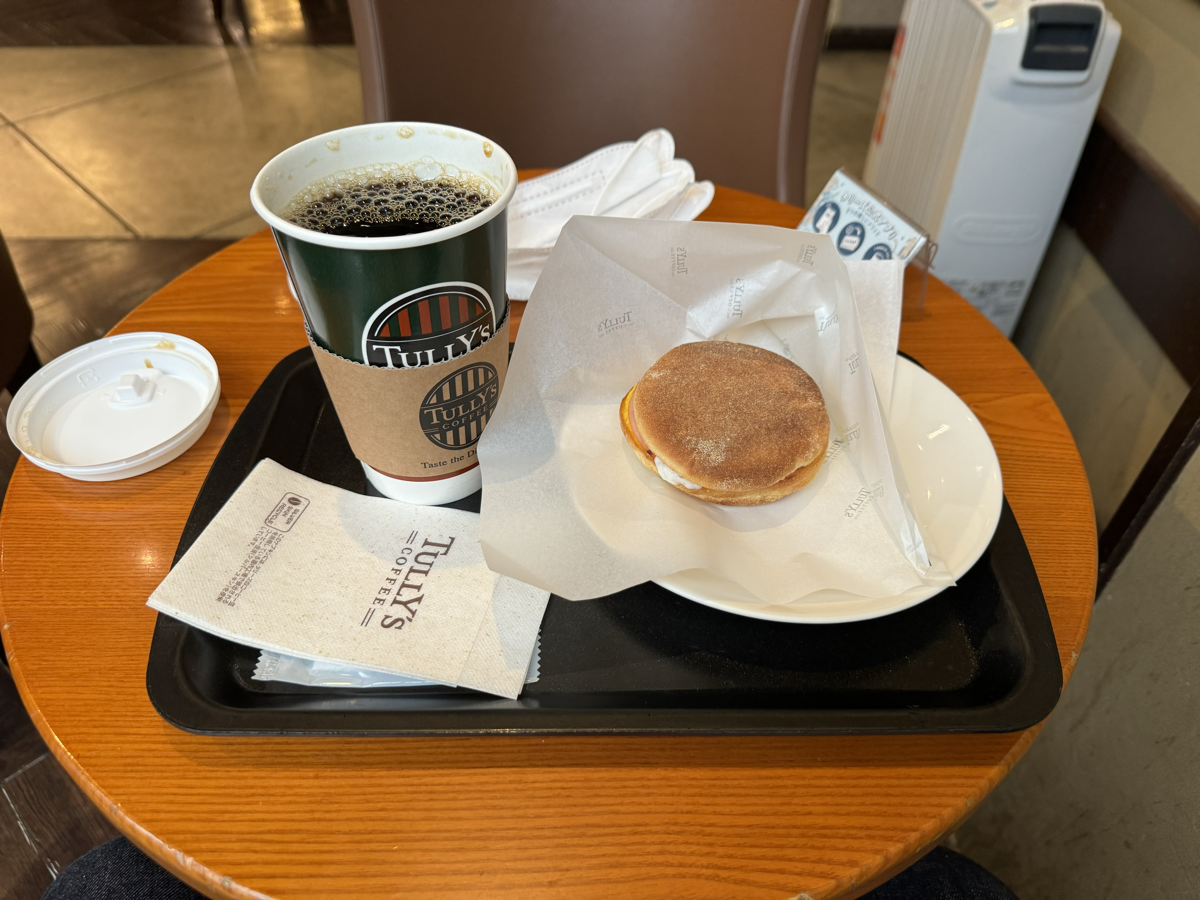 Another reason to sleep in was the tourist information office didn't open until 10am. I thought I gave it enough time but they weren't open when I first got there so I went to buy a train ticket for tomorrow. Then back to ask how to get to Isanagi-jingu Shrine, which kind of looks a little overdeveloped for the middle of Awaji Island. I also thought I could hit the amusement park but the weather forecast was iffy and the tourist bureau guy told me I should probably just head to Iya Gorge and the scary vine bridge that Chris Broad had on YouTube. It's about time for the fall colors.
So then I started walking for an HOUR looking for a car to rent. JR Station Rent-a-car looked so tiny and iffy that I just kept walking. The paper map I was given wasn't that great and it took forever to find Nippon Rent-a-car who said they were all booked out. Yeah, I'm still flying by the seat of my pants and didn't even call ahead. They told me Toyota Rent-a-car had the most stock and modified the map for me crossing out places that no longer existed. Off I went. Toyota was the least friendly and just sent me on to Orix. Orix said they were pretty booked out but they might have a car if I waited. I got a kei car, which has a 550cc engine, I think, and once I found out that it could drive on the expressway I took it. Not that I had any other options.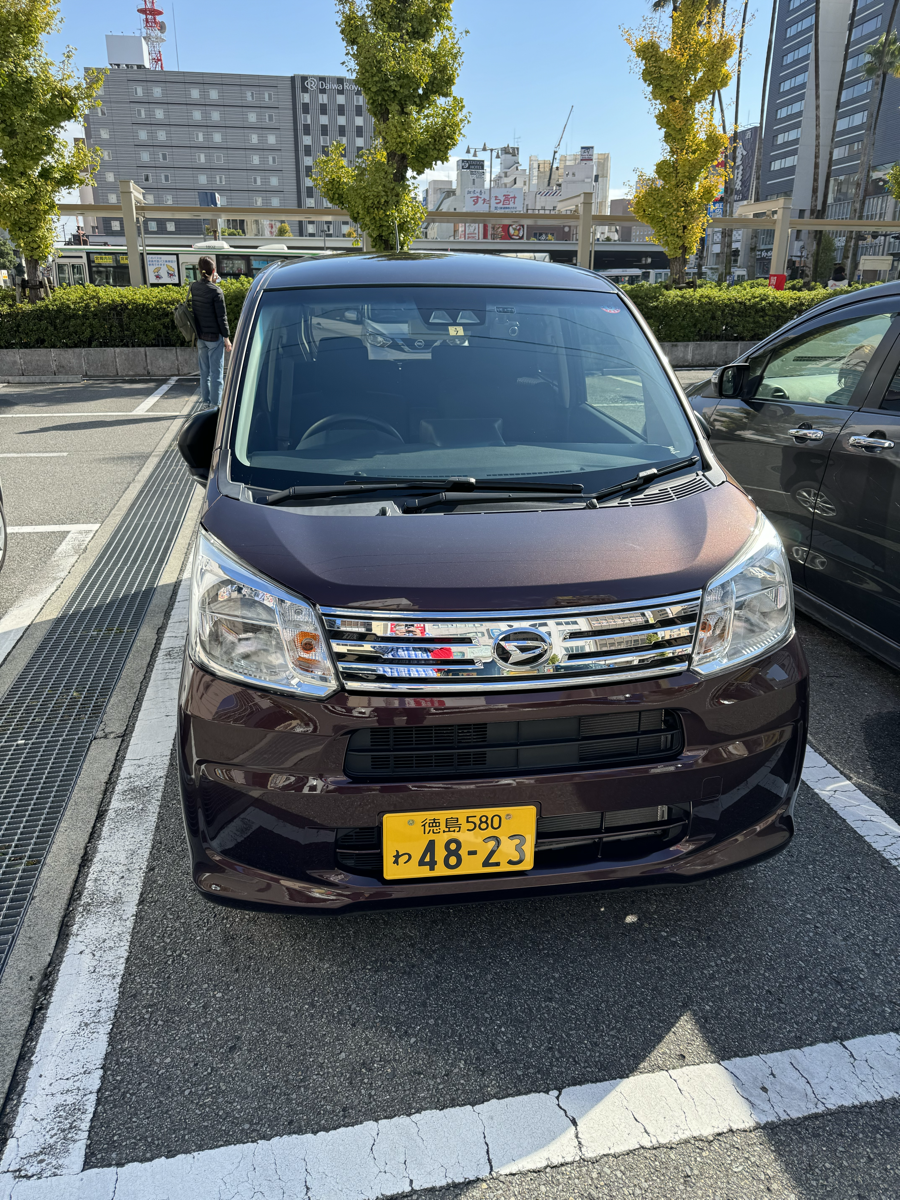 When I looked in my wallet my AMEX card was missing! I thought about taking a taxi back to the station because the only place I used it was the JR ticket counter. But they completed the transaction with my Apple credit card and convinced me to drive to the station, a rather busy part of the city. Adventure!
Luckily traffic wasn't all that bad and the parking lot was mostly empty. And my AMEX card was at the ticket counter! Phew. Even better, I was there such a short time that I wasn't charged for parking.
Off I went through town to the expressway.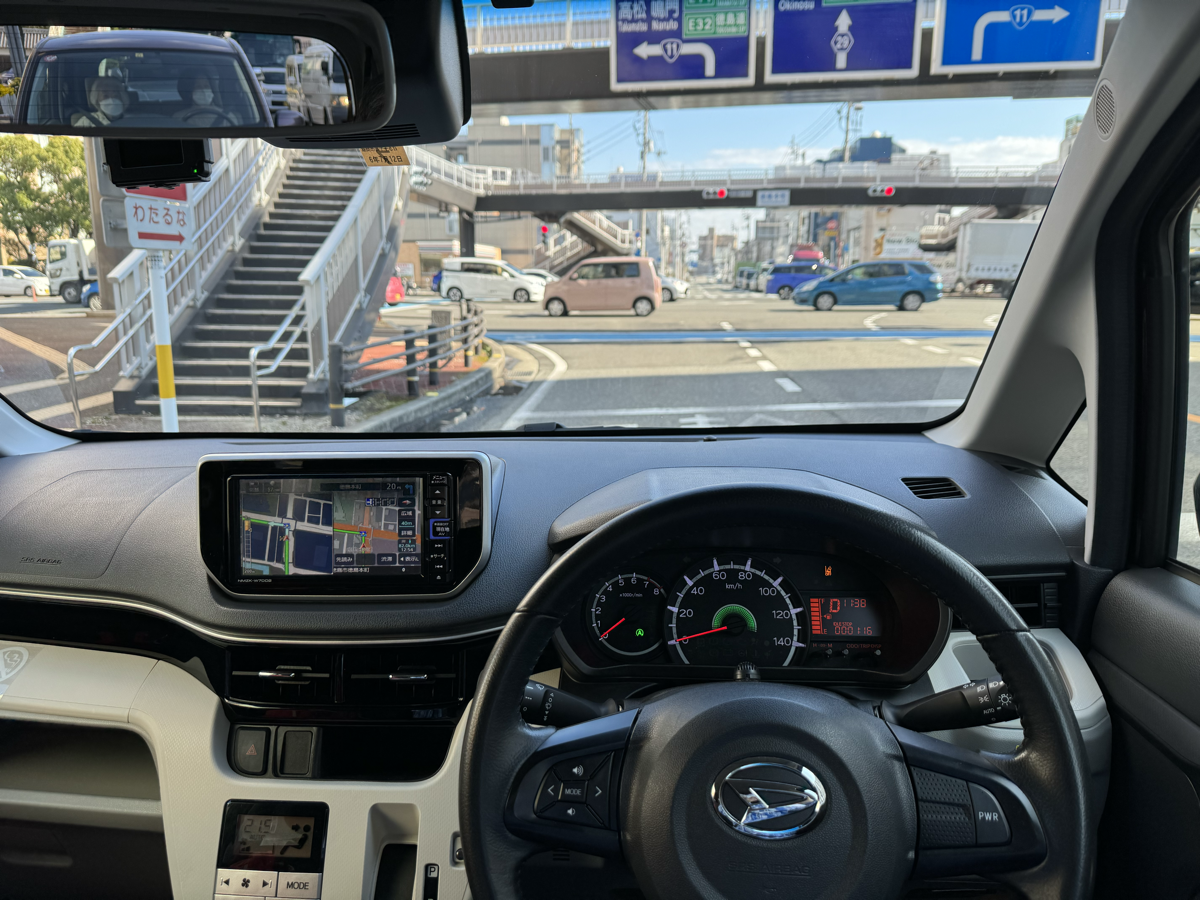 It's about an hour and a half on the expressway and a lot of it looked like this. One lane in each direction and a truck in front of me. Which is good because the speed limit was 70kph (45mph!) or 50kph in the construction zone (31mph!). Yeah, I got it up to 100kph a couple of times which is still only 62mph.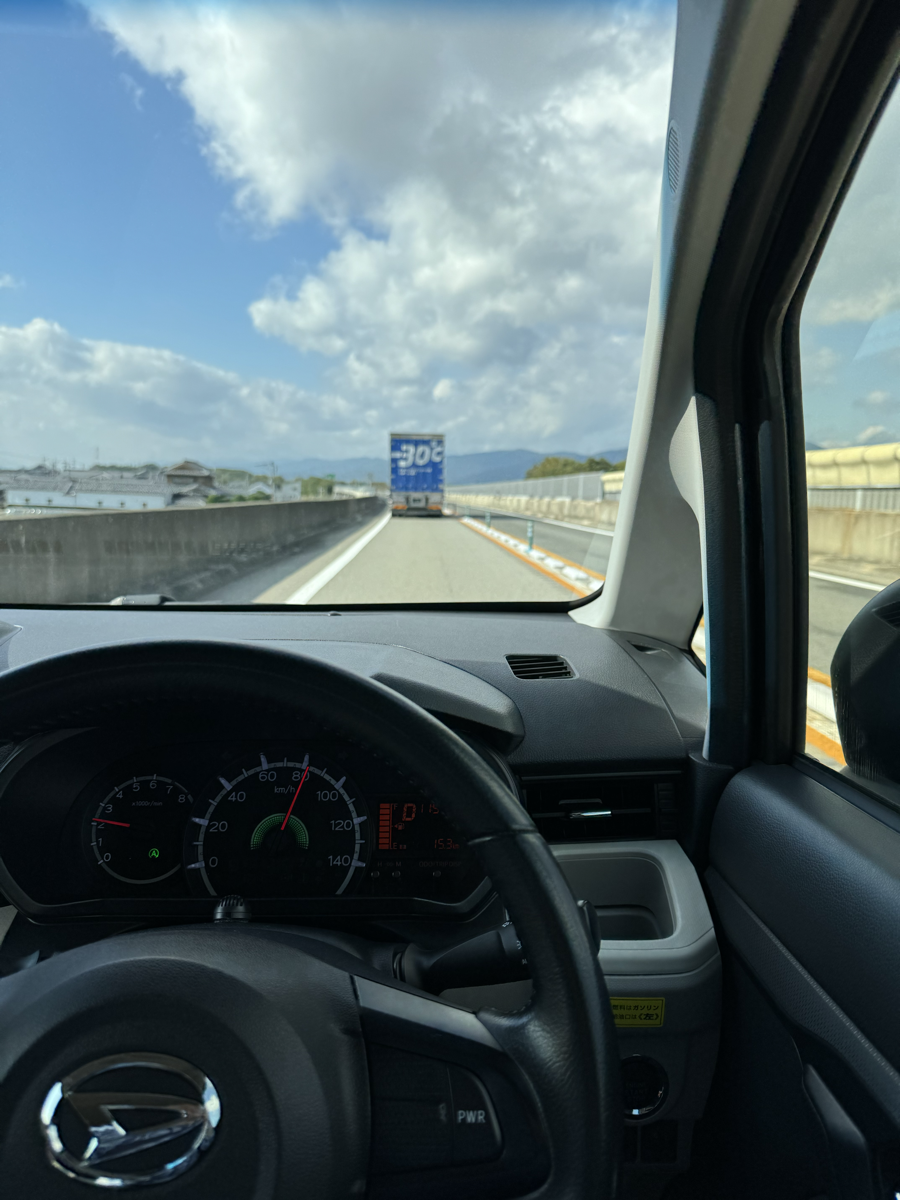 There were passing lanes and it did widen to two lanes for a while. Of course there were speedsters but I was in a kei car. I tried to keep it at about 85kph (53mph). I'm not Moriwaki, who said he got his Jag up to 300kph once. No way around it, that sounds sketchy.
So an hour and a half on the expressway and another 50 minutes or so on country roads. The navigation system kept telling me to watch my speed and I wanted to tell it YEAH, I'M SPEEDING BUT I'M TRYING TO KEEP UP WITH TRAFFIC.
Holy hell I was in the middle of nowhere. But I kind of knew it was a tourist area because the one rest stop I found had a Lawson and a Montbell shop!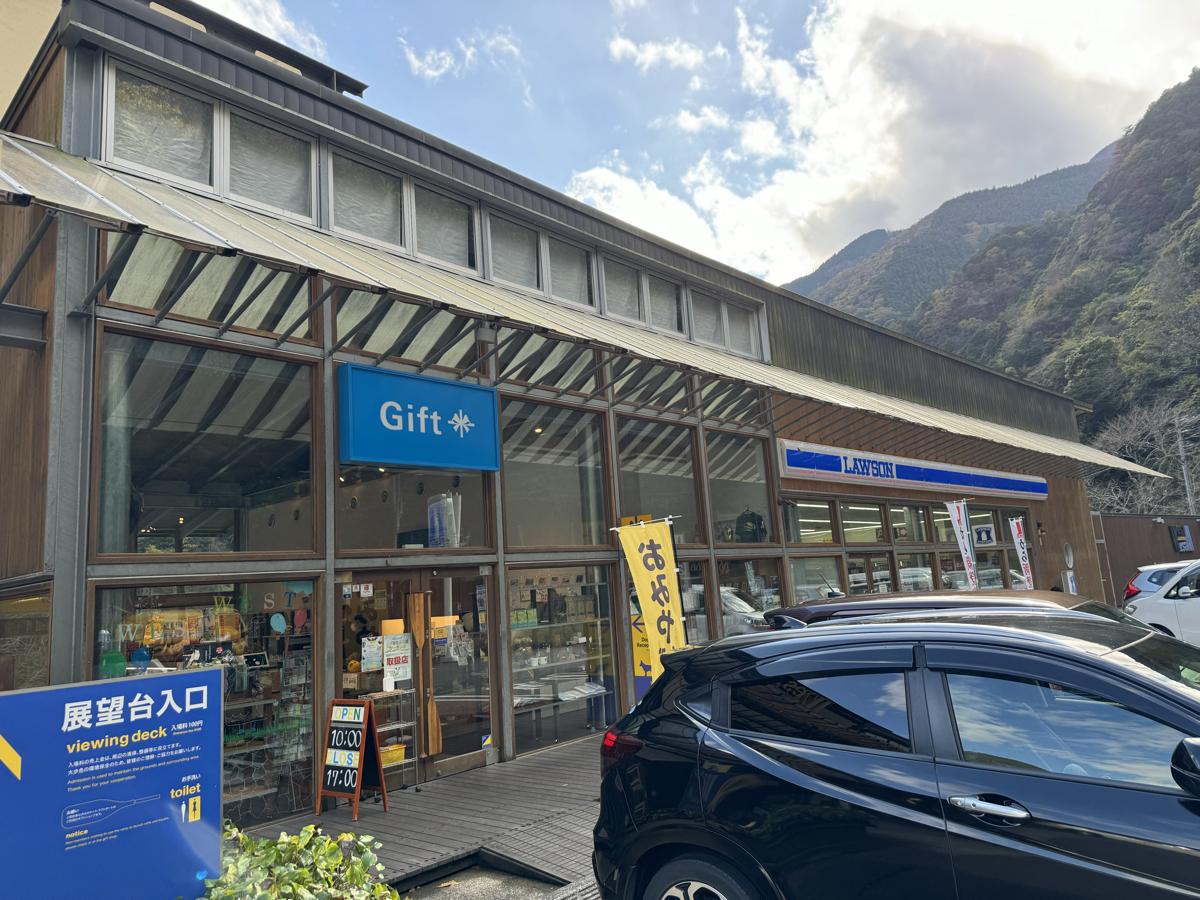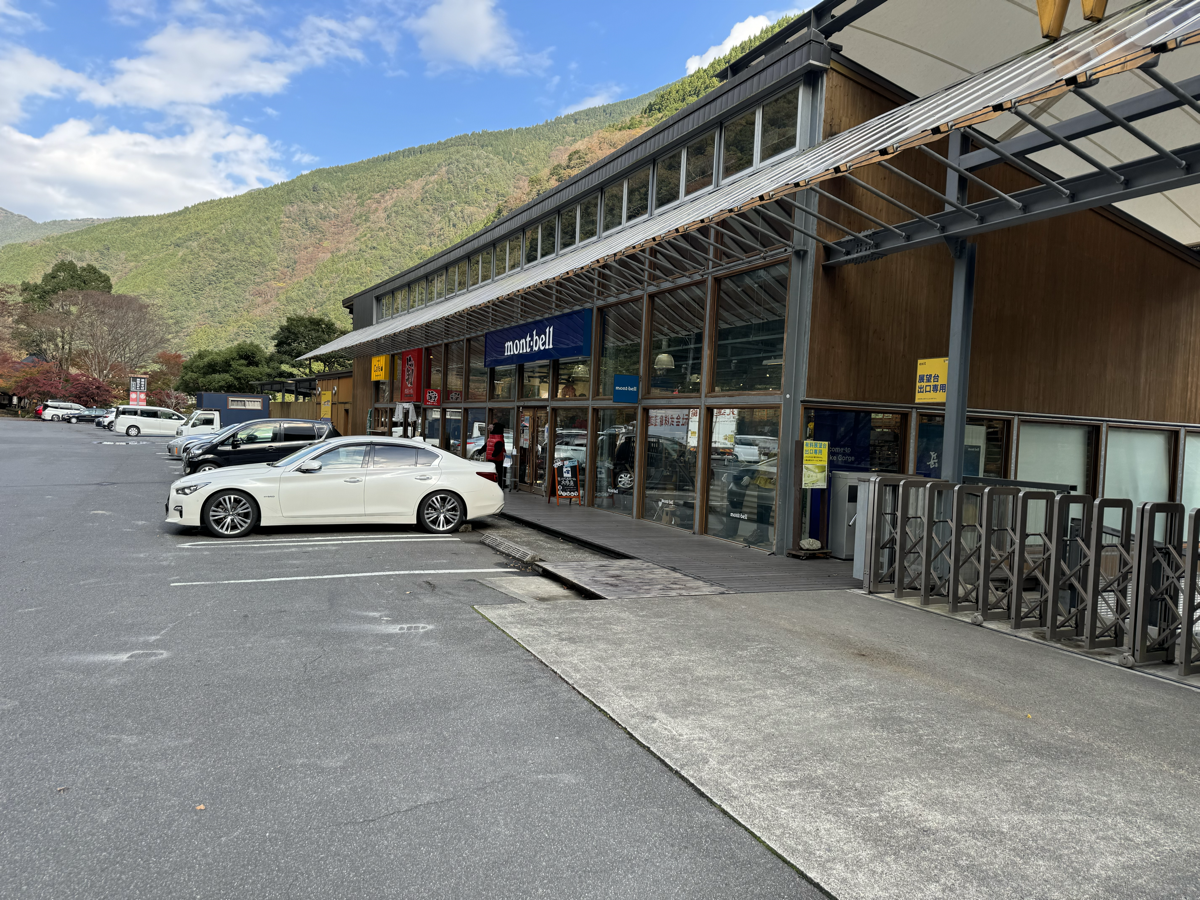 Nothing else for miles! Or I should say for kilometers! Not even a vending machine.
I wasn't that hungry so lunch was from Lawson. I would recommend a hard pass on the snow cheese chicken.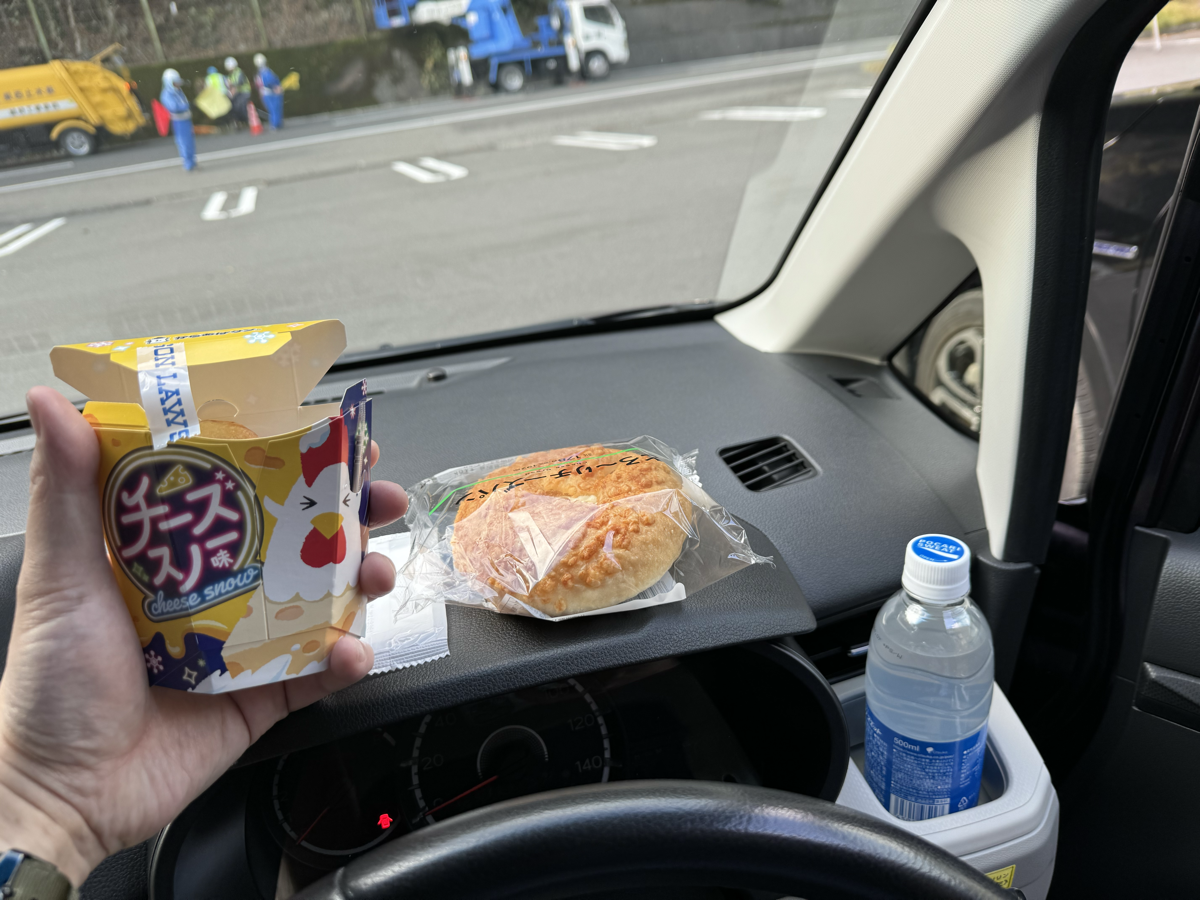 The GPS took me to a railway station that wasn't close to where the rope bridge was, but I used my phone with Google Maps and also the signs on the road that told me which way to go. And when I got there I saw ¥400 parking and I kind of knew it was a tourist trap. Well, I'm a tourist so whatever. There was a giant hall which looked like a US grocery store but was a Japanese gift store. Then it was off to the bridge.
The Abroad in Japan YouTube channel showed a scary vine bridge that looked like it could fall at any moment and Chris Broad acted frightened to cross it.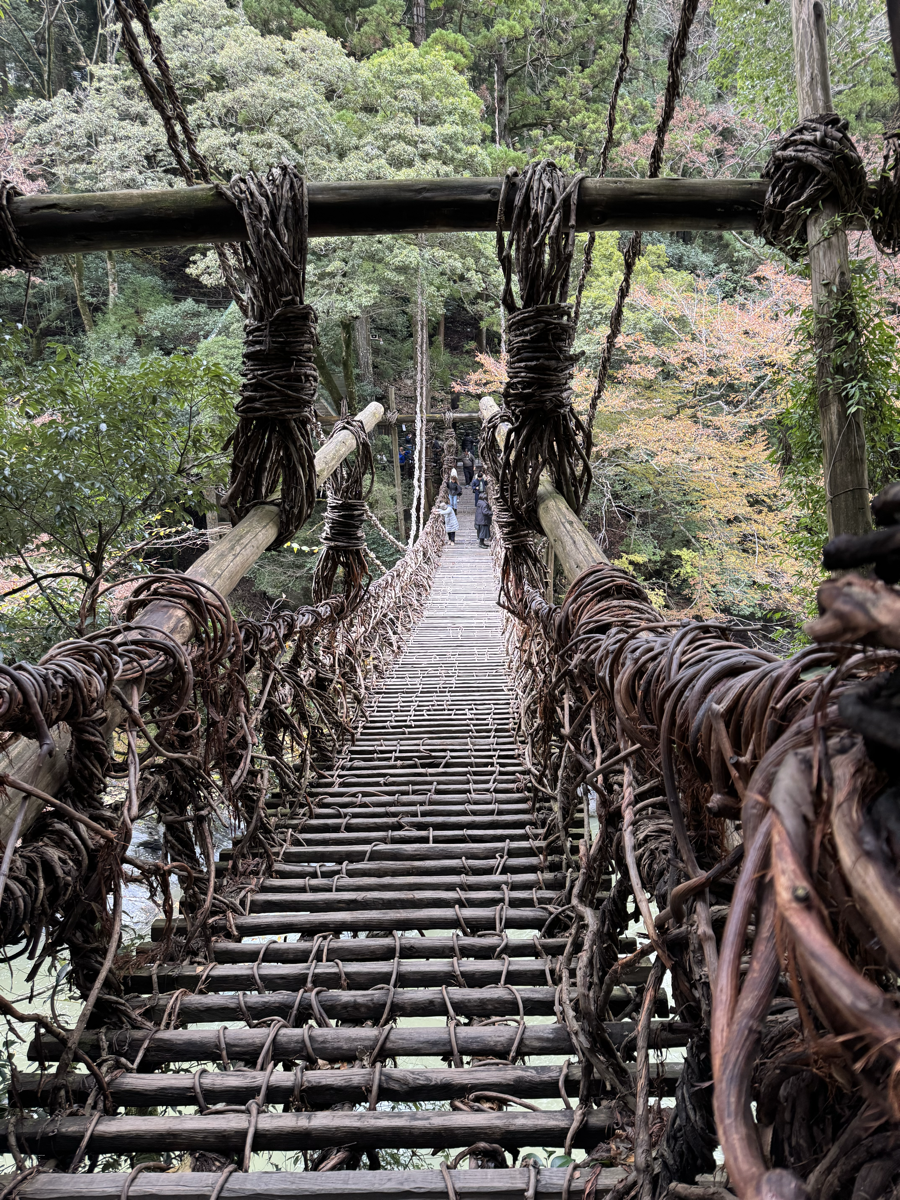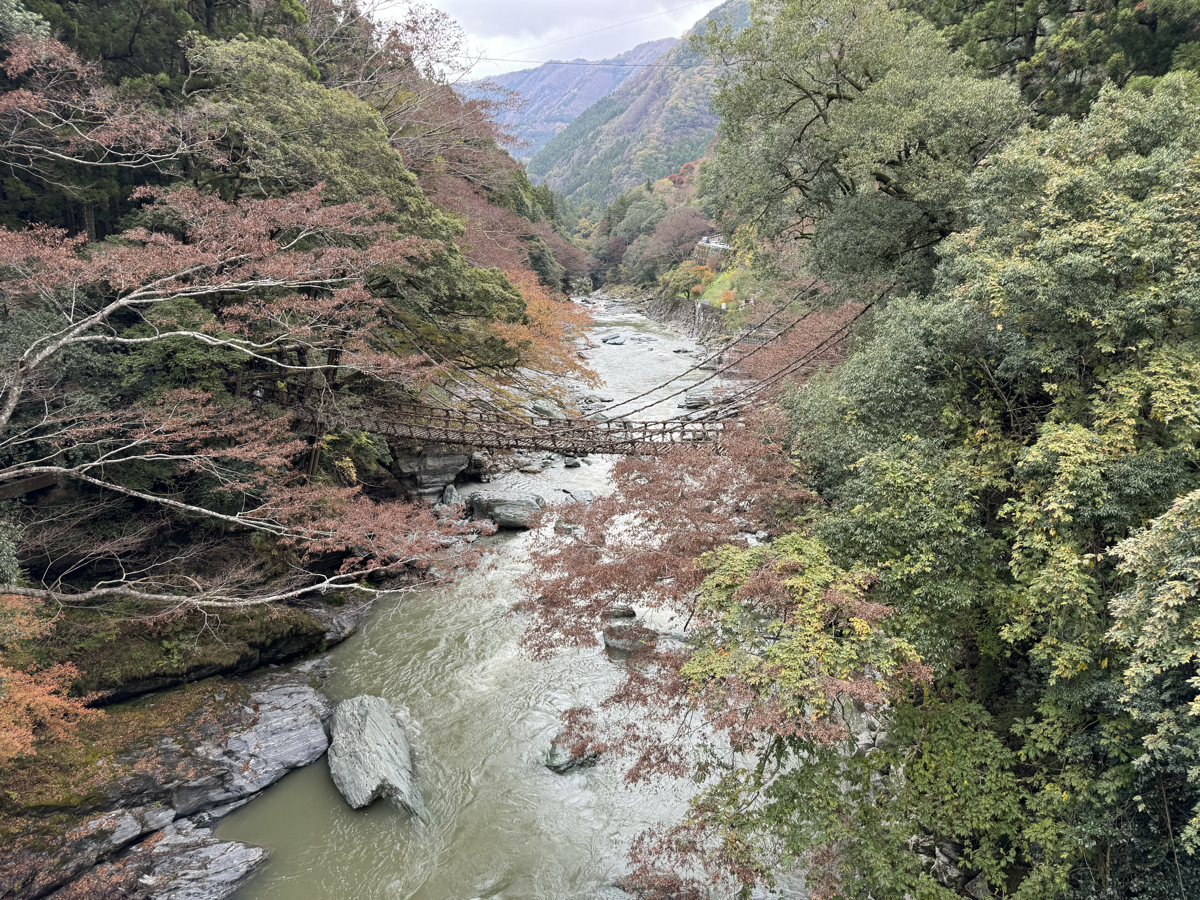 In reality it costs ¥550 to cross and there was a bus full of elderly Chinese tourists ahead of me crossing the bridge.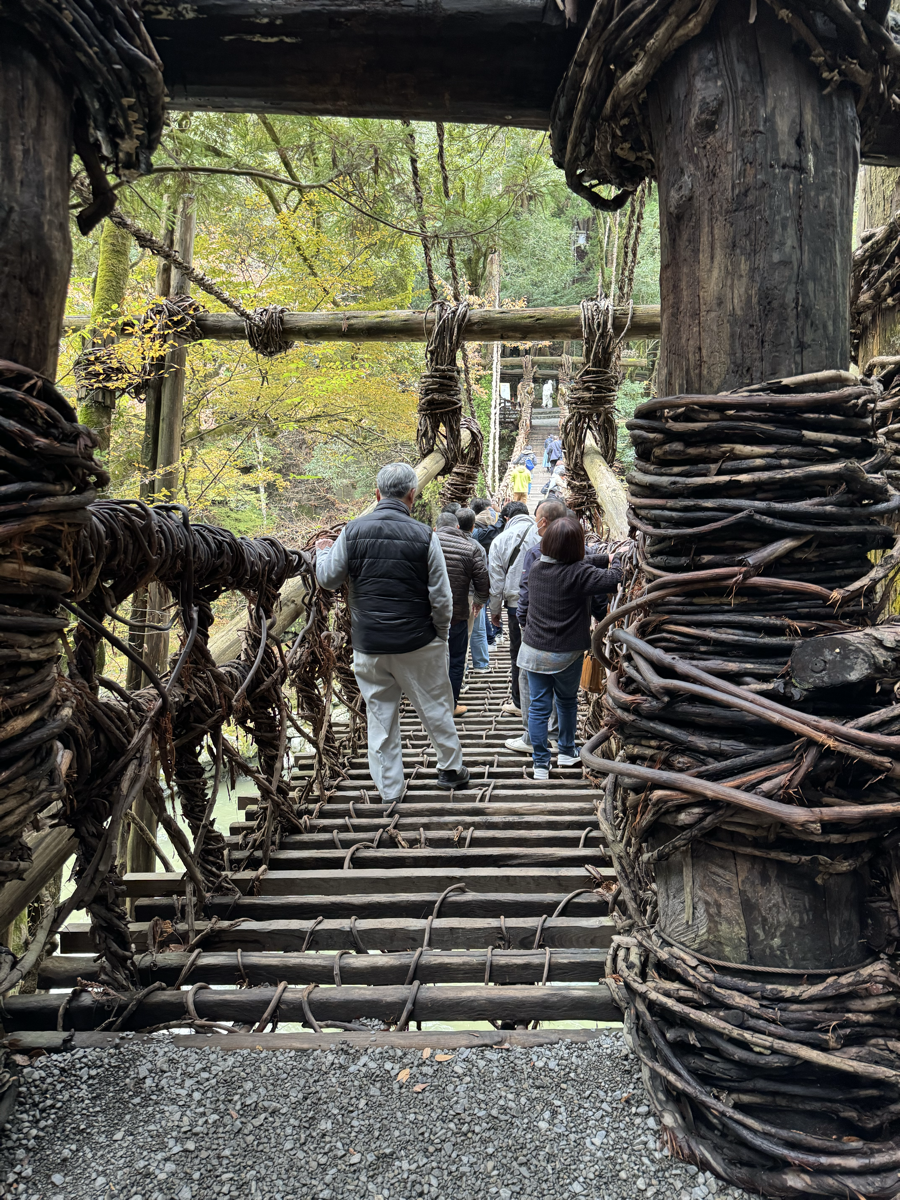 And it's pretty obvious that there's vinyl-covered steel cables holding up the bridge with decorative vines wrapped around them.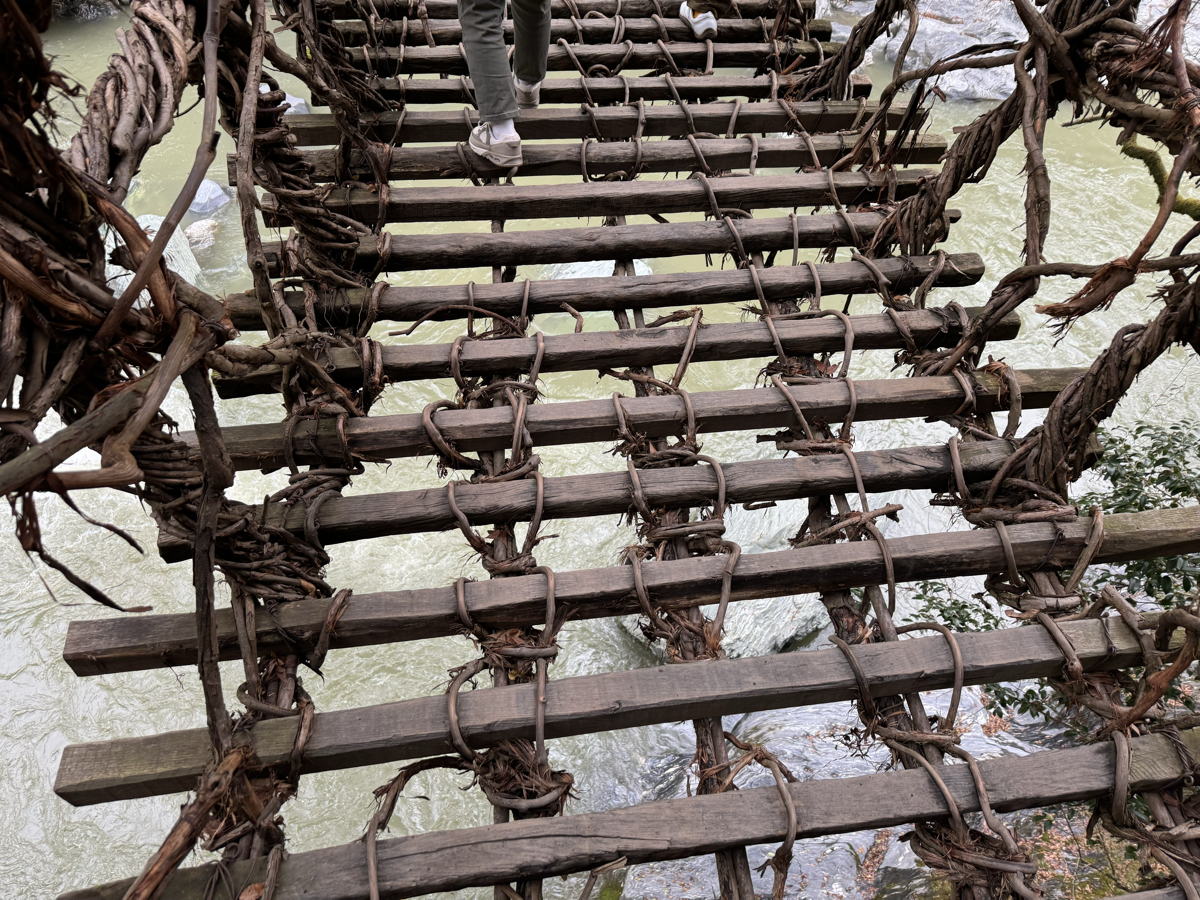 I talked to a Japanese couple who crossed at the same time and we had a chuckle. Here's a view from the middle of the bridge.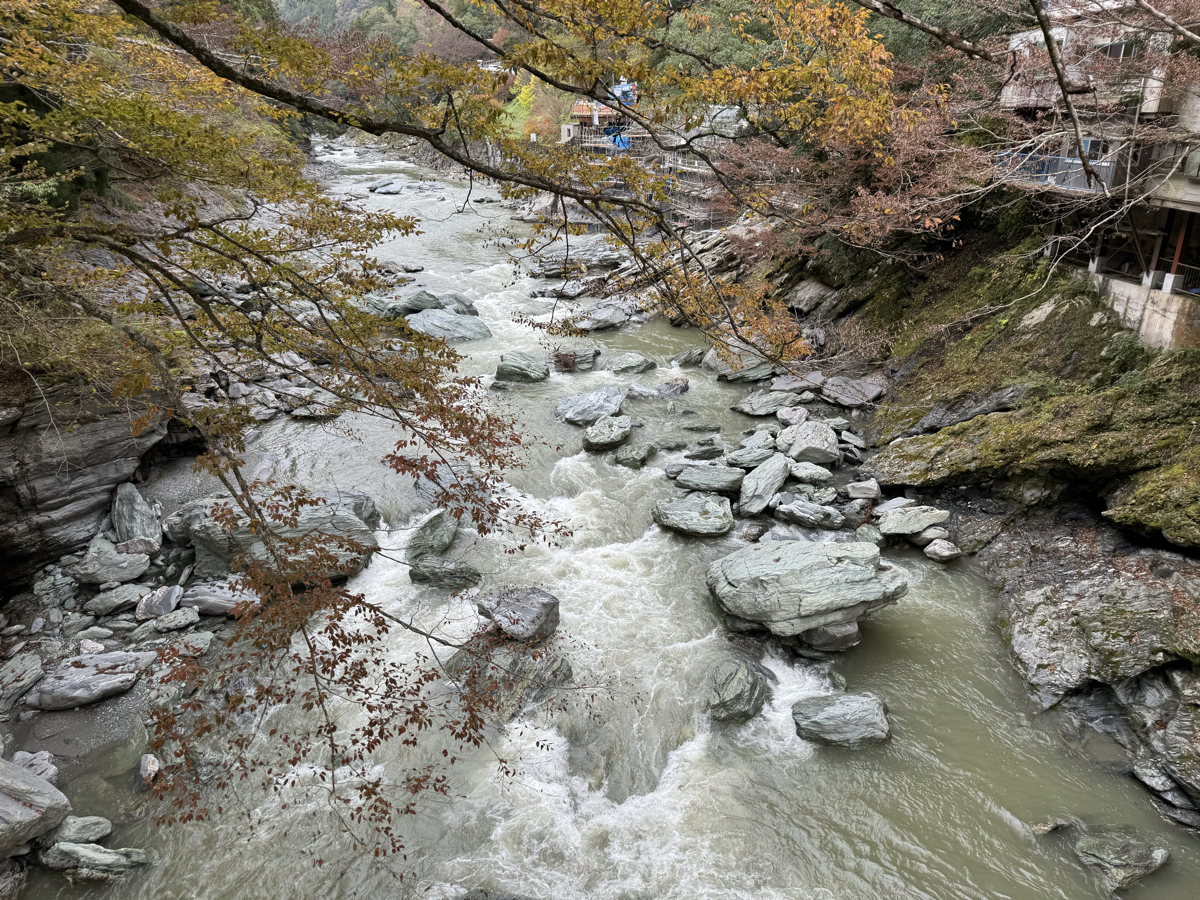 The worst part is that I came up to see the fall colors and there's a chance that they aren't happening this year. I saw lots of trees with brown leaves and the parking lot attendant told me that most of the leaves just turned brown and fell off this year because the temperature just suddenly dropped. I did find one single tree with red leaves.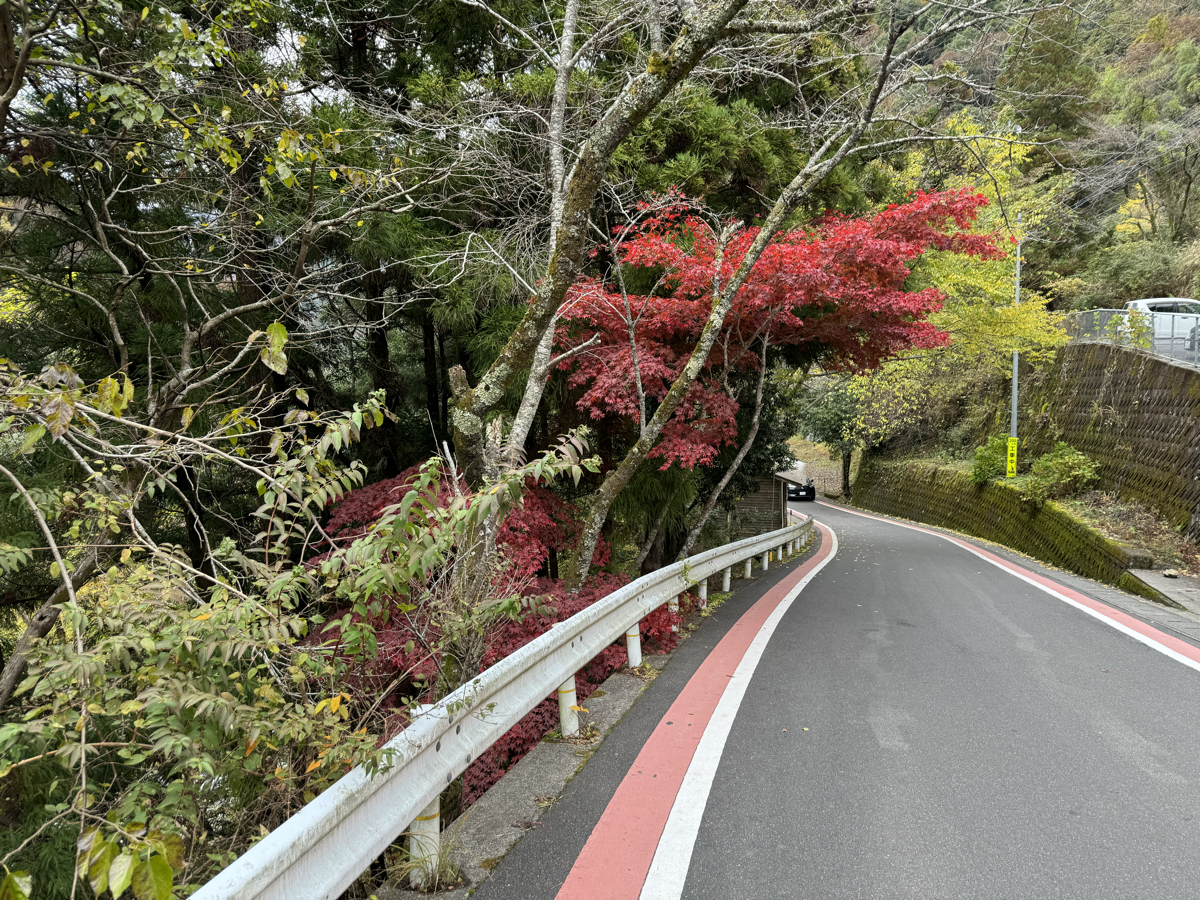 Then I drove back through the rain and it was starting to get dark at 3:30pm. But when I got back to Tokushima the weather was pretty nice. The only hard part was the minimal rush-hour traffic and the GPS driving me around in circles. Oh, and then trying to find a gas station.
I got back and I still wasn't hungry. I decided just to give Lotteria a go and DON'T TRY THE BACON CHEESEBURGER unless you want a ham cheeseburger. And a tiny ham cheeseburger at that. It was, um, bad? Well, not bad, but not good. Mos Burger is still at the top of my list.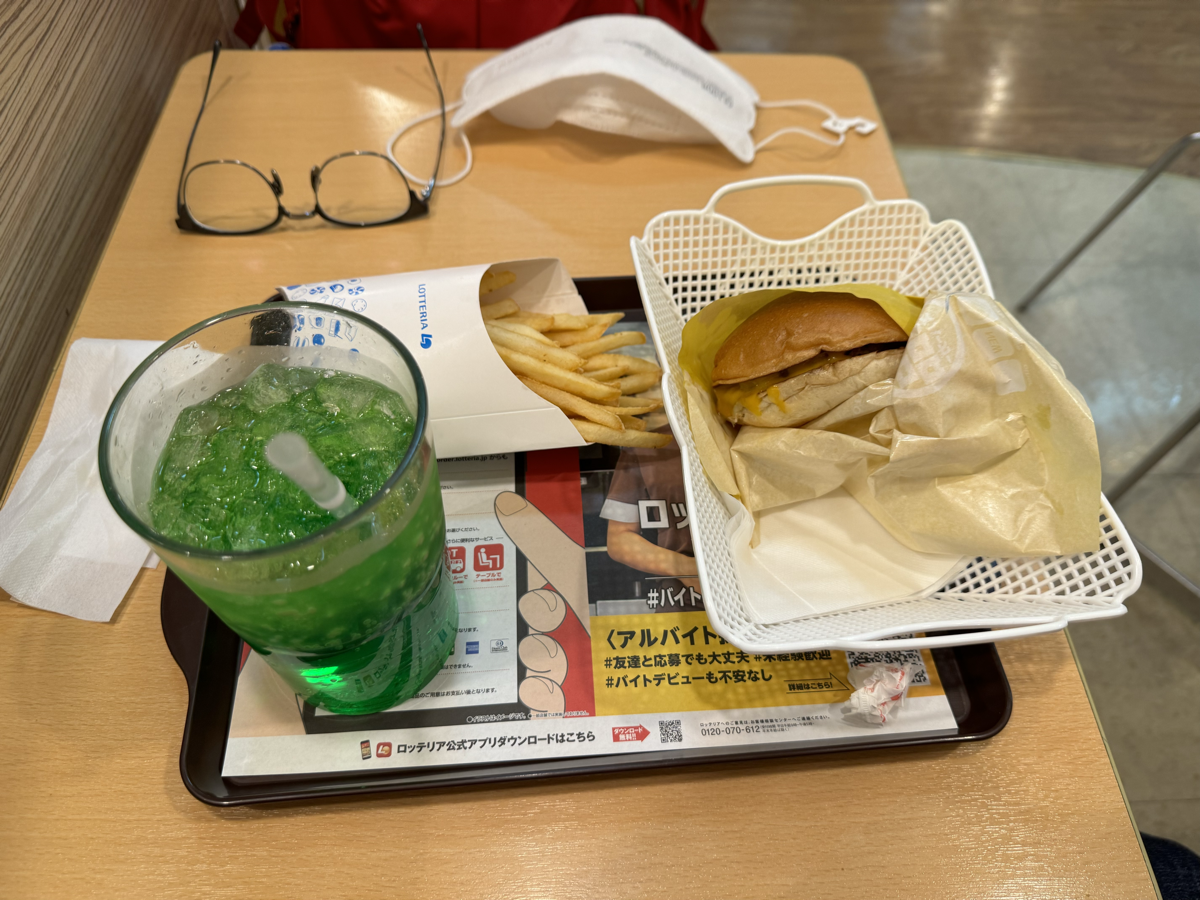 The fries were surprisingly good, though they were over-salted. And I got a melon soda because that's not a typical thing in the US.
I went up to the bath early and I kept thinking I smelled like shit. Then I thought it must be the onsen water. Then I looked at the drain and found a present someone had left for me. Ugh. Well, I reported it on the way out but yeesh. And yes, sometimes onsen water does kind of smell like that.
So, there's Tokushima for you. Pluses and minuses and dumbass me not planning ahead making things harder. And the food, in general, was underwhelming. And my weird Japanese skills are getting weirder and weirder. The guy at the tourist trap parking lot asked me if I was from Yamaguchi. Hahaha. And here I thought I had my Kansai-ben down.