UPDATED not that anyone would notice.
I might update this later, but it's mid-afternoon and I'm chilling in the hotel room. It's cold and rainy and I've done the main thing I wanted to do today: laundry. I also went to Toki, a restaurant I go to at least once a year. But first, I went around the corner to the fancy Hotel Vischio because my sister said they had a coffee shop, and they did! The coffee was strong and the breakfast set was tasty.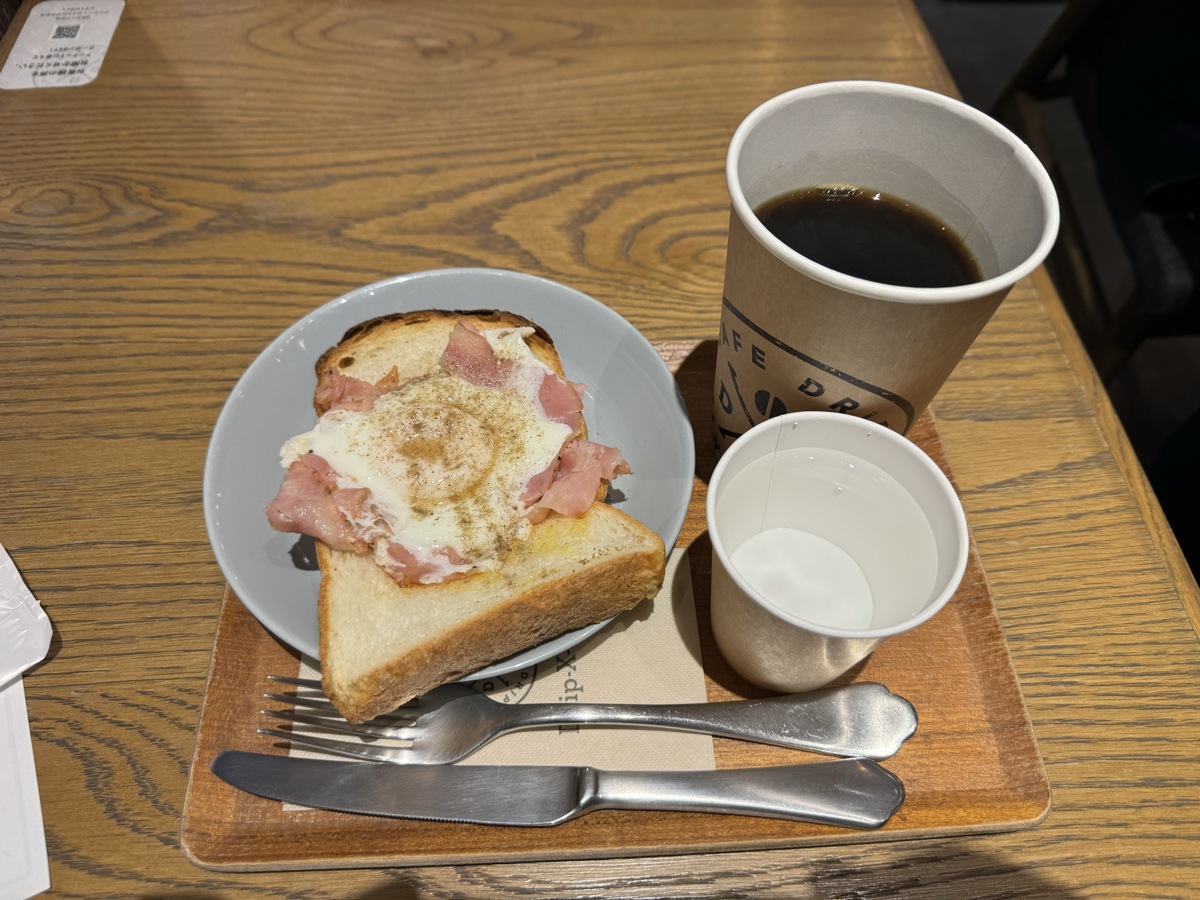 Lots of SE Asians there, or at least they sounded like SE Asians to me. After that, I went back to the hotel and grabbed my laundry bag and headed to the Laundry Robot Lab.
Remember how I said I bought a massage gun and it worked wonders last night? Well, I'm still a huge mess and it took quite some time to walk the 12 minutes to the laundry. It's worse today, I think, but I just know its kind of bad. But I made it.
The laundromat was clean and there were tables with chairs where you could wait. I think this is a nicer neighborhood. Lots of people were coming in to use the dryer since it was a cold day and I guess rain was in the forecast. Carrot Weather failed me and it's rainier than they said. You know what makes it a Laundry Robot Lab? Just that there's a machine where you can pay with credit cards, Suica cards, etc. (It's the one at the end of the row of washers.) I watched one guy try card after card without much luck. It took him about five minutes to get it right. I didn't help because he was much younger than me and should know about these things much more than I do.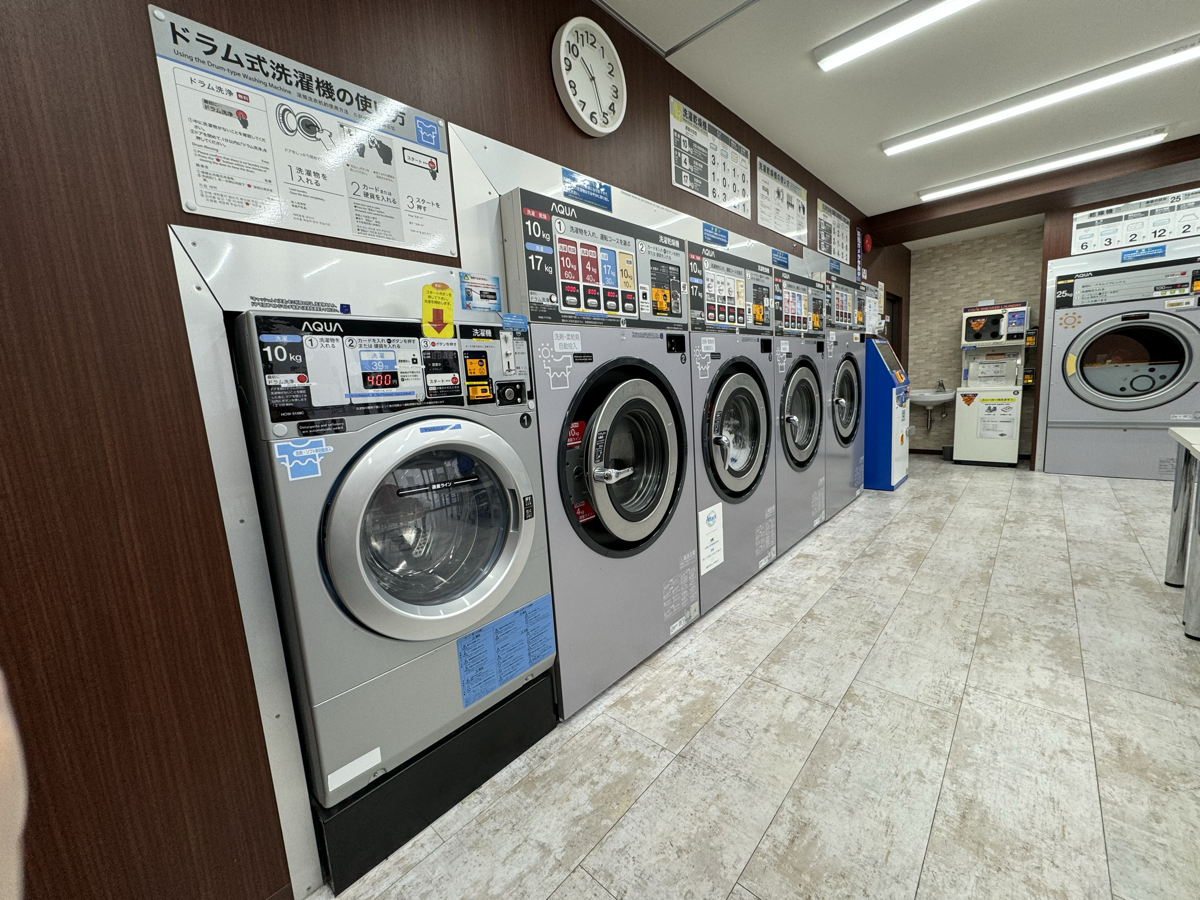 The taller washers were washer/dryer combos and I used the one with the "Attack" detergent. I finally asked a woman what that meant and she just said it was a brand of laundry detergent, probably fancier than the industrial one in the rest of the washers. No one else came in to use the washers but all the dryers were in use. You can see the big dryer to the right of the picture. There were six more stacked dryers. You could use coins but no one did. You just use that blue machine and tell it which washer, washer/dryer, or dryer you want to use and it does the rest.
I made it back to the hotel about noon and they said they'd already cleaned my room. I sat around for about an hour. Then I went looking for food. The lines were long again, but nothing like yesterday. The weather was much nicer earlier in the day yesterday. Somehow I decided it was time to get Famichicki and it was just a breaded cutlet. Tasted like real chicken and was better than one you'd get from the freezer section in the US but it was still just a breaded piece of chicken.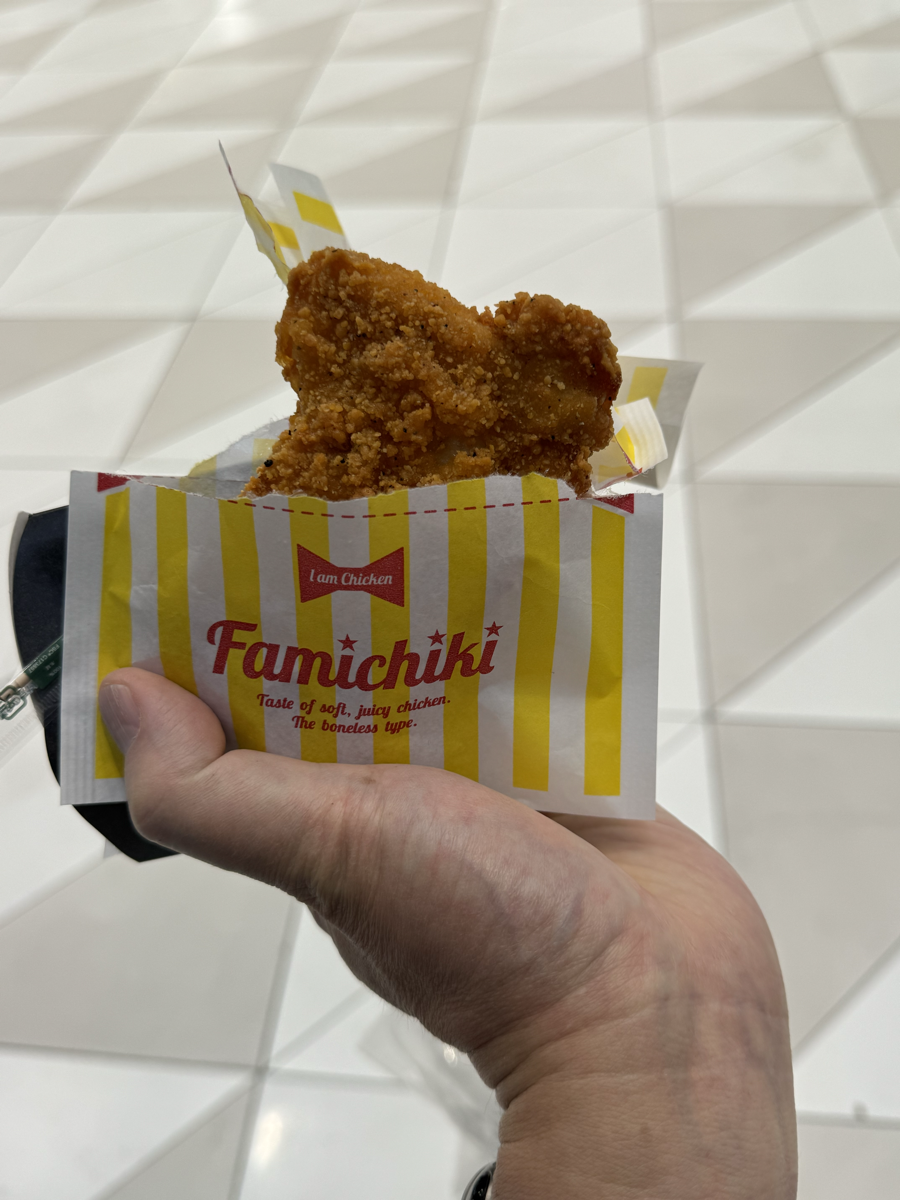 I also got some karaage and all of it had to be microwaved because the heat lamps didn't do much. One salt flavored and two soy sauce flavored.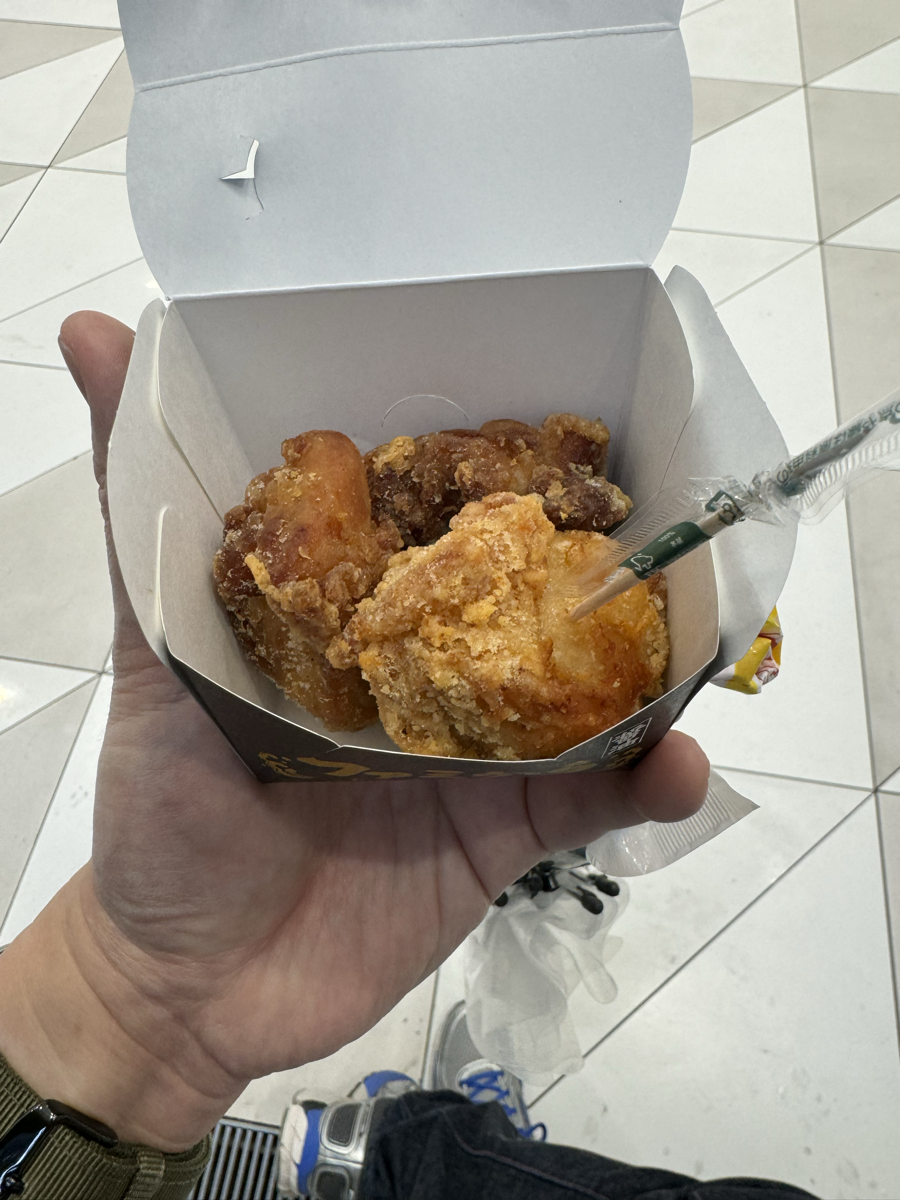 I also had a milk tea that was ridiculously sweet.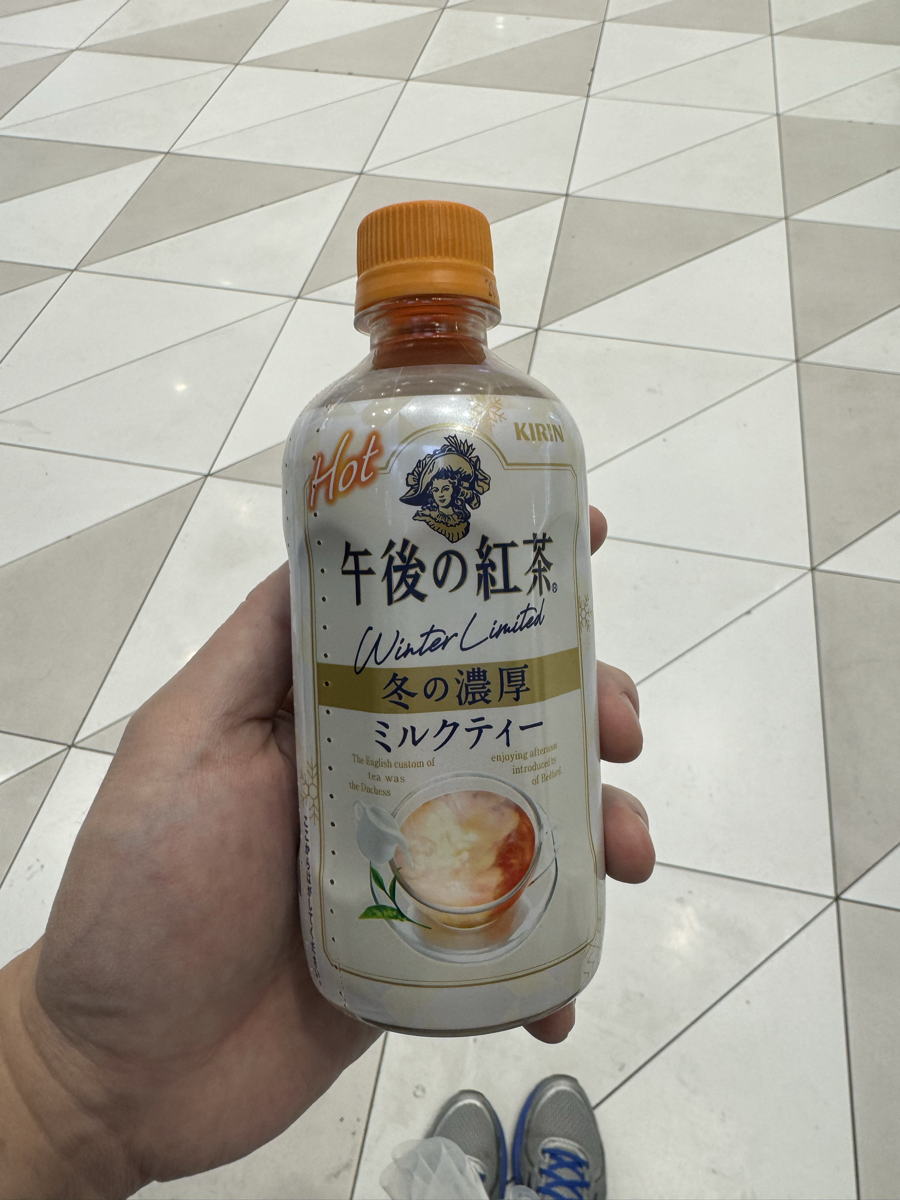 I handled this all with one hand while I took pictures with the other. I was also holding an umbrella. And everything was kind of slippery. How? Well, the Famichicki comes in a bag that you tear in the middle so you can hold just the bottom part without getting your hands greasy.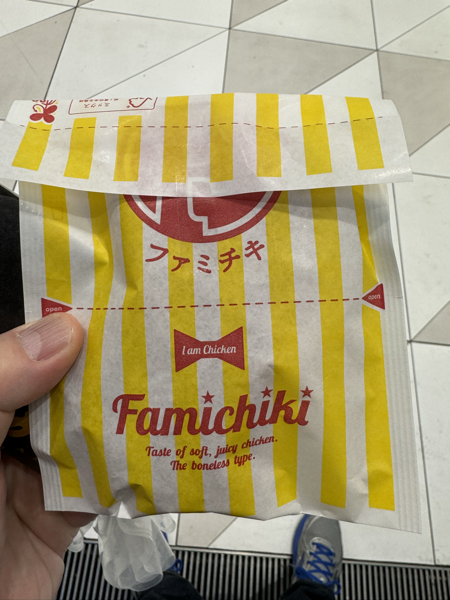 And then it was time to get into the long line at Toki to get the same dessert I get every year. The past few times I've gone Toki hasn't been that busy but this year there's lines. Good for them. And I got matcha shiratama as I do most years.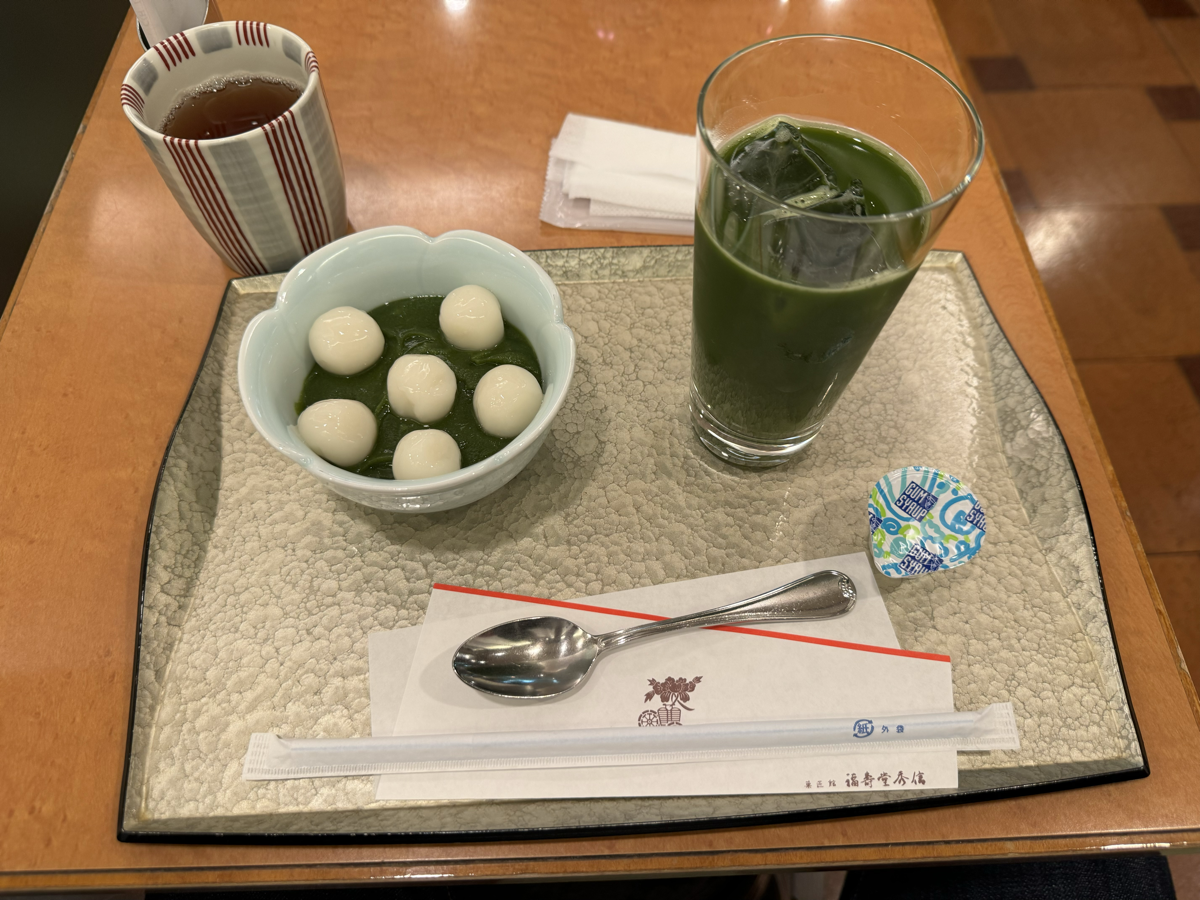 And since I got two big checklist items taken care of and it's cold and rainy plus since my back hurts, I decided it was time to head back to my tiny hotel room to chill at least until dinner. And dinner might be Wendy's because for it's just around the block and for some reason it sounds good. But I might also take another run at Baqet as well. We'll see.
Oh, and the best news, I finally got ahold of a rolfer and I'm seeing them tomorrow morning! Wish me luck!
UPDATE (just dinner, really).
I think two people read this blog and they should've been asleep by the time I posted the first time, so I'm not sure why I mention the update.
Ah indecision. I thought I should go to the steamed veggie place because I ate like crap at lunchtime. Fried chicken and then wagashi is not a complete diet. And whatever horrors I'm putting in my body at home seems to have way more fiber than what I'm eating in Japan, if you catch my drift. But I noticed there was no line at Grill Ron. The last two days at lunch there's a huge line, and today I asked one of the people working there and they said it's was on a YouTube video. I kept walking to the steamed veggie place and I ended up back at Grill Ron. At this point all the chairs were taken so I was supposed to stand in line across the way.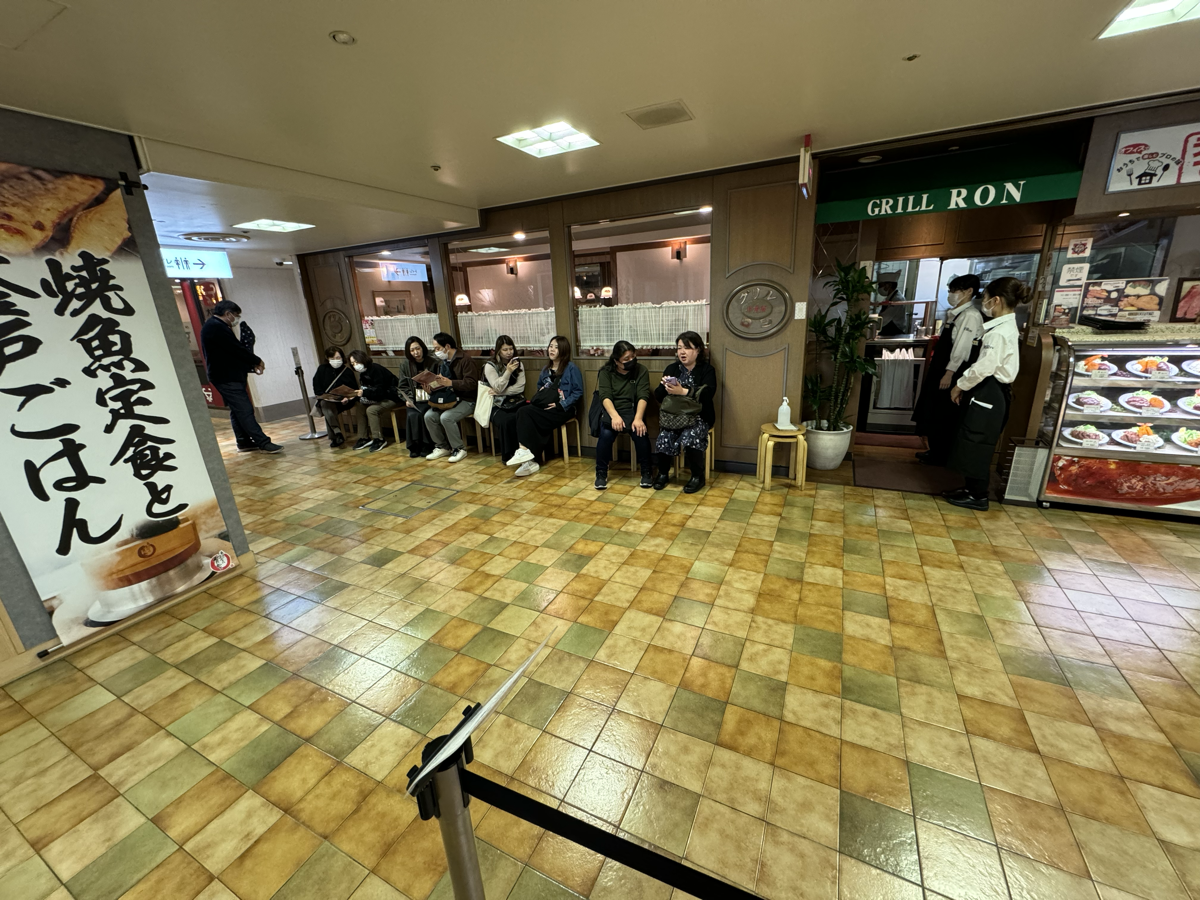 They give you a menu while you're waiting and take your order before you go in. There's only three four-tops (Japanese four tops which are pretty small), three two-tops, and three counter seats although I can't imagine three people could sit at the counter. The menu was pretty simple, several different sets of "mixed fry" and some other things I didn't really look at (like omurice). I got the "C" set with 100% beef hamburger. Came with some miso soup as well. The order came pretty soon after I sat down inside.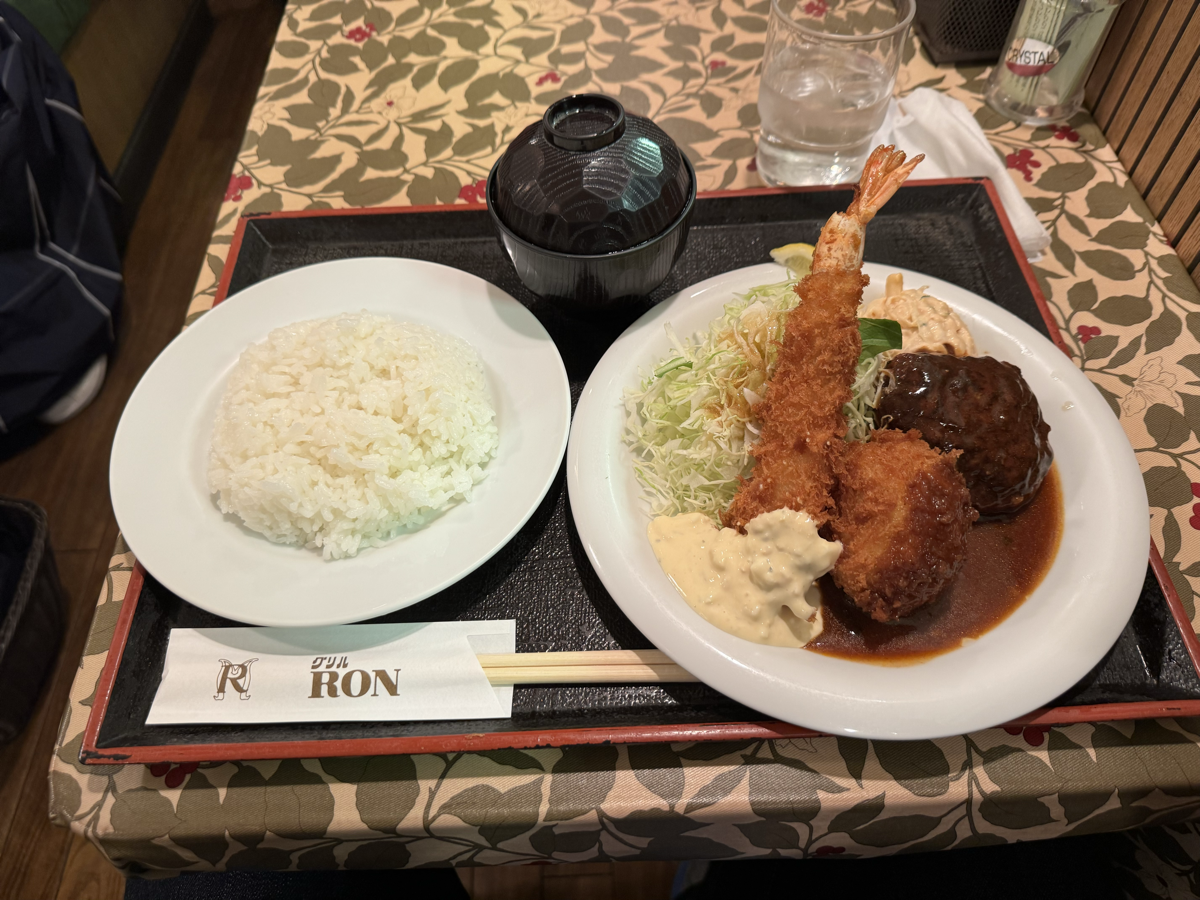 It was pretty good. Everything was just a little better than expected. The shrimp was prefectly crispy, the burger was good, the cream crab croquette was tasty. Not spectacular, just exactly what you'd want. I guess that and the small seating area are what causes the line. I'd say try it if you can, and honestly if everyone just eats and goes the line moves pretty quickly.
After that I just headed back to the hotel. I got some 7Eleven fizzy water and some more chocolate. Here's a picture of that.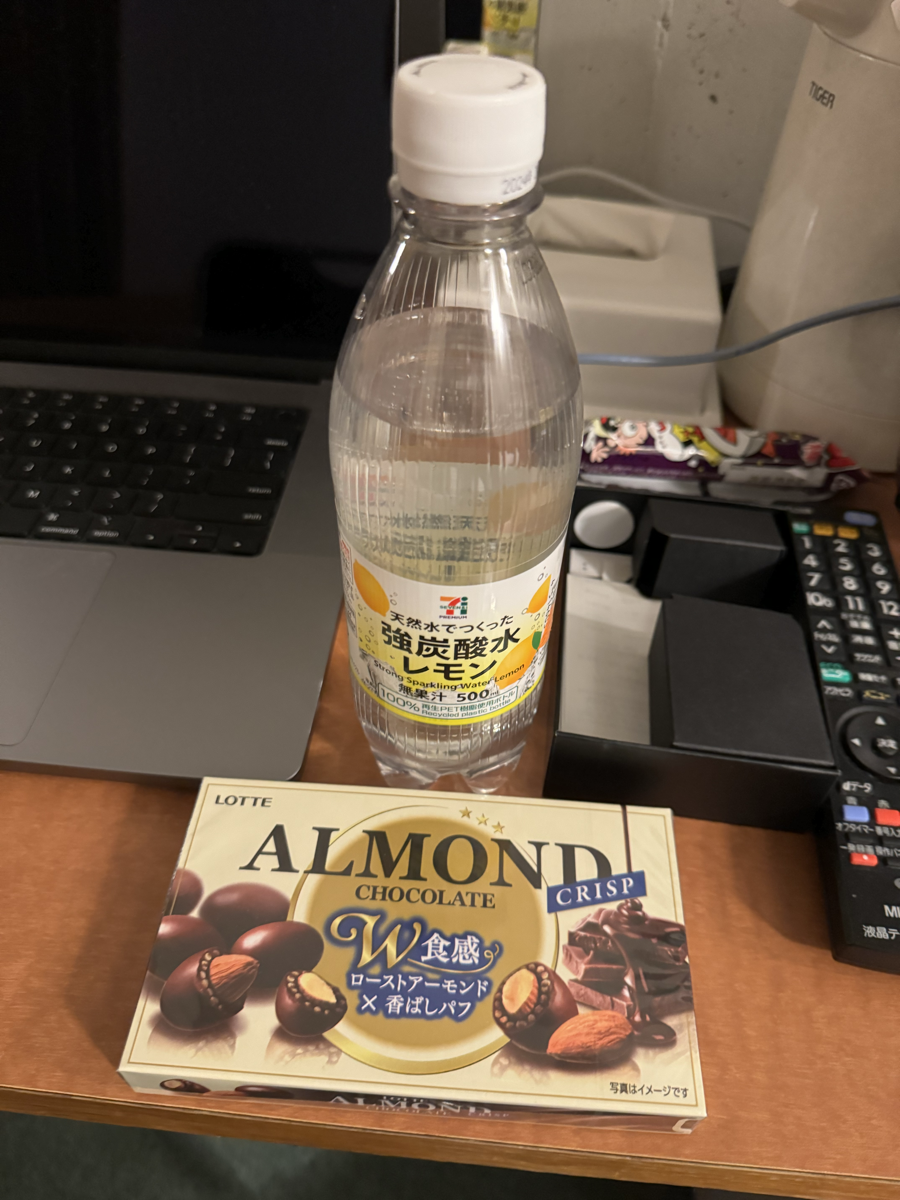 I like those chocolates because you can eat a few at a time. They're really tasty too. This year I've been getting the almond with the puffed rice in the chocolate, which I've never seen before. I often get them with just macadamia nuts. They're very tasty. The fizzy water is a cheaper version of WIlkinson which they don't seem to sell near this hotel. I think Wilkinson is better, but they're both better than LaCroix.
And that's it for the day. Here's hoping that the massage person can help me with my hip pain!