Today was the only day of my trip that I was kind of worried about. Number two would probably have been that trip to Wakkanai with the flight and rental car, but this one was a visit to a brewery in the middle of nowhere with iffy transportation and a stay in an onsen that also was an unknown. I met the guys from Rise and Win brewing in Portland about three years ago and the old head brewer of Labrewatory makes it here several times a year. I've even been to Rise and Win's taproom in Tokyo and so I thought why not?
But first, breakfast in a crowded room, but not too bad. The curry was a little bland and the potato salad wasn't really to my liking, but it wasn't bad. I paid extra for this because I knew I'd probably be drinking at lunch.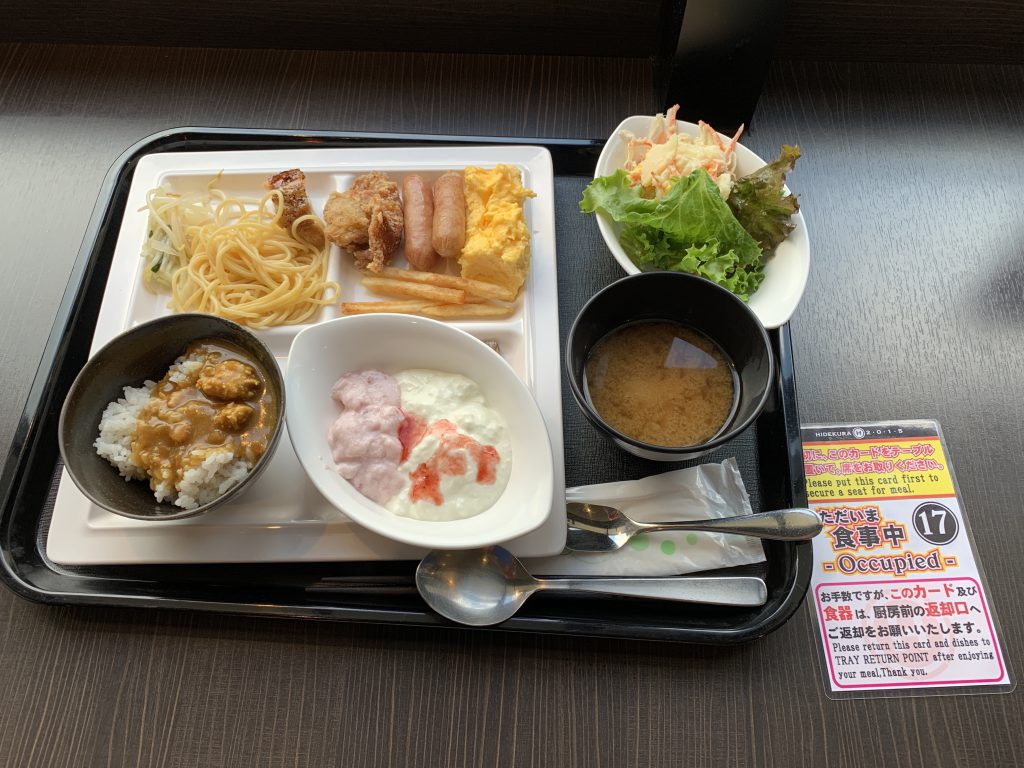 And the view from the counter seat at breakfast.
Here's the first of three buses I needed to take.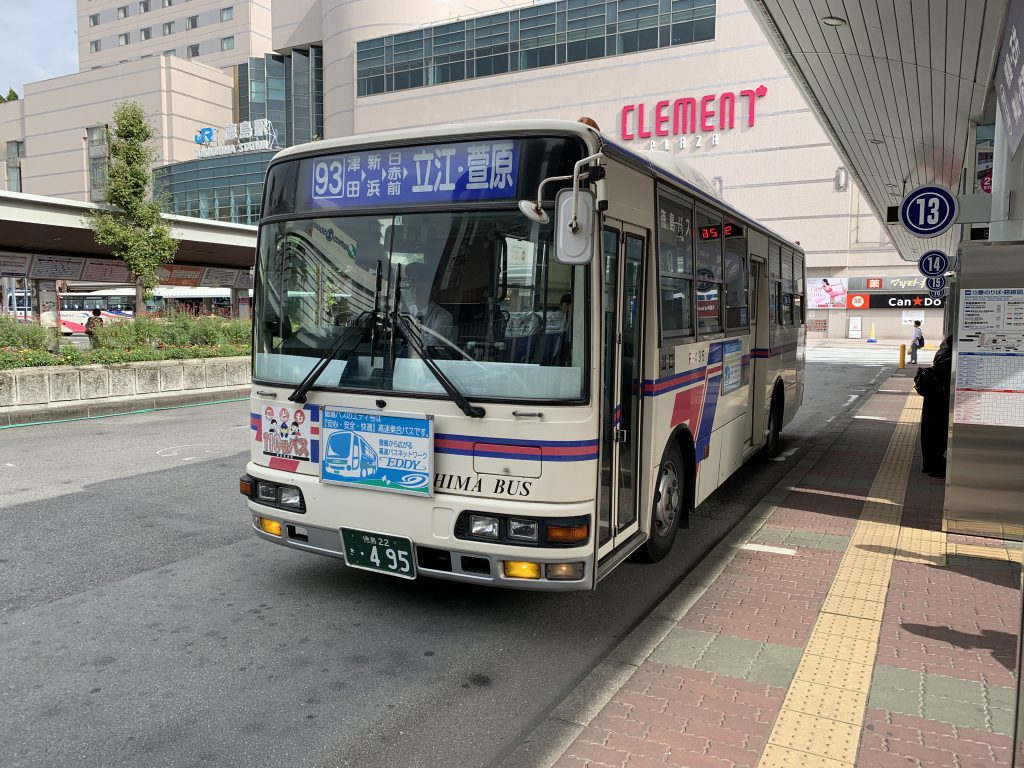 I had to change buses at the Tokushima Red Cross Hospital, which was kind of a grim place to wait for a bus.
The bus came tearing in about seven minutes late. It was a brand new bus, and he made up some time on the trip. It was a ¥690 trip and that wasn't a rip off. It was a long ride and there were only three people on the bus at "peak" time.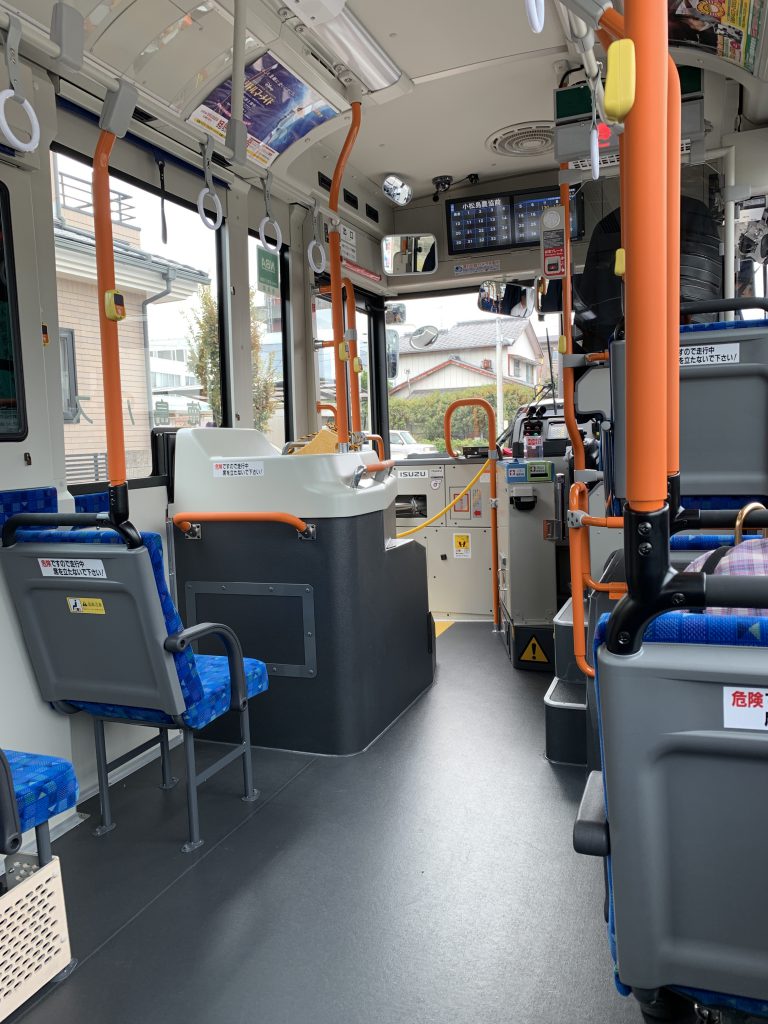 I made it in time to catch one of the four Kamikatsu buses of the day. They let me off right in front of the brewery!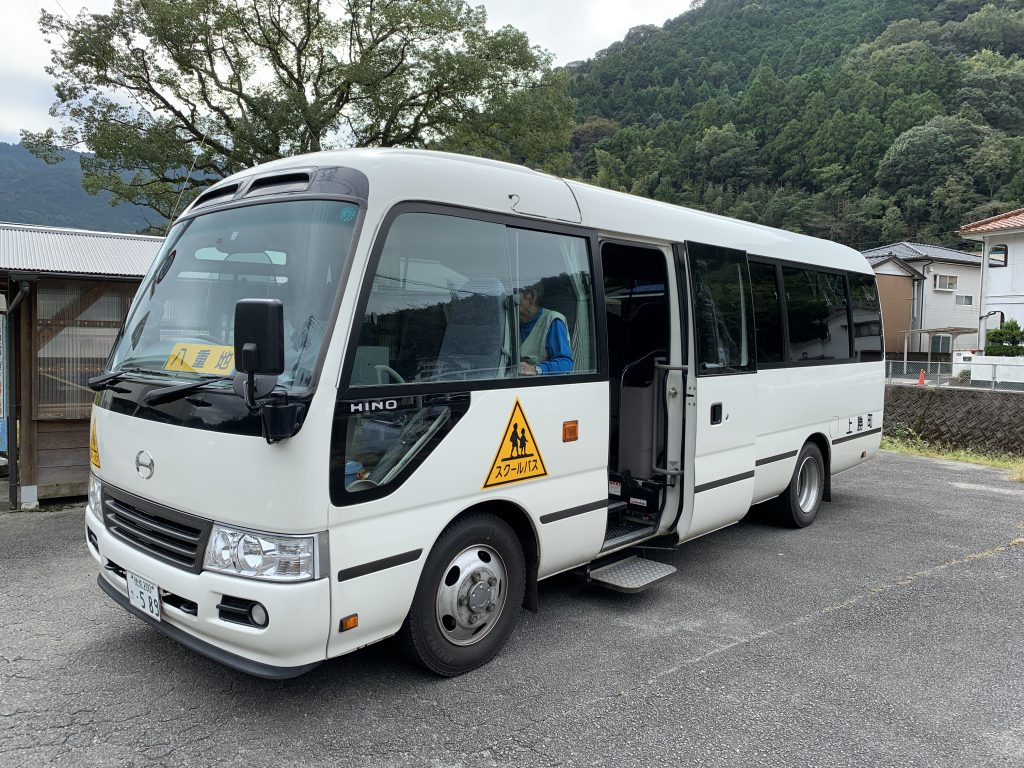 The brewery was much smaller than I expected. The picture you usually see is of these big recycled windows from the outside. Kamikatsu is a "zero waste" town because they were losing so much population that they fell off the map and lost garbage service. So they have a recycling center where they divide up their garbage into 45 different categories and try to reuse as much as possible.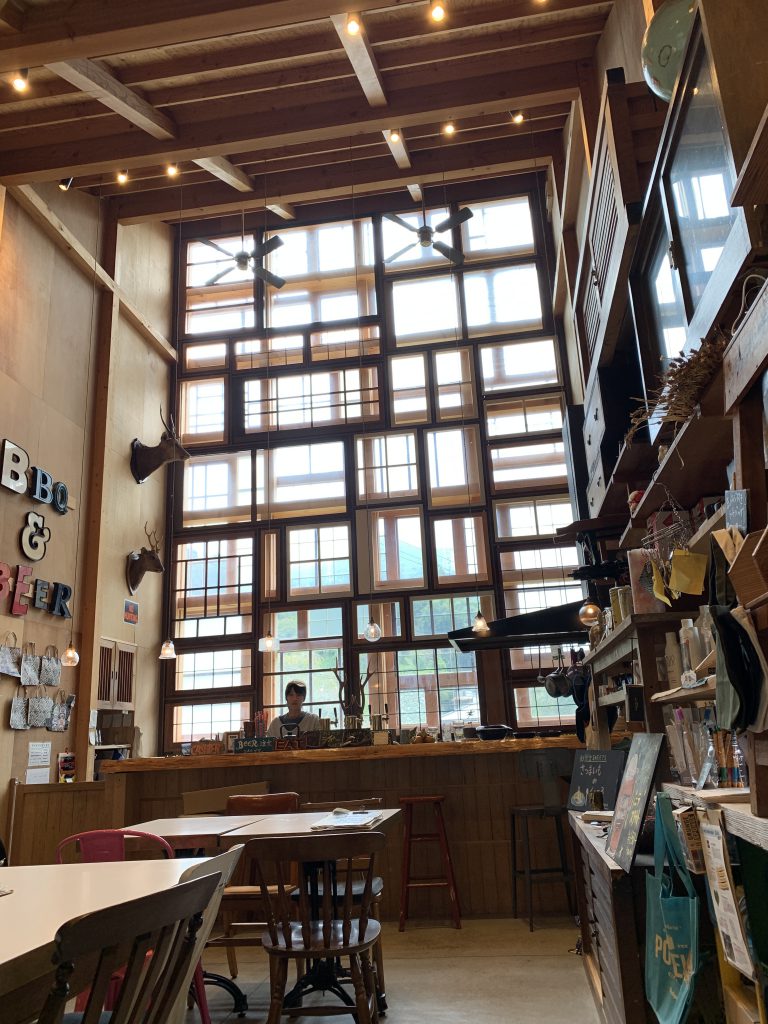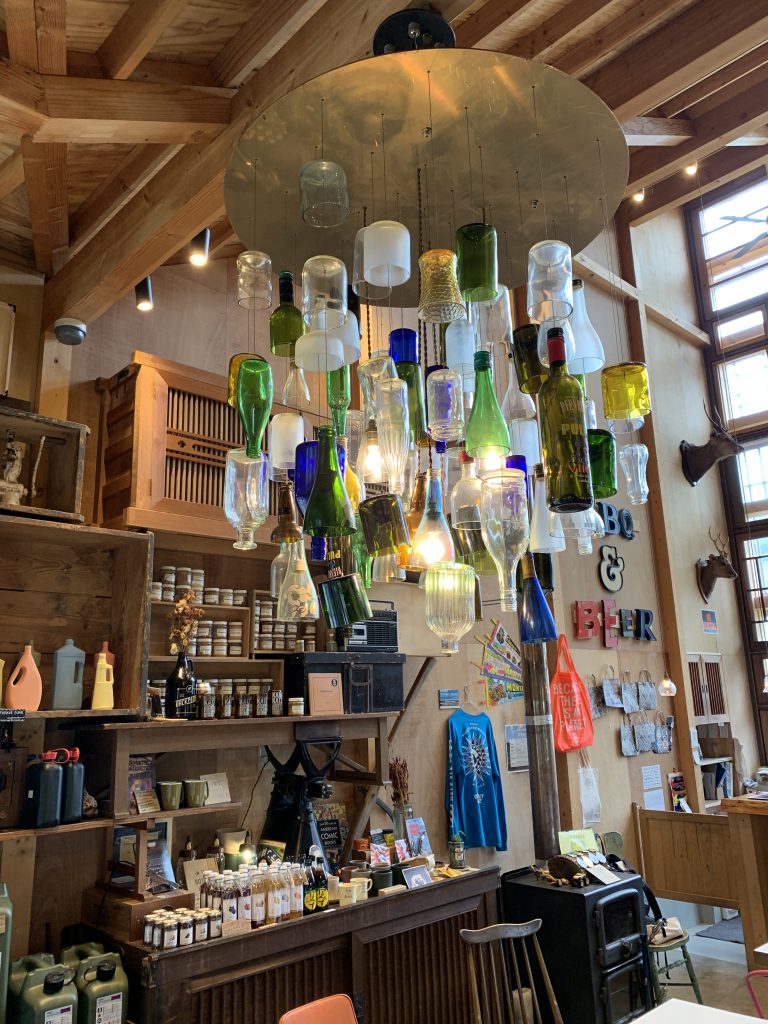 This is the whole store, and you can arrange to barbecue with a group of people if you call ahead.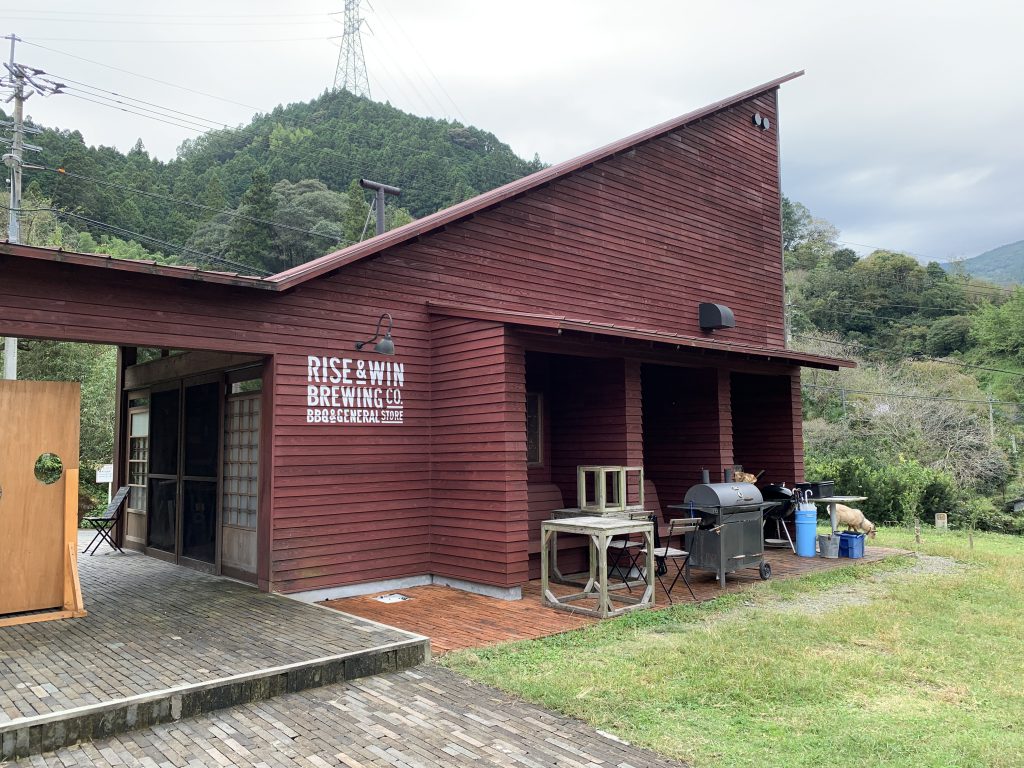 The store is on the left and the original brewery is on the right.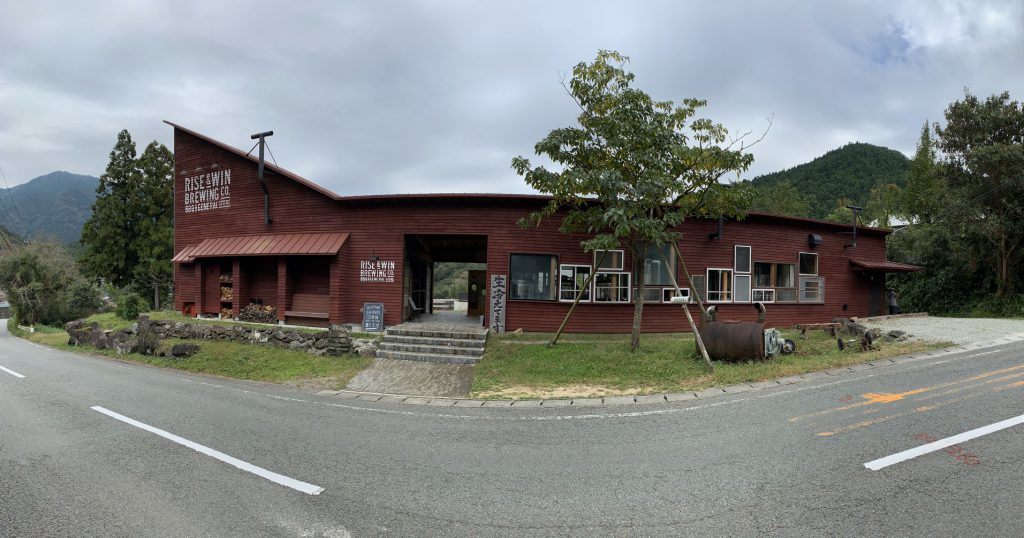 Portland Kettleworks nine-barrel systems!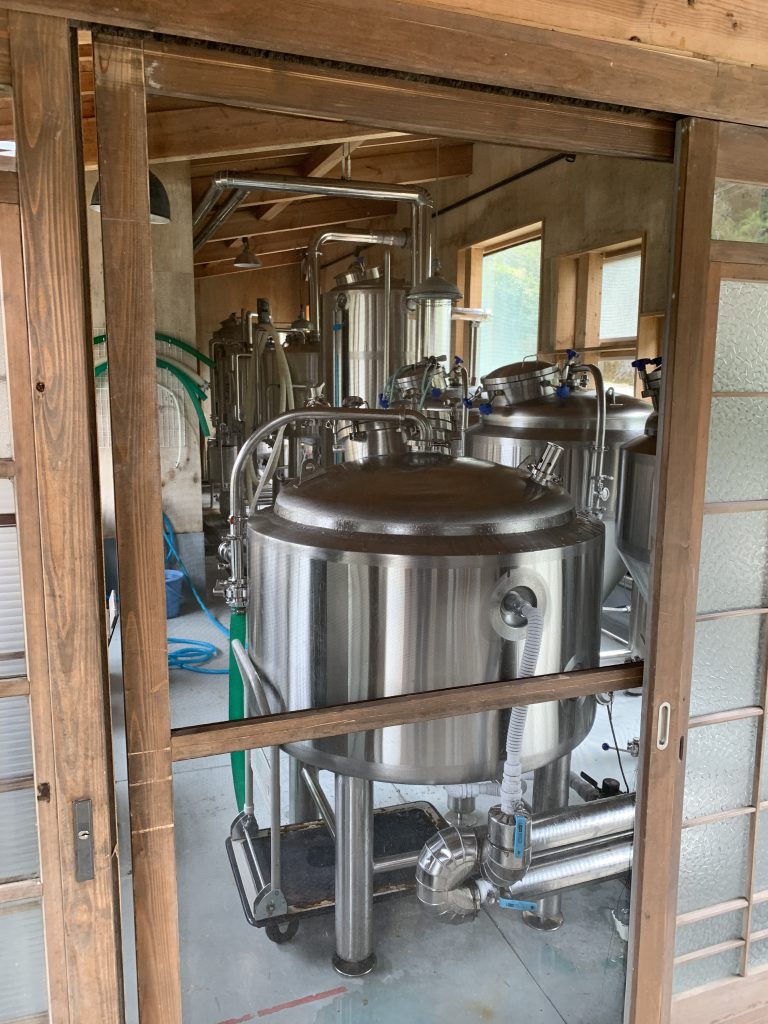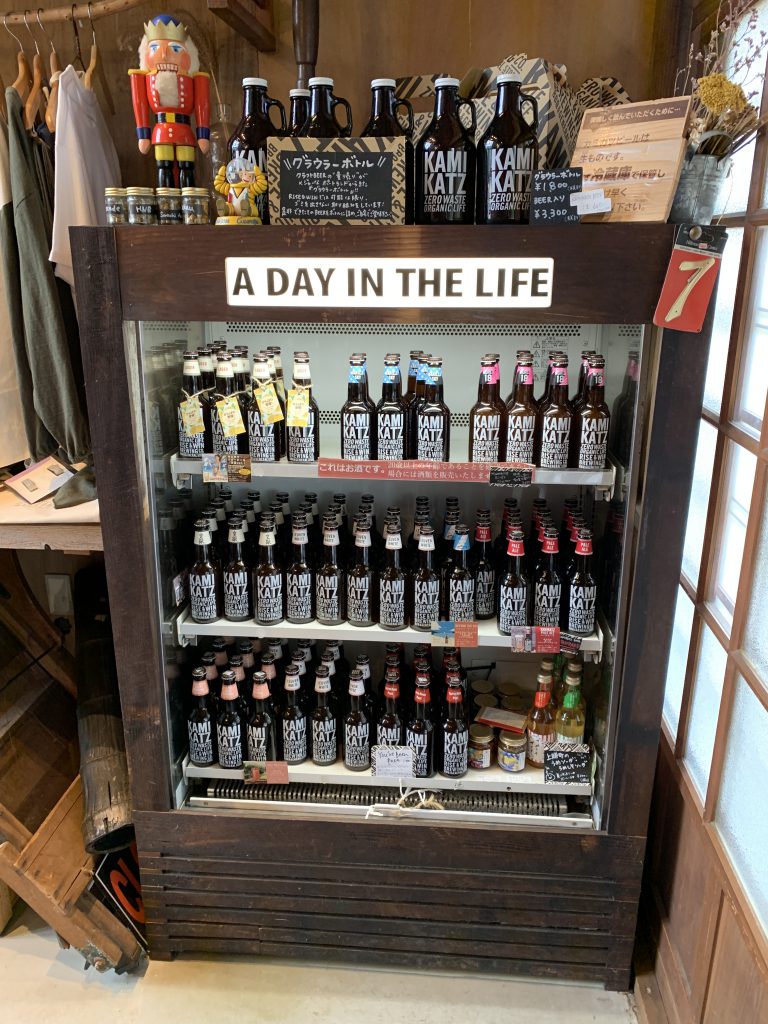 I had a sampler of the four beers they had on tap. While a couple took some getting used to (Charlie made another interesting beer here) they were all good, as I knew they would be.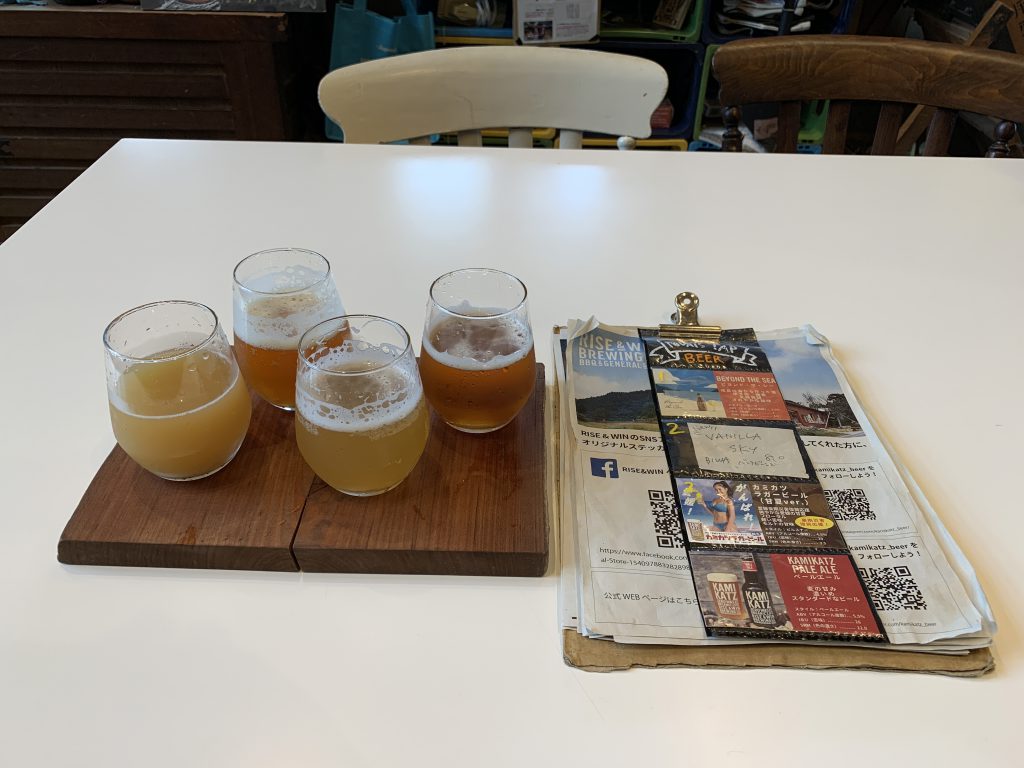 And I ordered the pulled pork sandwich. It was tasty.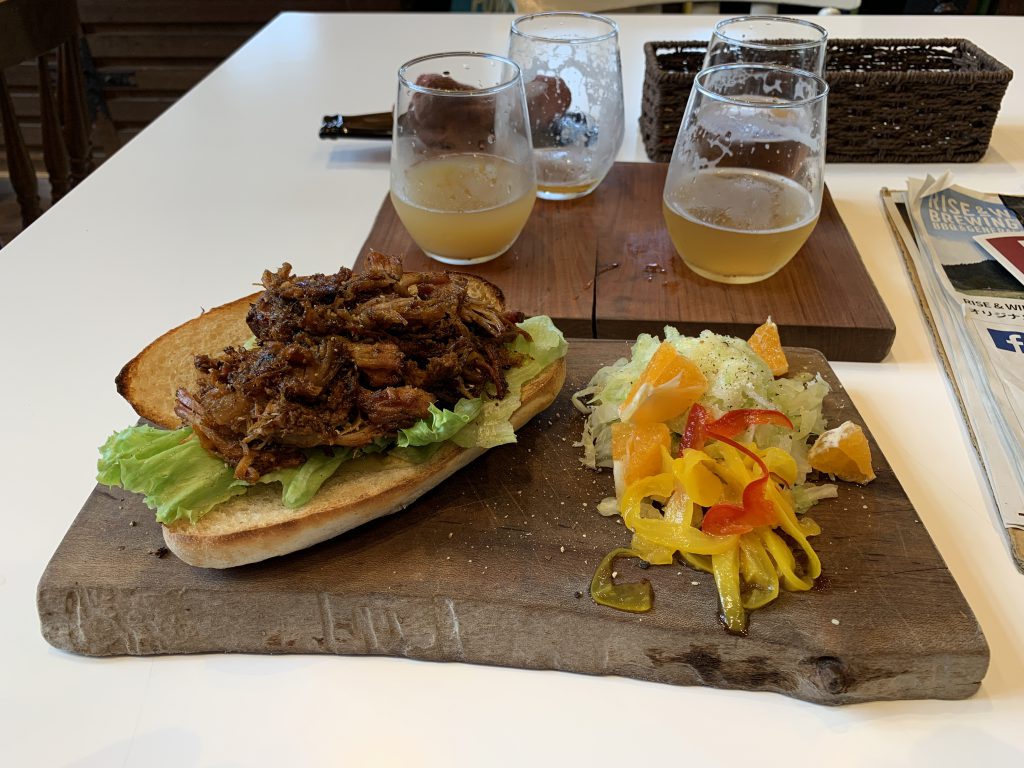 They gave me some roasted Kamikatsu shiitake mushrooms as a gift! Those were great, and I wish I could show you how large they were.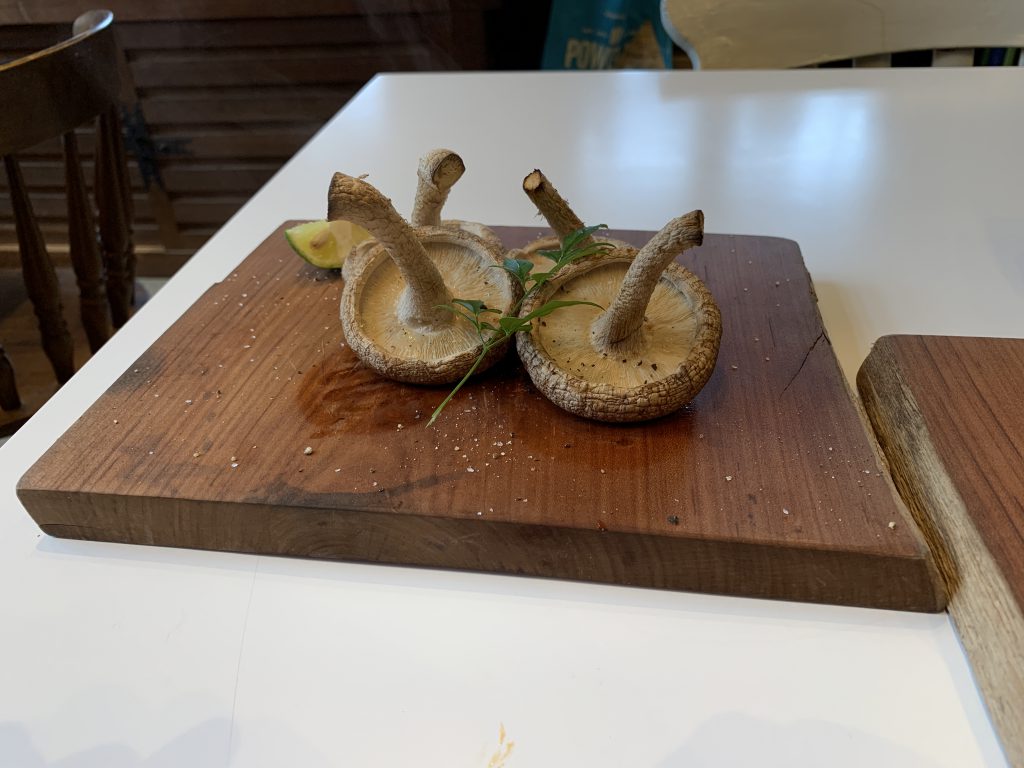 I took the bus to the onsen, and one of the five people working at the brewery came to give me a tour. They've relocated the brewing operation up the hill and have an 18 barrel Portland Kettleworks system.
I didn't take any pictures, but it was a nice big building. It was bottling day and there were two people doing bottling by hand, one after the next. It took a while. I met the head brewer and he gave me some tastes of a couple of bottle-aged beers that had been in a cask. It needed a bit more work, but I don't think they were quite done with their experimenting.
When I got back it was still early so I took a quick walk around the area. This is looking from the onsen to the camping area across the river. I think the camping area belongs to the onsen as well.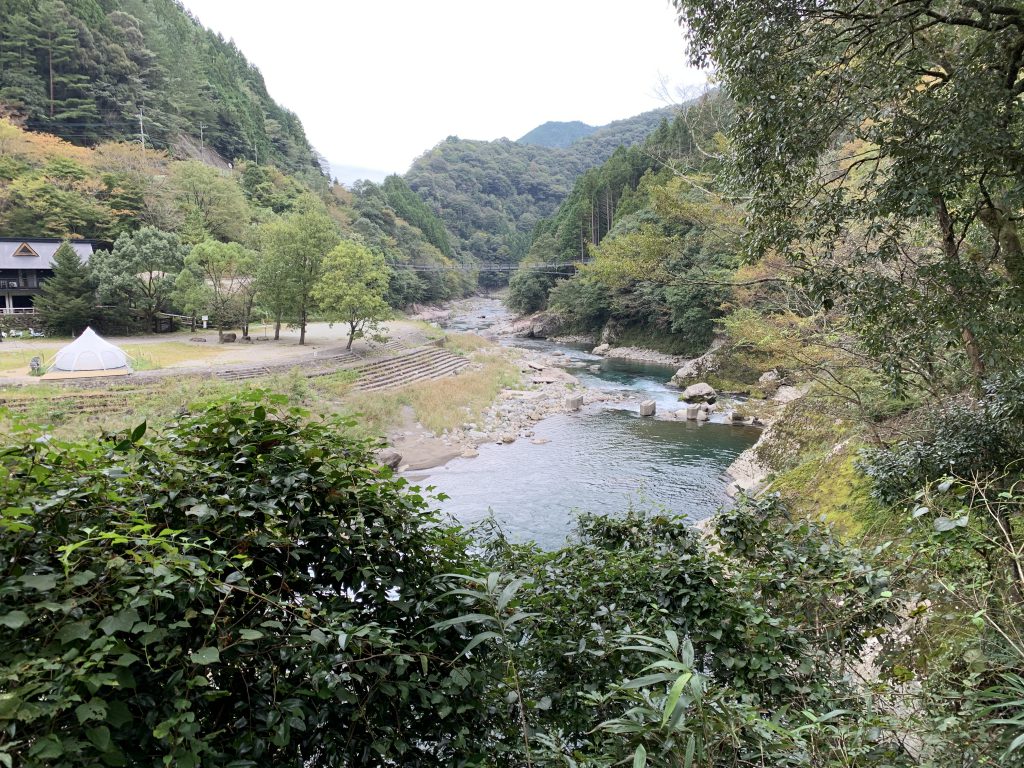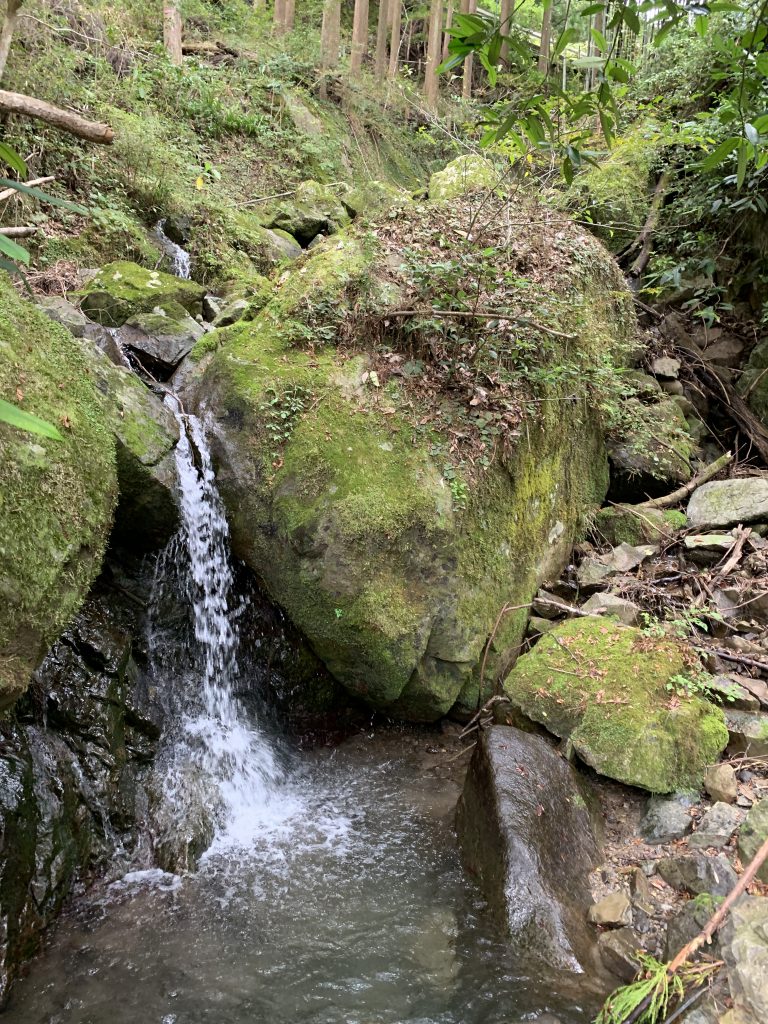 That's the onsen in the middle of the picture.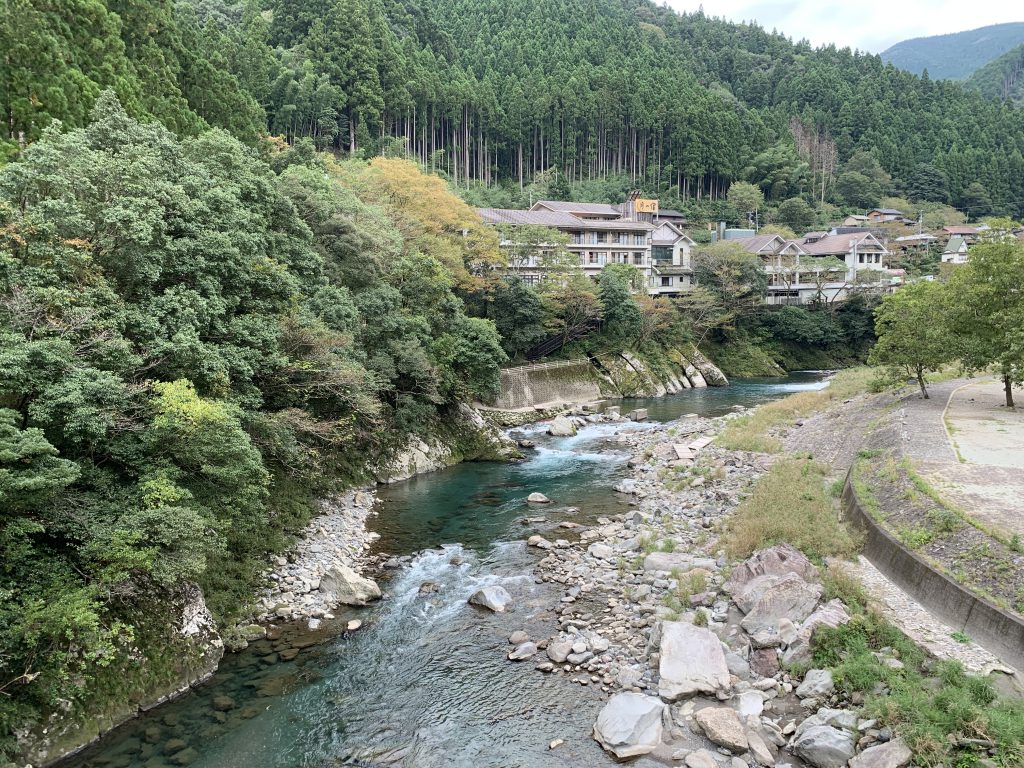 A new pedestrian rope bridge they put up last year? Or was it this year?
It was a quick trip.
Oh, and here's the awful view from my room. 🙂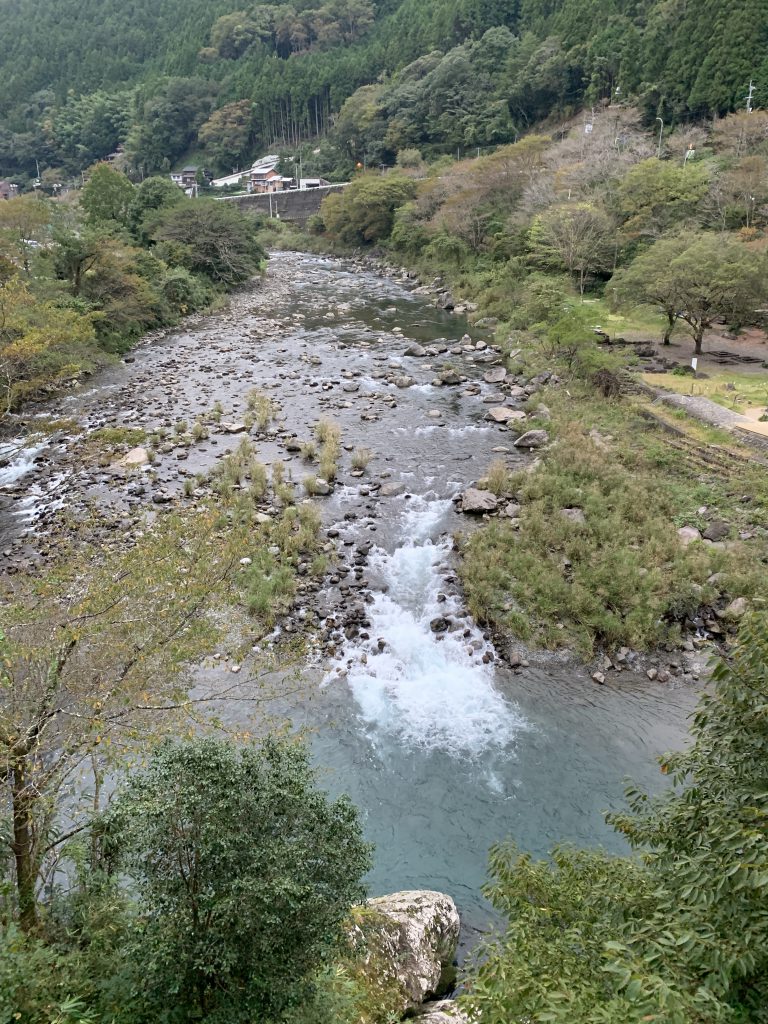 So there's maybe one other place to eat around here. There's no included dinner and there's no breakfast at all in the morning. Fortunately, there is a dining room and it is open for dinner. It wasn't expensive and the fish was incredibly fresh. Whoever ran the tempura fryer was a master at it. (Buried under all that tempura is another shiitake.) 🙂
The noodles weren't awesome, but I think that's just because I don't like hot soba.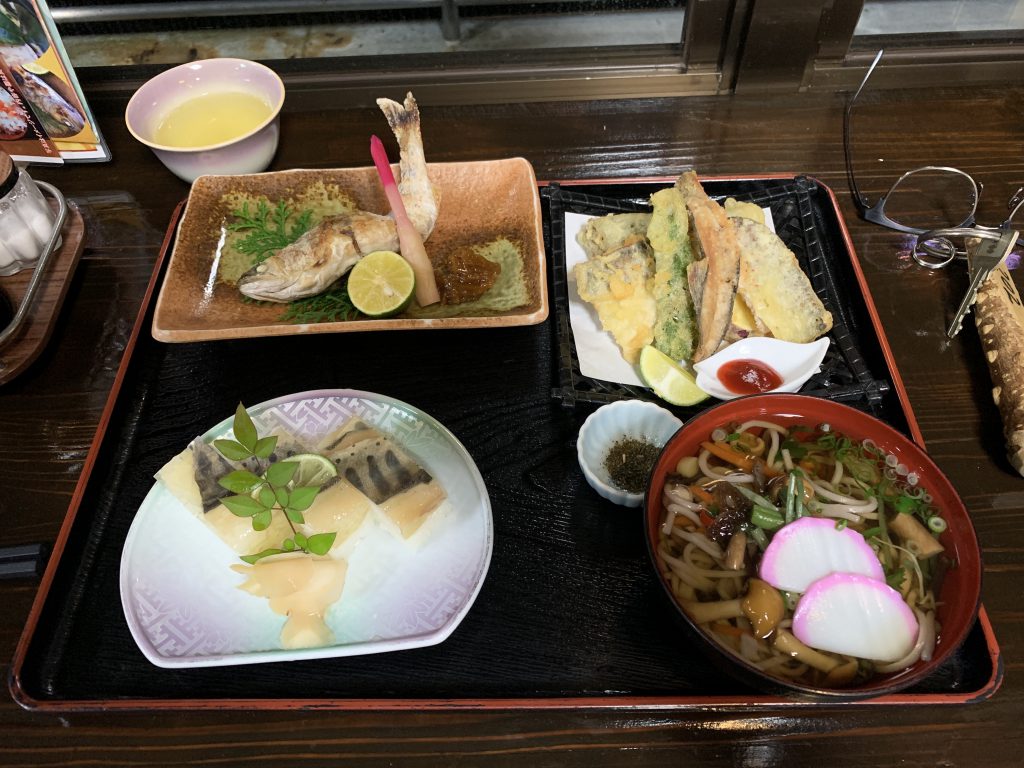 I took a bath in the onsen and it had bubbles in the middle of it like a jacuzzi. I tried to sit in the middle and it kind of made me float away. It also shot water up my nose at one point.
Anyway, it was a rather relaxing and fun side-trip. The wireless is great, too, so I've been watching Netflix. 🙂