I only stayed a day in Miyazaki and I think I only missed one thing that's actually in the city. There were a few things that would've been a road trip that might've been cool to see, but I'm OK with missing them. The bus to the station was quick and I found a pastry shop in the station that was open early. I had a bacon roll and a potato salad roll. And some brown stuff that passed as coffee.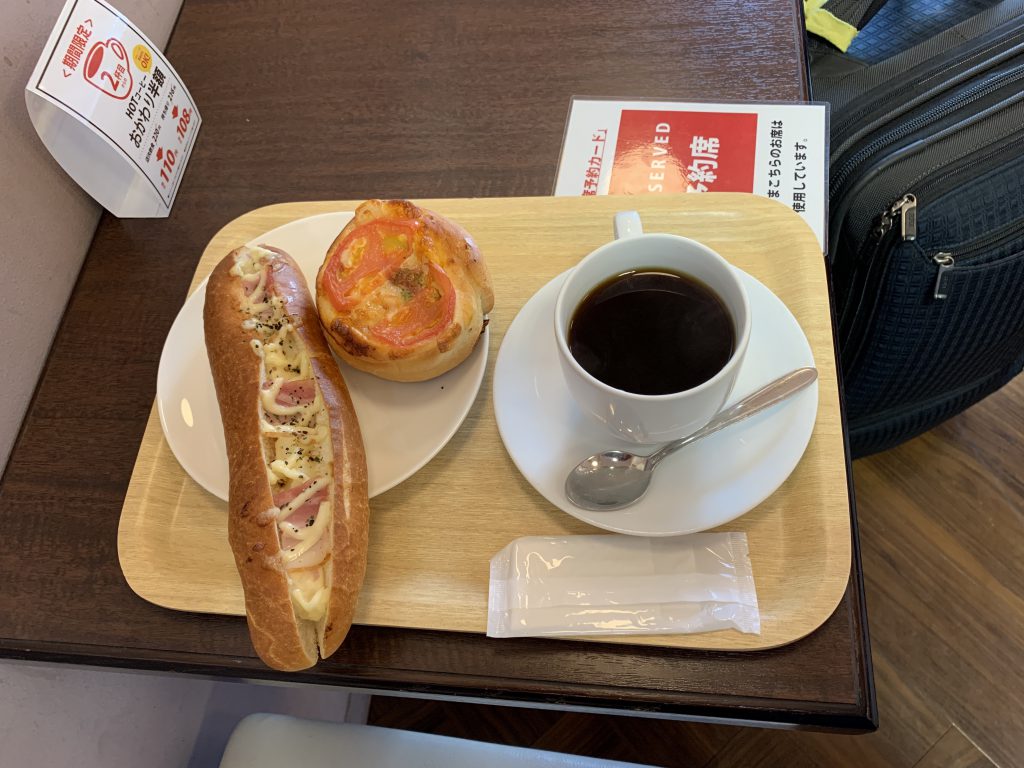 I got on the train to Kagoshima and this time I was the only one in the green car. I swear the engineer was giving me dirty looks, but whatever. Back in Kagoshima the weather was nice and the volcano seemed quiet. Of course the weather was nice in Miyazaki as well. I had no luck with that place.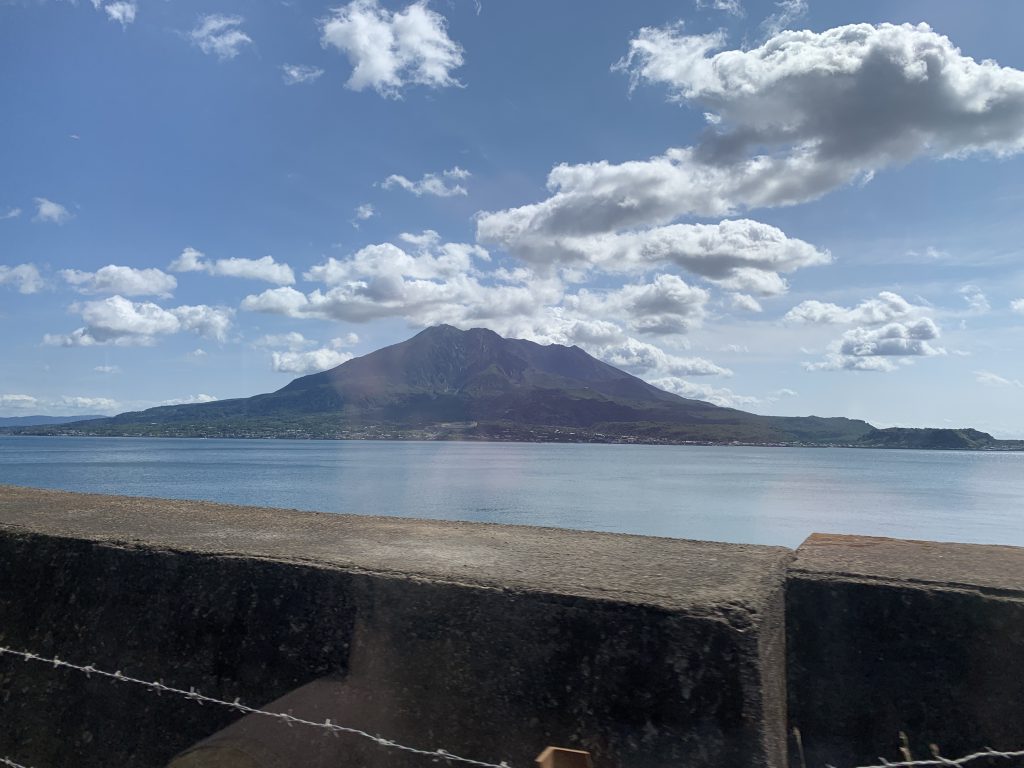 I grabbed an ekiben and got on the Shinkansen for Kumamoto. It wasn't that crowded, but there were several rugby fans (i.e. roundeyes) in the green car.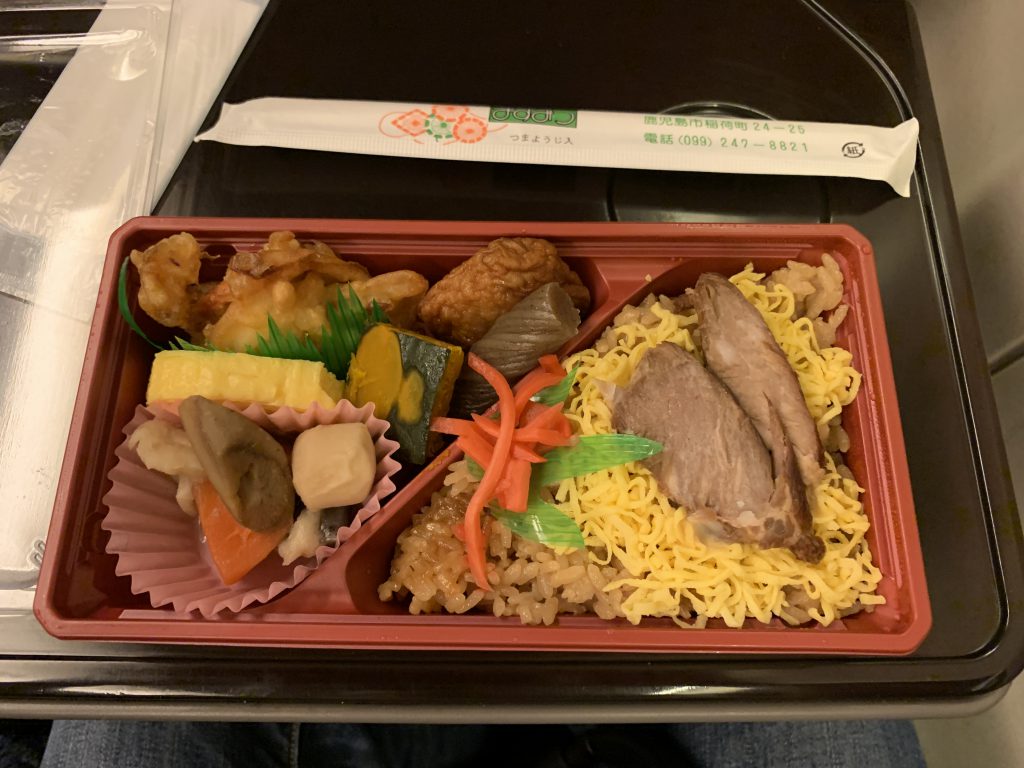 I made it to Kumamoto but I was immediately confused. I'd been here just a few years ago (turns out it was 2015) and the station looked completely different! It used to be small with just at Mister Donut and a Mos Burger but now there's a shopping area and a bunch of restaurants. The hotel I stayed in just five years ago is now a hole in the ground! And the rooms seemed brand new!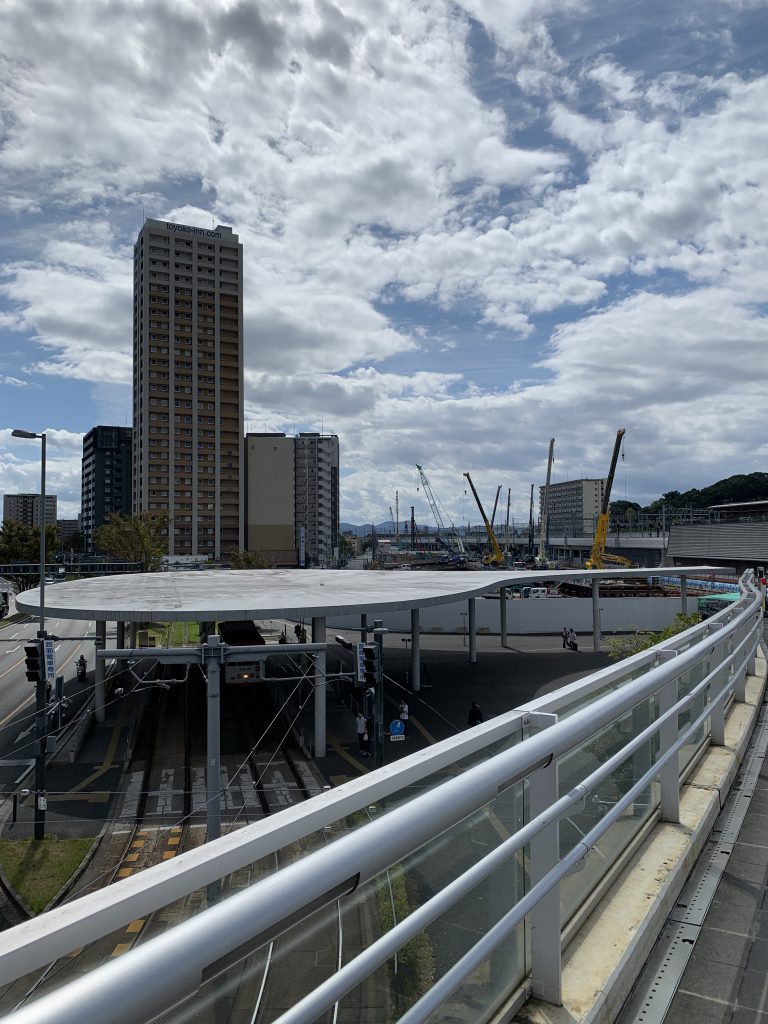 The news reported that the castle just reopened and so I had to go see it. I saw it in November of 2015 and the earthquake hit it hard in April of 2016. It used to be one of my favorite castles because of all the displays and beautifully kept rooms. And it wasn't open at all! The grounds were just open so you could go in and see the repair work being done. Every place you see a pile of rocks is where the walls crumbled during the earthquake.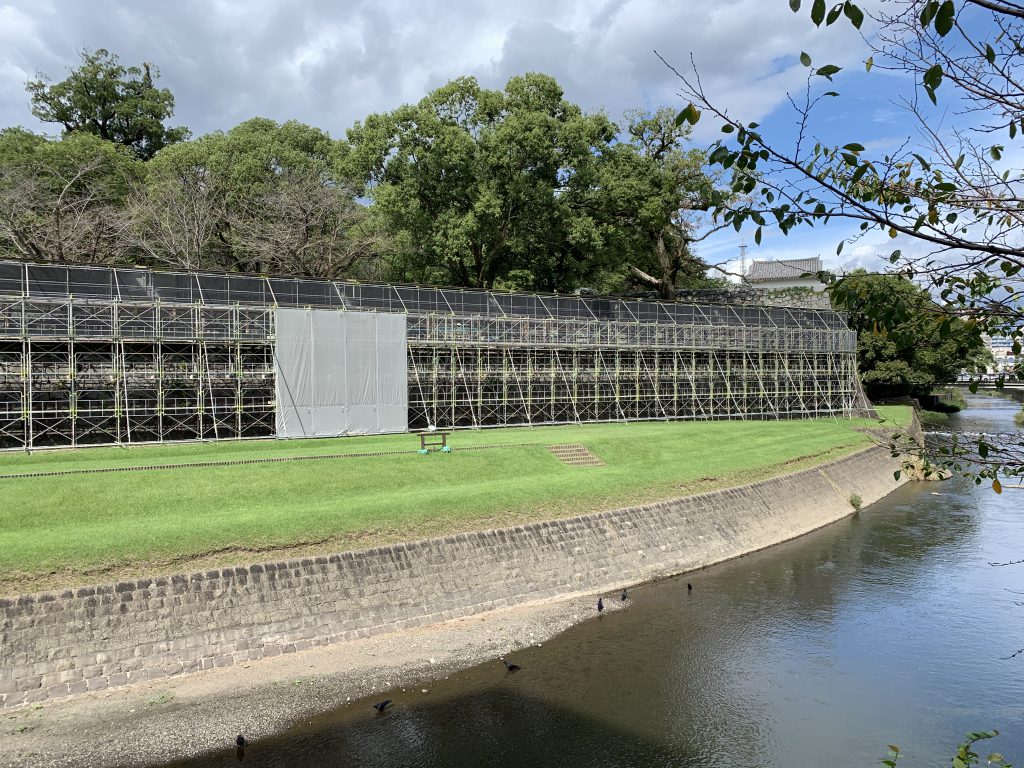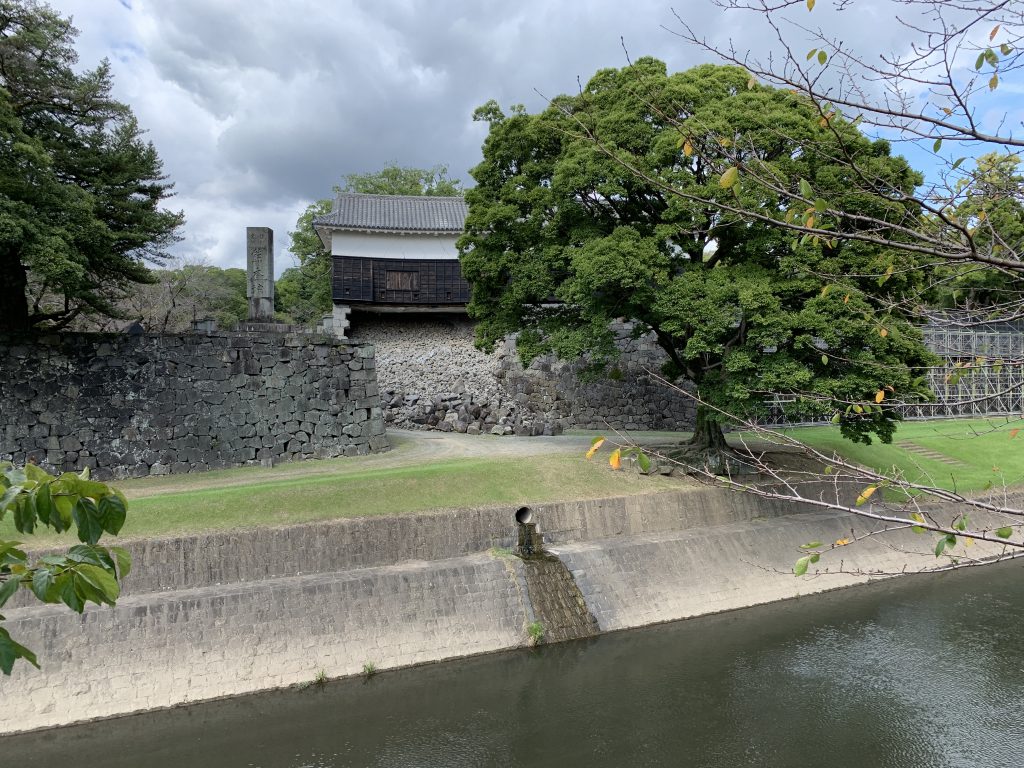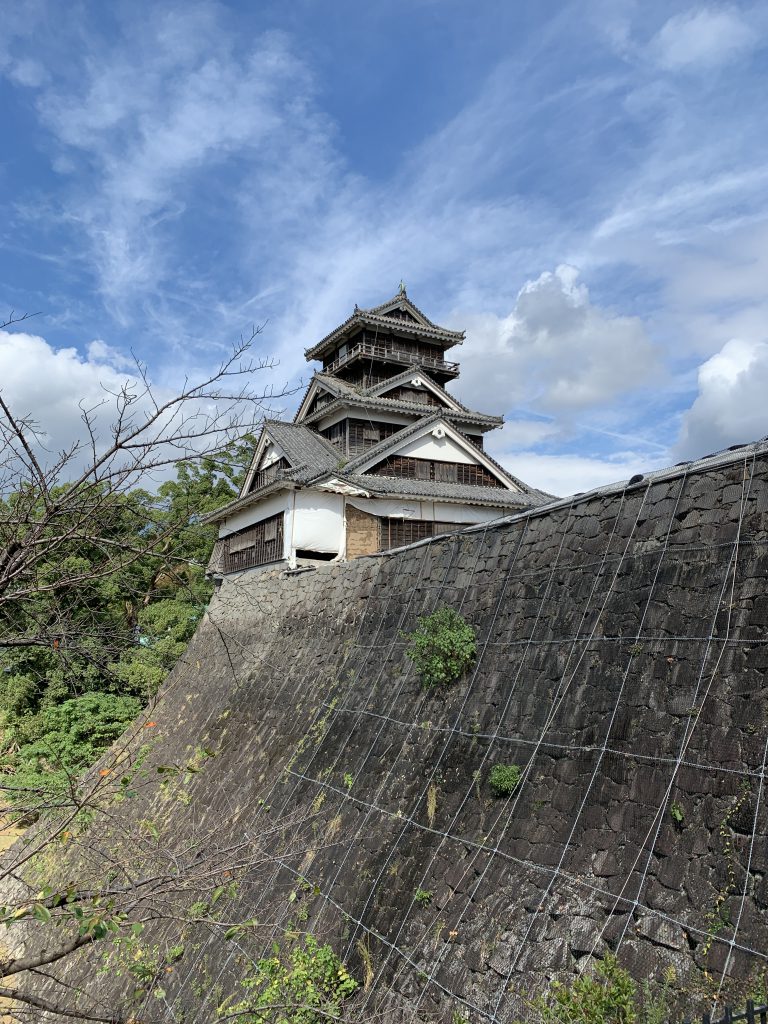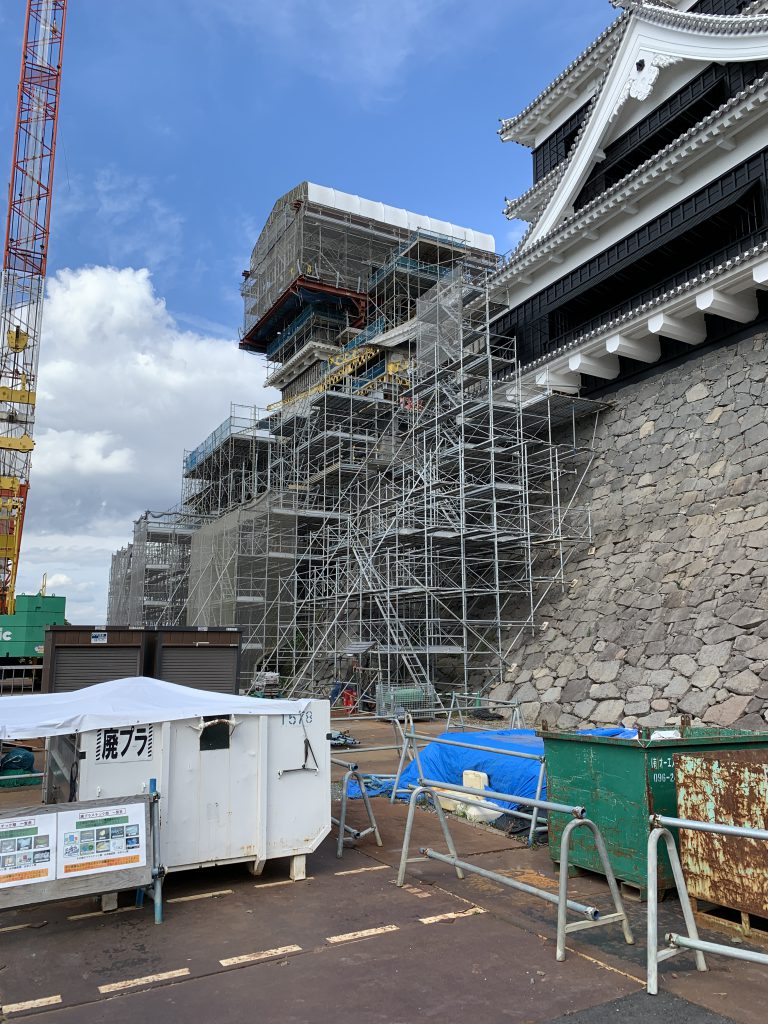 This next building was perfectly level when I last saw it.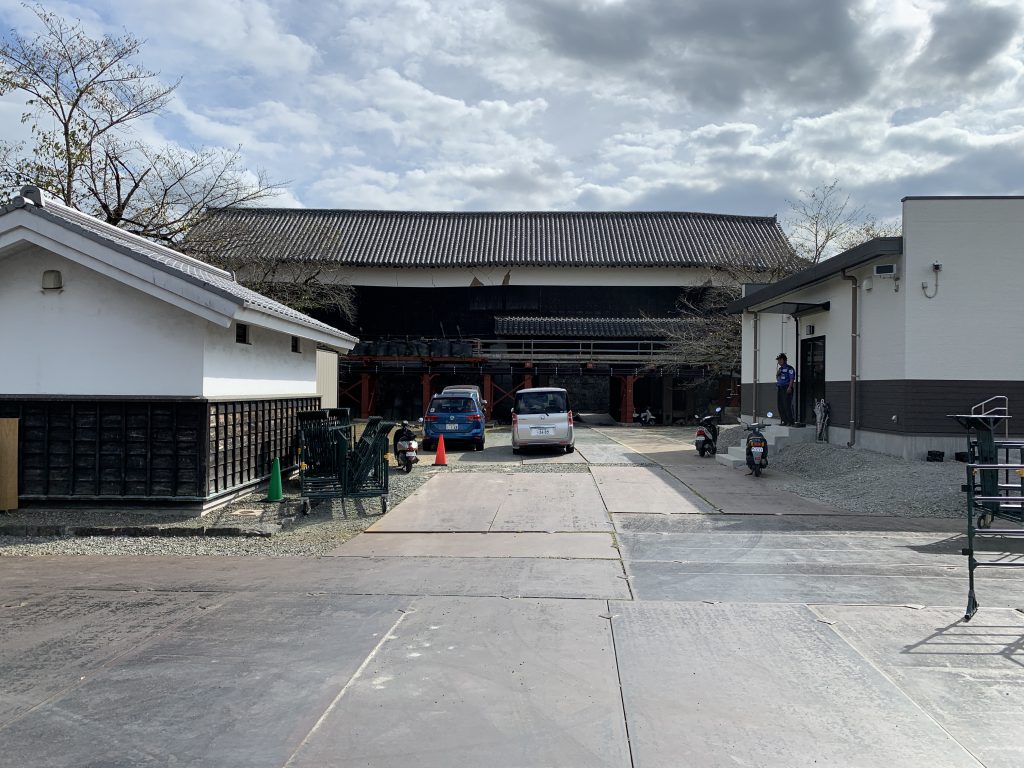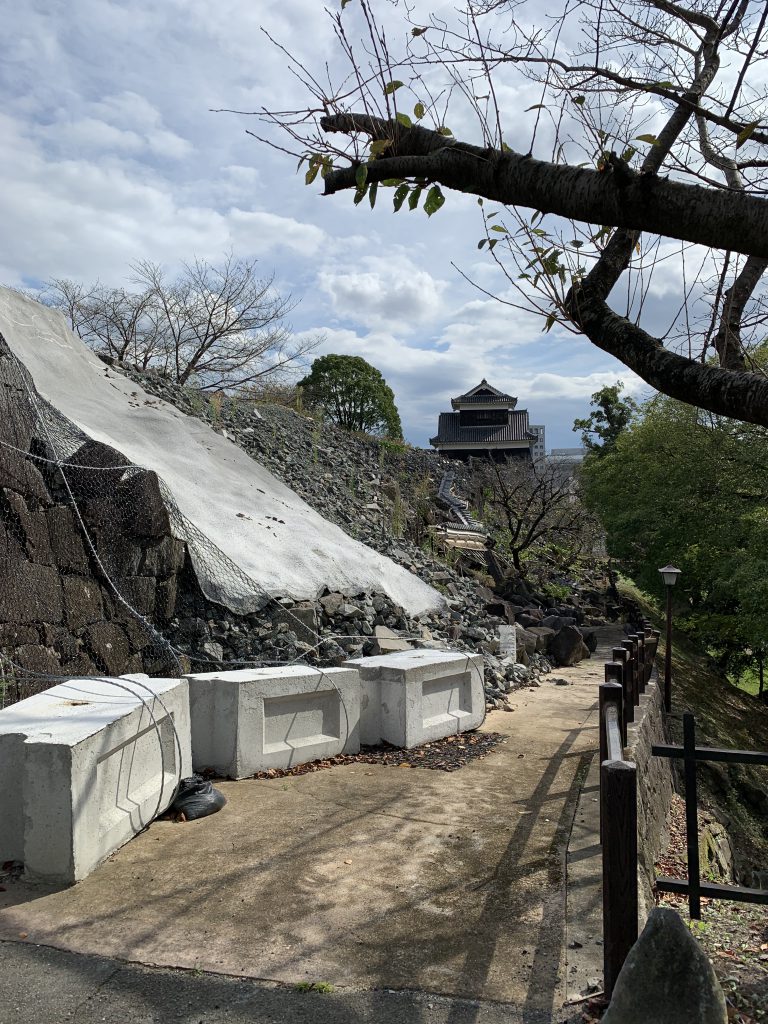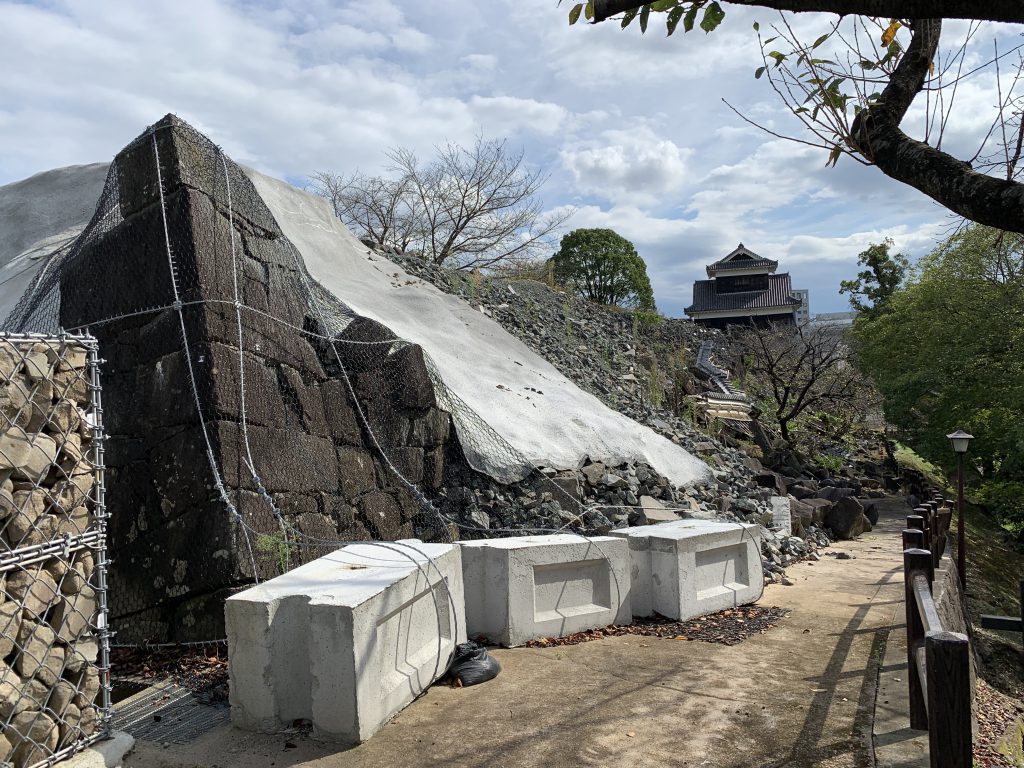 After that I went to the sorta cheesy castle museum. I bought a 3fer ticket and by the time I got out I didn't have time to go to the art museum. The ticket is good tomorrow too, though.
I went walking down the shopping arcade towards the newly renovated bus terminal. Got some snacks on the way because, well, I'm kind of a pig. There are a lot of mirrors in the big baths and I'm a load. Anyway, I needed a rest and Mister Donut was there for me.
Oh, I forgot to mention there's a street fair at the castle as well and I got the localest beer I could find from Minamata (it's in the prefecture but not very close). Minamata is someplace I don't want to go and a place where I don't want to have source anything I eat or drink, but you know how it is with beer. By the way, don't google Minamata to see what I'm talking about. Trust me.
The beer was tasty, though.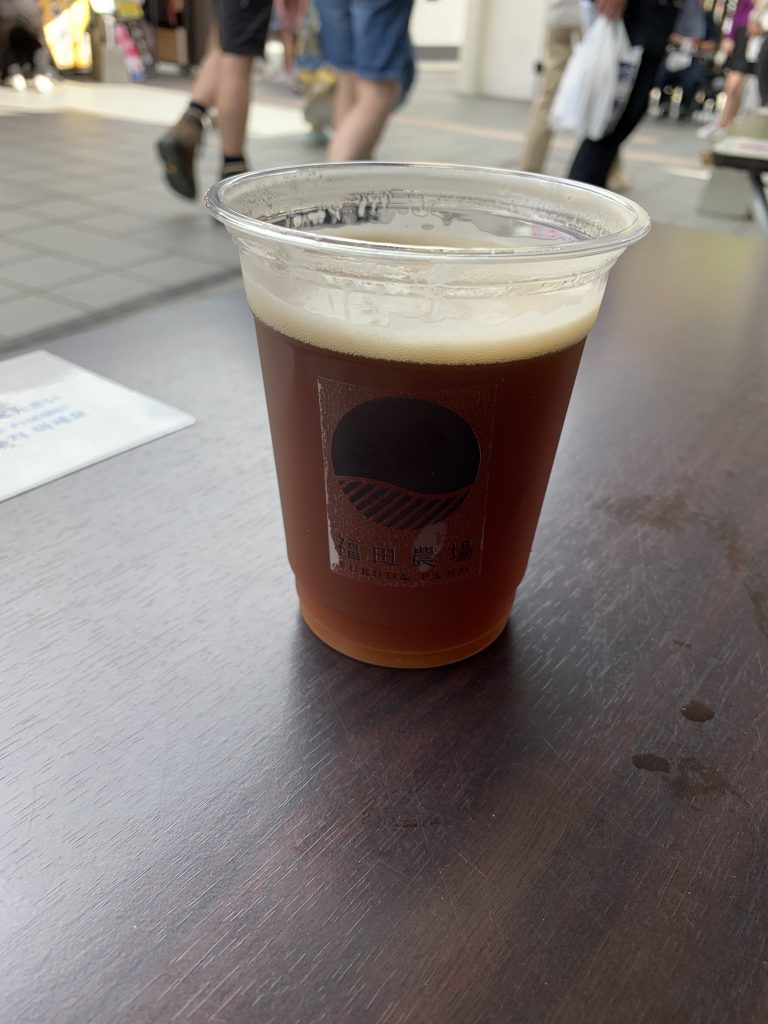 I got back to the renovated bus station and there's a huge shopping center there now. And in front of it was one of the Rugby Fanzones. It was free to get in and there was a huge line inside. I went in and saw a crowd and a bunch of food stands with no customers. I found out that the French team was there giving autographs. I have no idea who the French team are, so I didn't stand in line to get a signature from, as the Welsh guy I met said, "those miserable bastards".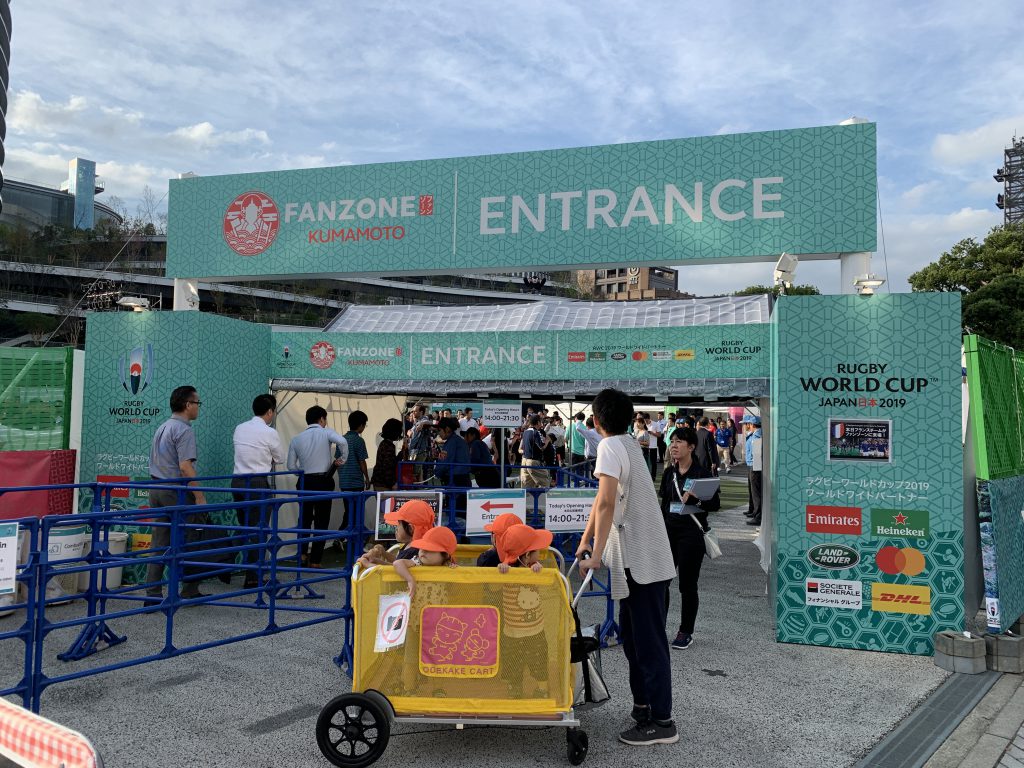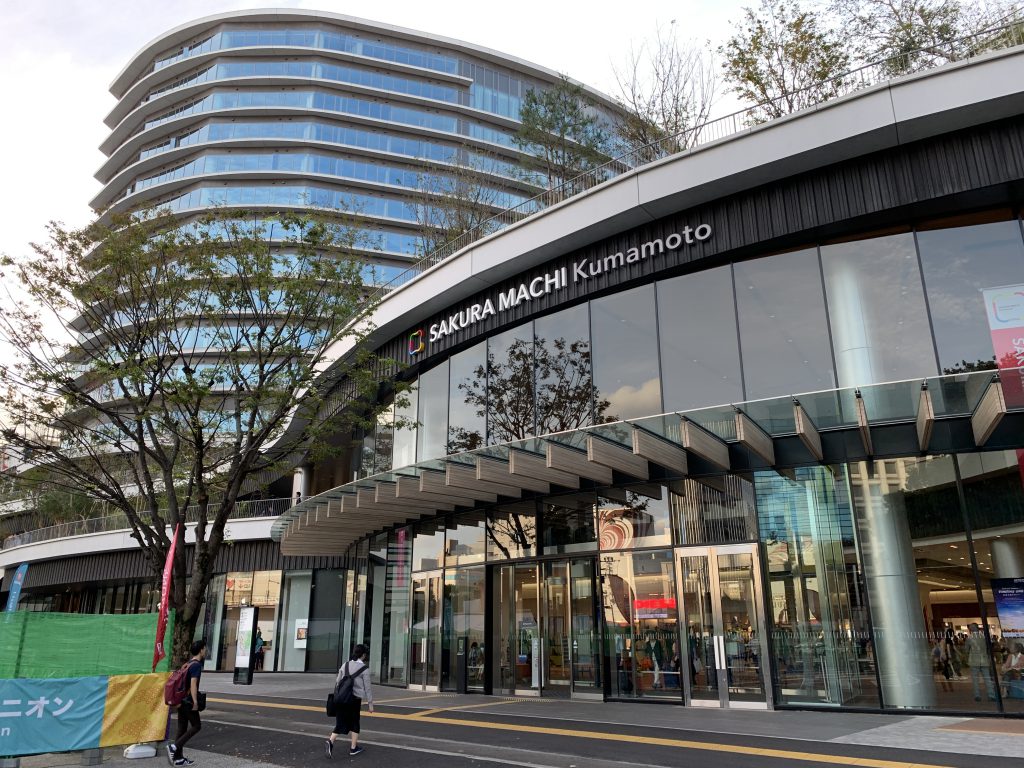 Hard to see from that picture but the roof garden is on the fifth floor. I took a bus back to the station (it's still partially a bus terminal after all) and checked in.
I should've had dinner at the new shopping center because they had way more choices, but I went back to the station where there were seven ramen places. I ate at one of the five (I think) non-ramen places. This time I got a picture of the basashi (and you probably shouldn't google that either). It was all local Kumamoto food and pretty tasty. (That's a tiny beer in the corner.)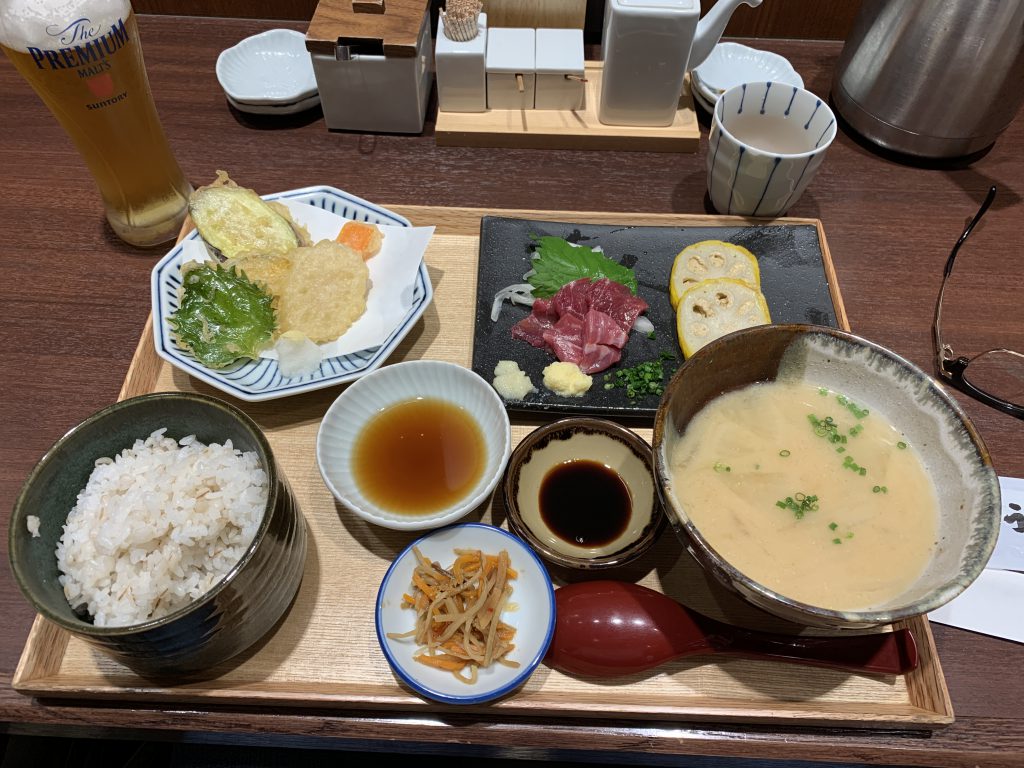 And that's it for today! I'm in a fairly loud room at the Route Inn so I hope I can get some rest.