Hoo boy. I thought this quiet spot would allow me to get some sleep but no luck. For some reason my cold room got extra hot after I turned on the heat pump and set the temperature to be 20°C. That should be about 68°F. Anyway, we got up and went to get our breakfast. We picked the Japanese breakfast and this is what we got. The egg isn't cooked yet and there is a little block of Sterno or whatever heating the plate.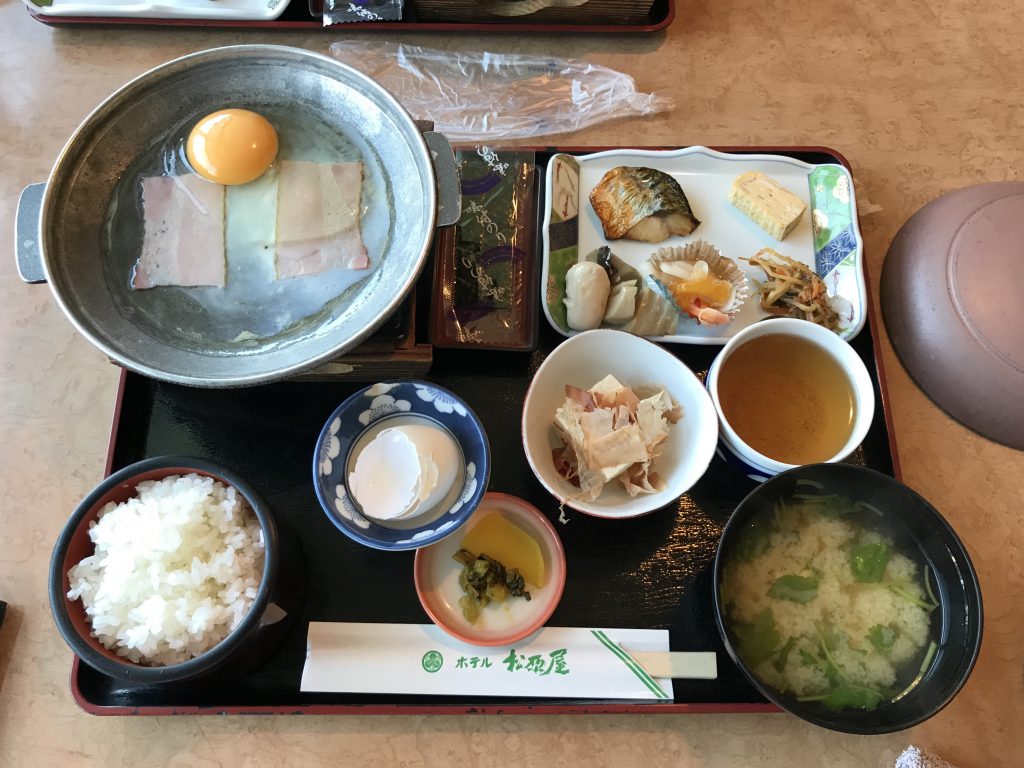 We had some time before we had to catch the train at 10:10AM, so we went for a walk to the beach. This is a couple of blocks from the Hikari train station and where my mom used to swim as a kid. No one swims here after the end of August even if the weather is nice because the water fills full of jellyfish.
It was a quick walk to the train station and just a few stops before we caught the shinkansen. I think there have been improvements to this train station, but, as you can see, there's not much to improve. There's no electronic ticket machine, but instead of the old-fashioned ticket punch, there's a pincer-style rubber stamp.
Two 20-minute Shinkansen rides later, we were in Fukuyama. We're really only here because we couldn't get rooms in Okayama. For once it's not because of Chinese tourists. It's because of the Okayama Marathon.
There's not a whole lot to do here, but we got some tourist maps and stopped at Mister Donut to check them out.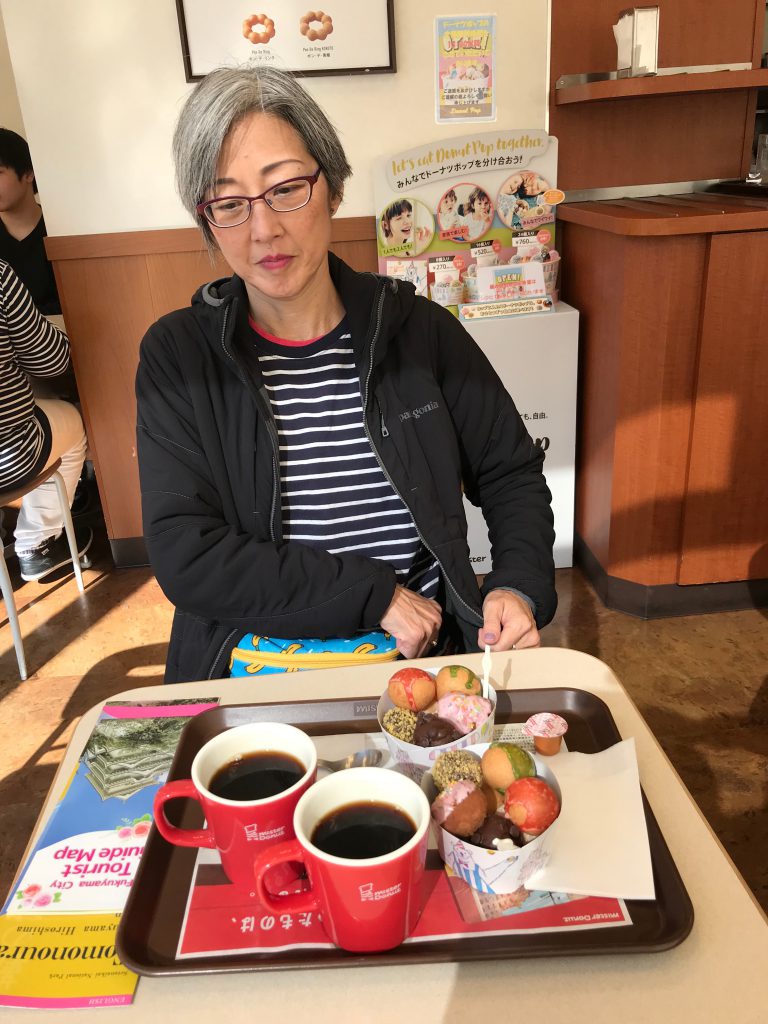 First stop, which was a bust, was to try to find Fukuyama Craft Heart Brewery. Well, we found it but it seems to be someone's project in a garage space of the Benefit Hotel. The taps in the hotel restaurant didn't appear to be running and after a bit of a wait we were told we could buy bottles but that was about it. So we went walking through the overly quiet streets of Fukuyama on the way to Myooin Temple and Kusado Inari-Jinja. On the way we found ourselves in a ¥100 store and a Seven-Eleven.
Here's a view from the Hoonjibashi Bridge. We were hoping to cross those red arched bridges in the middle of the picture, but they just appeared to lead from a road with no sidewalk to a highway with no sidewalk. I'm not really sure what the point of them is.
Here's Myo-o-in Temple, which according to the intarwebs, was built in the 1300's.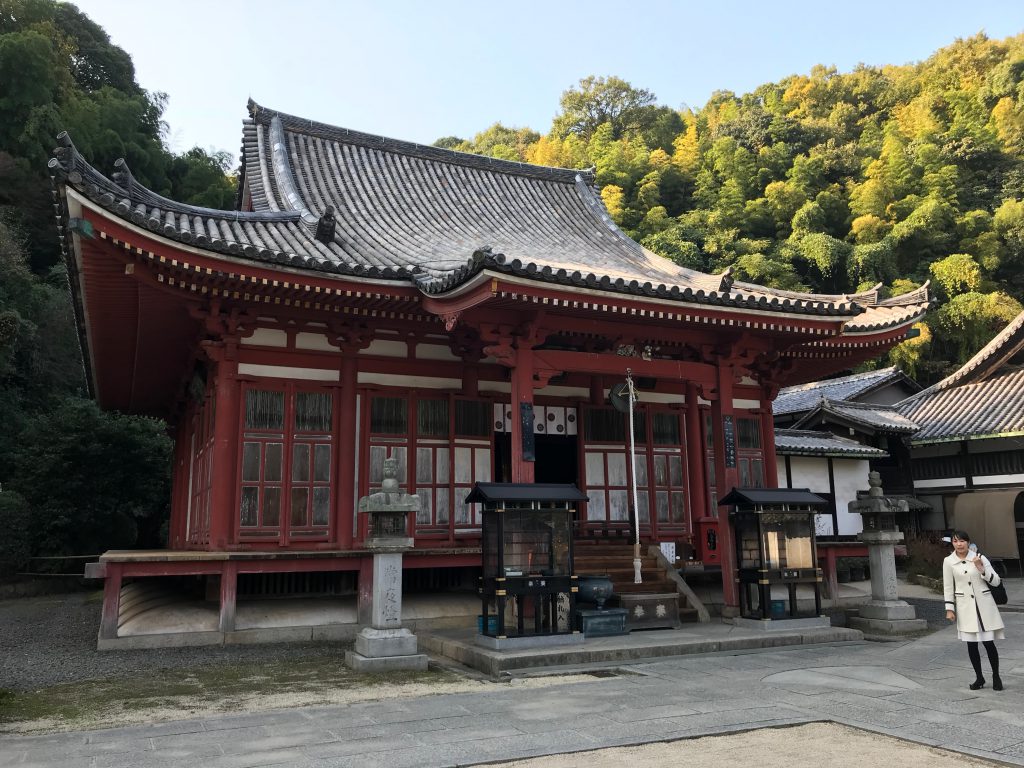 There's a pagoda next to the temple and here's a bad picture of it.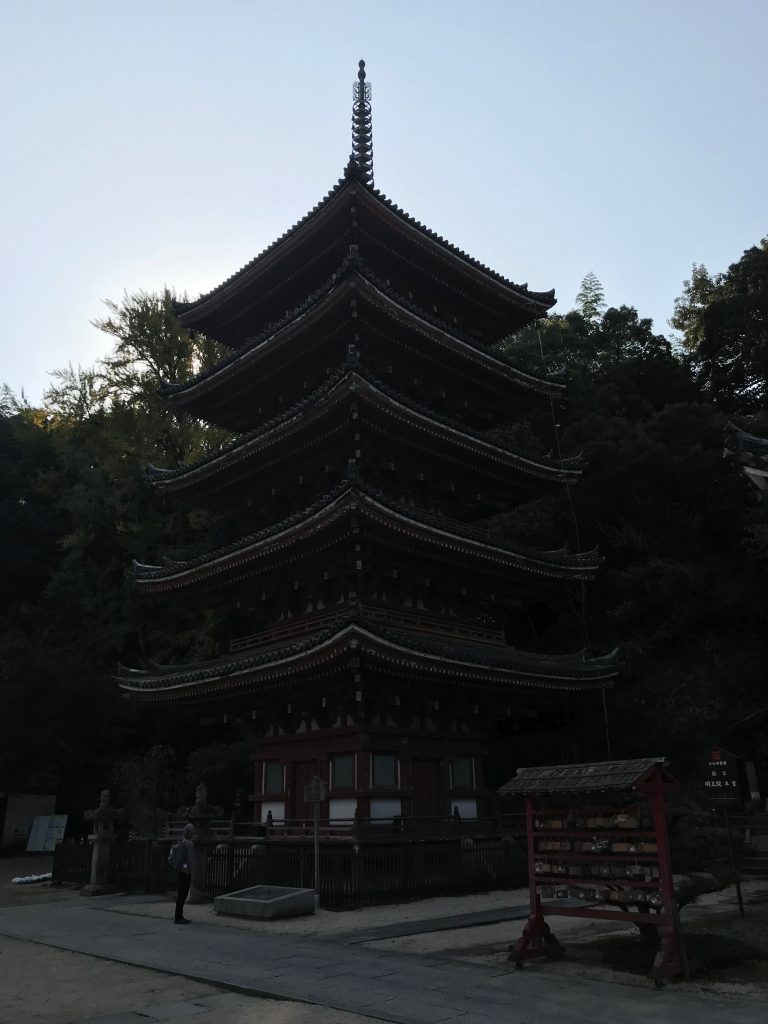 Very near the temple is Kusado Inari Jinja. I can find a lot more on the googles for the jinja, but it all appears to be pictures. I guess being temple red/orange makes it more photogenic.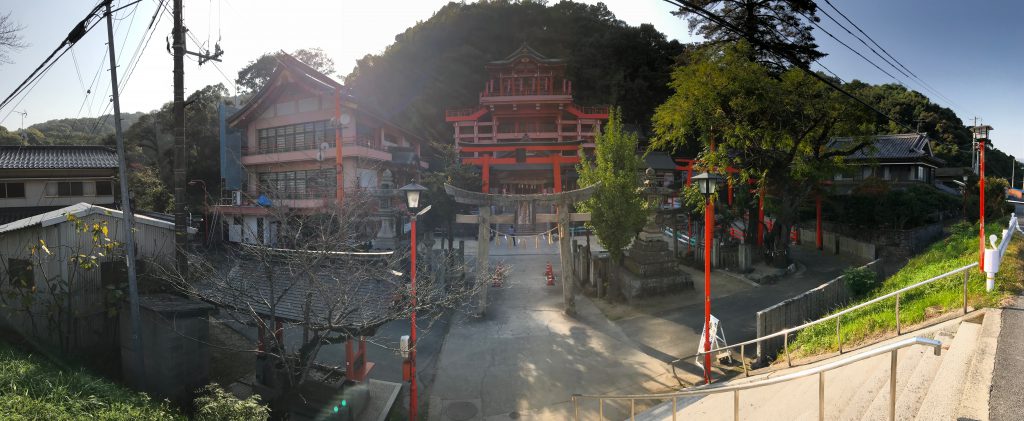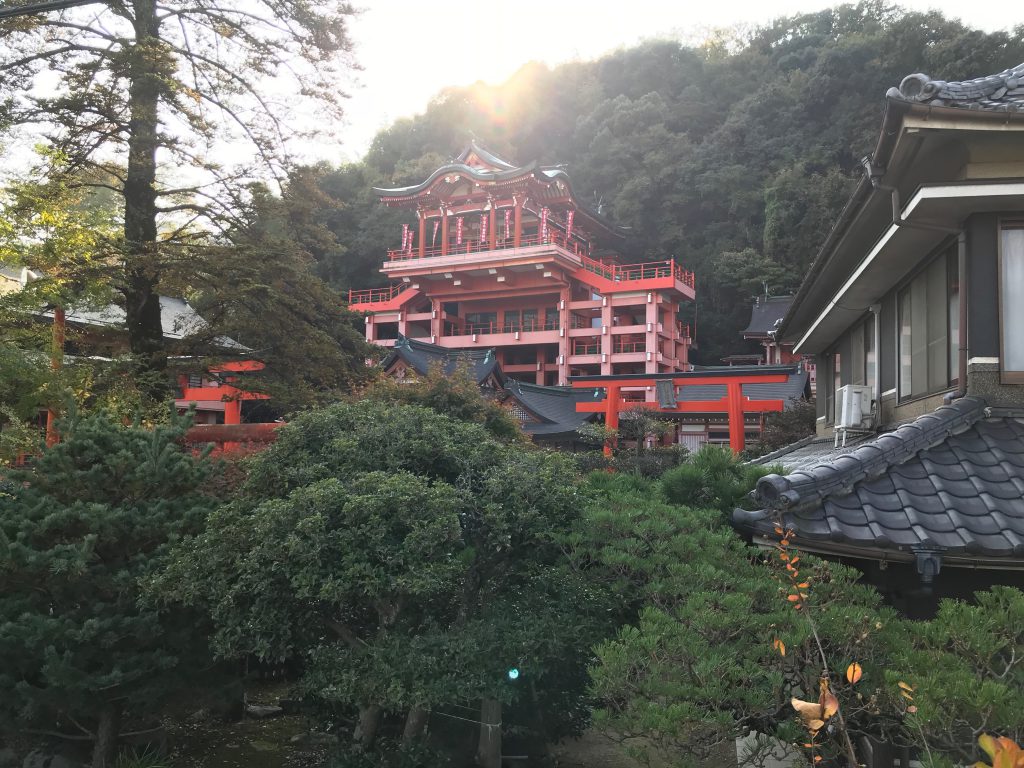 There are stairs to the upper temple that you can climb and get a nice view.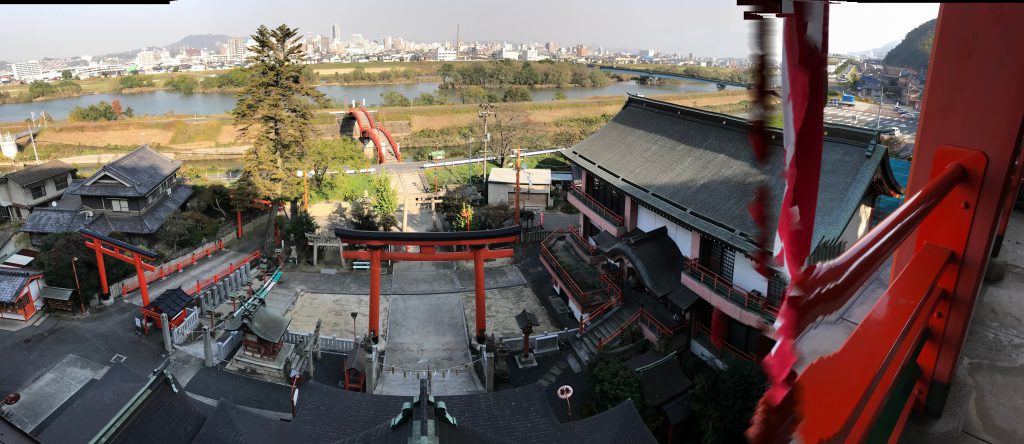 There was one group of business people at the temple and one family at the shrine. This is the opposite of what I saw in Tokyo and Osaka, and what seems to be happening all over Japan. The outlying areas are shrinking.
We walked back to the hotel and Mariko did some laundry. I just read nonsense on the intarwebs, as I do.
We went back to the station for dinner and I had unagi. I'm not taking a picture of Mariko's fine maguro and avocado because it only cost a third of what I got. Hiroshima has weird ideas of how to eat unagi, and while I did use the tororo, I didn't do all the ochazuke stuff they expect you to do.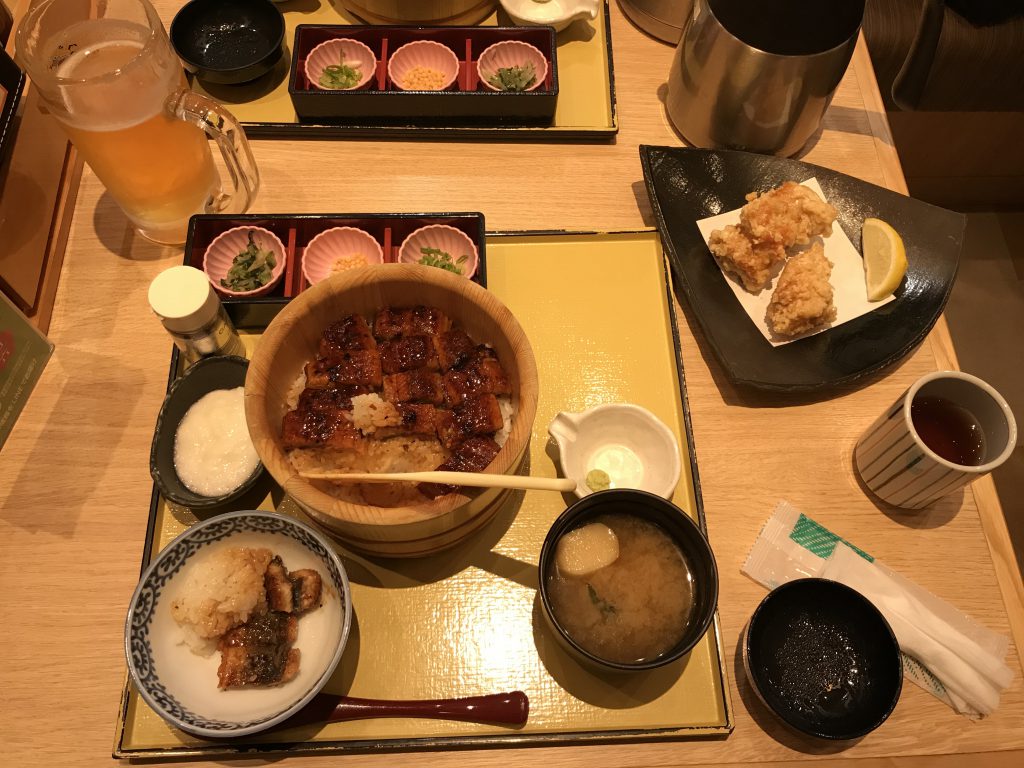 And that's about it for today. I'm hoping for a quiet, uneventful night in this Toyoko Inn. Finger's crossed.