It's so much nicer to be wandering around Kyoto when it's not pouring rain. We started out at a coffee shop again, this time Komeda. It was right across the street from a Toyoko Inn and my phone kept trying to steal their Wi-Fi.
Then we were off to Fushimi Inari. My brother-in-law lived near there for a few months forever ago and he'd be very disappointed if we didn't visit. Of course, half of China was there too. And plenty of Europeans thrown in for good measure. I didn't take many pictures, but here's one of the the craziness we saw. Plus there were people stopping in the tunnel of torii to take selfies and you couldn't get around them.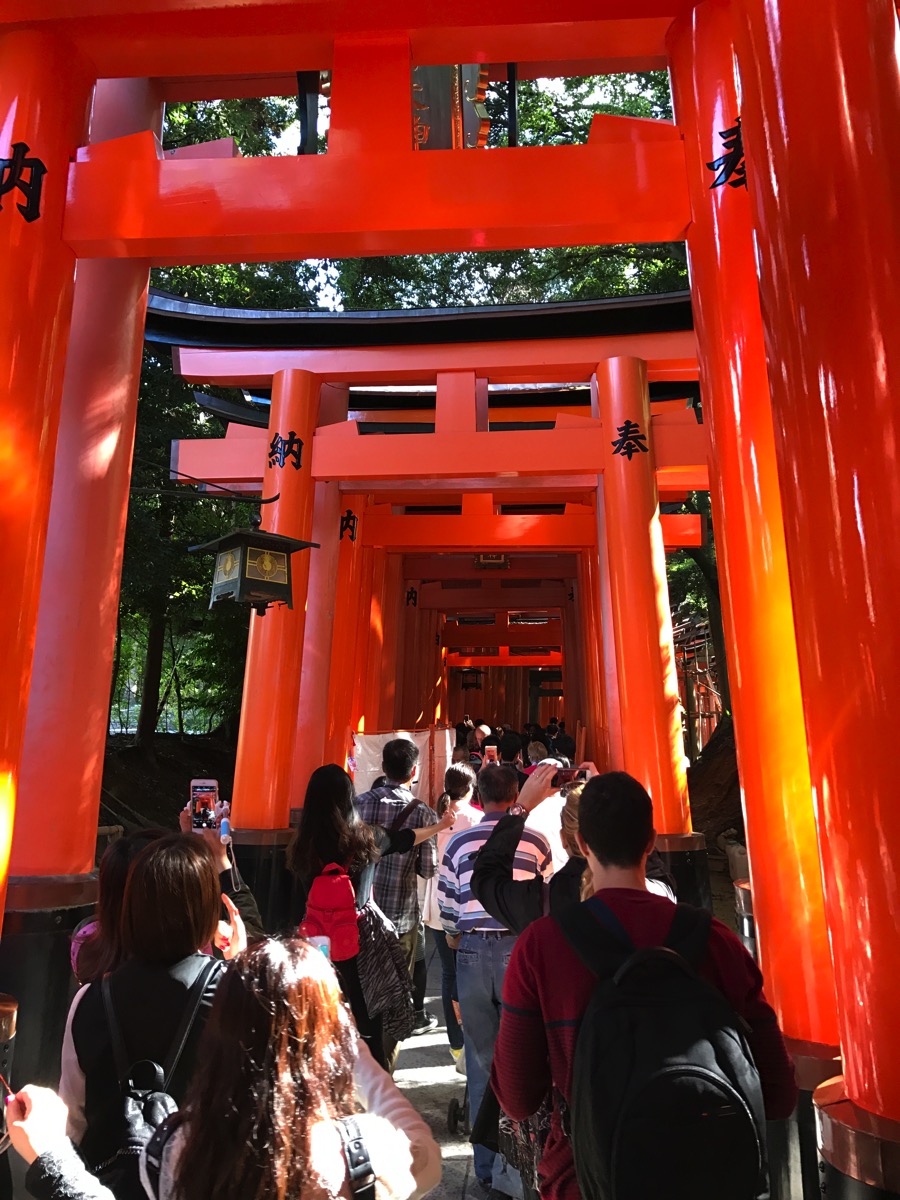 We went off on a side path after a while and there was almost no one there. But after we got back down we went down to the temple market because that's something you should experience, plus there's FOOD.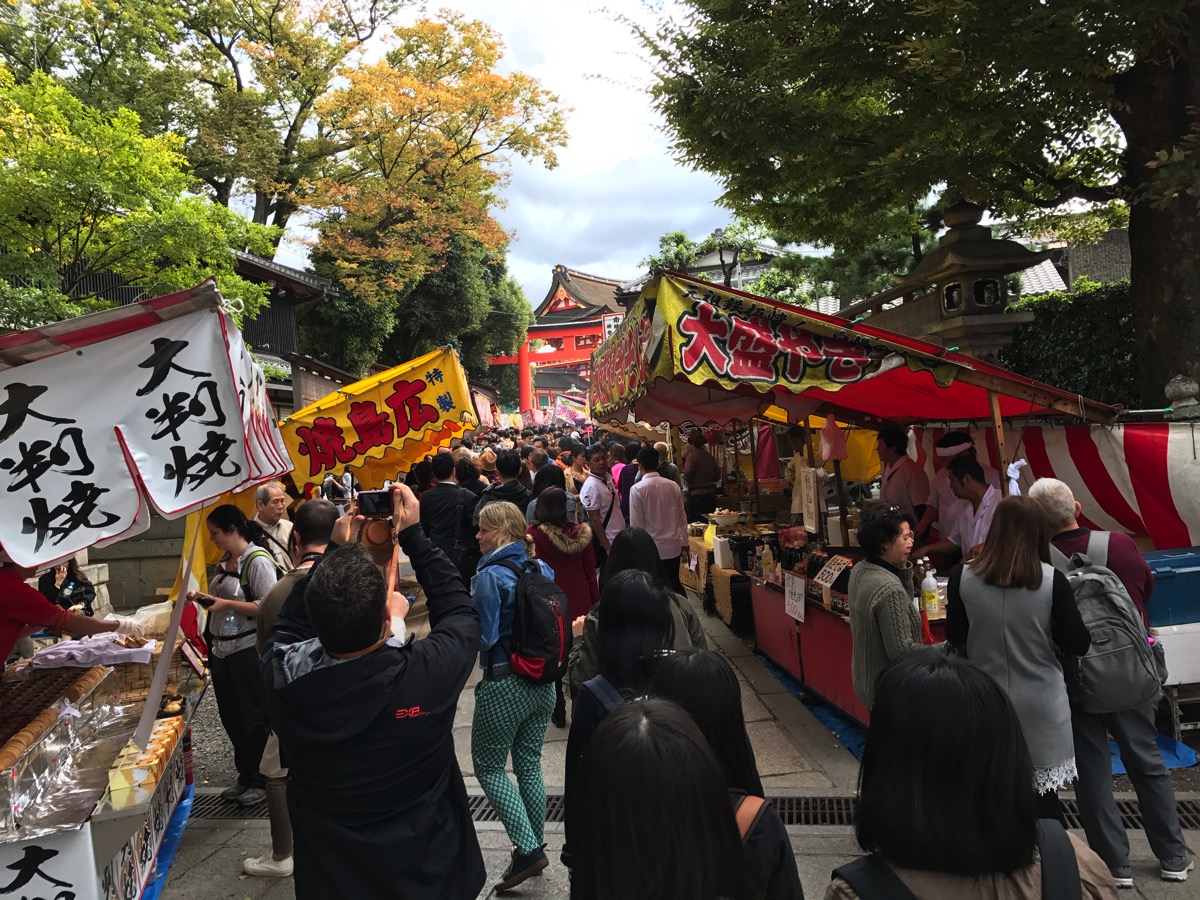 I saw a lot more crazy food and I'm thinking it's the international (i.e. Asian) influence. More meat, and who ever heard of cucumber on a stick? Of course I joined in and got beef on a stick. It was delicious.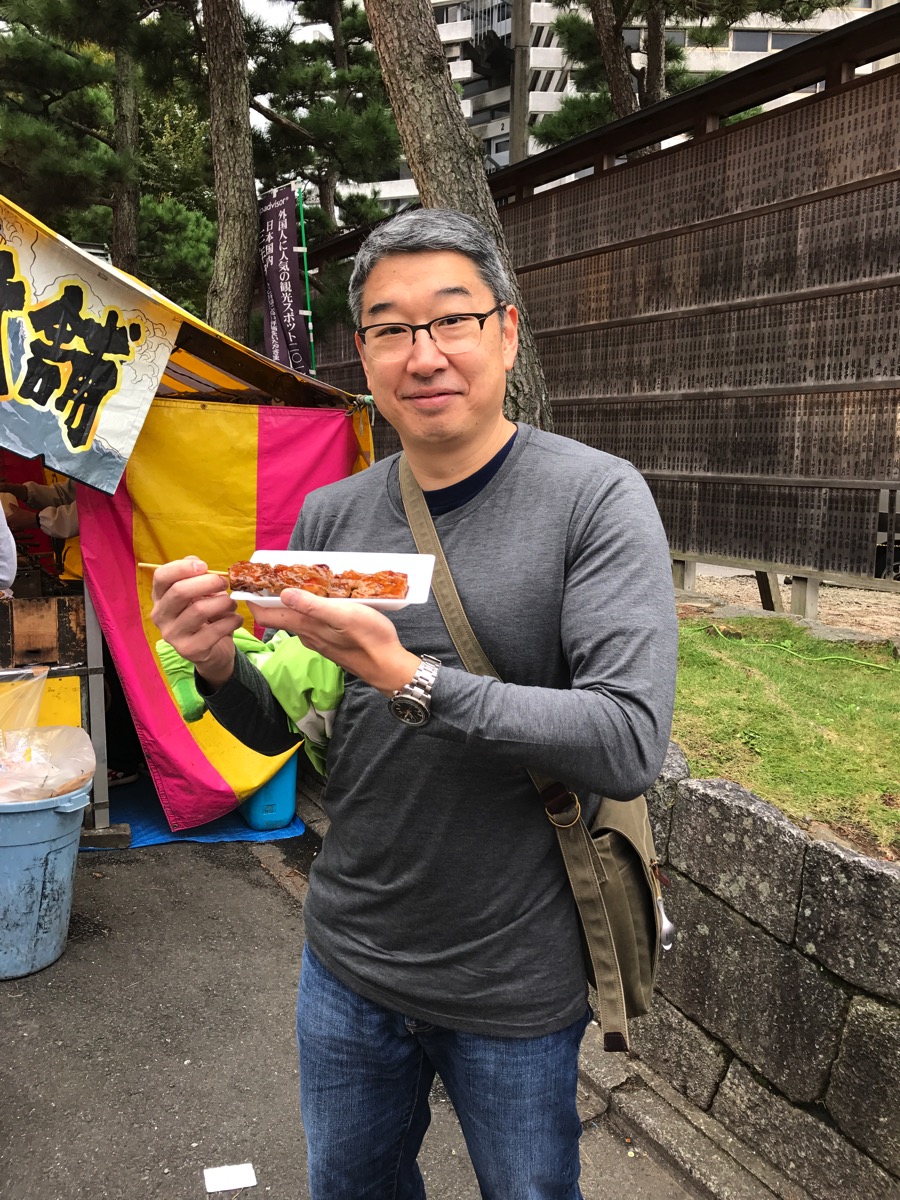 We didn't have a proper lunch, but what am I going to do, starve? I also had an excellent macchiato.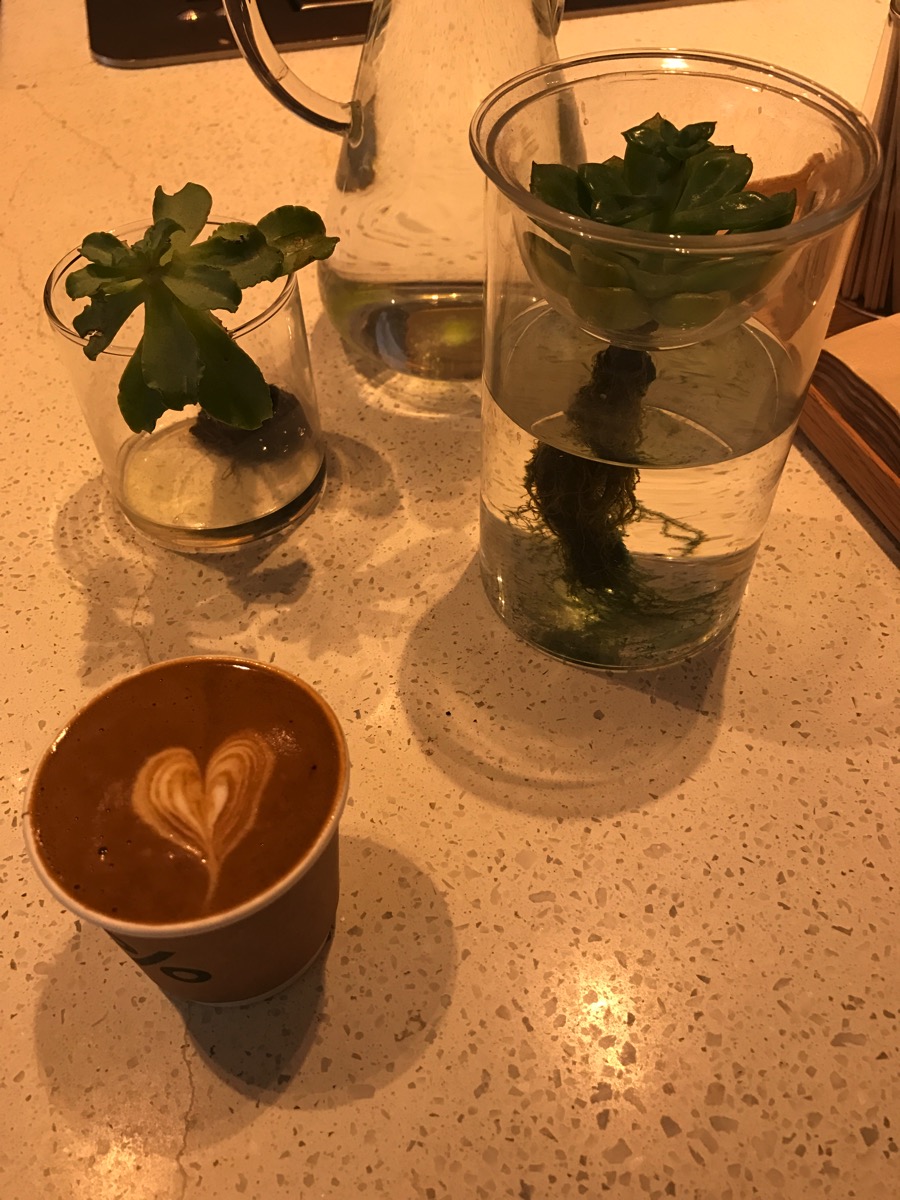 And a sweet potato soft ice cream that they made by putting a pod into a machine.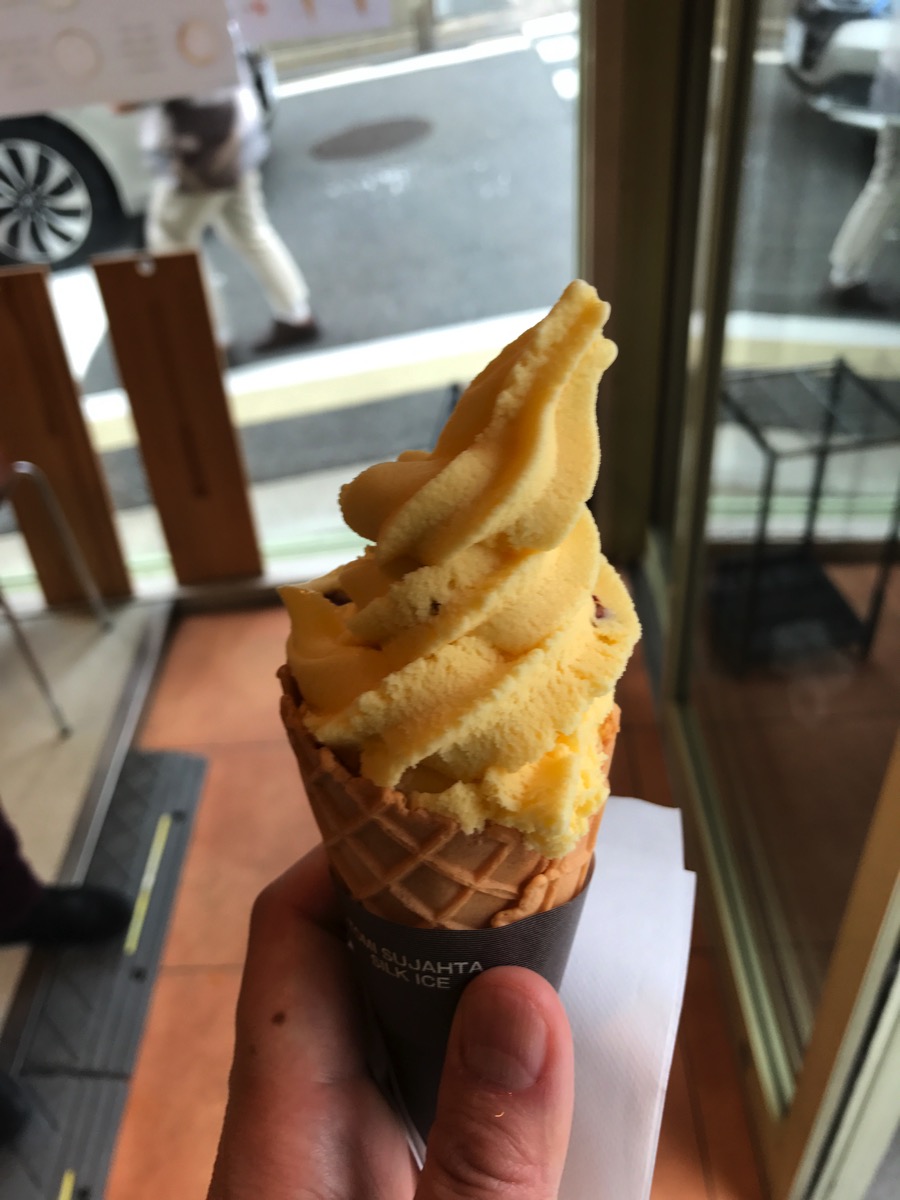 The young'un in the group (my sister's friend's daughter) wanted to try on a kimono, and why not? She's exactly who should be in a kimono walking around Kyoto. You're only young once. Actually, I take that back. Anyone who wants to should be able to do it. Why not? You're on vacation.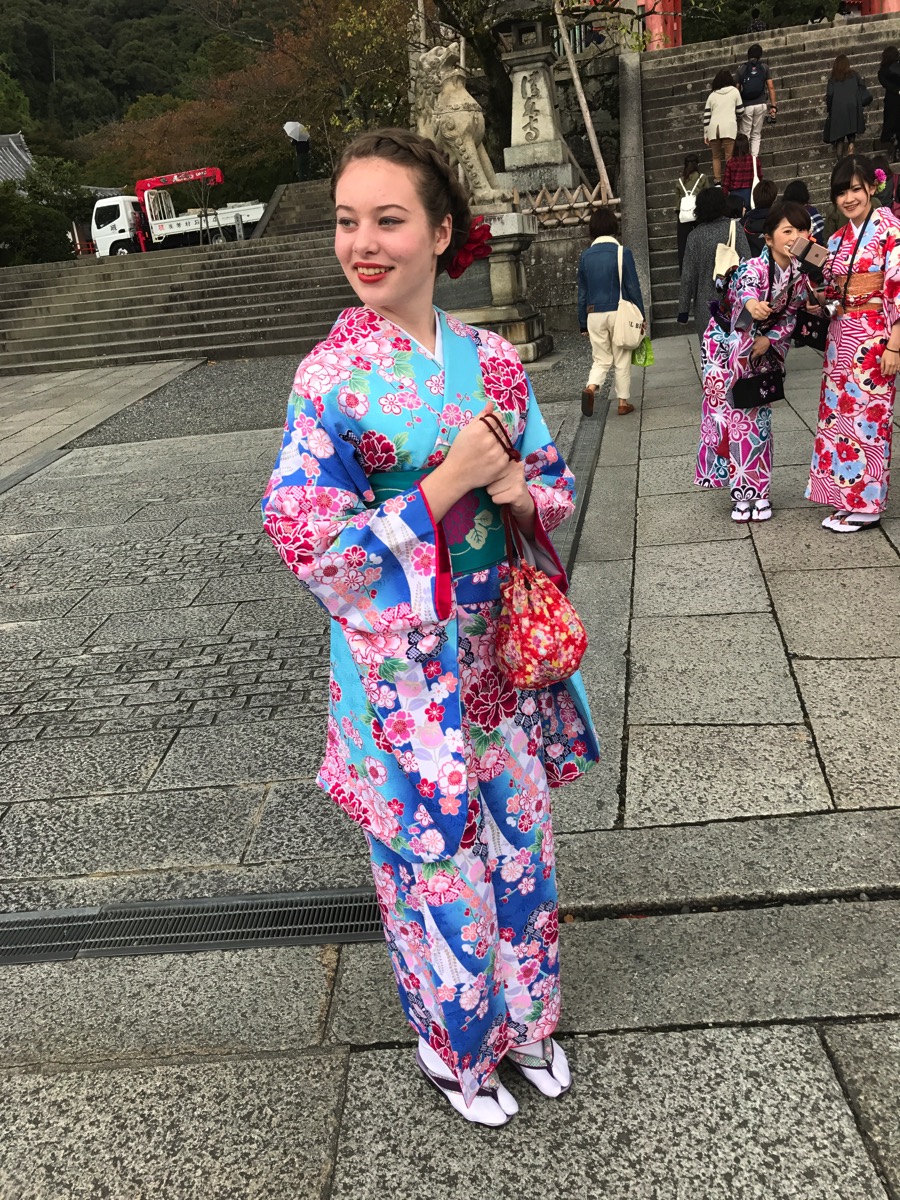 And then it was off to Kiyomizudera. I had no idea how much construction was going on there. I shouldn't be surprised. It takes a lot of maintenance to keep old structures from falling down. (Note my camera technique where I keep my finger in the picture.)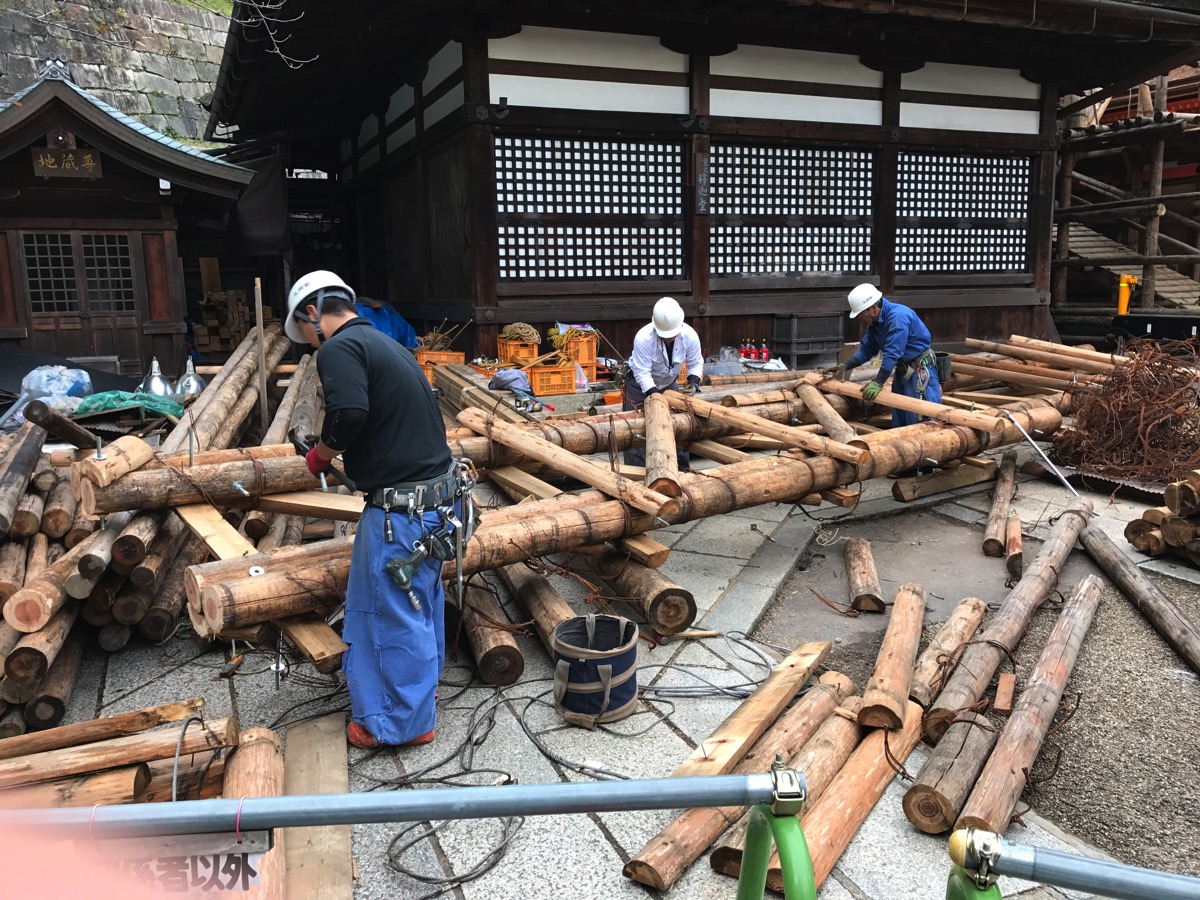 Another temple market after Kiyomizudera.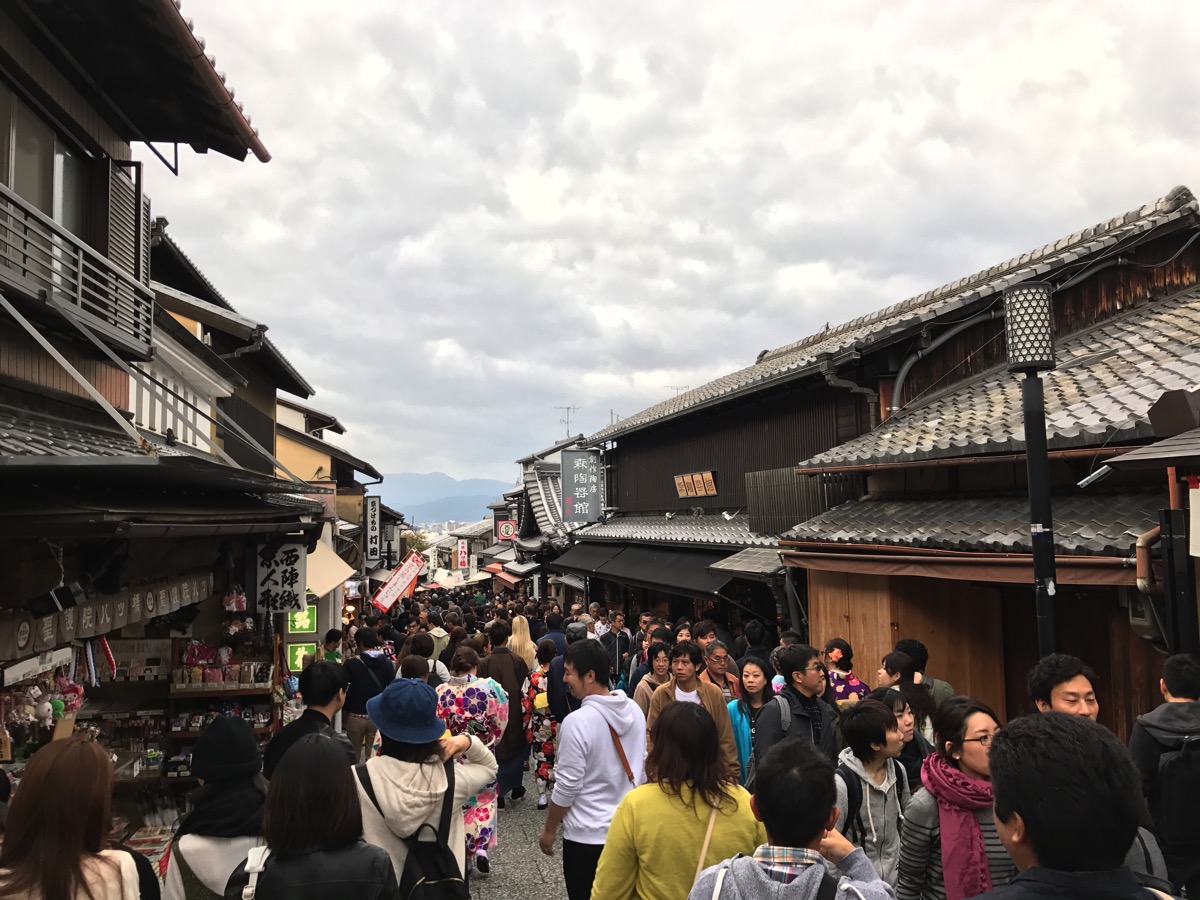 And one of the group split off to go to a boutique while the rest of us ate at 7-11 and my sister found giant cotton candy.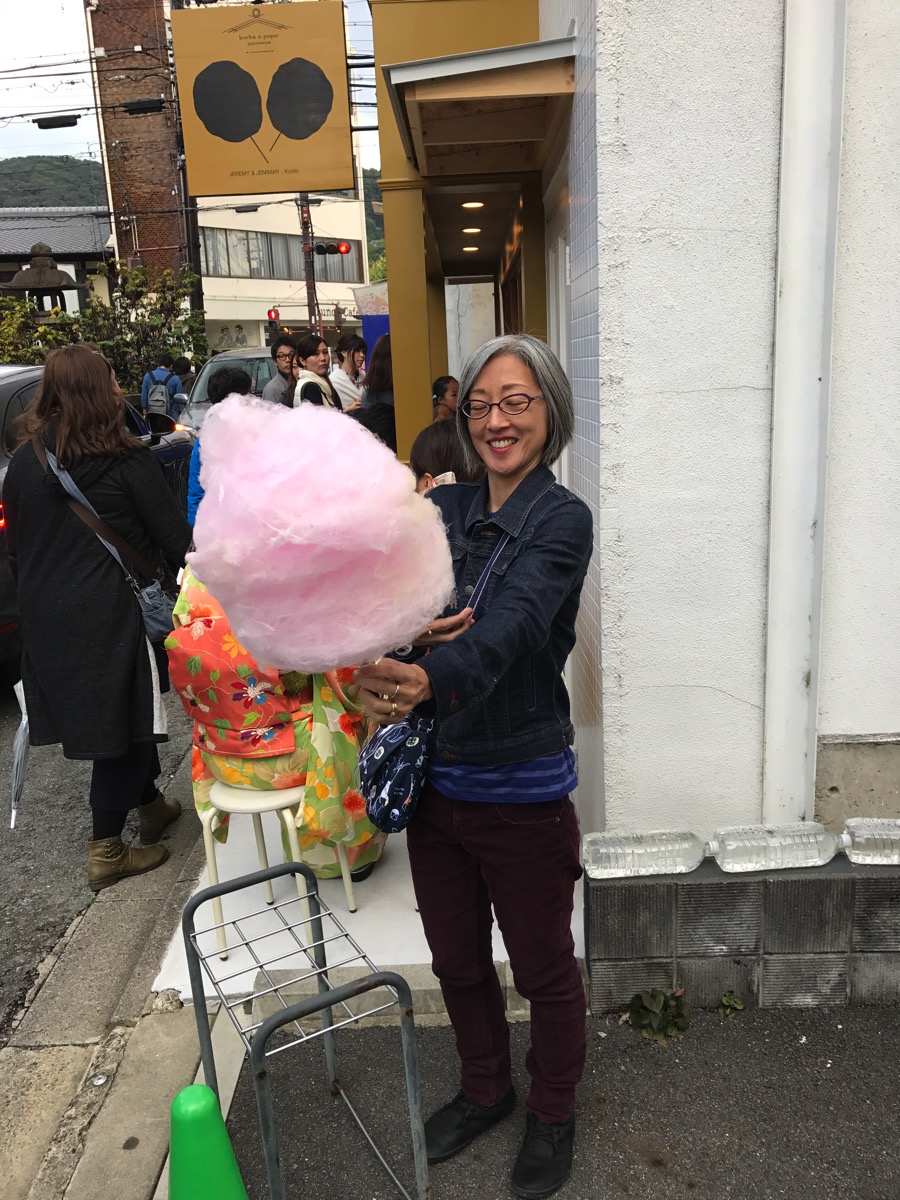 OK, so that's just the perspective. IT was still pretty big.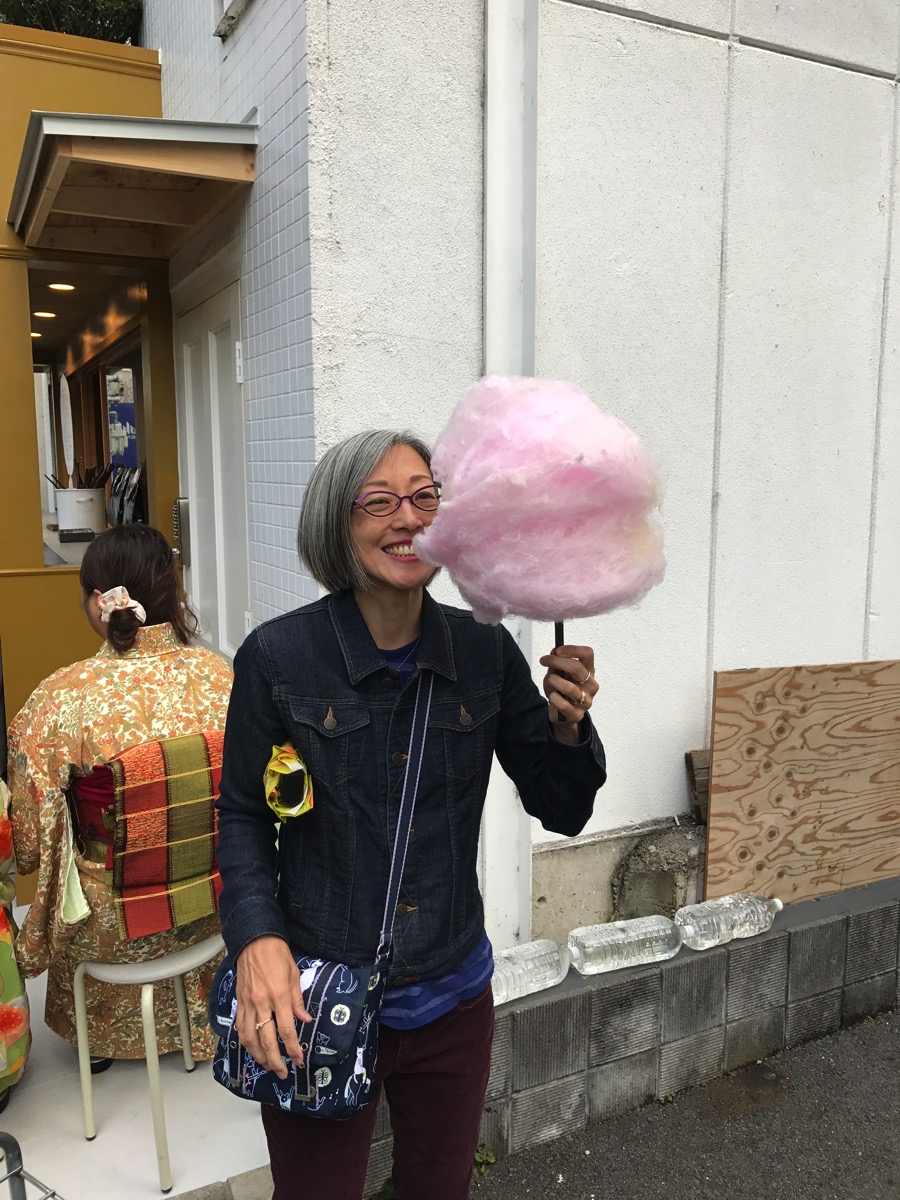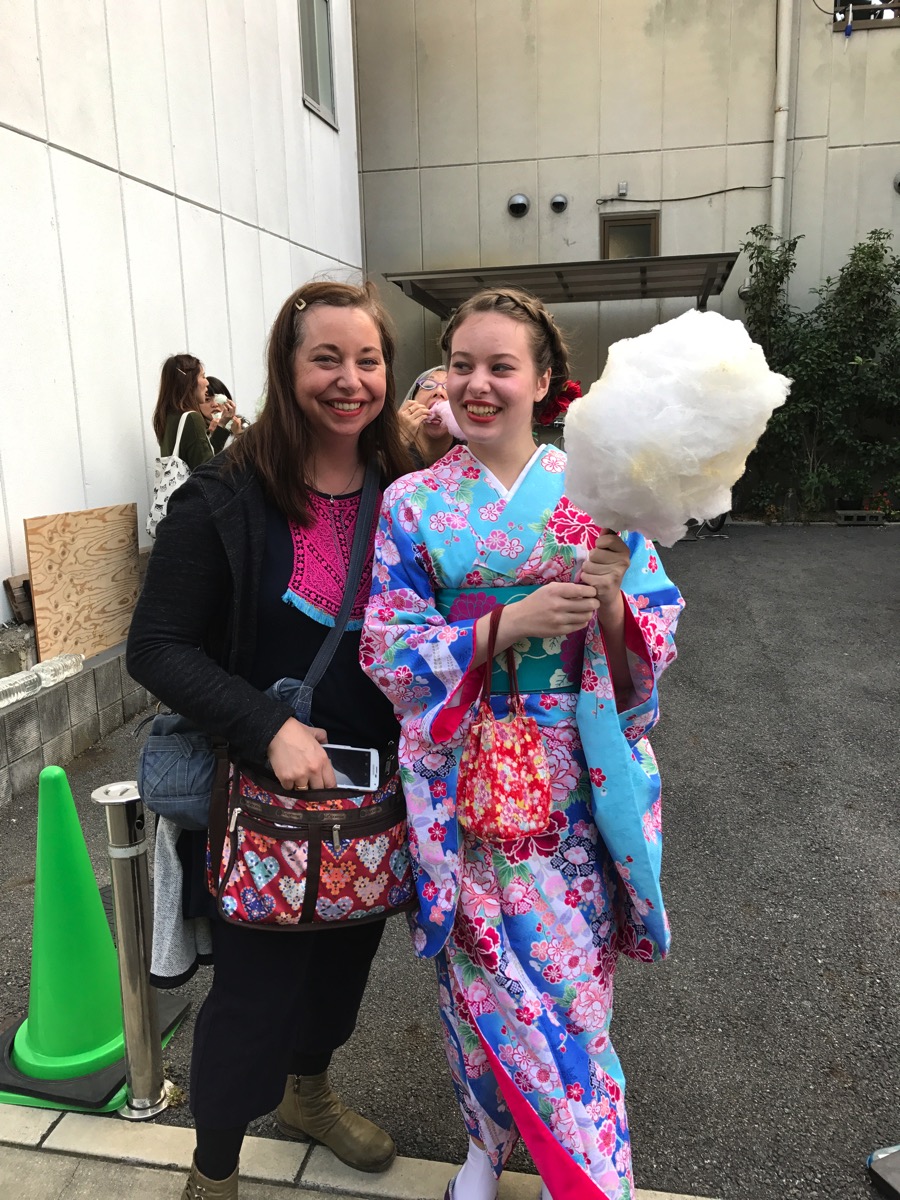 It was so fluffy and delicious that we finished them both! I guess that's what you get when Japanese are making the cotton candy and not some carnies.
After that Sadie returned her kimono and we went to Sanjusangendo Temple. You'll have to google for images as photography isn't allowed. But it's breathtaking. A huge building housing one giant seated Kannon and one thousand standing Kannon statues, each one about five feet tall. A THOUSAND. And there are twenty-eight guardian statues as well.
We had dinner at the station, an excellent tonkatsu restaurant where you grind your own roasted sesame seed and add tonkatsu sauce for dipping. The only reason I don't have a picture of this is because we were tired and ate it all before we even thought about taking a picture.