Turns out my mom isn't coming back until Tuesday. The kitchen still won't be finished by then so I'm not sure what difference it really makes.
We had this awful shelving unit with aluminum rails and supports and pressboard shelves that I've decided isn't going back into the kitchen. That also means that we need a table for the telephone. I'm not a big furniture shopper and it's been a bit of a headache. I started last night on Google and went to three antique stores, Portland Furnishings, Hip, Dania, and finally the Joinery. All I wanted was a narrow table and I finally found what I need is called a "console" or "entry table". I found NOTHING on Google, Ikea's web site, Dania's web site, or Crate and Barrel's web site. I found nothing at the antique stores. The last three places had something that would be almost OK.
The one at Hip was a perfect size, but had a glass top. GLASS TOP. I'm going to put something through a glass top, I'm sure. Plus, it's too modern for me.
There was an interesting leaning desk at Dania, but it didn't mount to the wall at all. I'm sure it would come tumbling down at some point.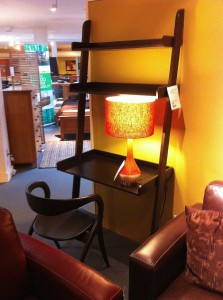 So finally I went to the Joinery. I haven't been there for ten years, I think, because everything there is BEAUTIFUL, hand made, and EXPENSIVE. The first three tables they showed me were almost perfect, but cost $1800 – $2200. The one I finally bought was a Shaker table made of cherry and is going to make the rest of the kitchen look like absolute crap.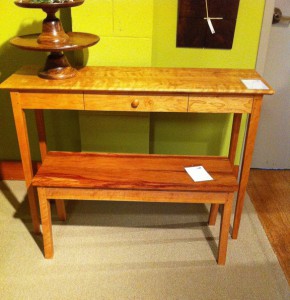 They had a nice bed frame I wanted for $3000, and a nice dresser I wanted for $5000. I think the custom kitchen table will be about $3000 and the chairs are about $700 each. Now I see why I either need to a raise and a promotion or to change my tastes back to Ikea's pressboard furniture.