In case anyone wanted to see a bunch of pictures, here's my trip to Japan last fall. It was my mom's last trip, or so she said again, and we got to see friends and family including a bunch of my cousins (one I hadn't seen for 25 years or so) and my sister got to see one of the Drs Kawasaki who she hadn't seen since high school 31 years?!) Of course I didn't take pictures of any of them because I am an idiot. Seriously, who has three old Nikons and three digital cameras and only takes a few pictures of his dinner with his iPhone? I suppose I have two or three Olympus cameras as well. Well off we go.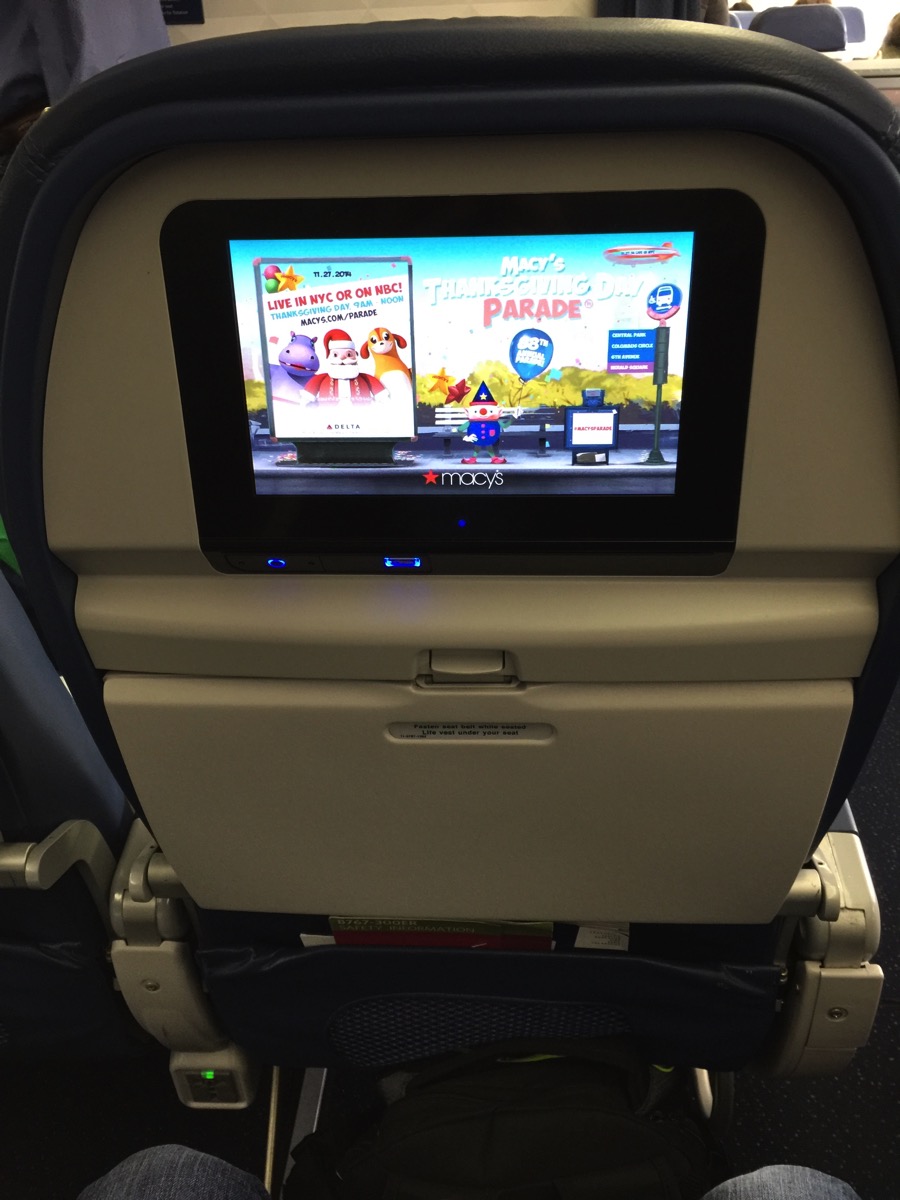 The first stop, of course, was Maebashi to see Dr. and Mrs. Kobayashi. Off of an 11 hour flight just to get on a 5 hour bus ride from the eastern suburbs of Tokyo to NW of Tokyo.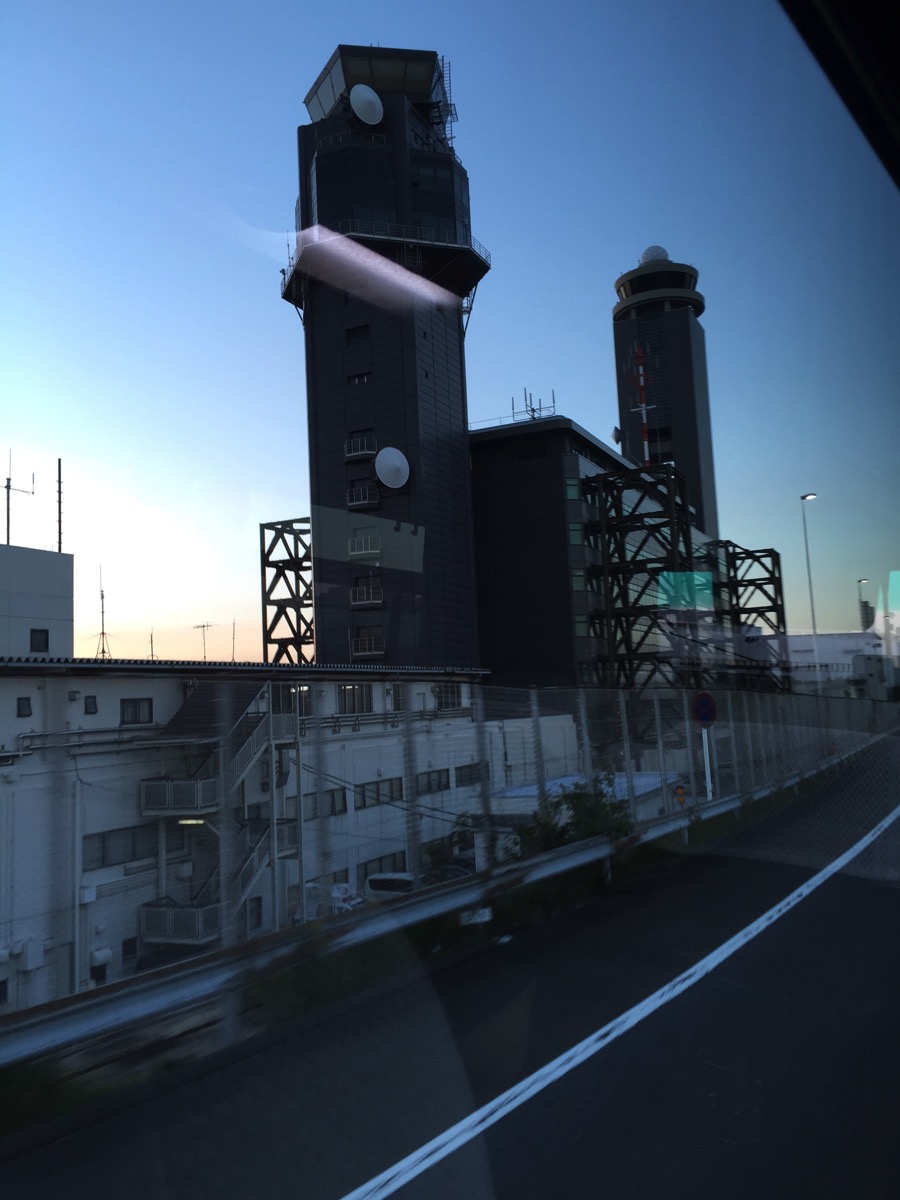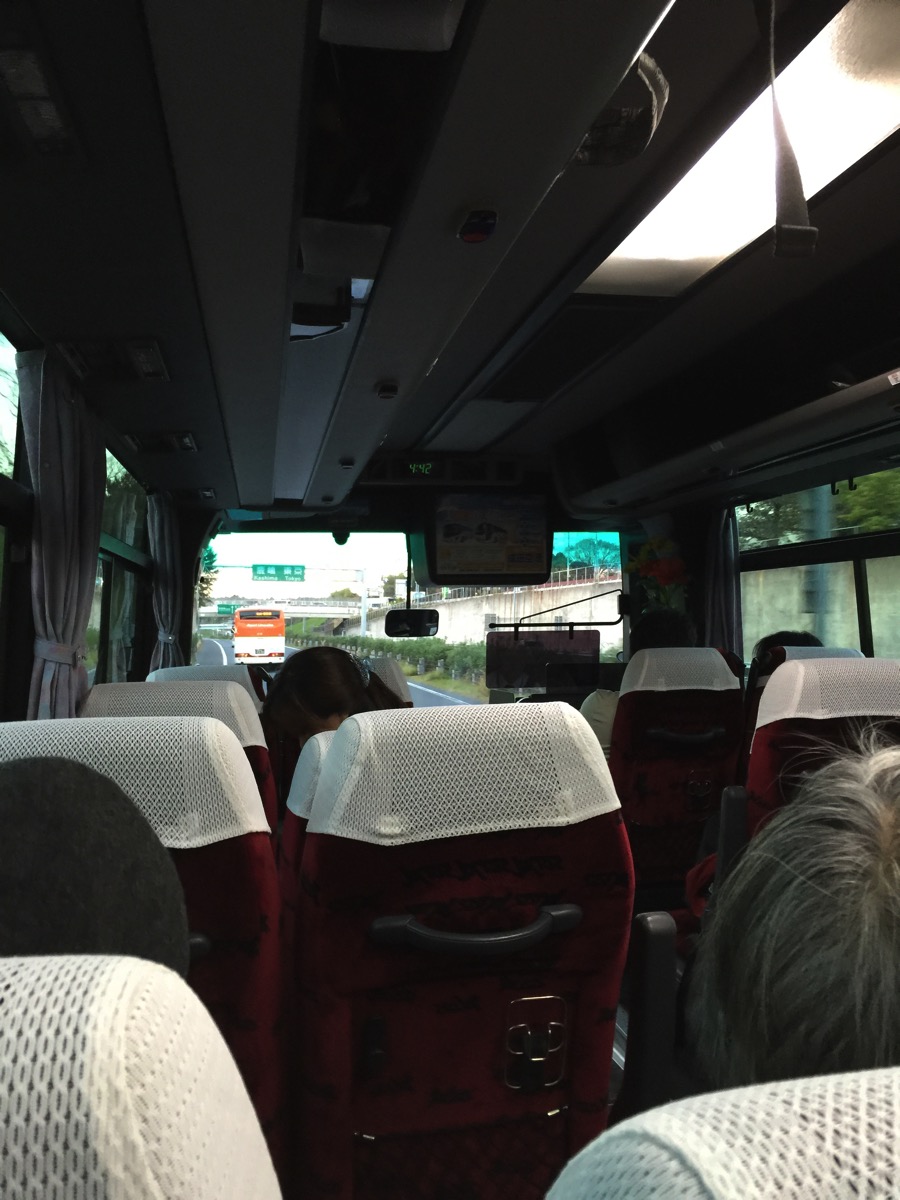 We stayed at a Toyoko Inn the first night, an inexpensive but very clean business hotel chain that I'd recommend to anyone traveling through Japan. My only complaint is they could be quieter, but I'm picky. They also offer free breakfast, and I think a night's stay is $60-ish on up.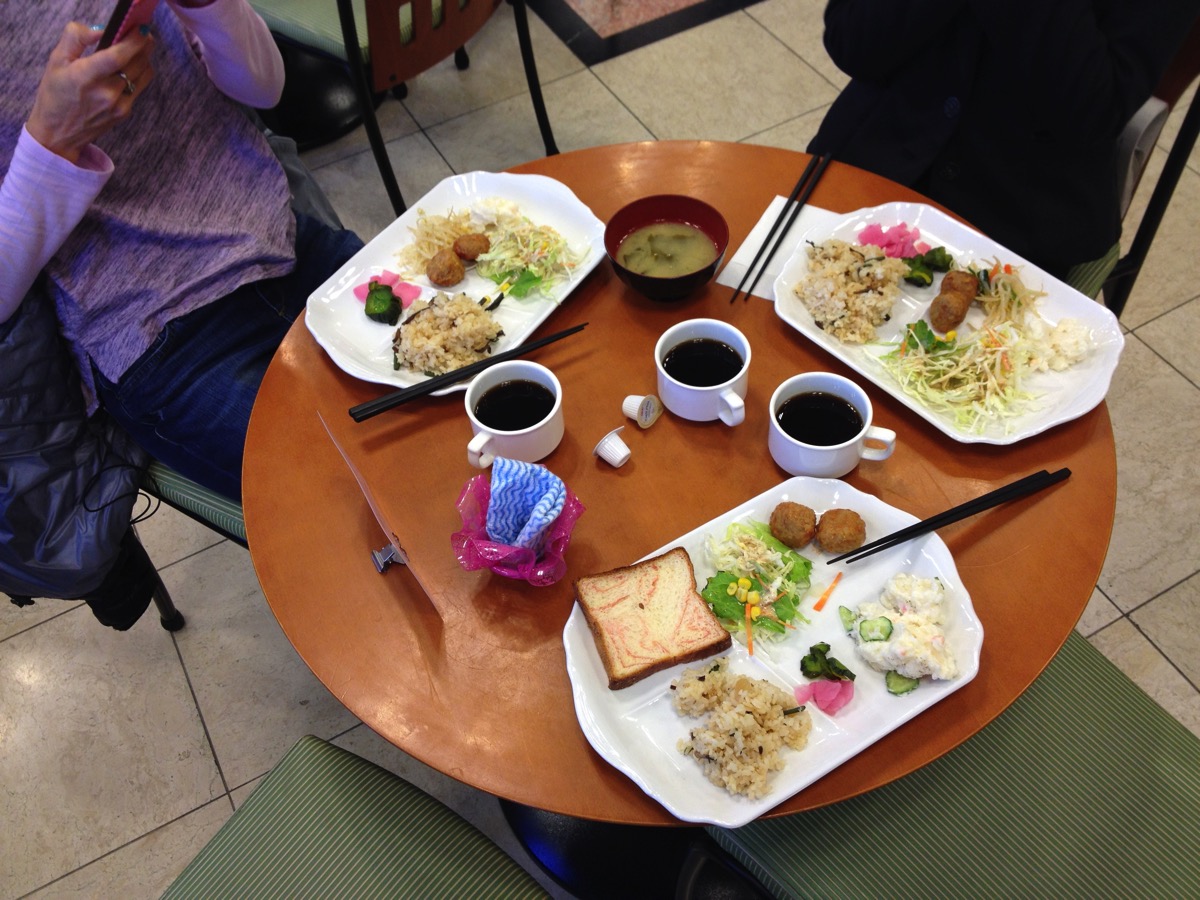 The first day we went off to hear a Nagauta recital which was quite good. That's right, several more hours each way from Maebashi to Hachioji by car. We saw some spectacular views of Mount Fuji on the way, as well as about a dozen US military cargo jets taking off from Yokosuka, I think. But no pictures of that, just pictures of random crap from a highway rest area.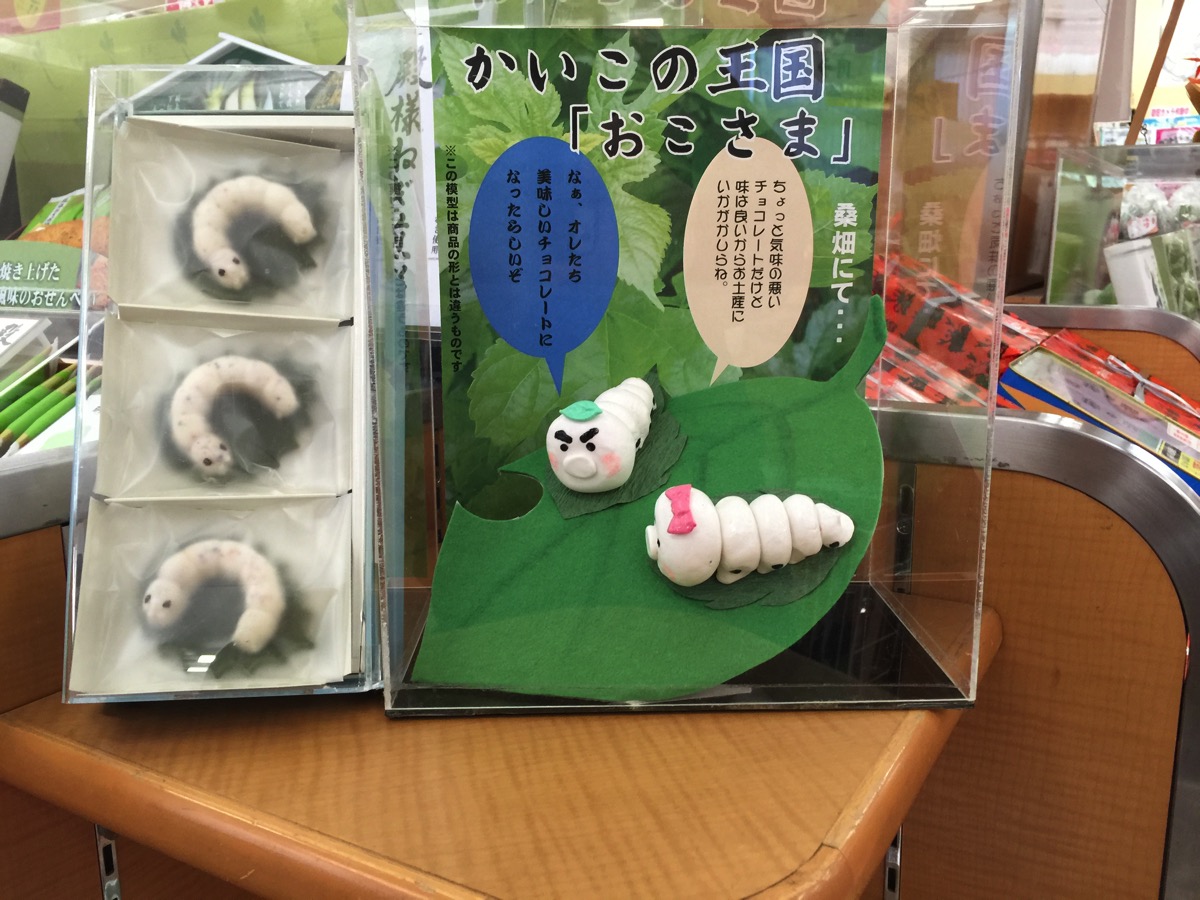 You can always get can coffee and soft ice cream at the rest area.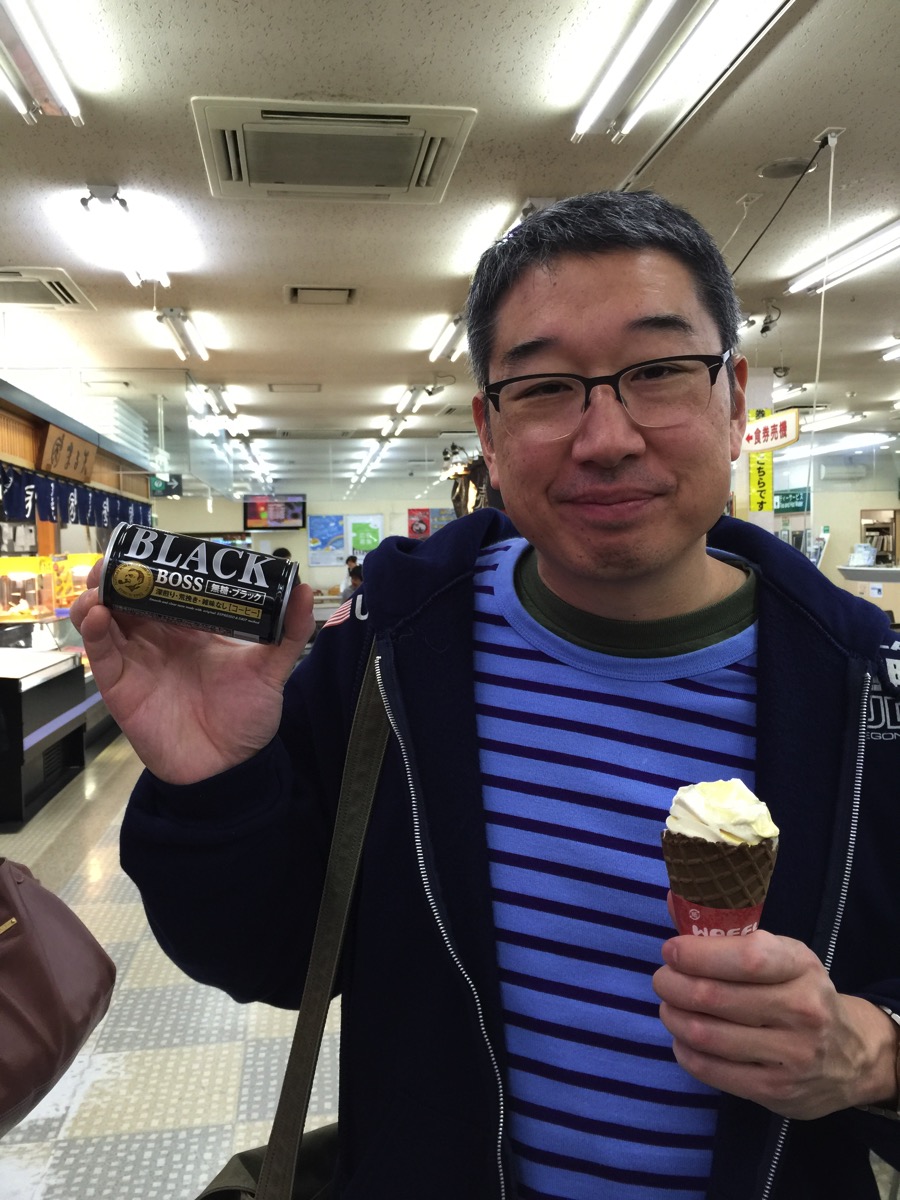 I believe this was dinner, river eel? Unagi donburi in any case in the middle of nowhere in Maebashi. (There was sushi as well, which is why my beer is already half-empty).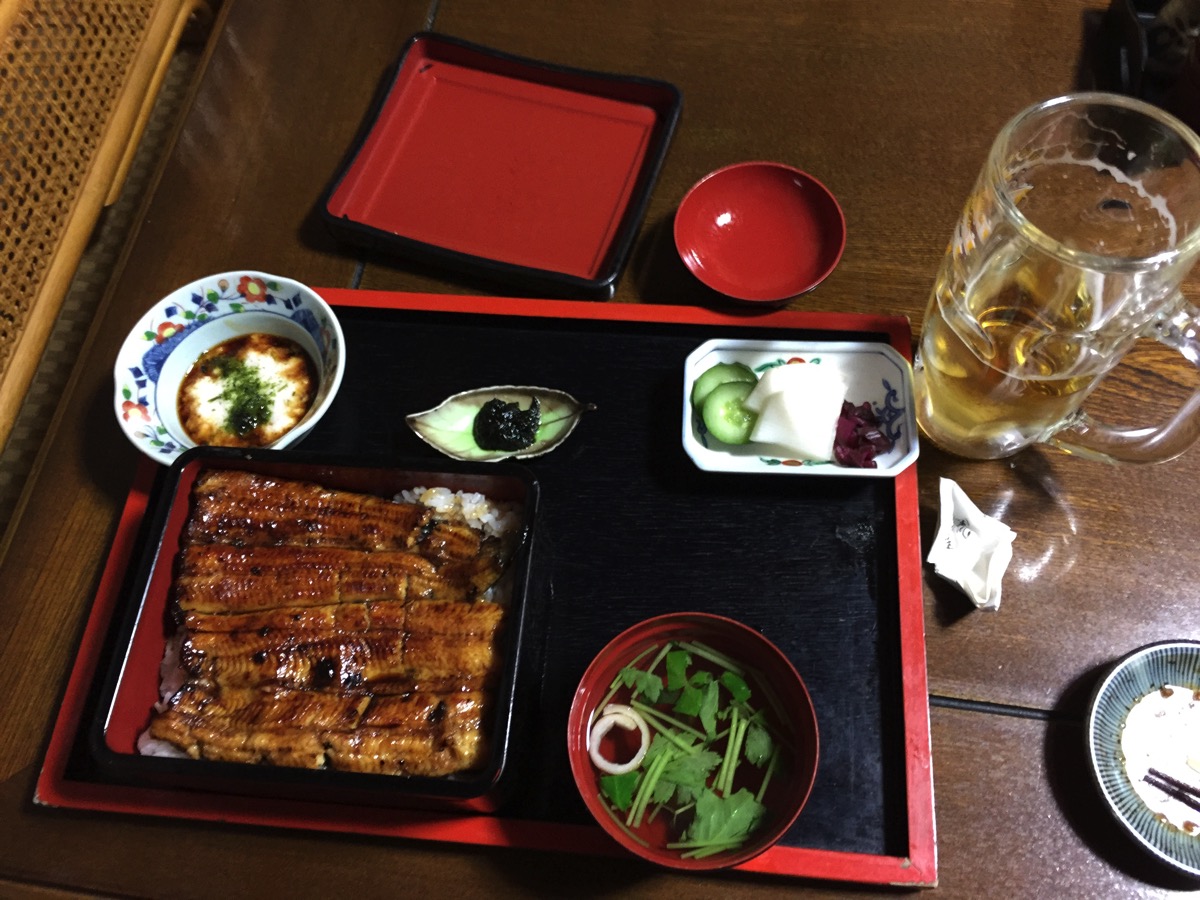 Next day we were off to an onset off in the hills but not too far from Maebashi. First, tomato ramen in Numata! Here's a picture of actual people (my mom and Mrs. Kobayashi).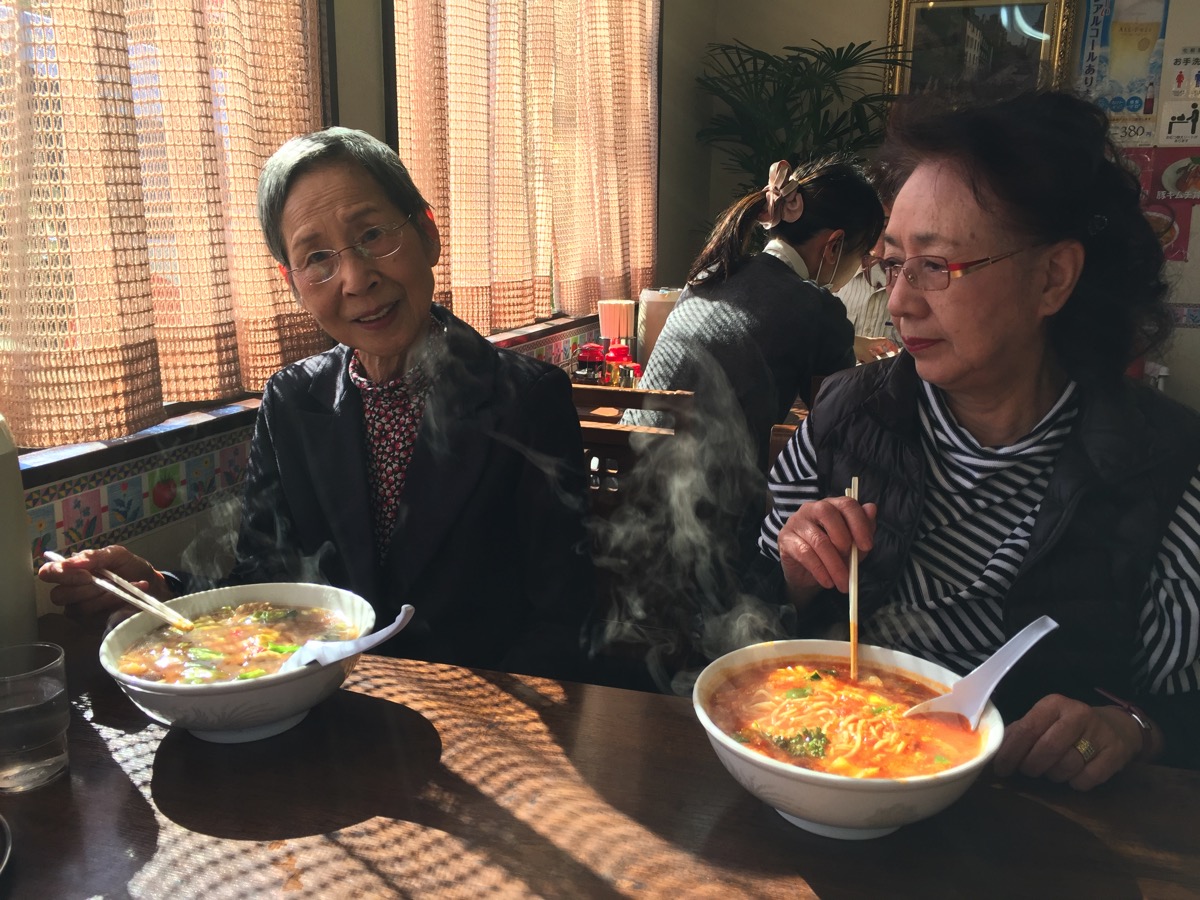 Of course I took more pictures of food than people.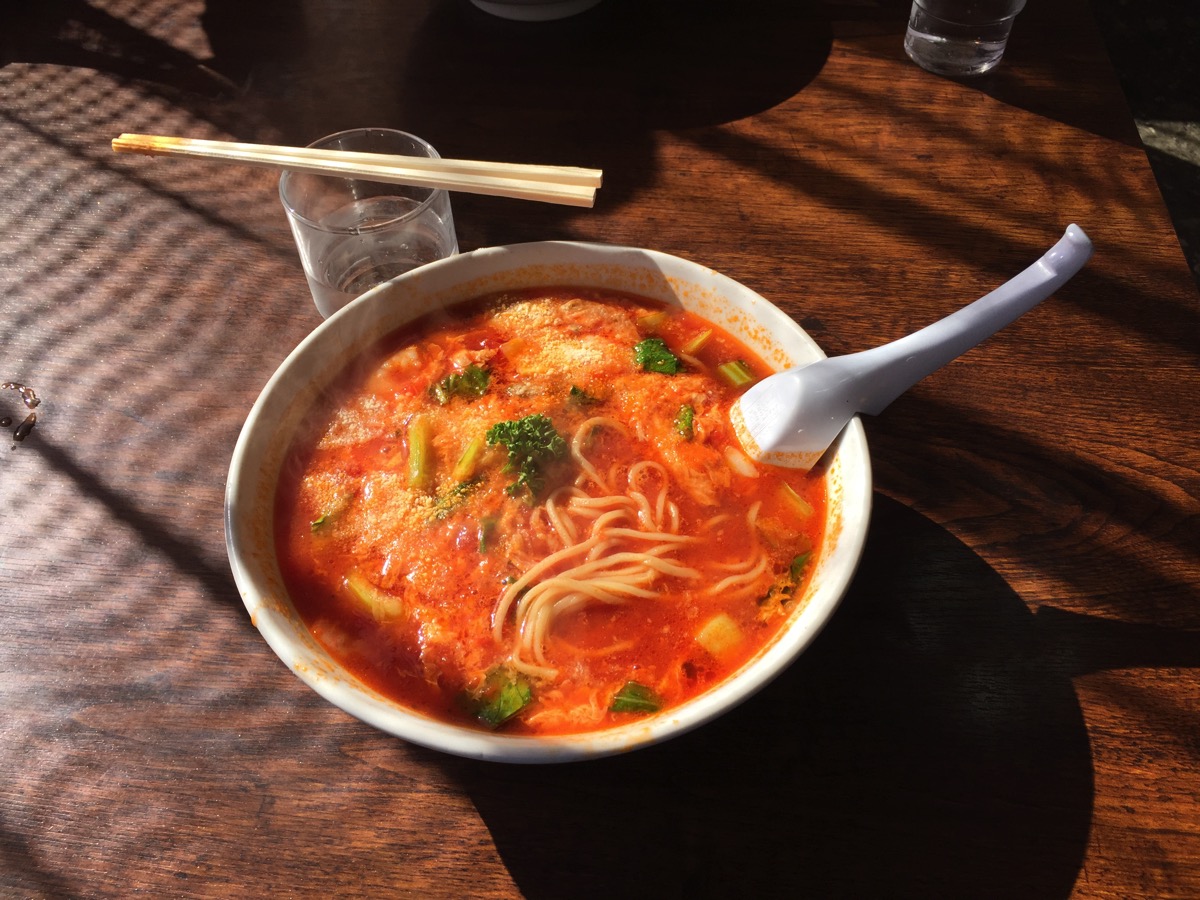 There was an interesting river valley near where we went. I could look up where it was, but it was pretty.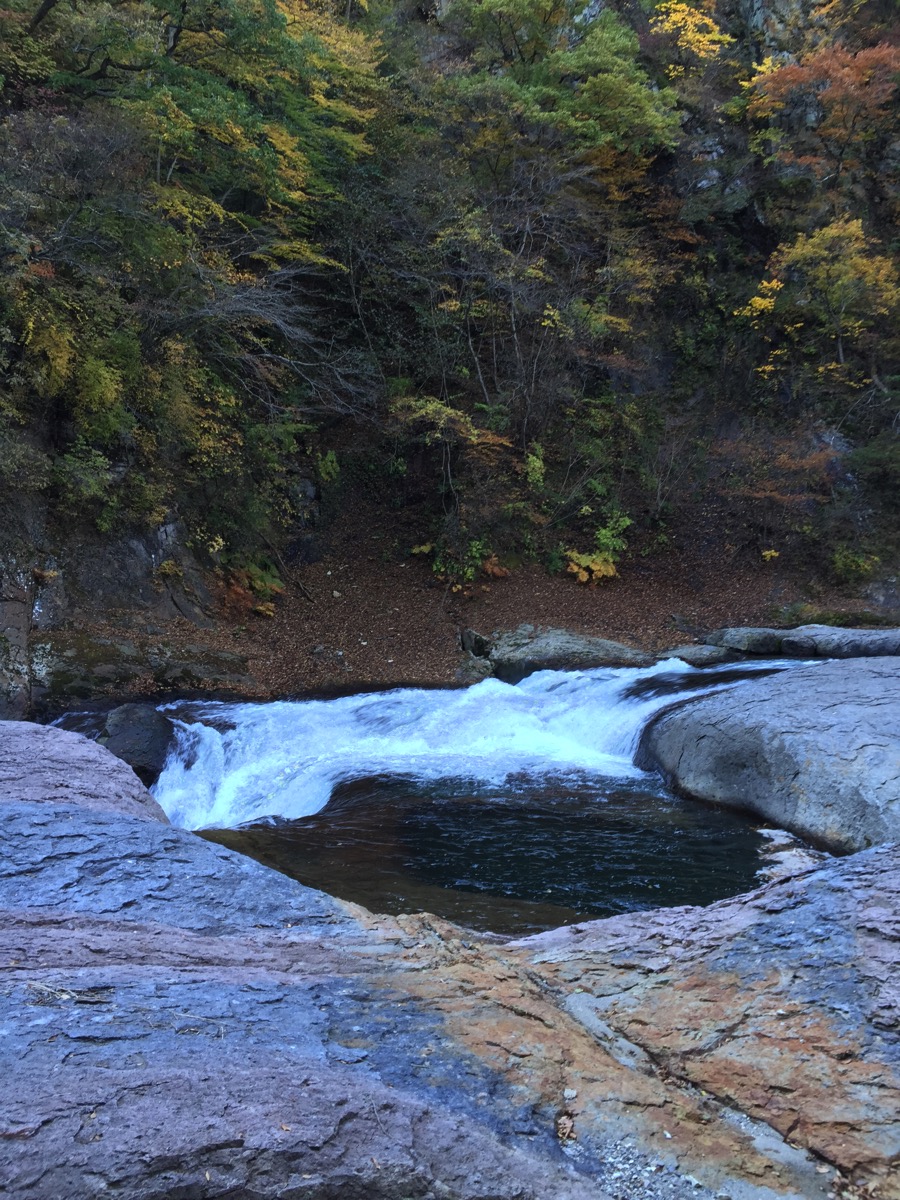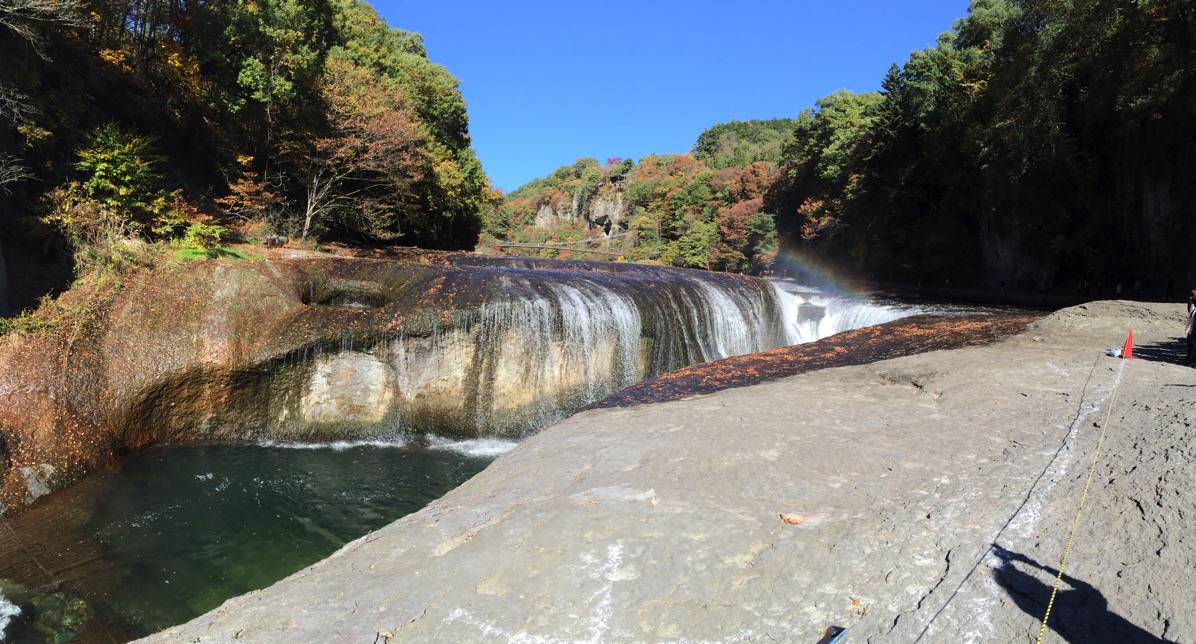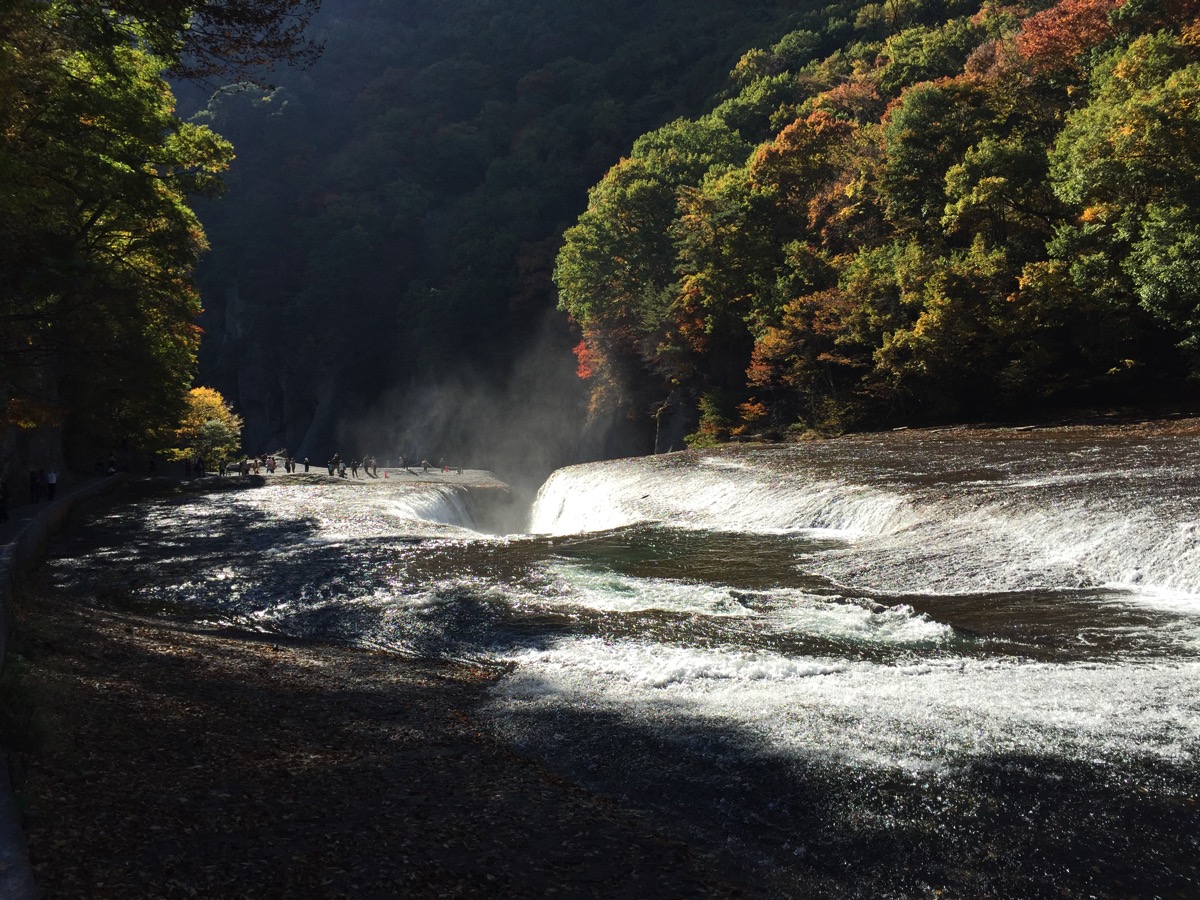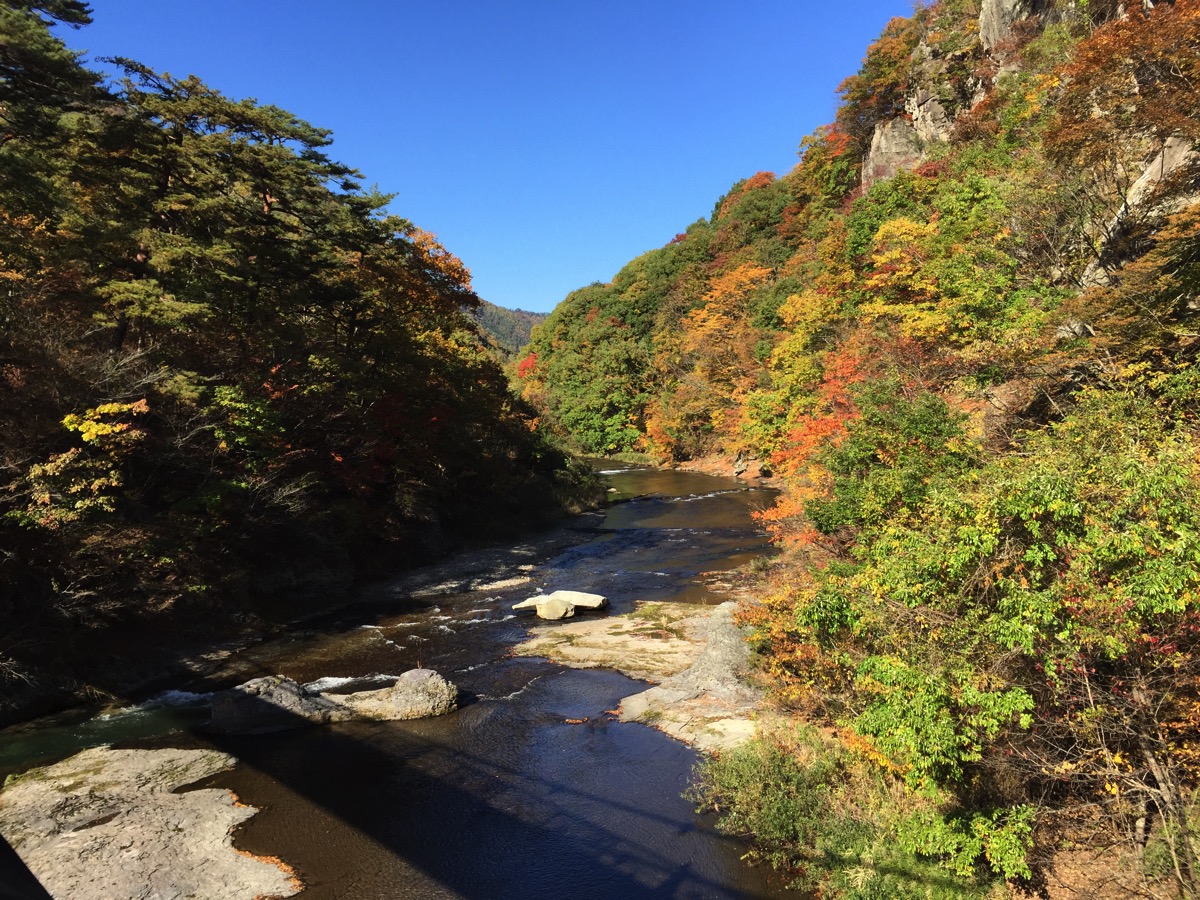 And then off to Oigami Onsen. The rooms were huge and there were two separate rooms and an attached tub as well as the big communal bath downstairs. I love Japanese hot springs and that's why I'm not getting any tattoos.
Here's one of the rooms with a massage chair and my sister is taking a picture of my mom in the chair.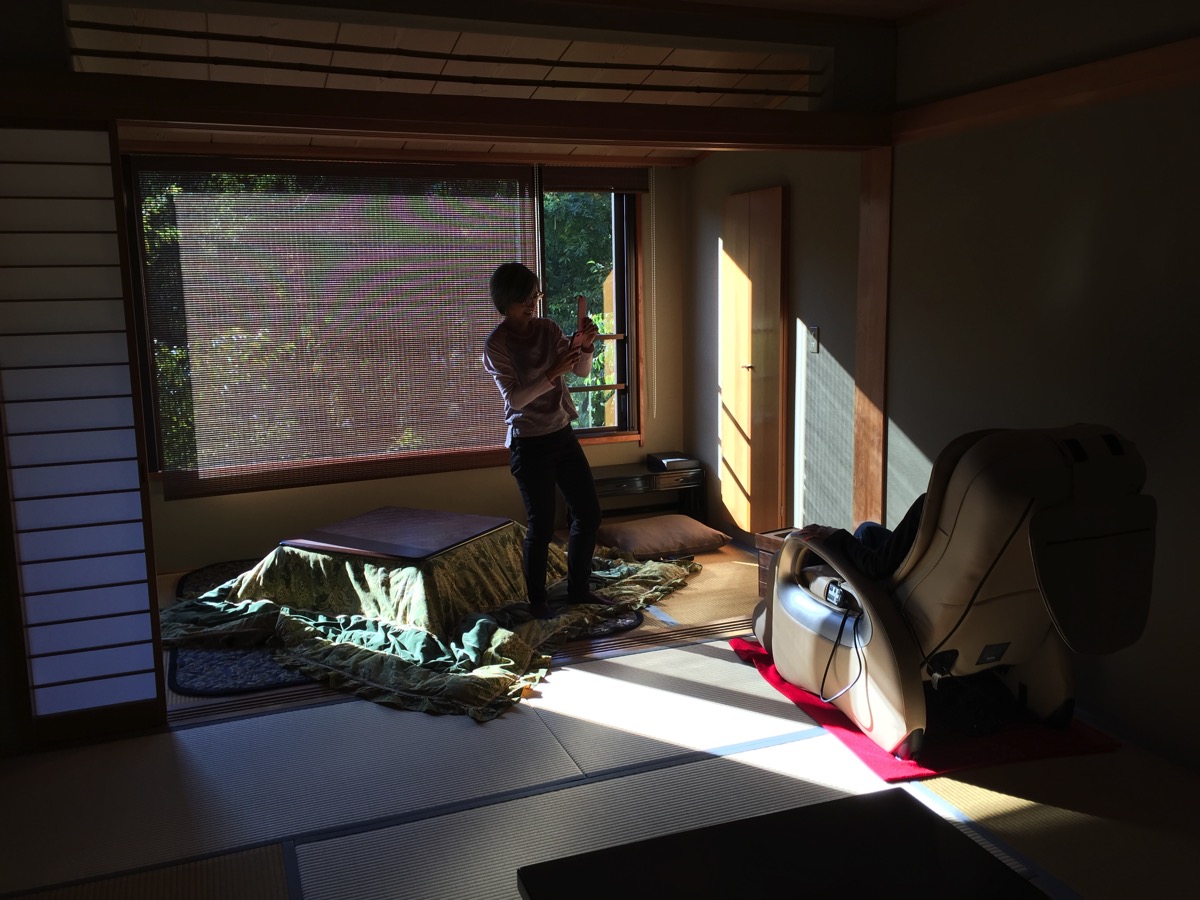 I think the rollers were a bit rough on her.
Here's the soaking tub for just this room!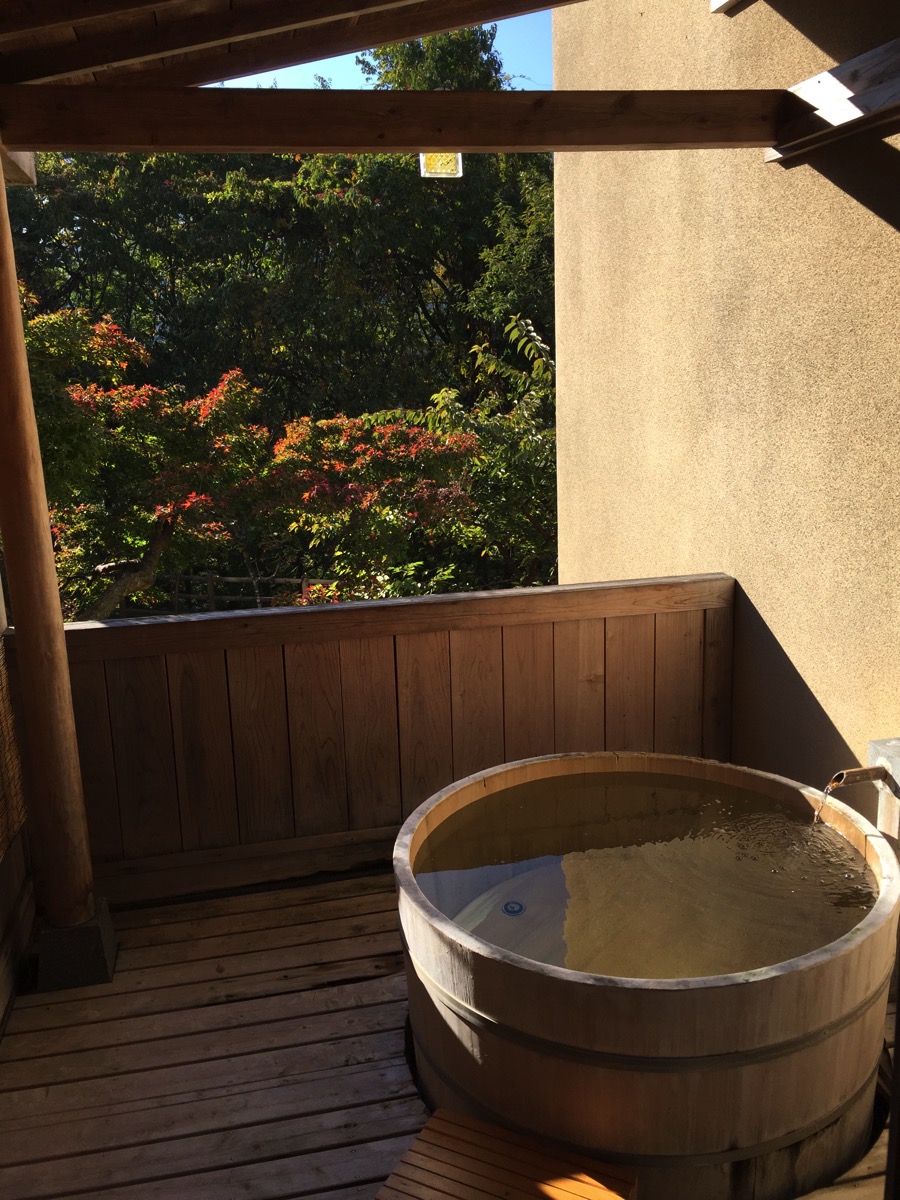 What you do at the onsen is just lay about, take a bath, eat, take another bath, and lay about some more. It's quite relaxing and more fun than it sounds. Take a book and relax.
Here's a sequence of pictures of the dinner. The food was excellent, but wasn't quite as good as Shirahone Onsen.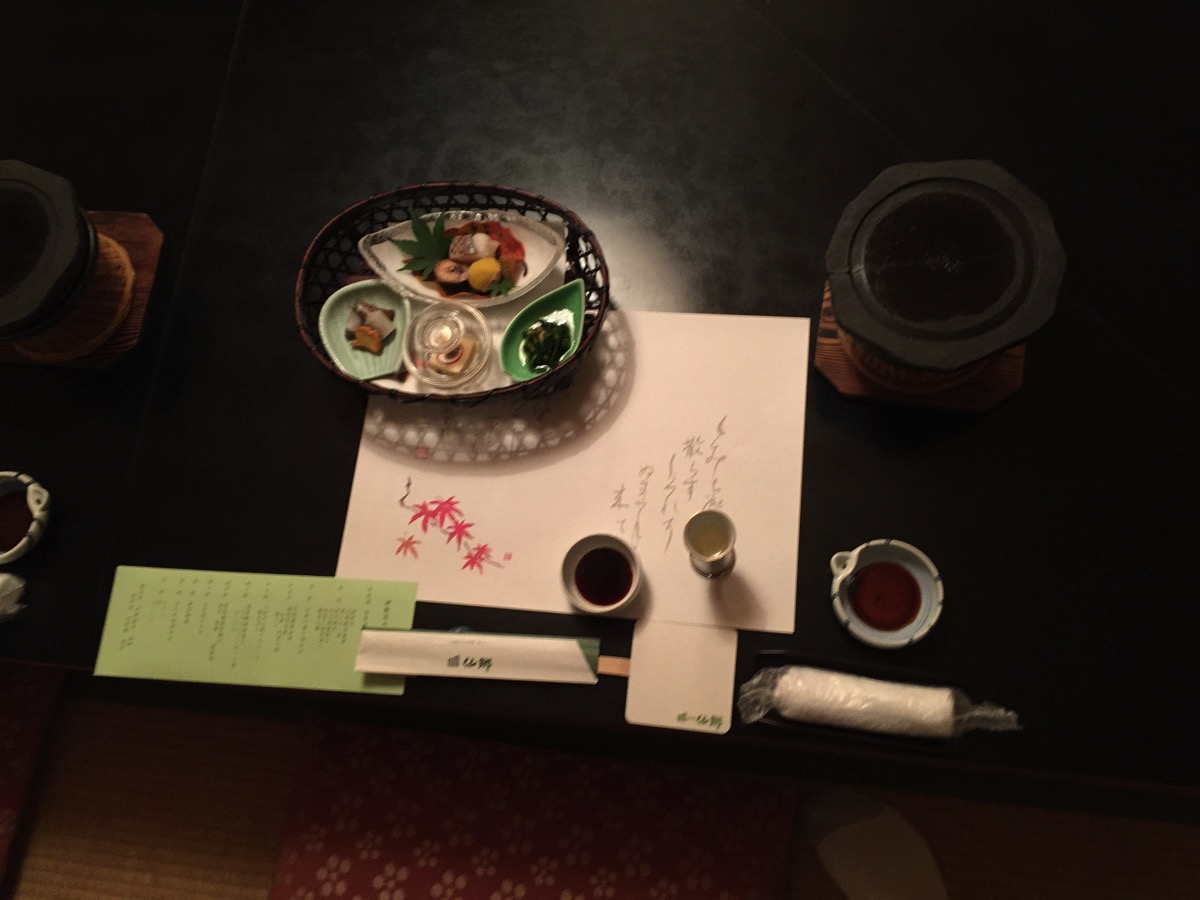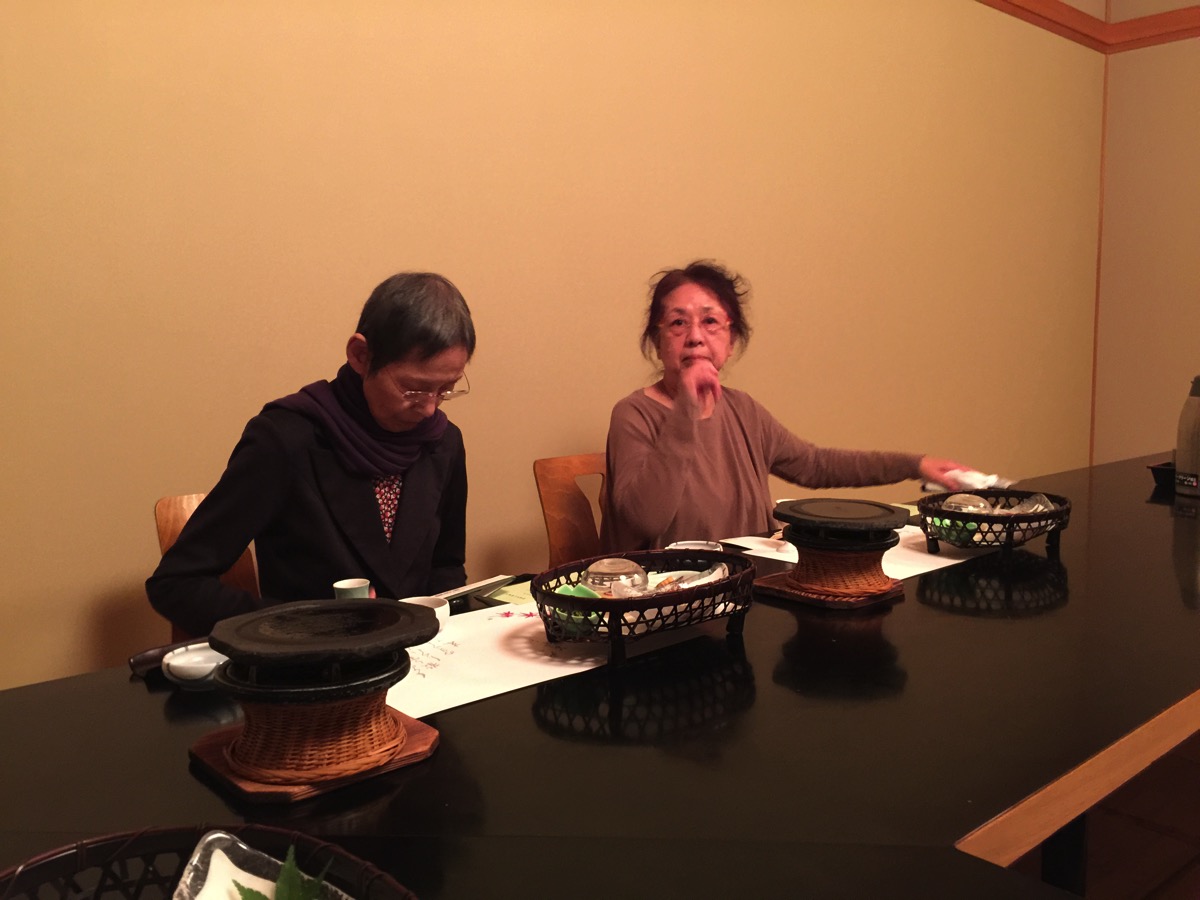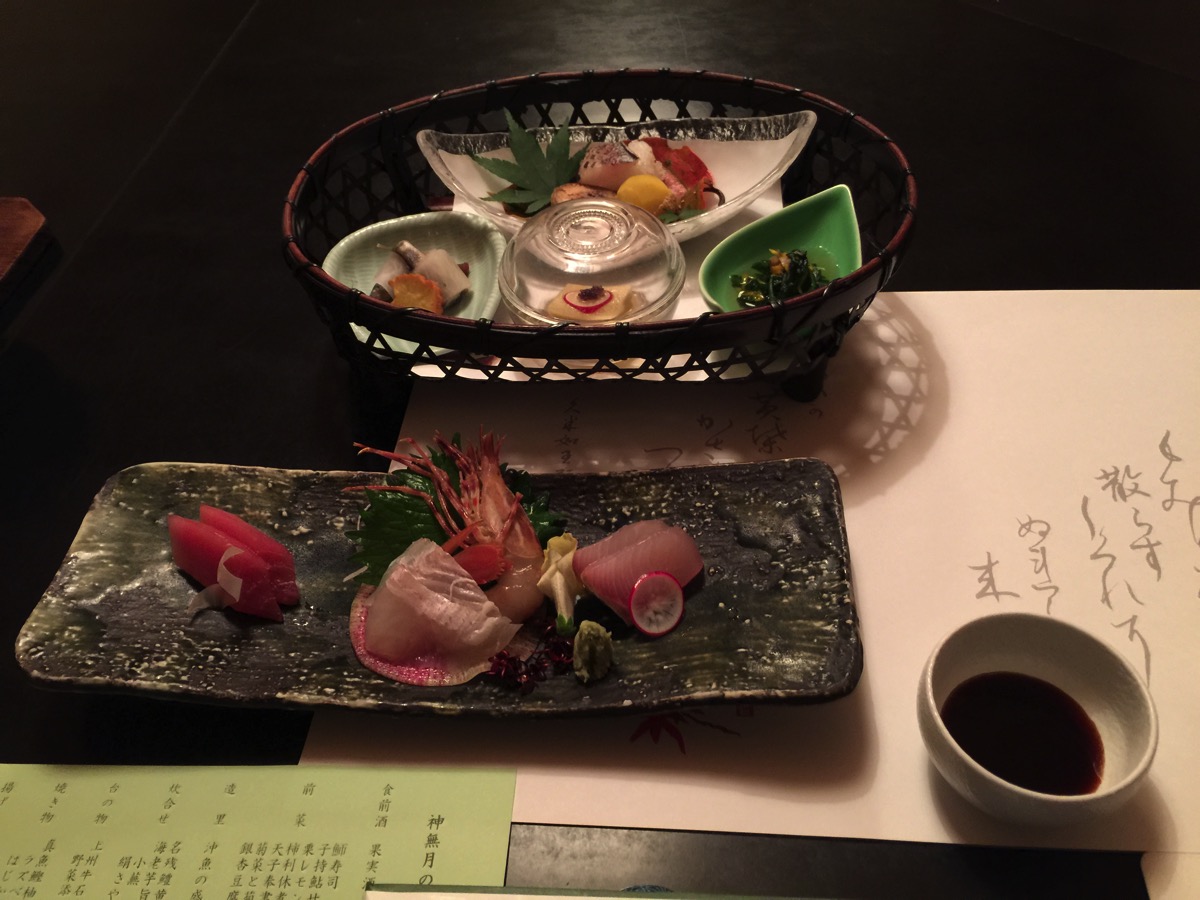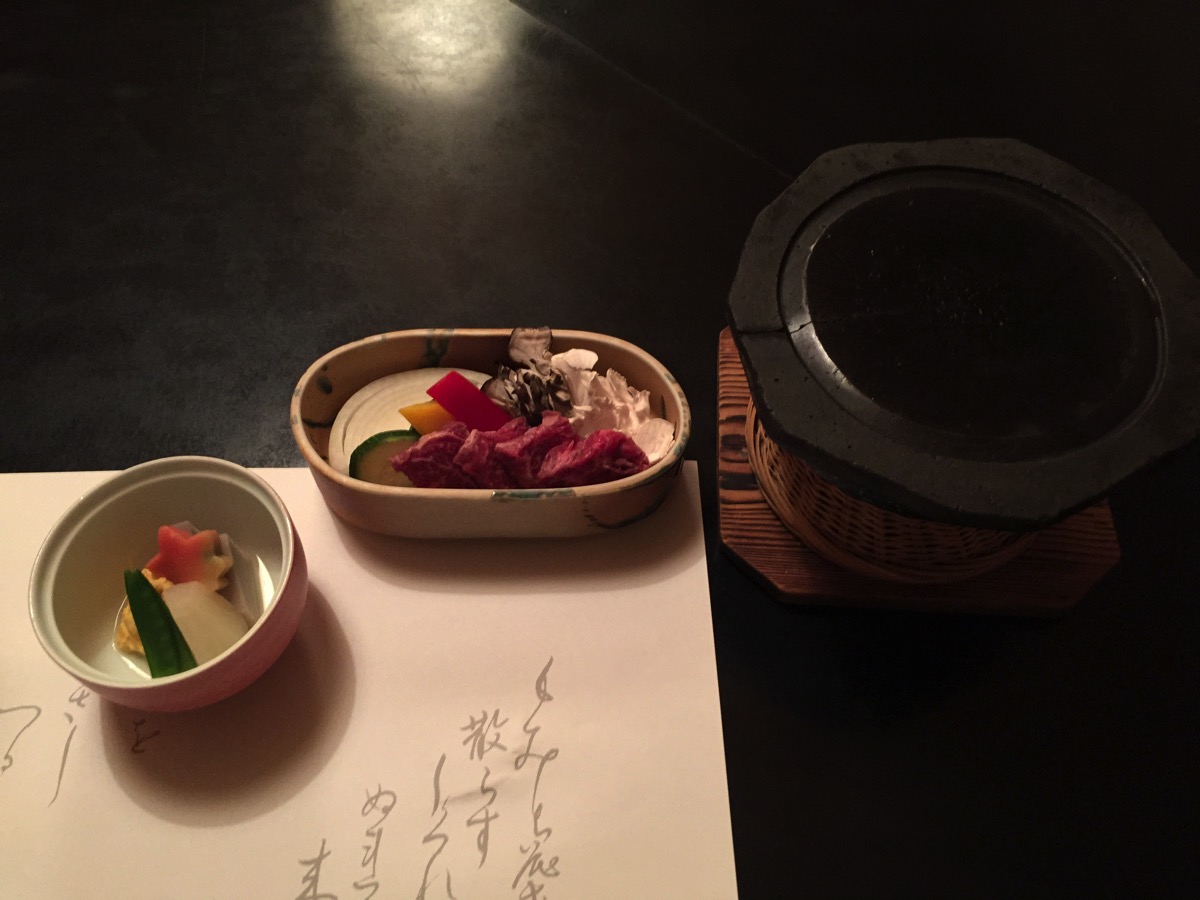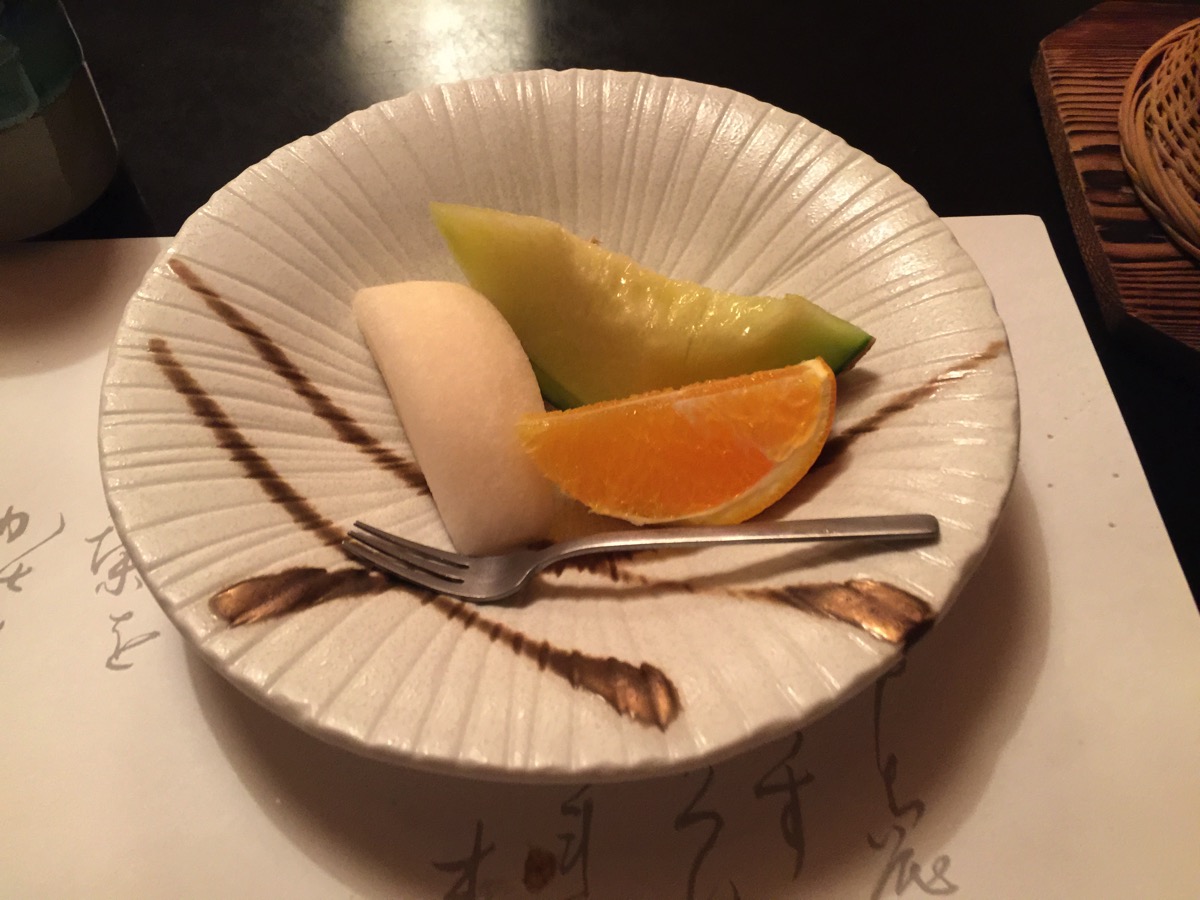 You also get breakfast.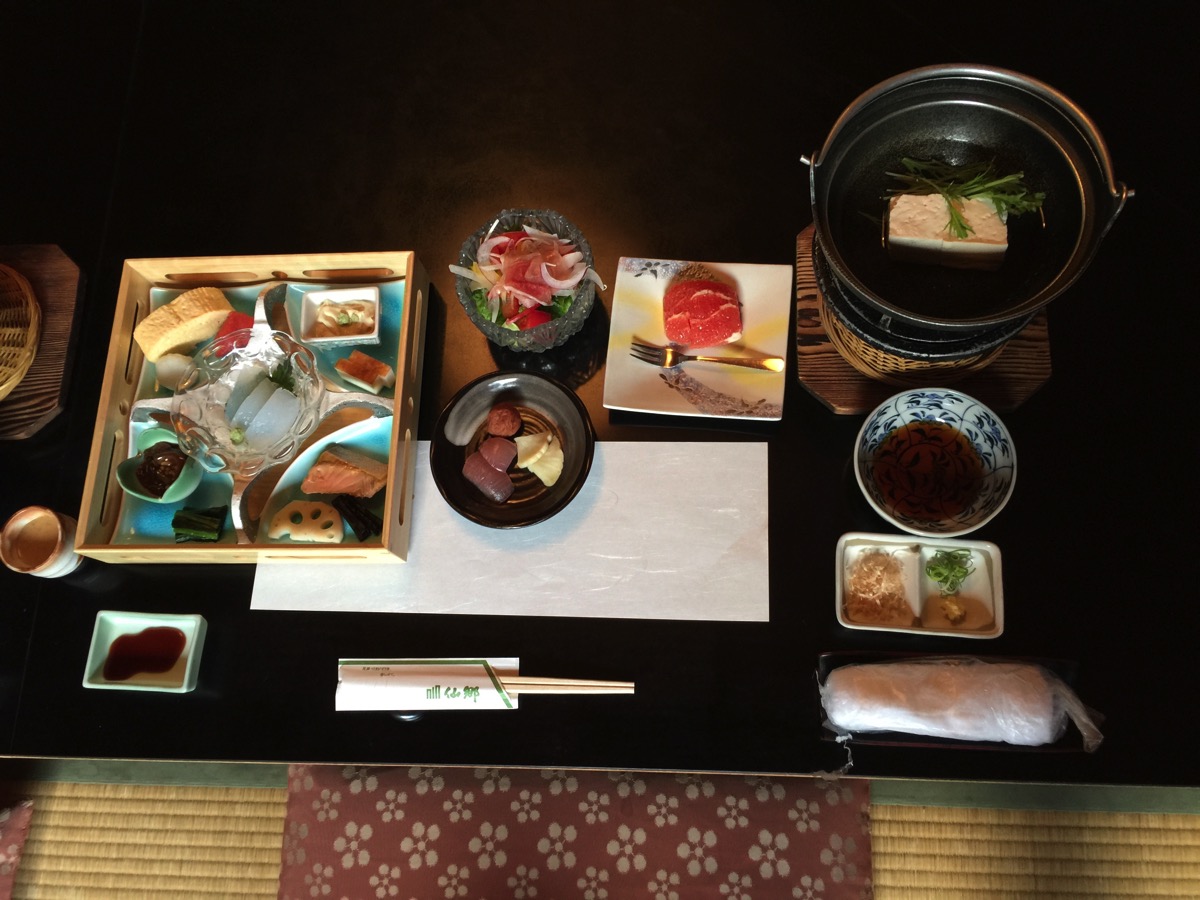 After that it was off to the wilds of Niigata to see the Shimomura's (the family of Dr. Kawasaki's daughter). I'll spare you the chrysanthemum pictures and just have the one of a shrine with my sister, Sho Shimomura, and Mrs. Kobayashi.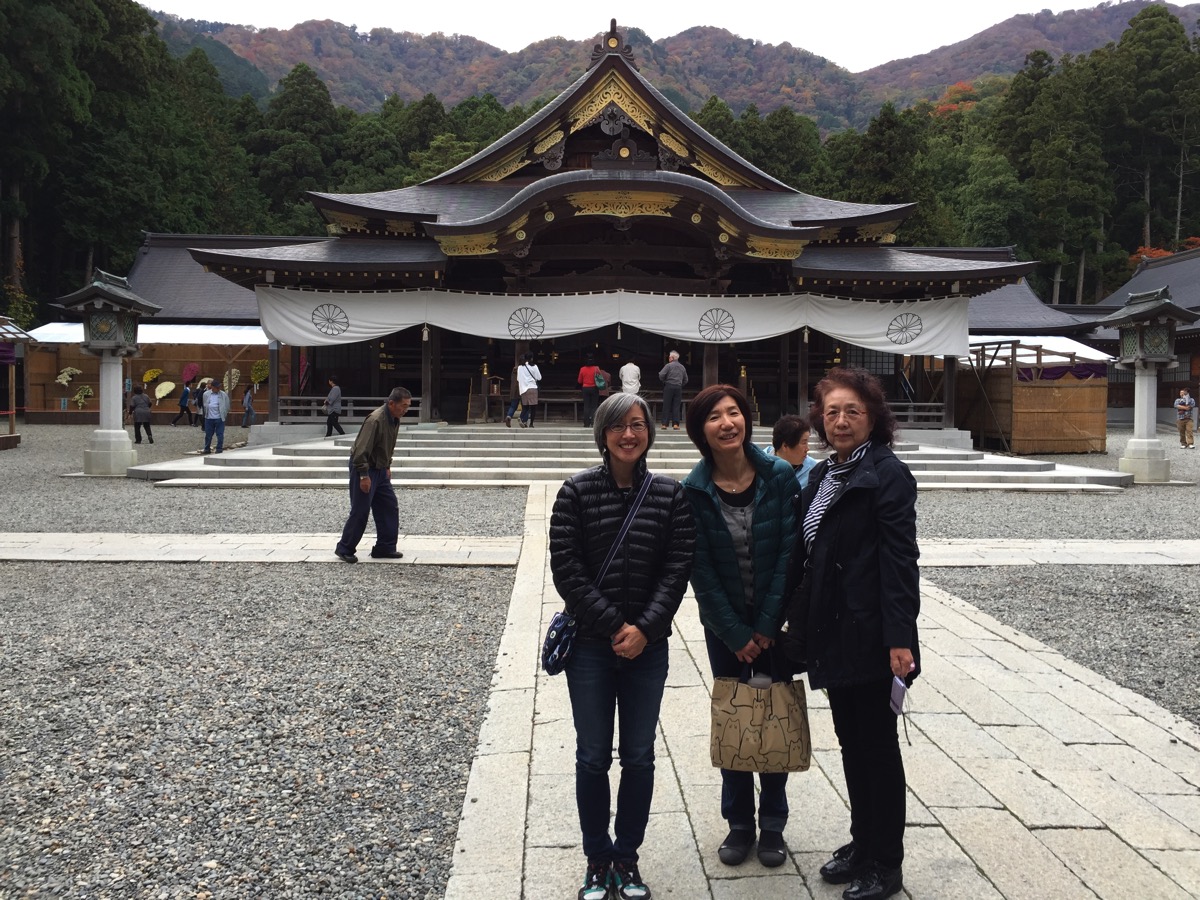 I don't remember what we did in the big rambling house of the Shimomuras, but here's a picture of my mom and Mrs. Kobayashi shelling chestnuts, I think.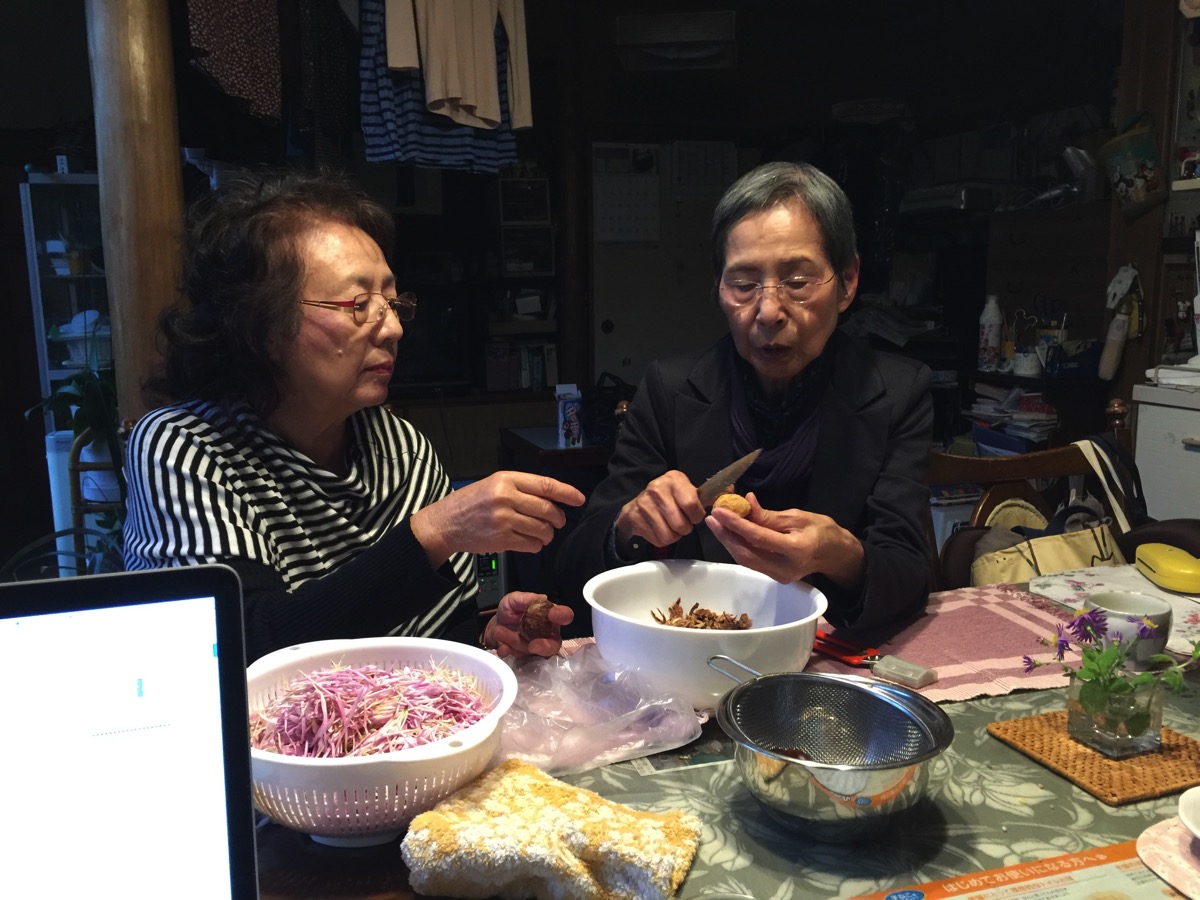 We were there for a couple of nights and made a side trip to see Dr. Masaru Kawasaki (who my sister hadn't seen in 31 years) and what did I take a picture of? Dessert.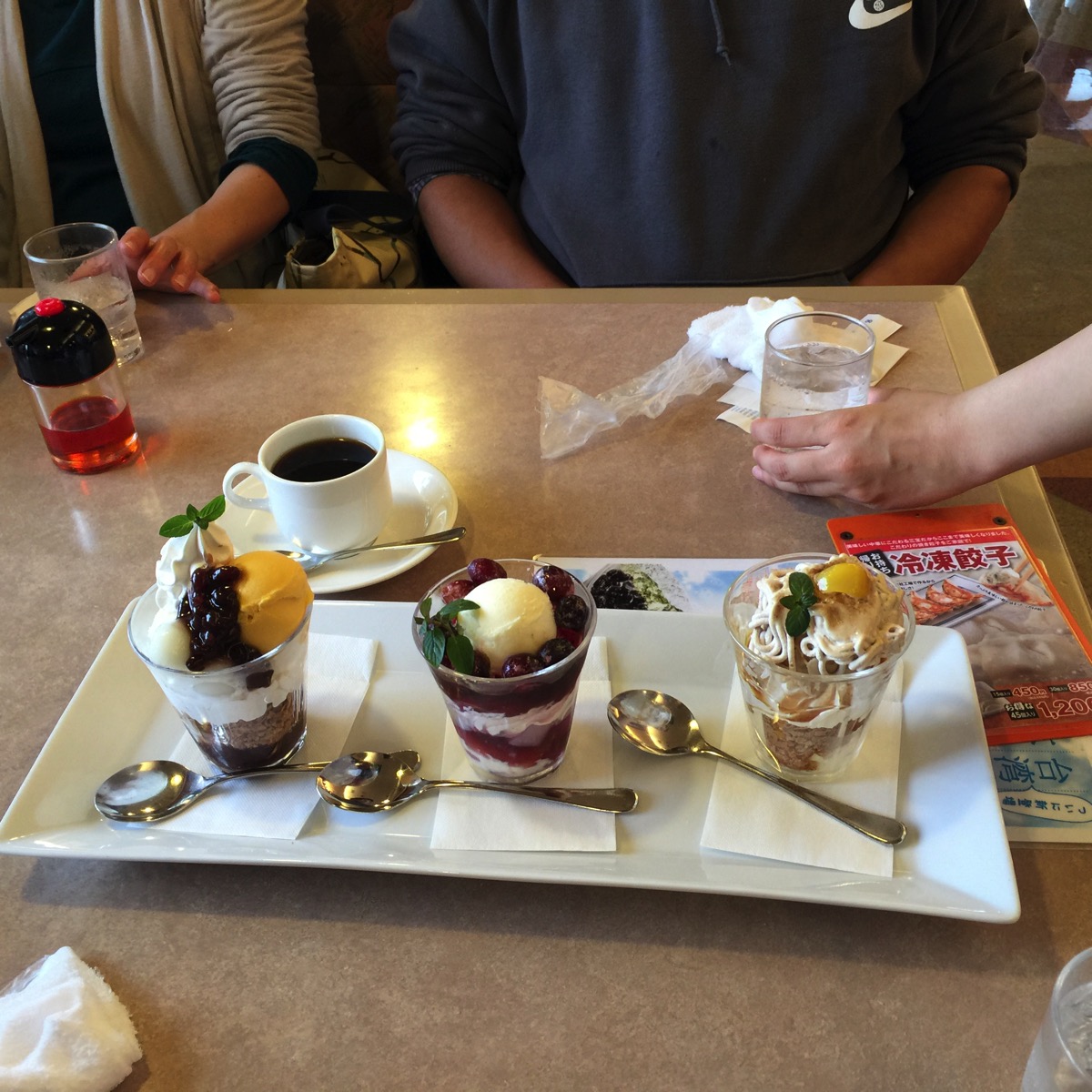 I also didn't take any pictures in Toyama, where we stayed with the elder Dr. Kawasaki and Mrs. Kawasaki. I'm an idiot.
Next stop Osaka. I had dinner with my old co-worker Shohei Moriwaki. Again, no pictures, except of the shabu shabu restaurant where he took me.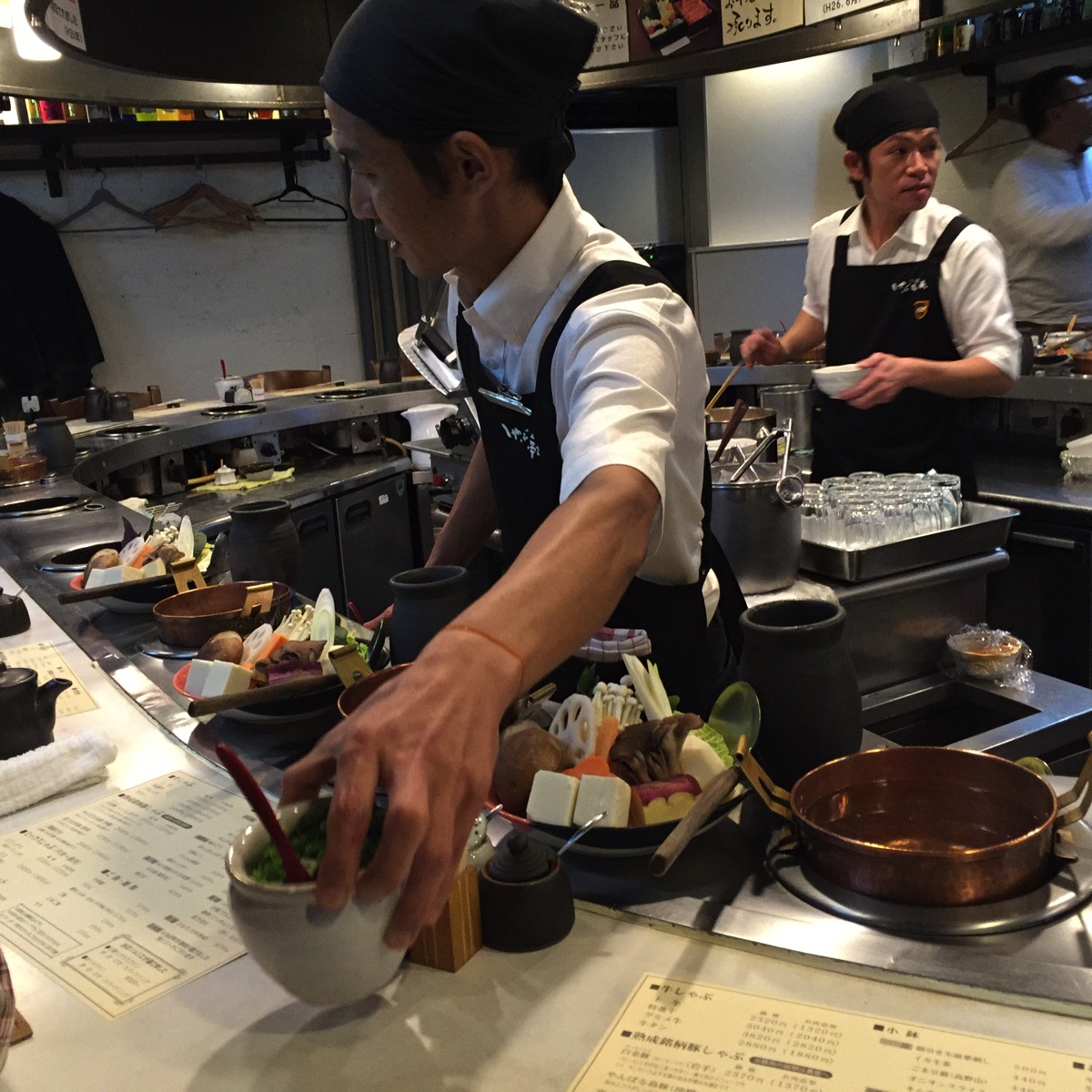 We saw all my local cousins and some of their kids, but did I take their pictures? of course not. Here's one of some fried stuff we had for dinner (tonkatsu too).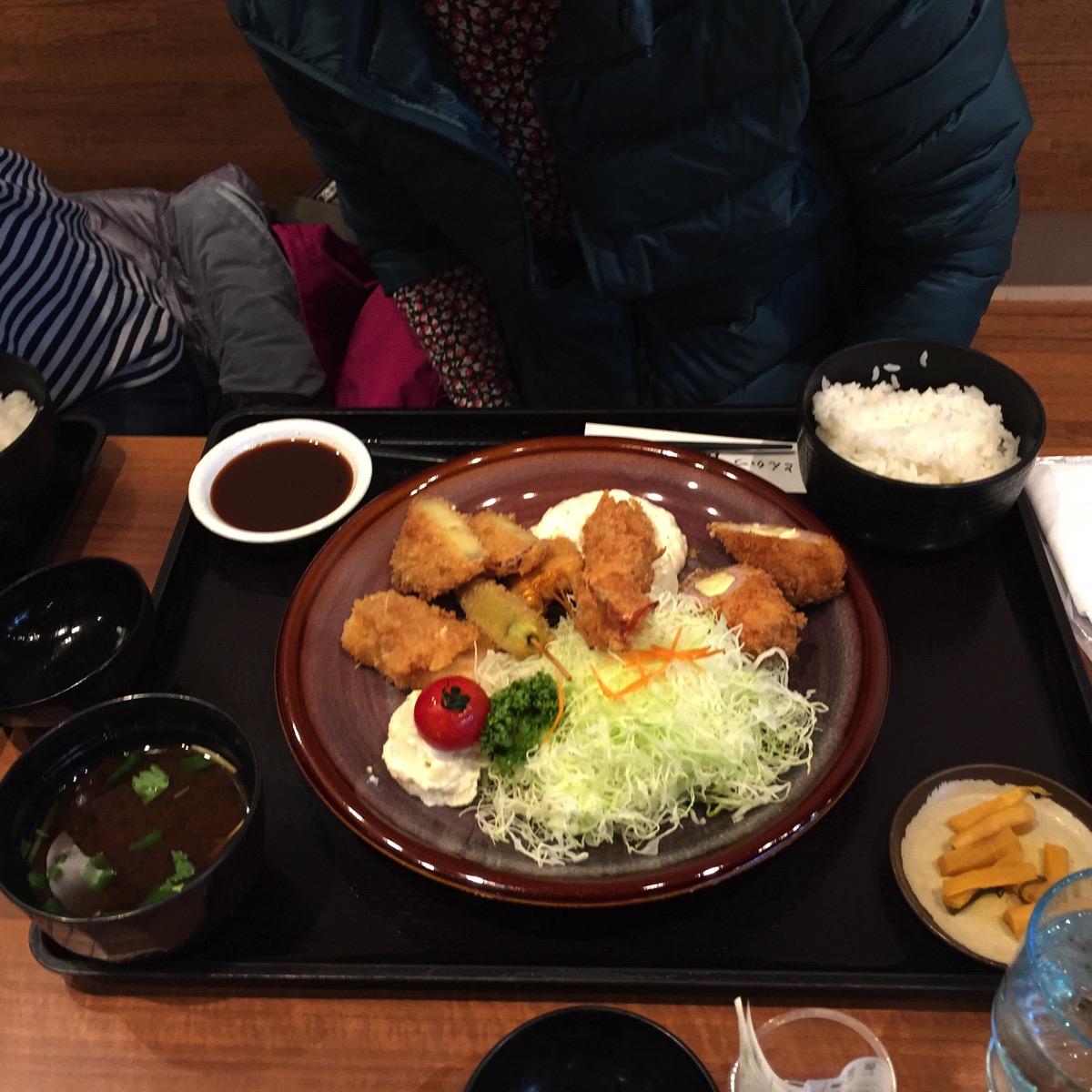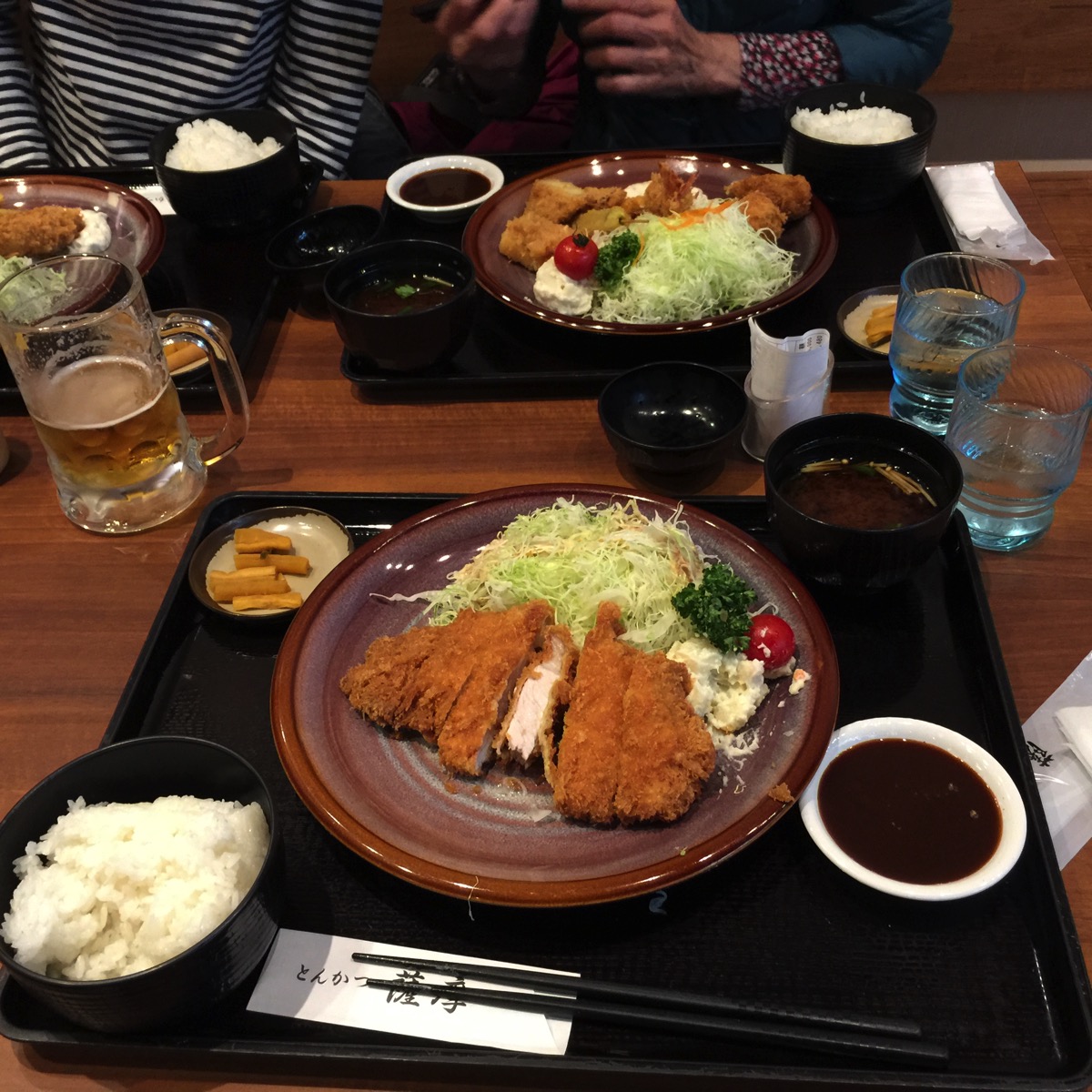 We went all over Osaka and did I take any pictures of the temples (I have those already) or the old seed store, or the weird kitchen supply street? No, here's one of a superhero of some sort in a group of neighborhood watch women.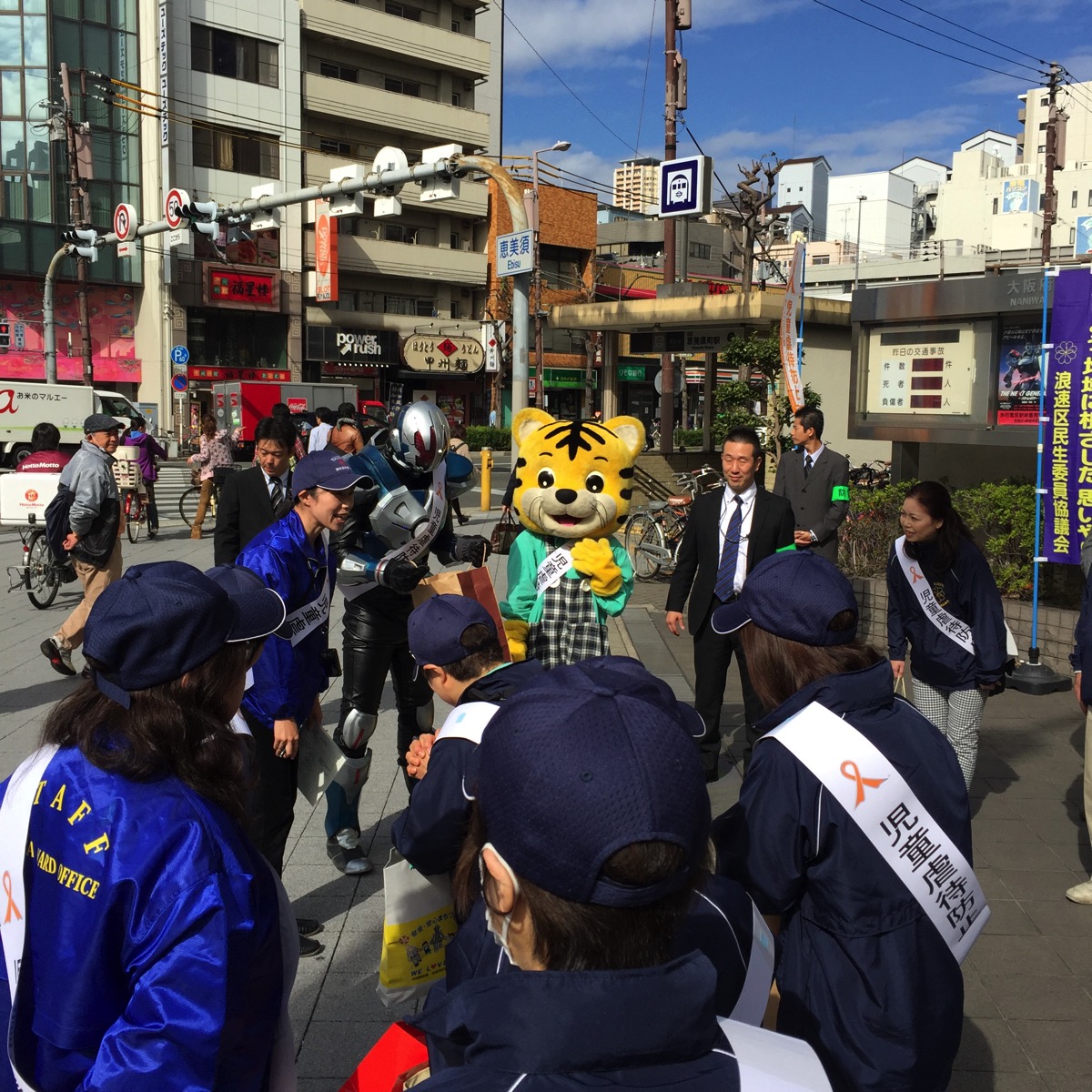 The superhero is next to the tiger, and he gave me a pamphlet talking about taking care of kids and the elderly and one of the best pens I have. It writes really smoothly.
You'd think all I did otherwise was eat. Mr. Donut cronuts.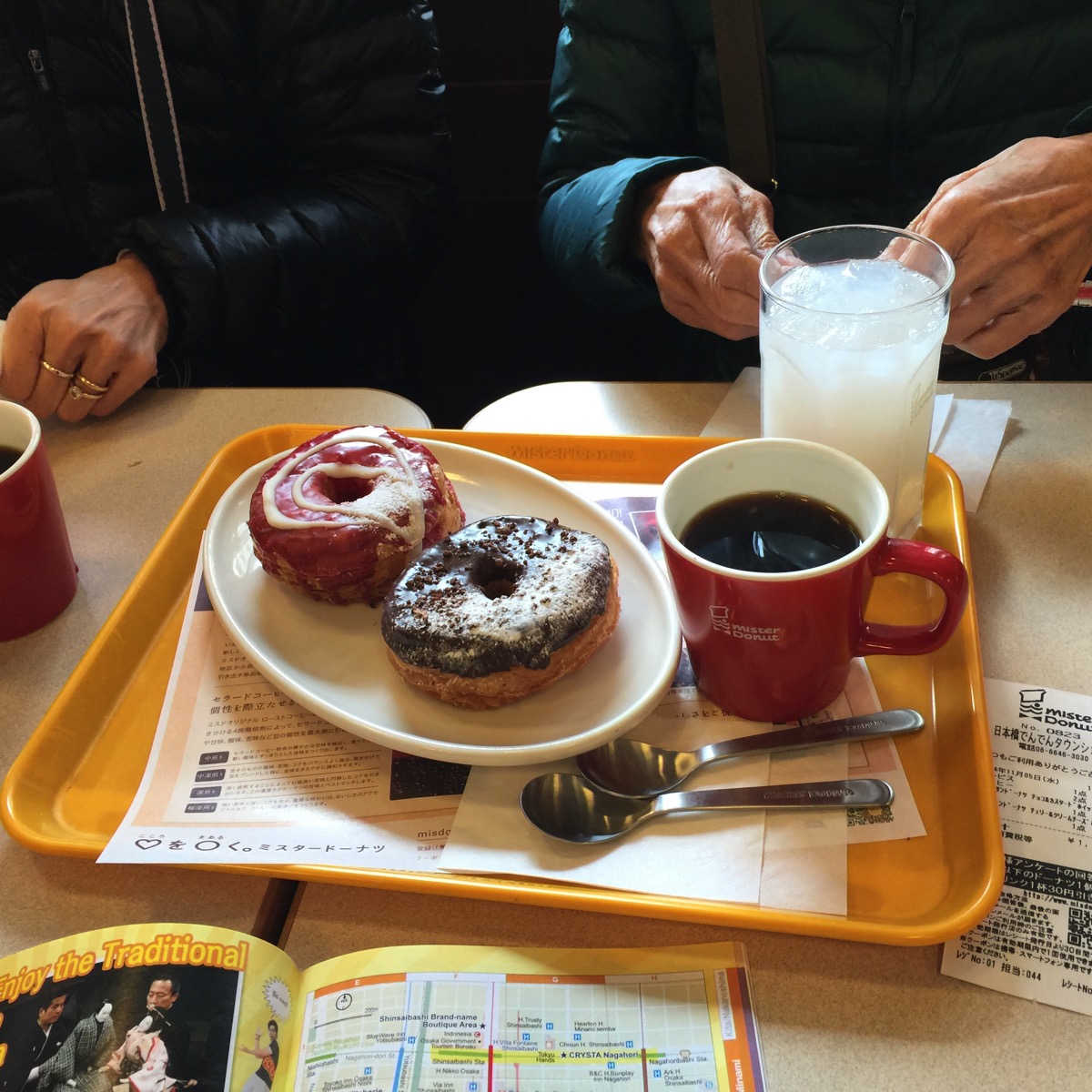 I took this next picture because the baby next door is named Maren and my mom always thinks of marron when she hears that name (as do I sometimes).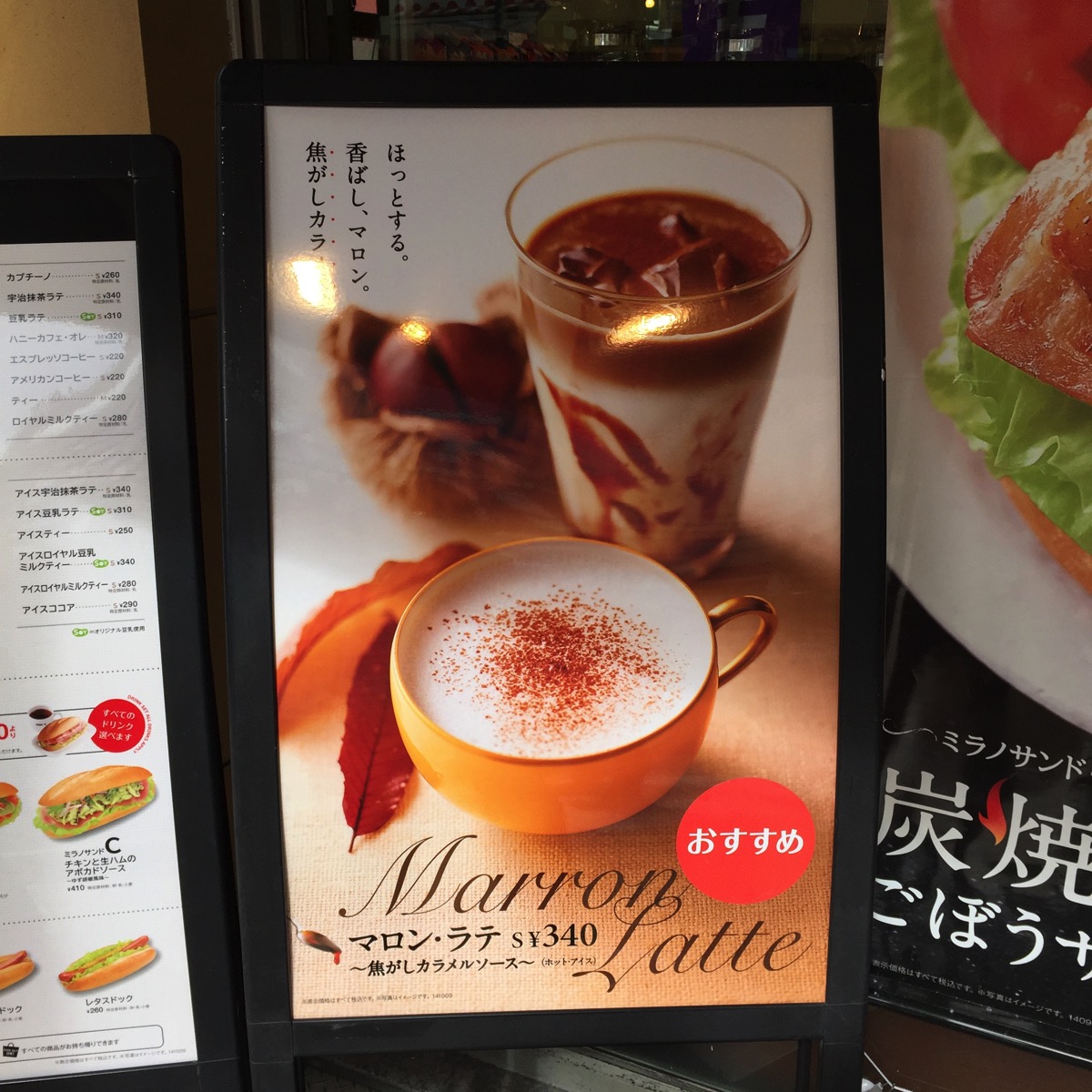 So here's a picture of lunch in Namba. I left my wallet with close to $1000 in yen on the seat because I was in a rush to go on a solo trip to pick up a wall calendar at the National Bunraku Theatre, which is a walk through an iffy neighborhood. My mom is slowing down so I walked down there by myself.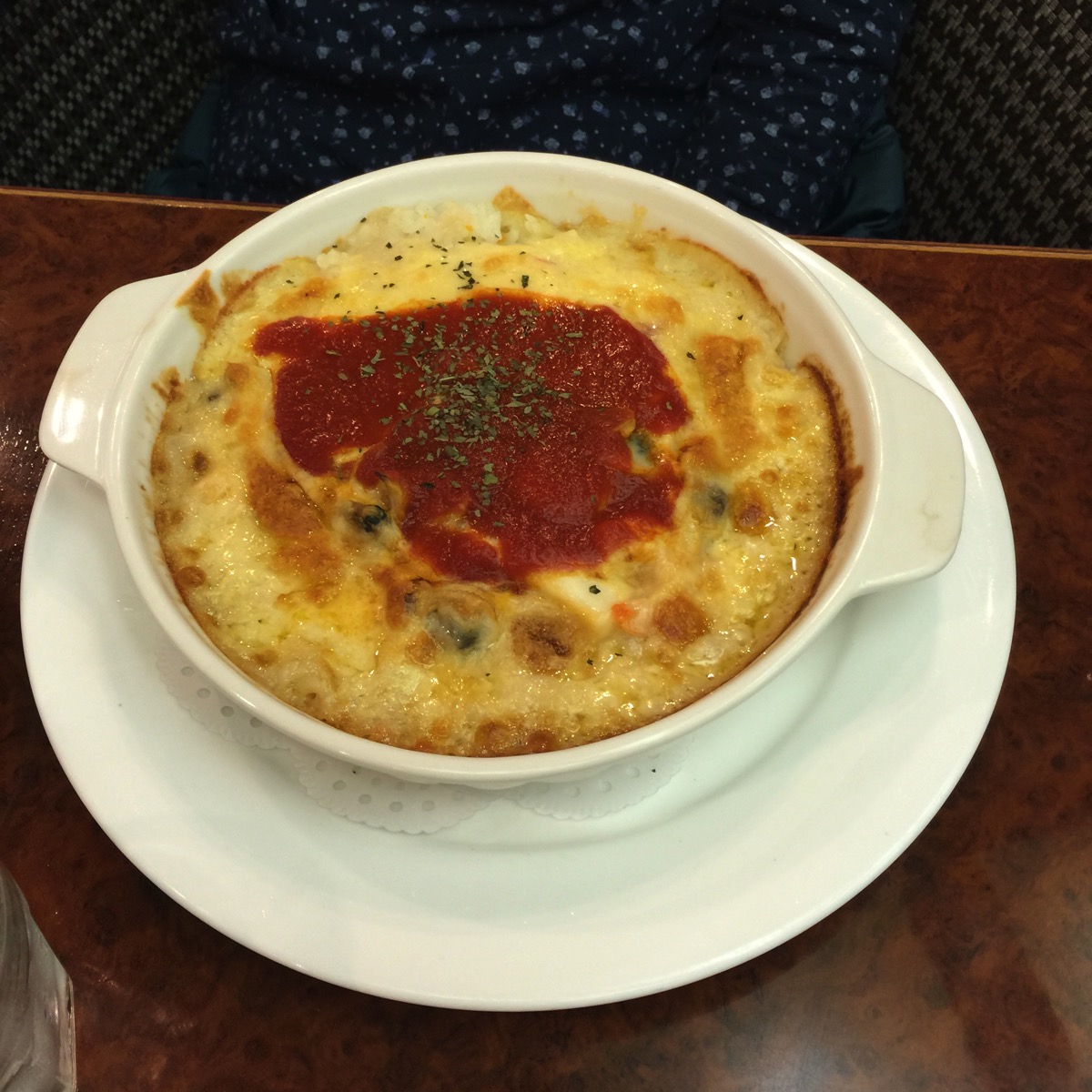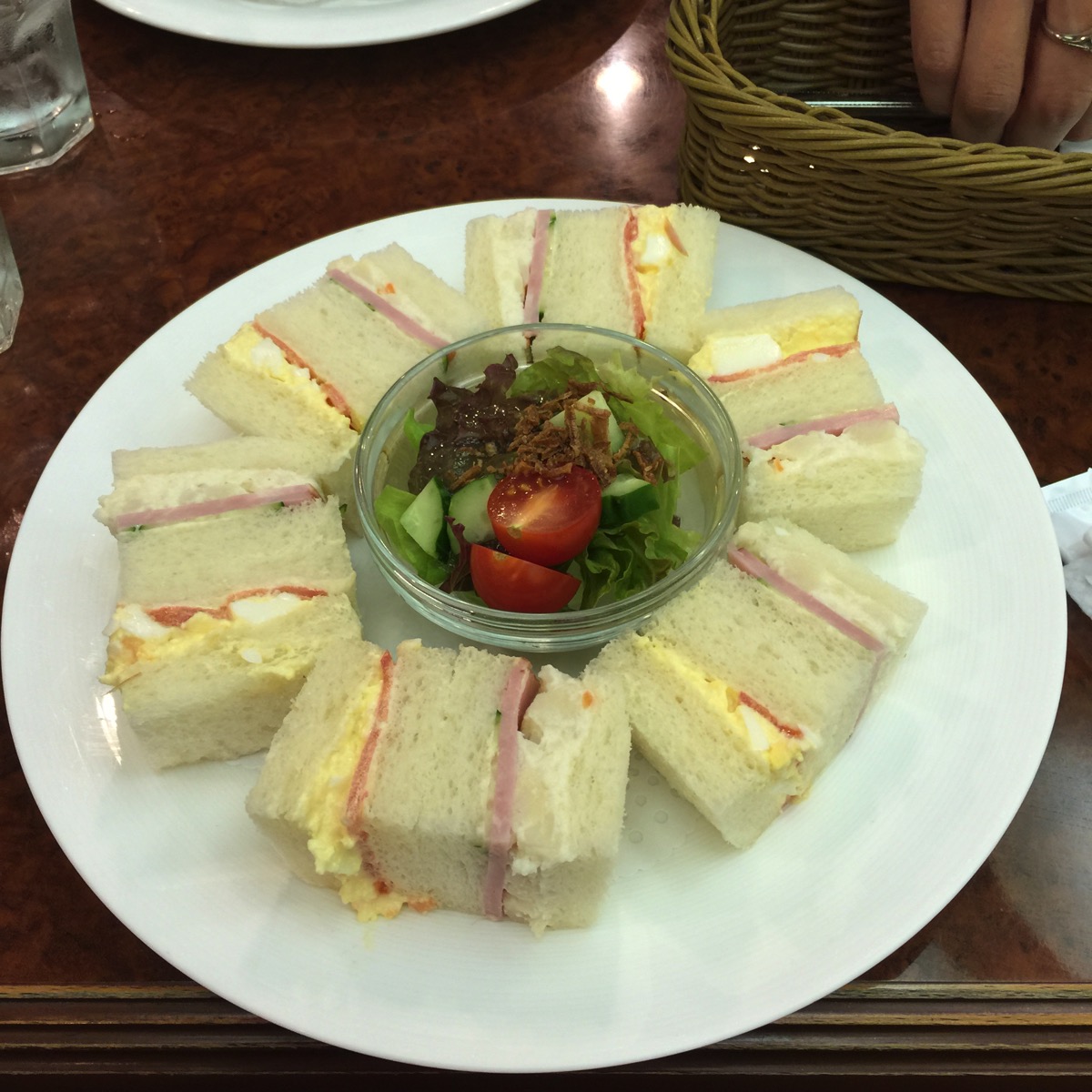 Of course, it's Japan, so I got my wallet back with no problems. Imagine my surprise, though, when I first noticed my wallet was missing. I had my American Express card so I used that to buy the calendar.
We walked through Dotonbori and I bought my new Helly Hansen raincoat but no pictures of any of that. Here's one of our afternoon snack, though, green tea azuki bean paste and sweet rice balls at Toki. We go to Toki (under Hankyu Umeda station) every time we get to Japan.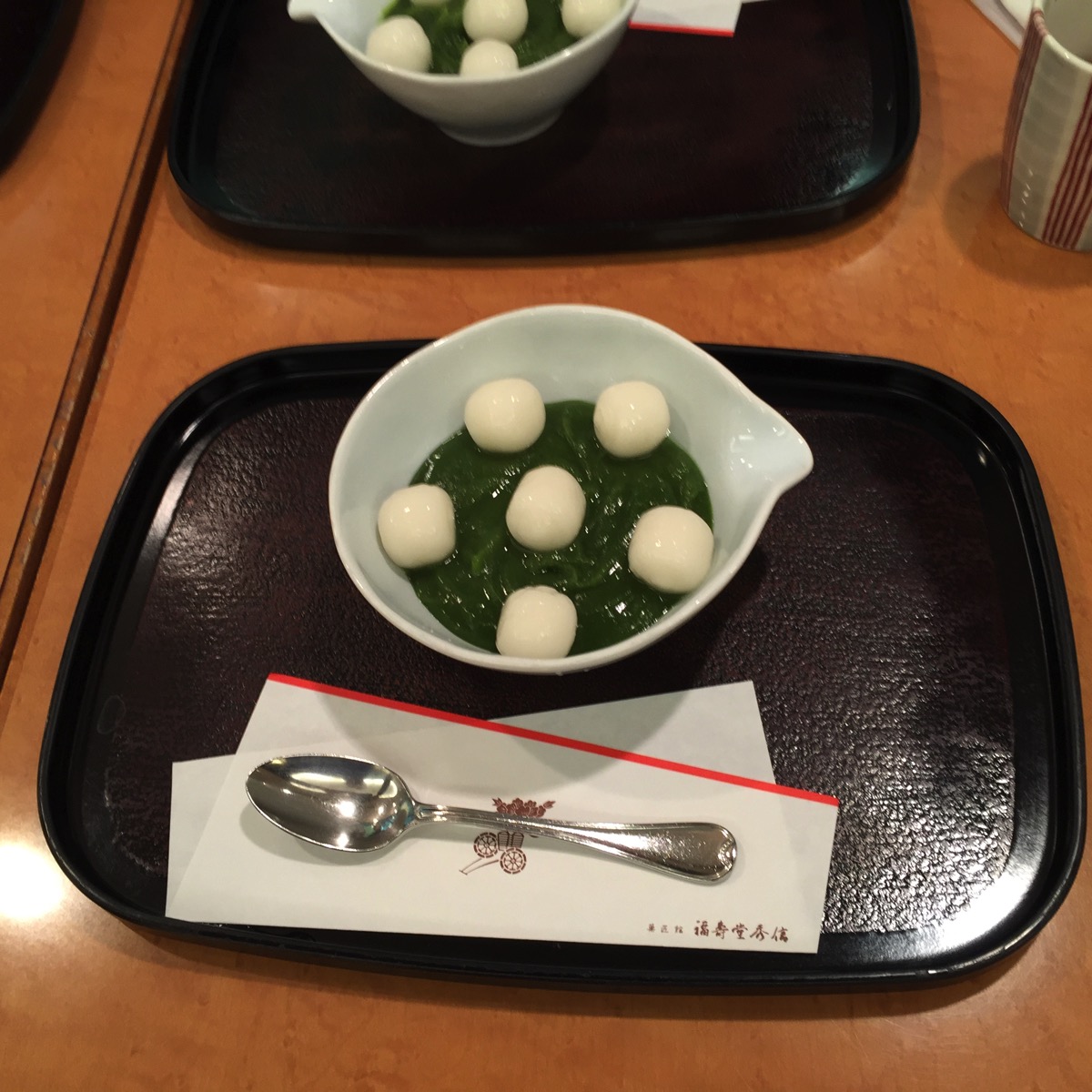 Here's another lunch we had, Korean food!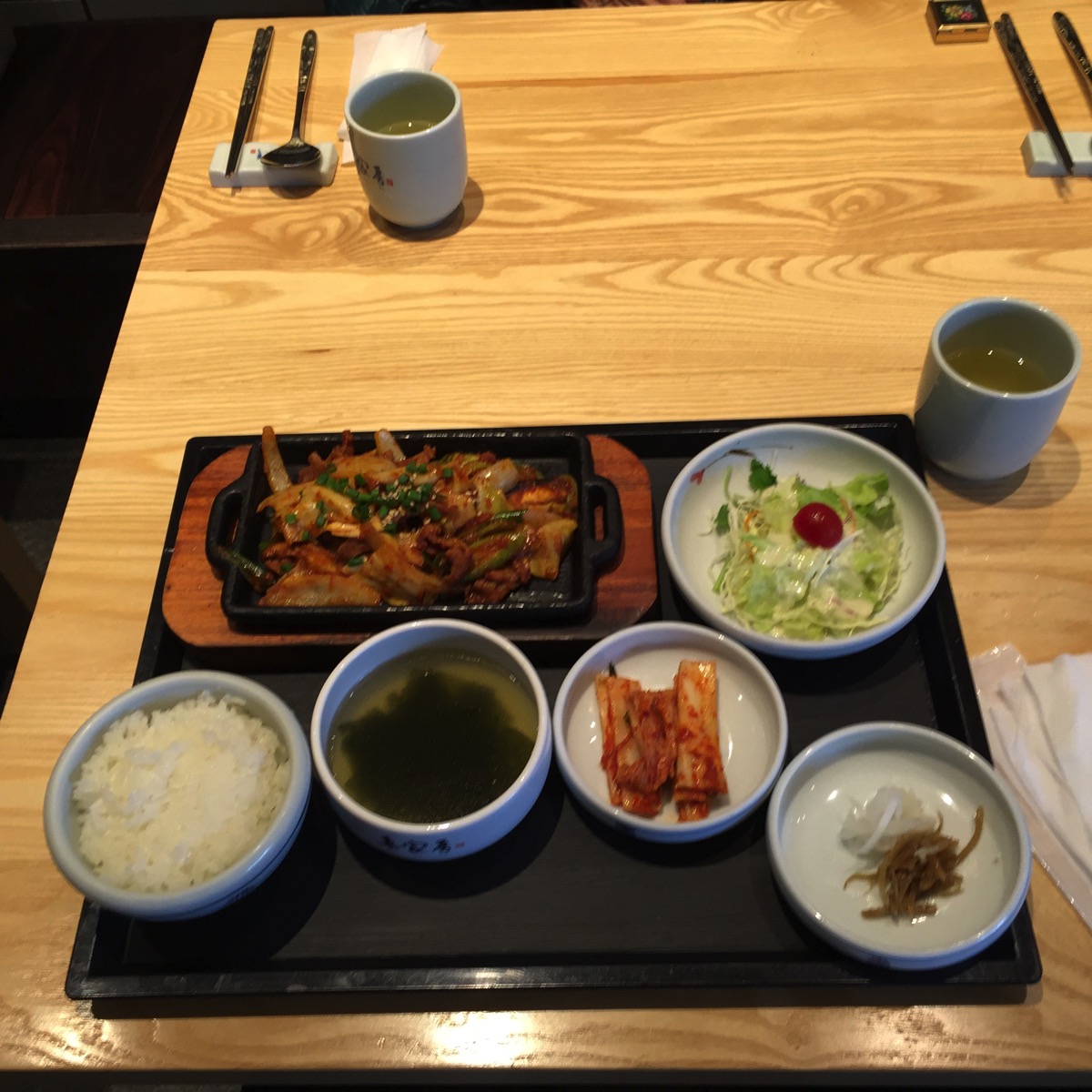 We went to the new shopping area near the new JR Osaka train station and the book store had a beautiful view of the platforms.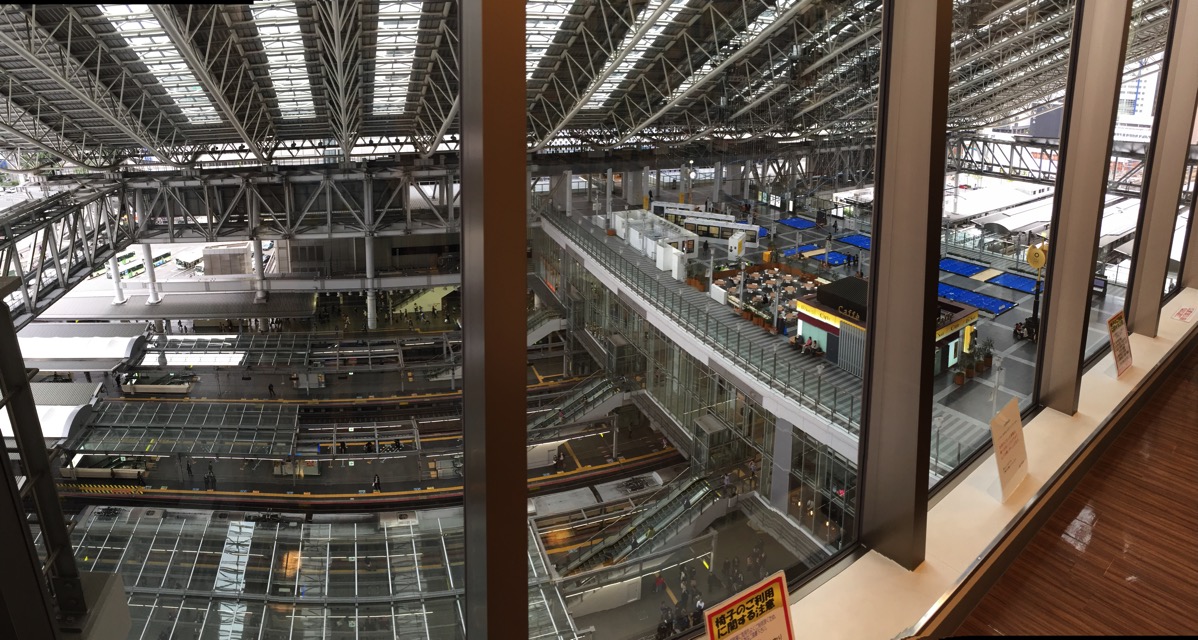 We saw my uncle (my mom's older brother and his kids so it was off to see my aunt (my mom's older sister)! The closest shinkansen station is Tokuyama in Yamaguchi Prefecture which is one of those places in Japan that's kind of dried up. You can see how busy the train was to get there.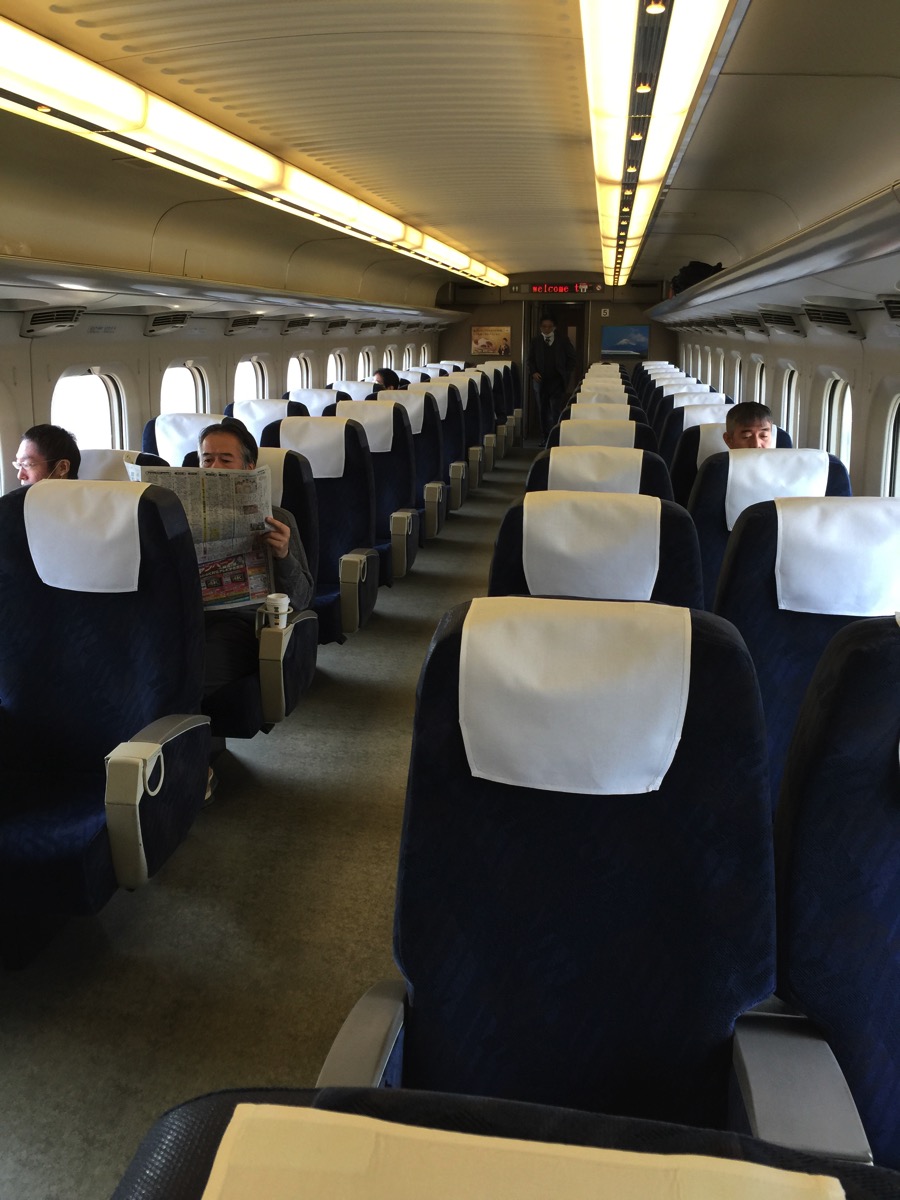 And of course, what can you do out there but drink?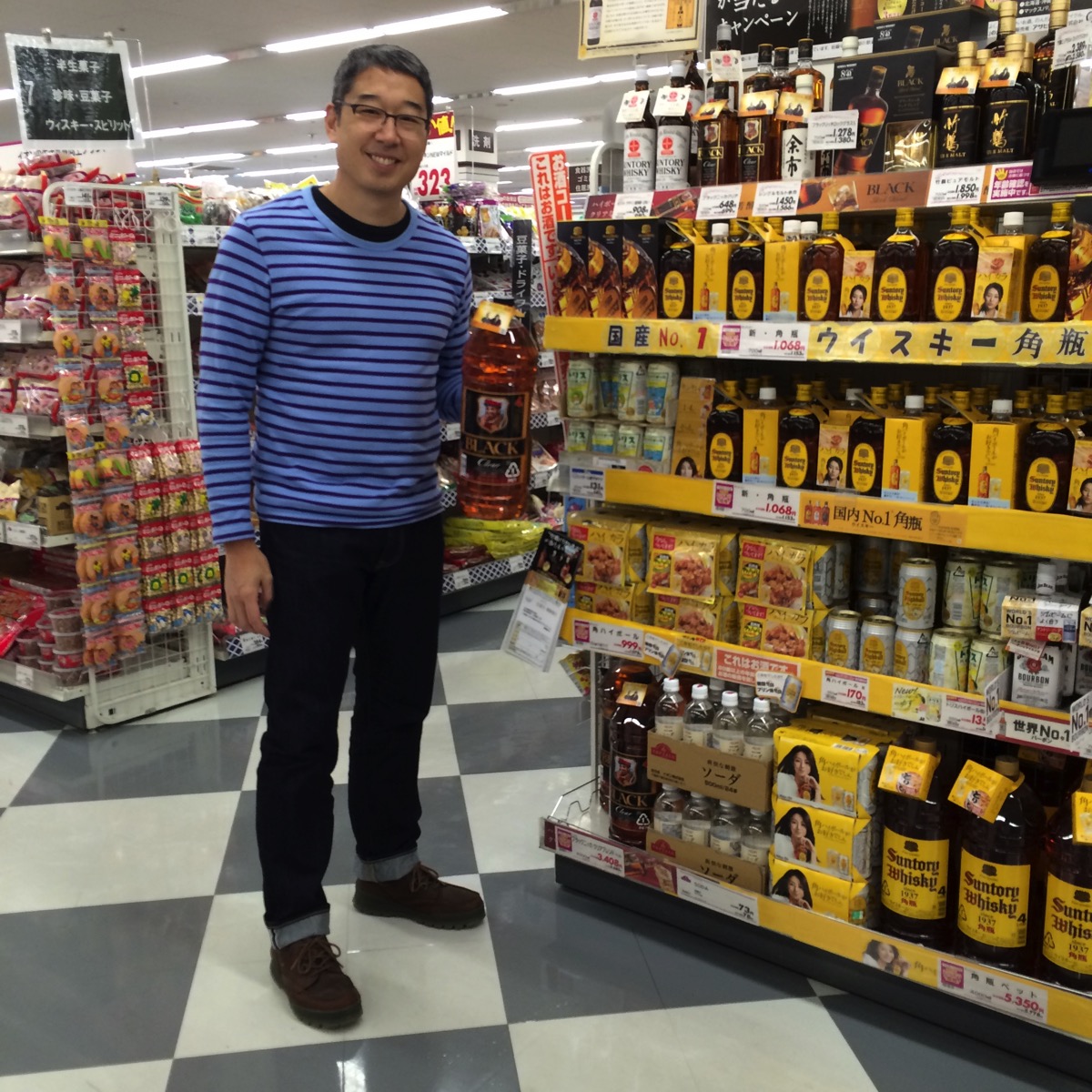 I just wanted to get a picture of those giant whiskey bottles in the supermarket, and the huge shochu bottles as well (no, those aren't water).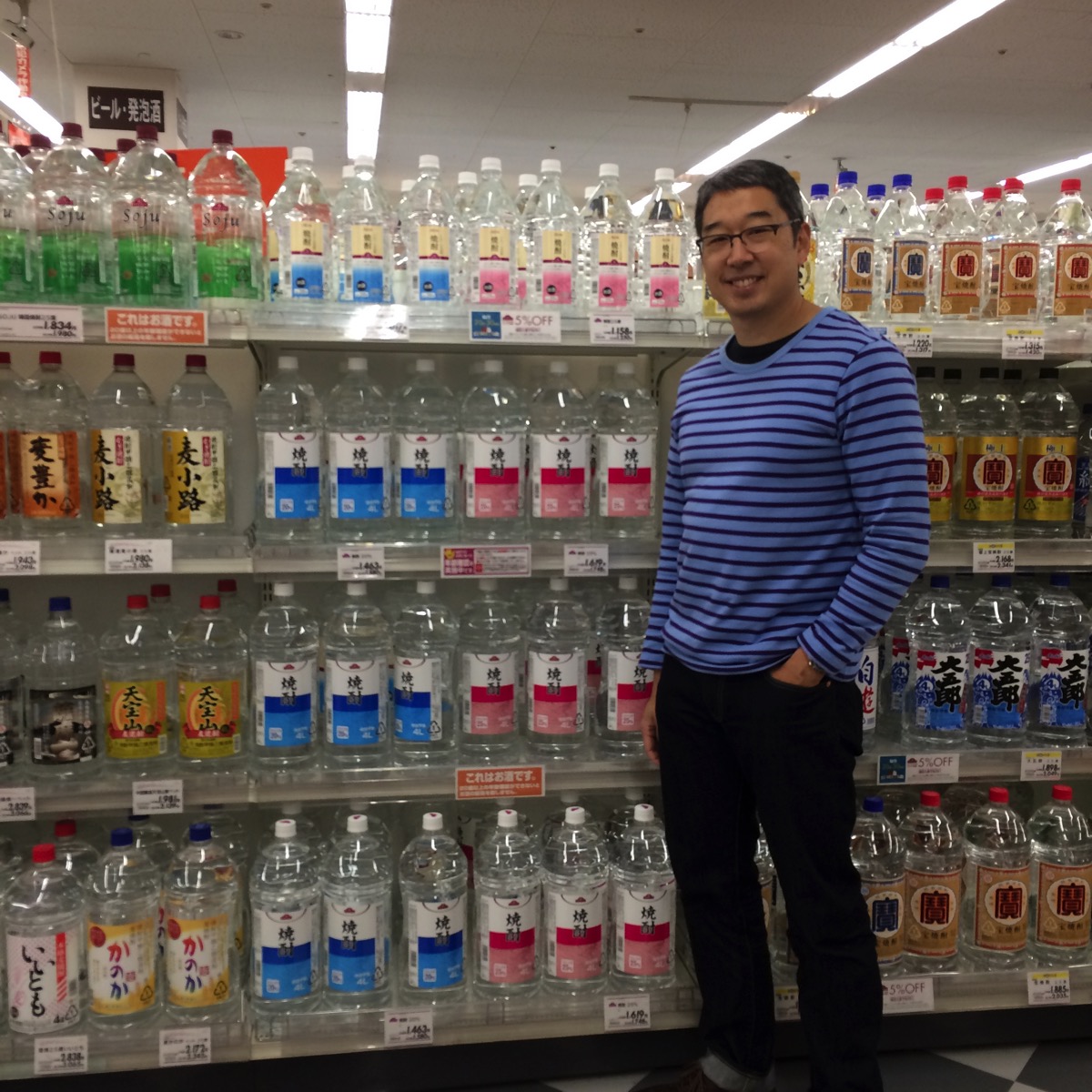 Yay, I remembered to take a picture of people! My mom, my aunt, and my sister! That little house was built especially for my aunt, who has lost her vision. She lives with my cousin, who I kind of think is a nutbag, though she is a nice nutbag. I think she could treat my aunt better, but I could treat my mom better as well.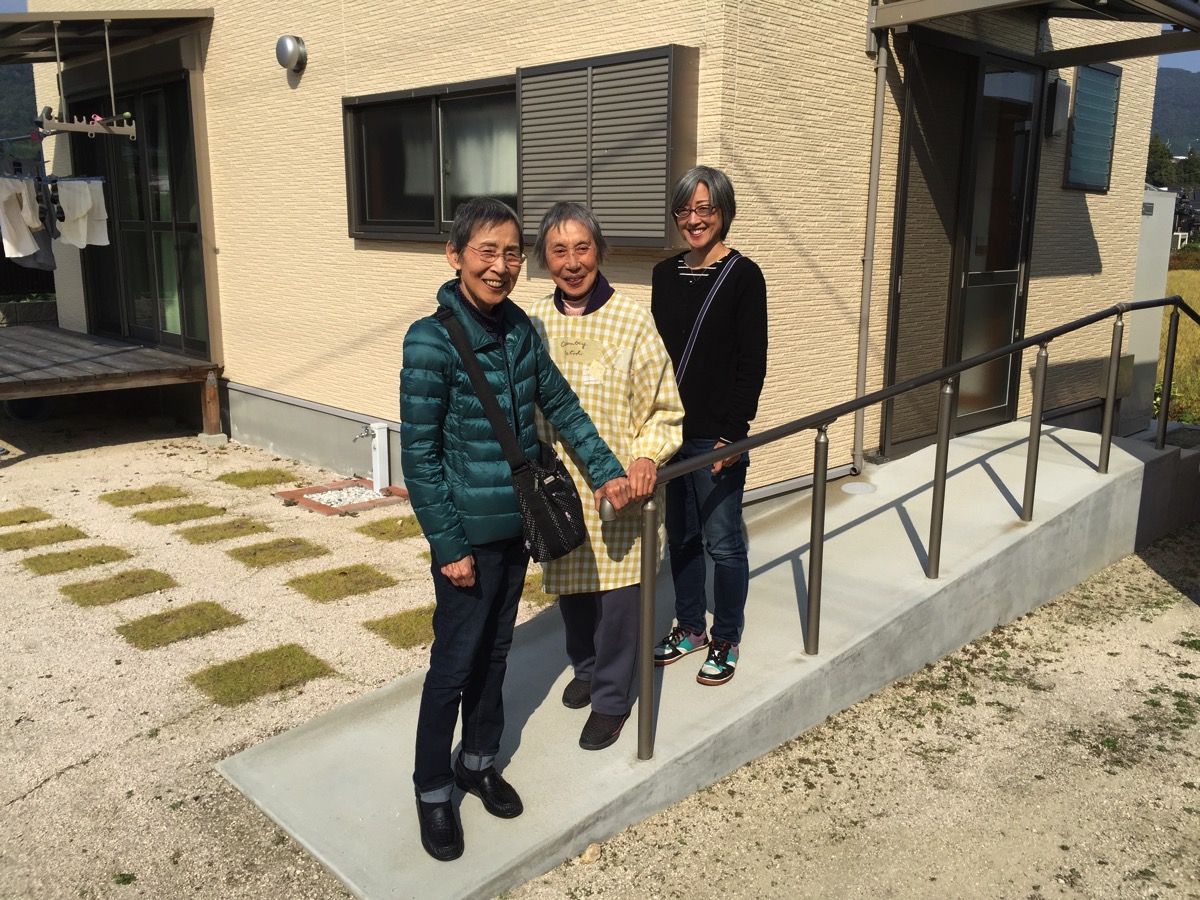 My aunt's mini-house is behind my cousin's house. Here's the blueberry garden that my cousin's husband has.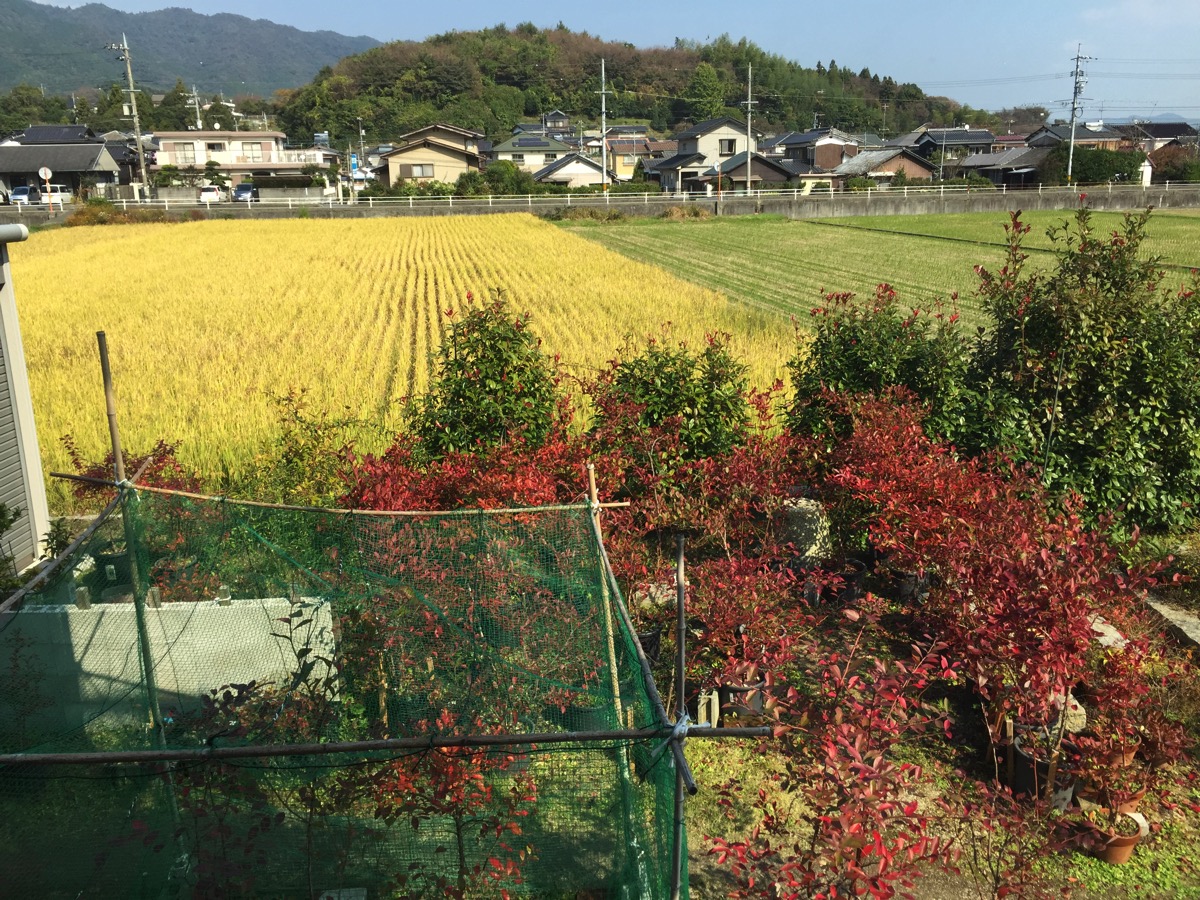 We had supermarket lunch. It wasn't bad, but not nearly as good as the stuff from Seven Eleven (the food at the convenience stores in Japan is really pretty good.)
On the left side of the rice paddy (the yellow field above) is a path, and across the path is a bunch of houses and, oddly enough, a cake shop with a chef that trained in France. My cousin's house is built where my grandmother's house used to be, and we'd go visit my grandmother when I was a kid. The cake shop was one of the few interesting things near my grandmother's house.
Here's a view of my cousin's house and my aunt's house and my sister with a cake box.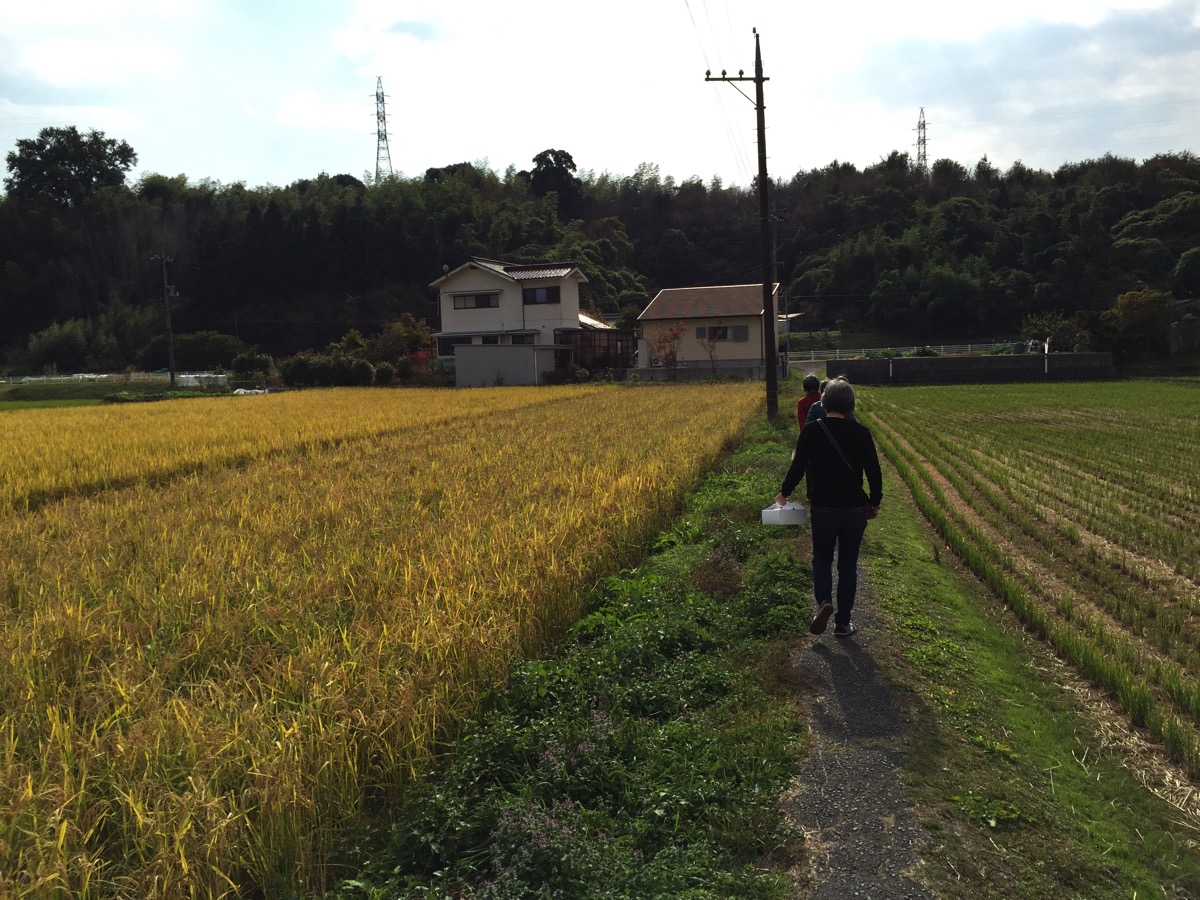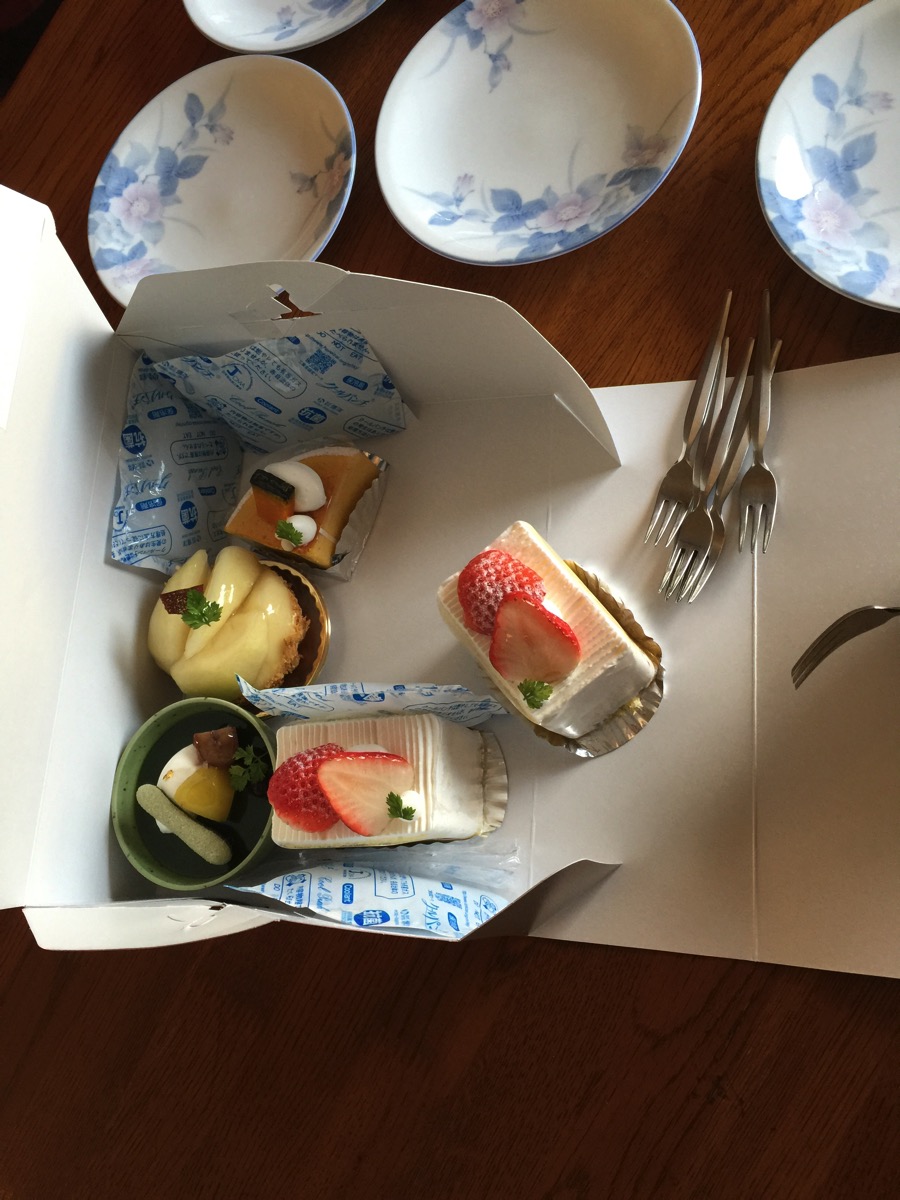 After that it was off to Onomichi where we stayed the night. We stayed at the Kokusai Hotel which was run down a bit but really quite nice. The dining room was nearly empty but honestly quite good.
How did I end up with beer and rice crackers?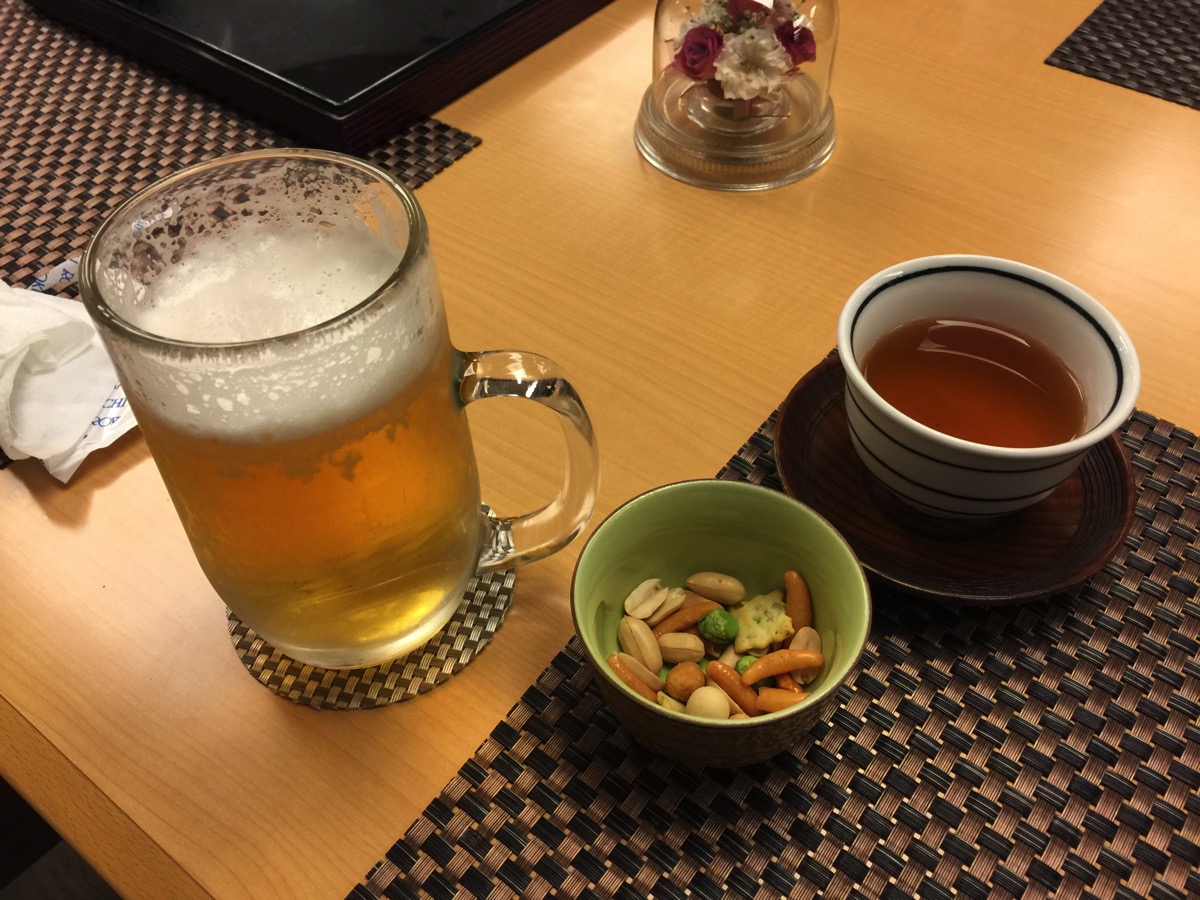 Another night with eel for dinner.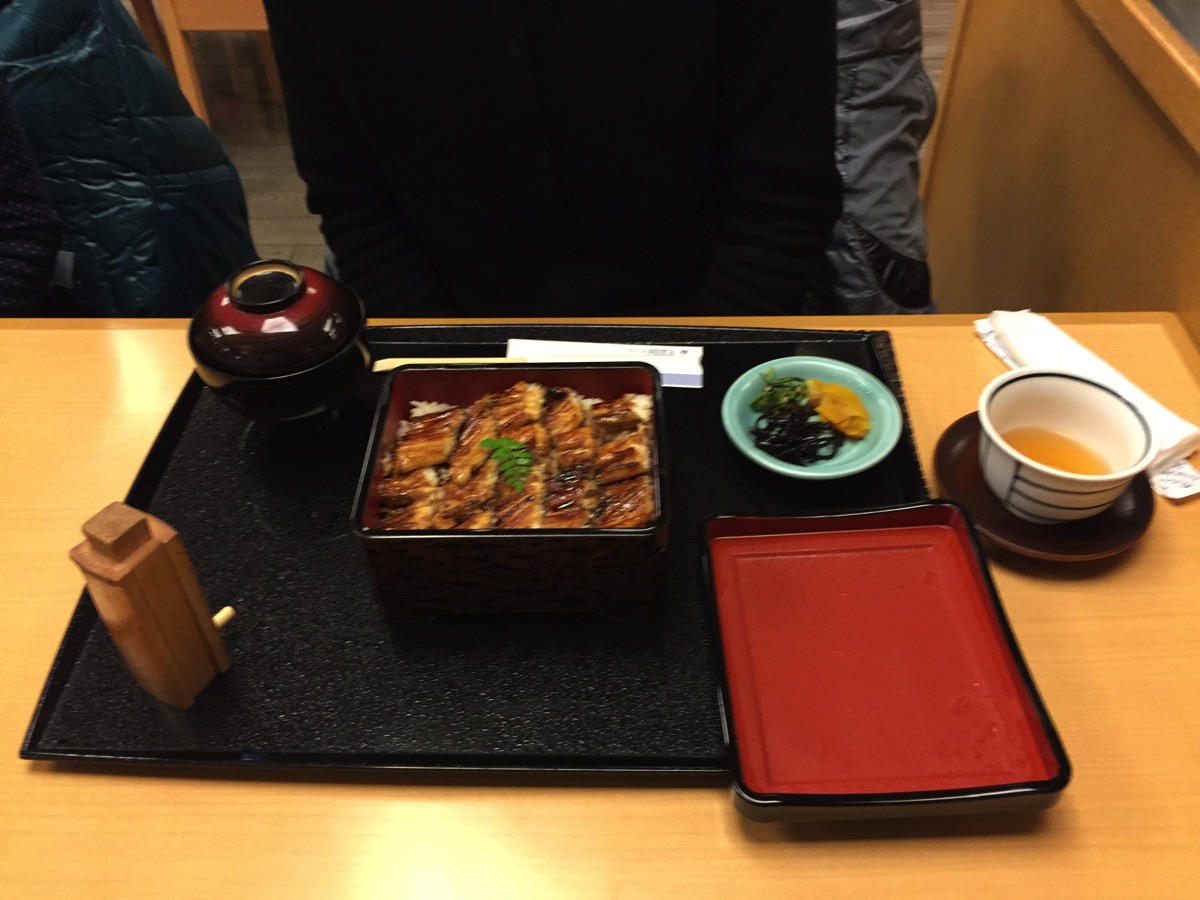 The specialty was eel and I got the sampler where you could eat it in three different ways.
Wait, it's four different ways.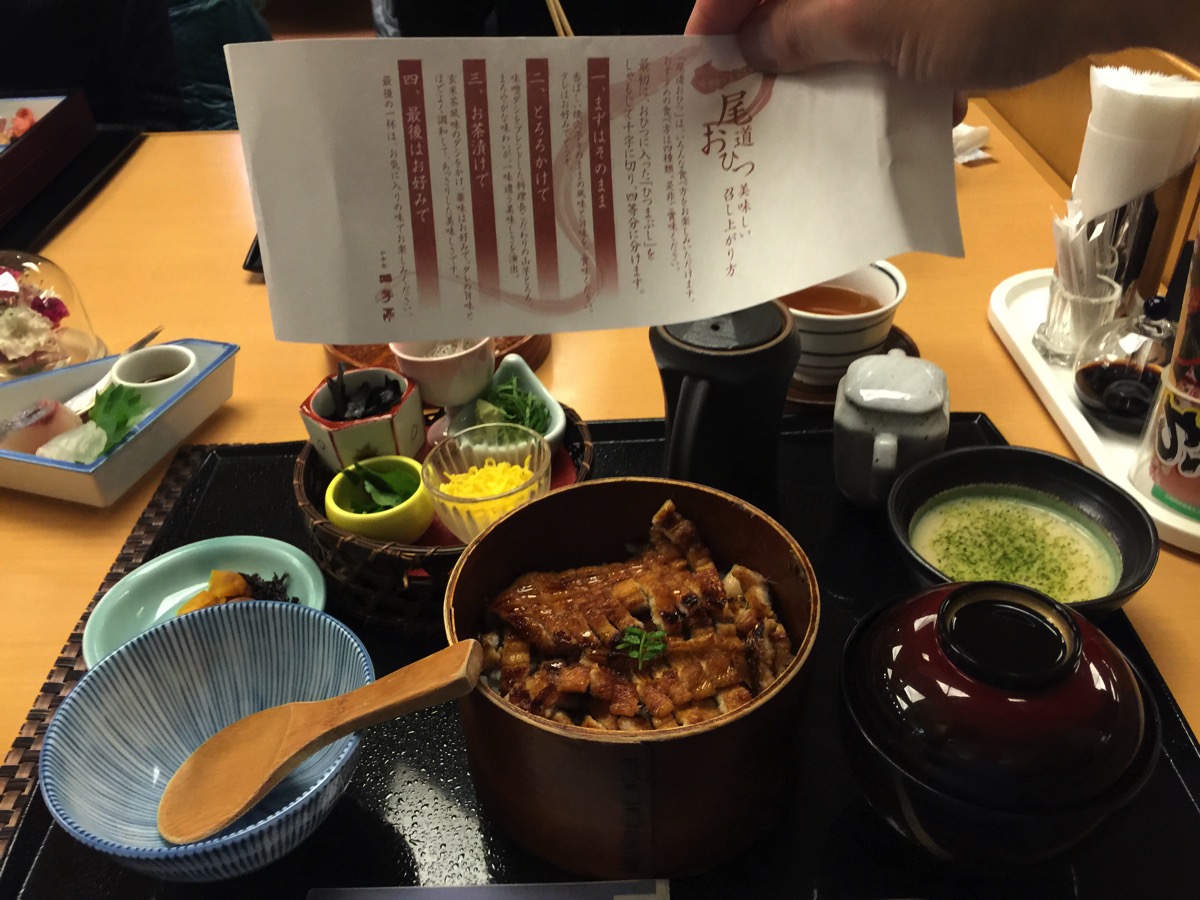 Next morning we walked around the neighborhood and went to Mos Burger.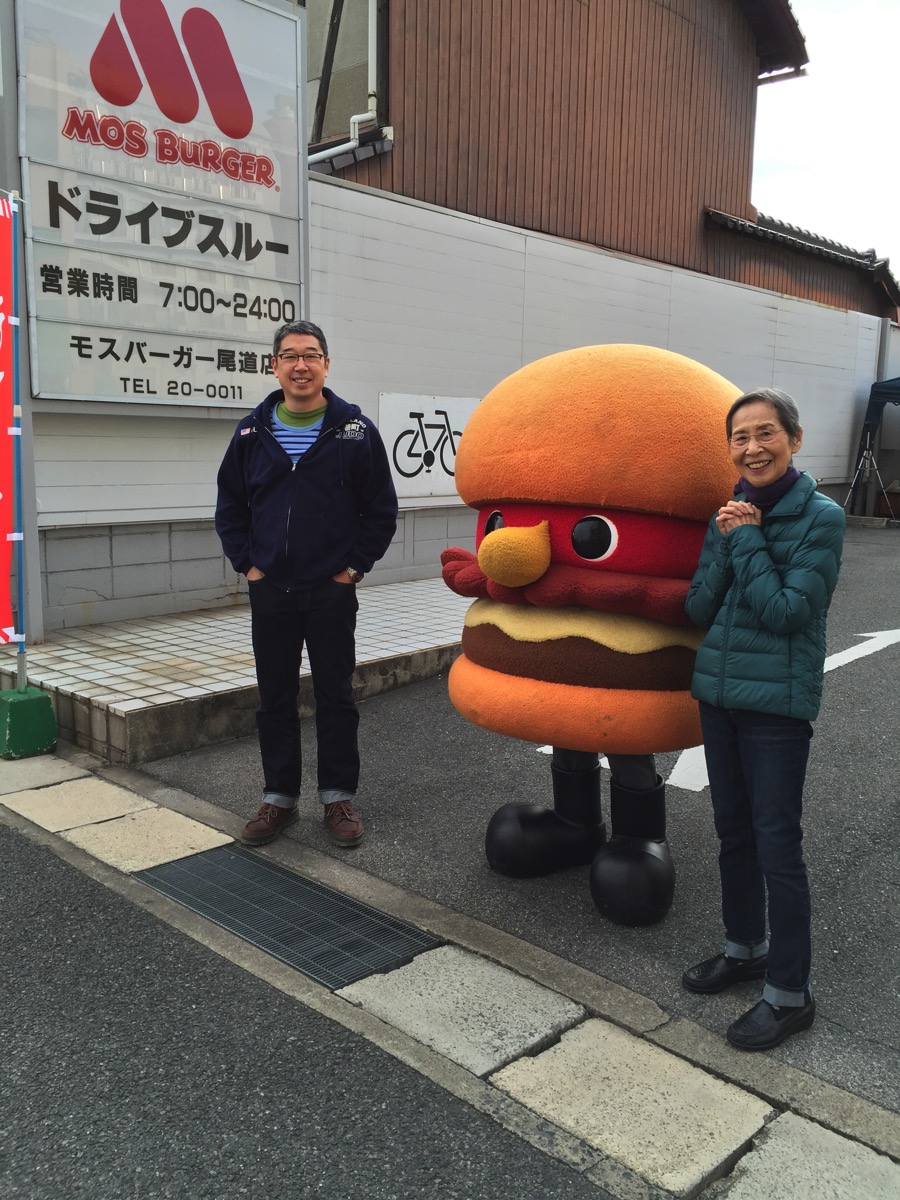 They had a new breakfast menu.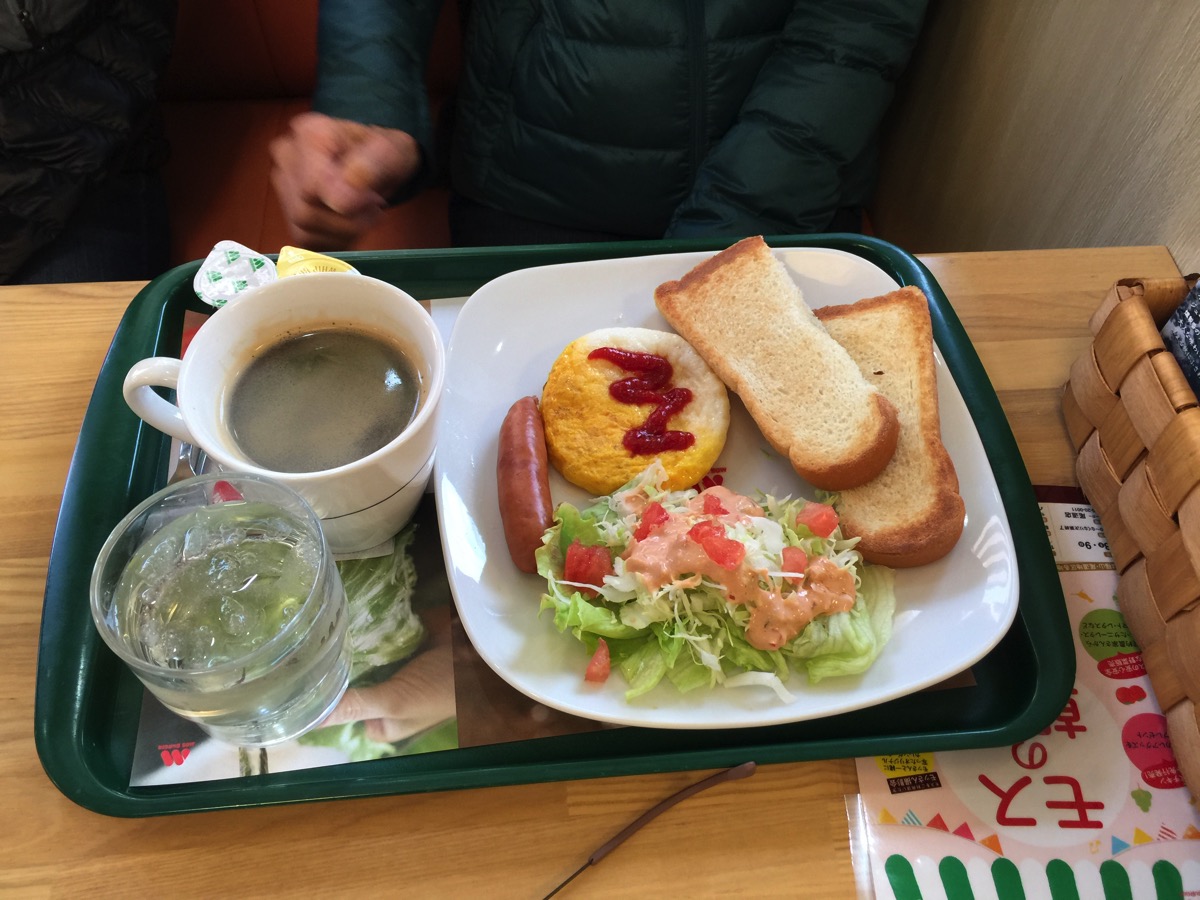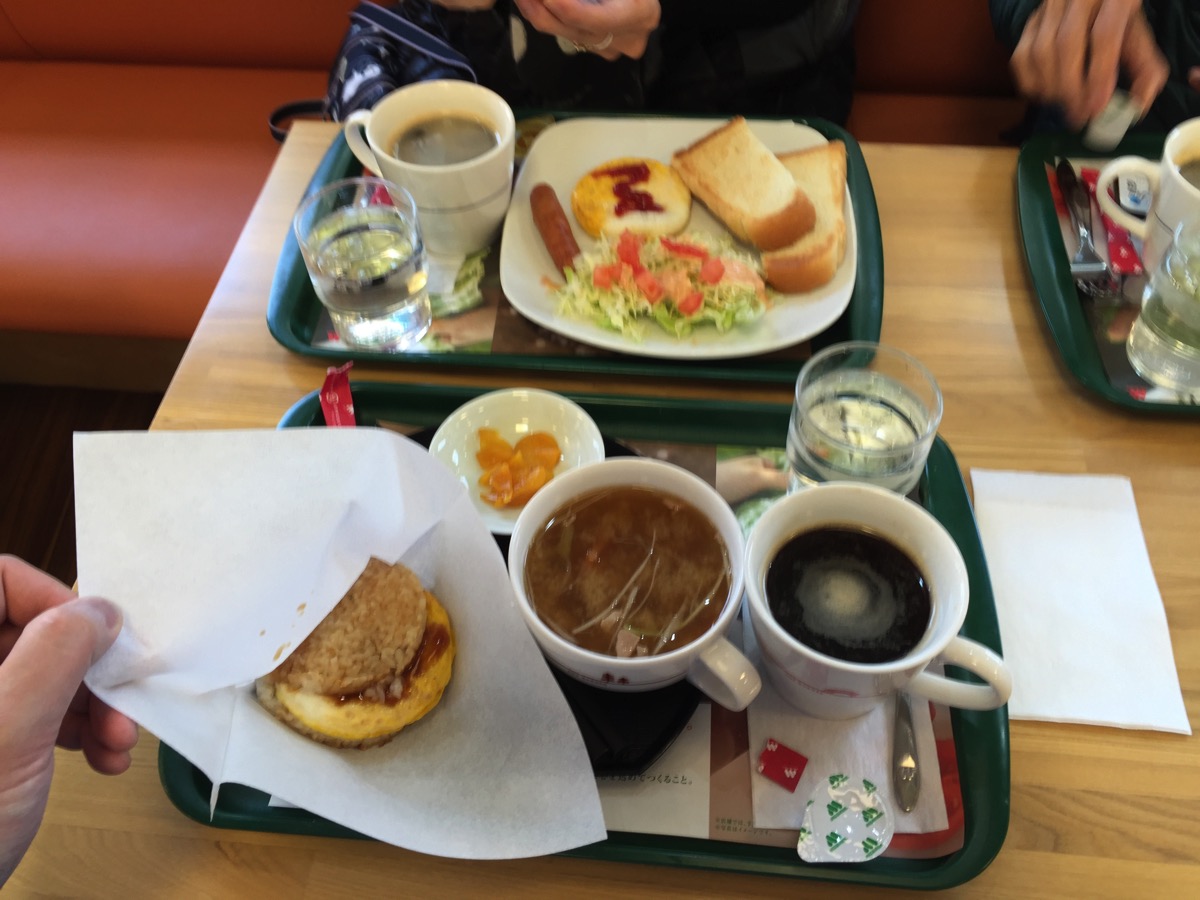 And little Xmas ornaments.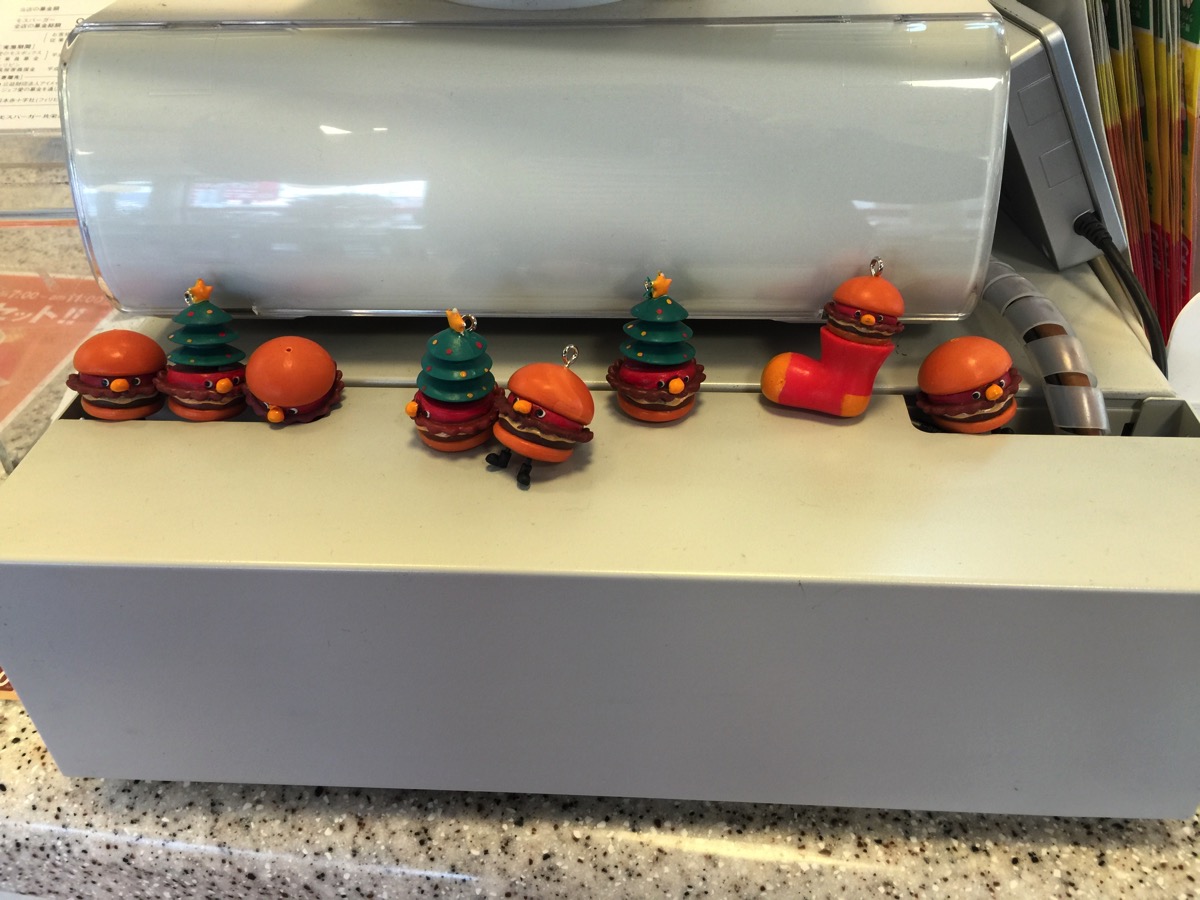 At lunch we were joined by my sister's friend Yumi and we were off across the islands to Shikoku but first, ramen!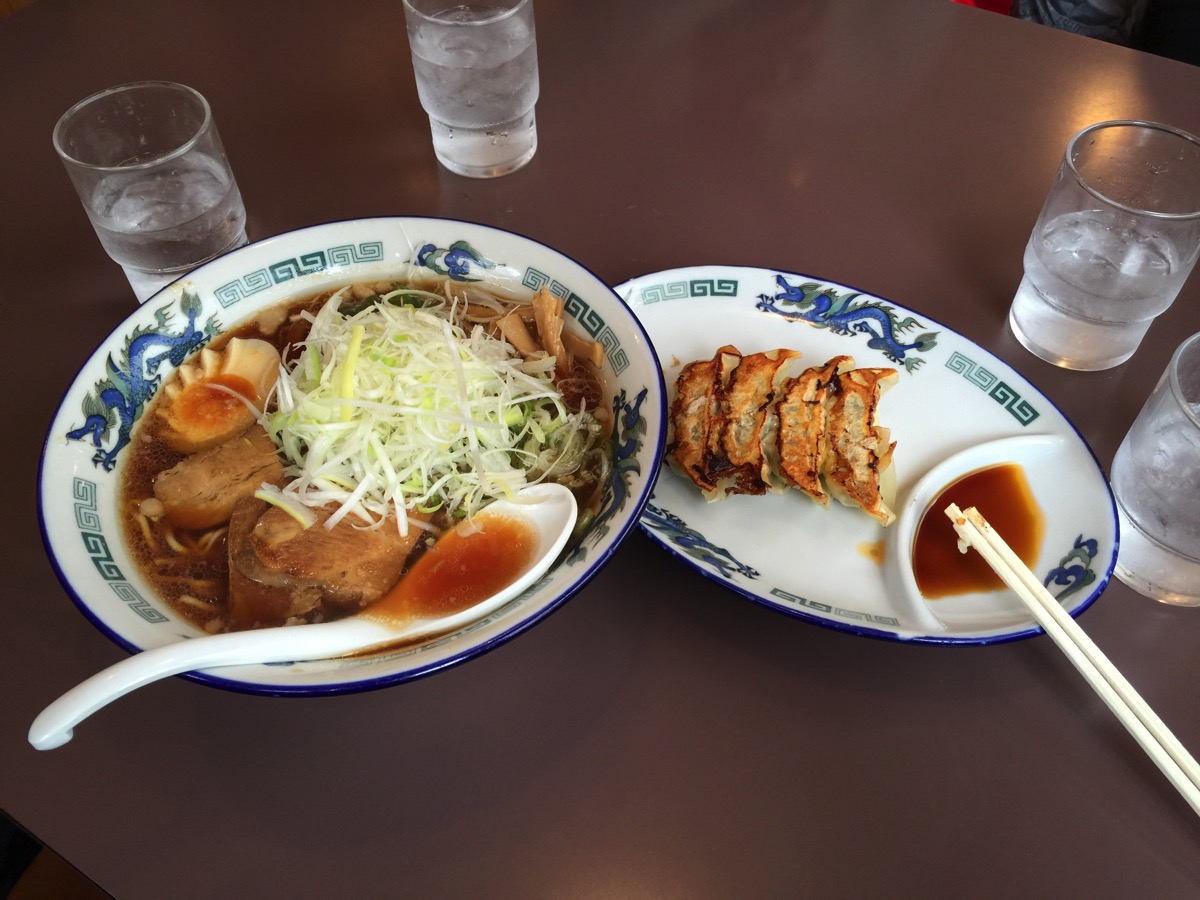 Here's my sister, our friend Yumi, and my mom.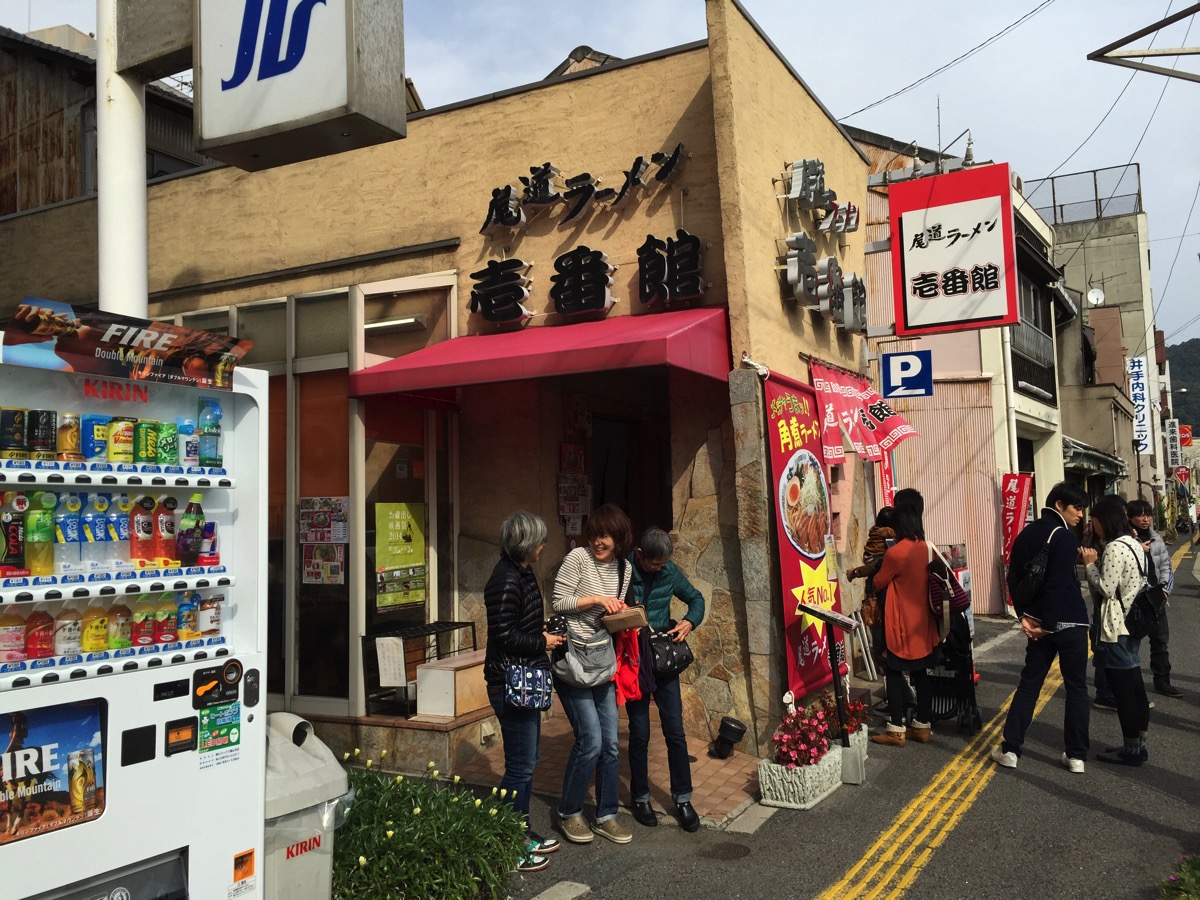 And then off across the bridges.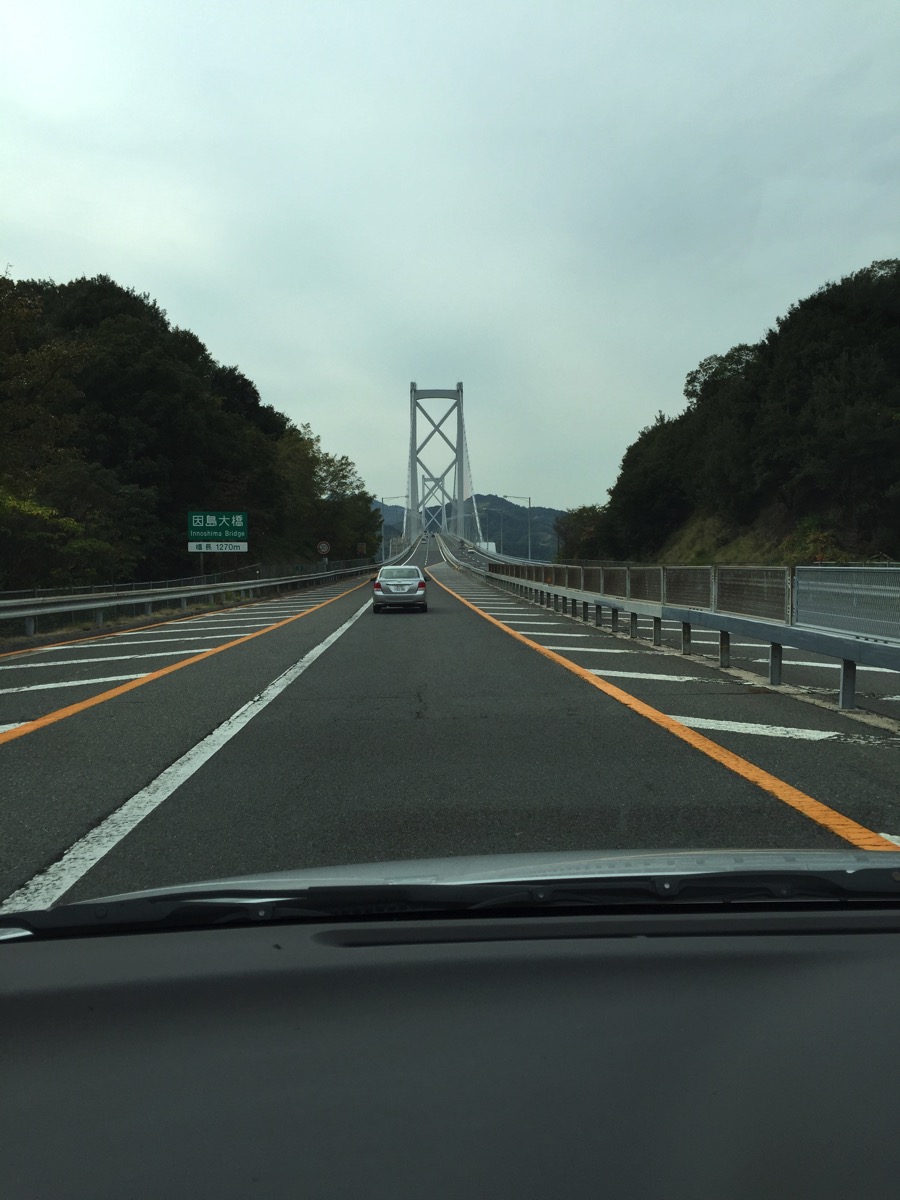 There were interesting things on the islands between Onomichi and Imabari. A salt plant with tasty salted ice cream and salted coffee.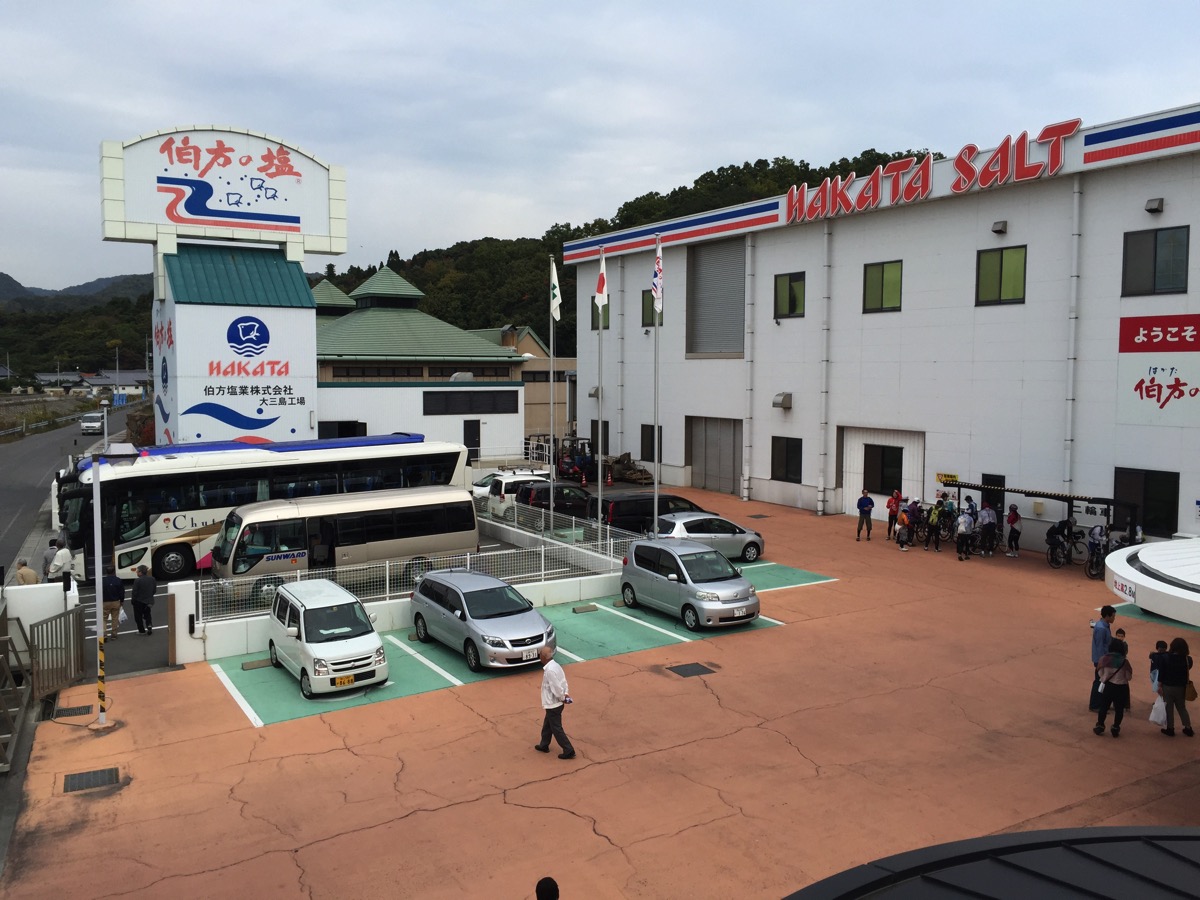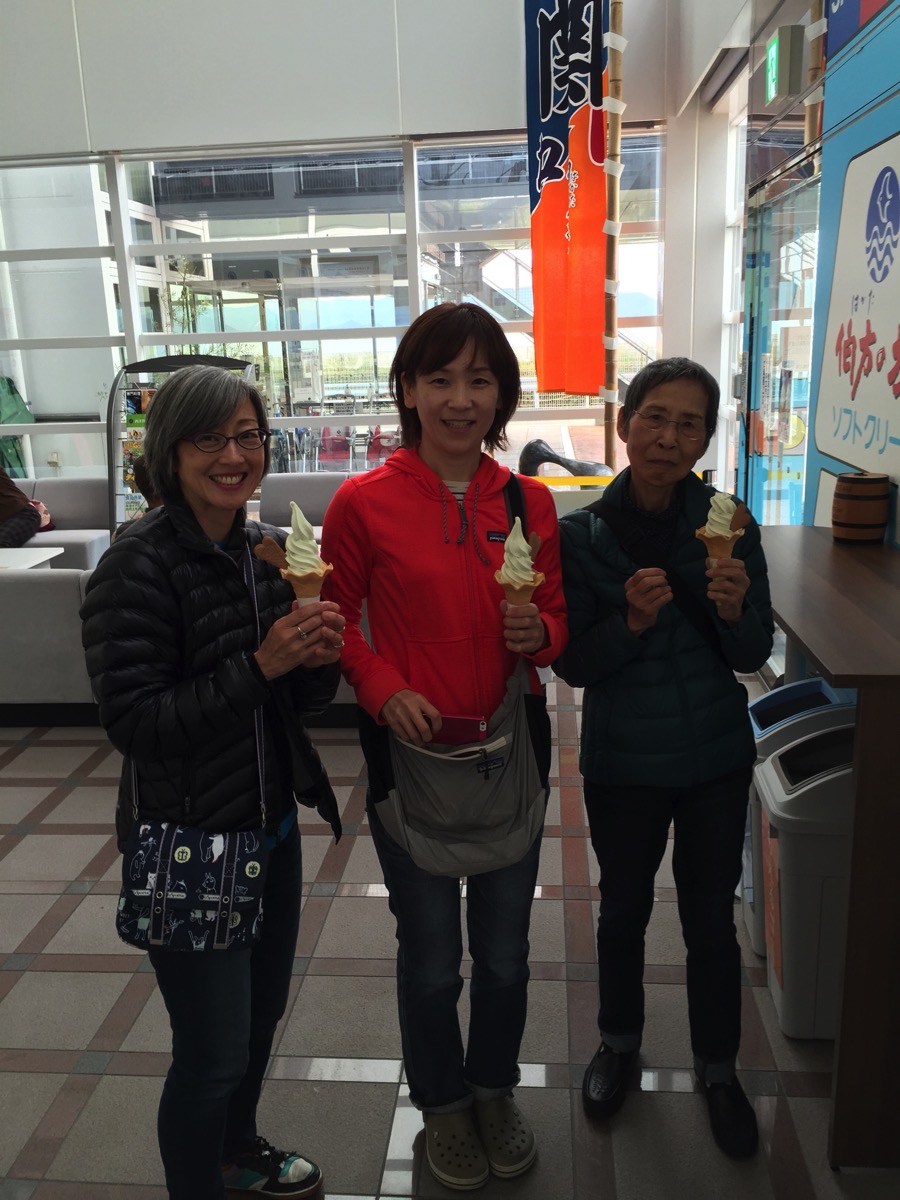 One of me!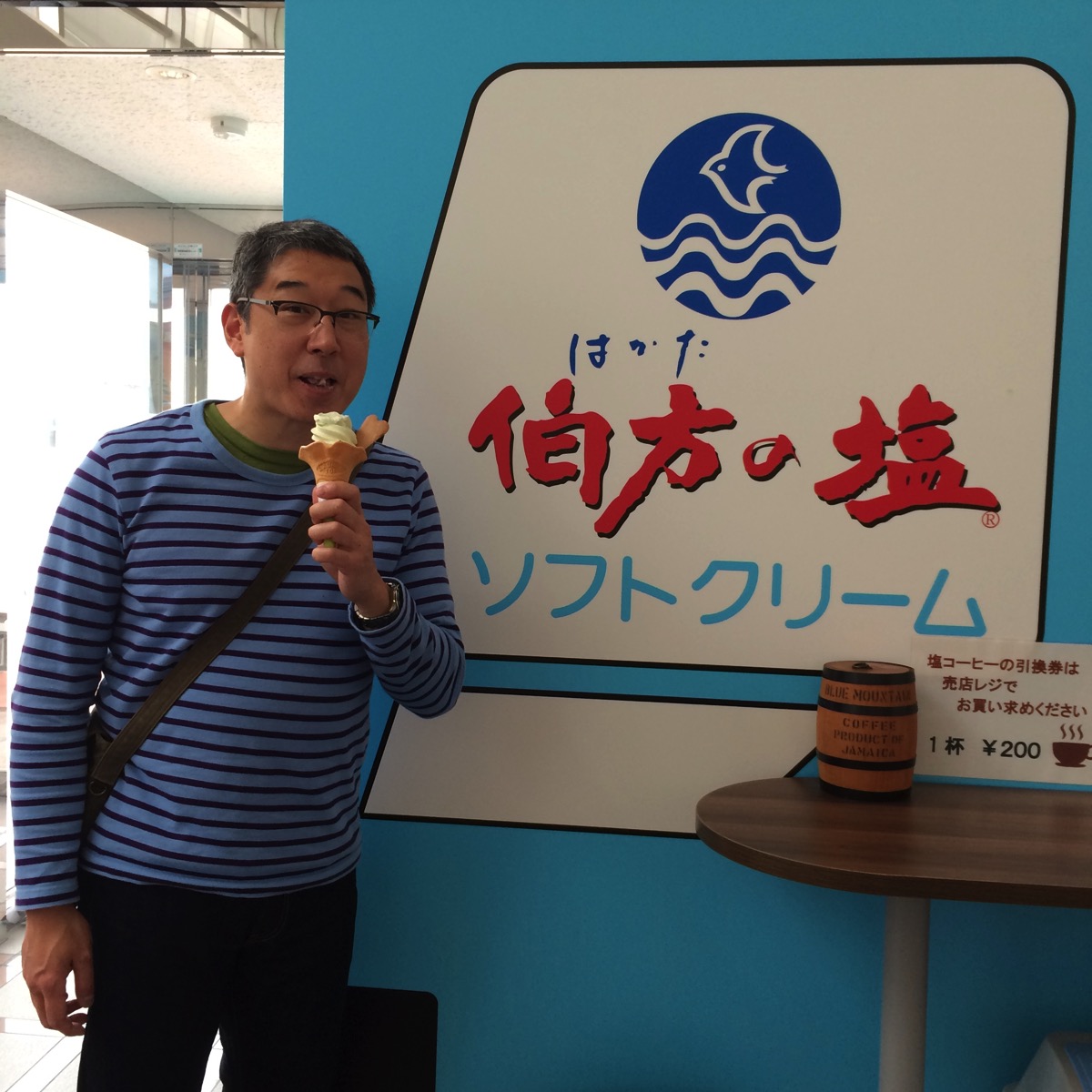 And my favorite, an old temple!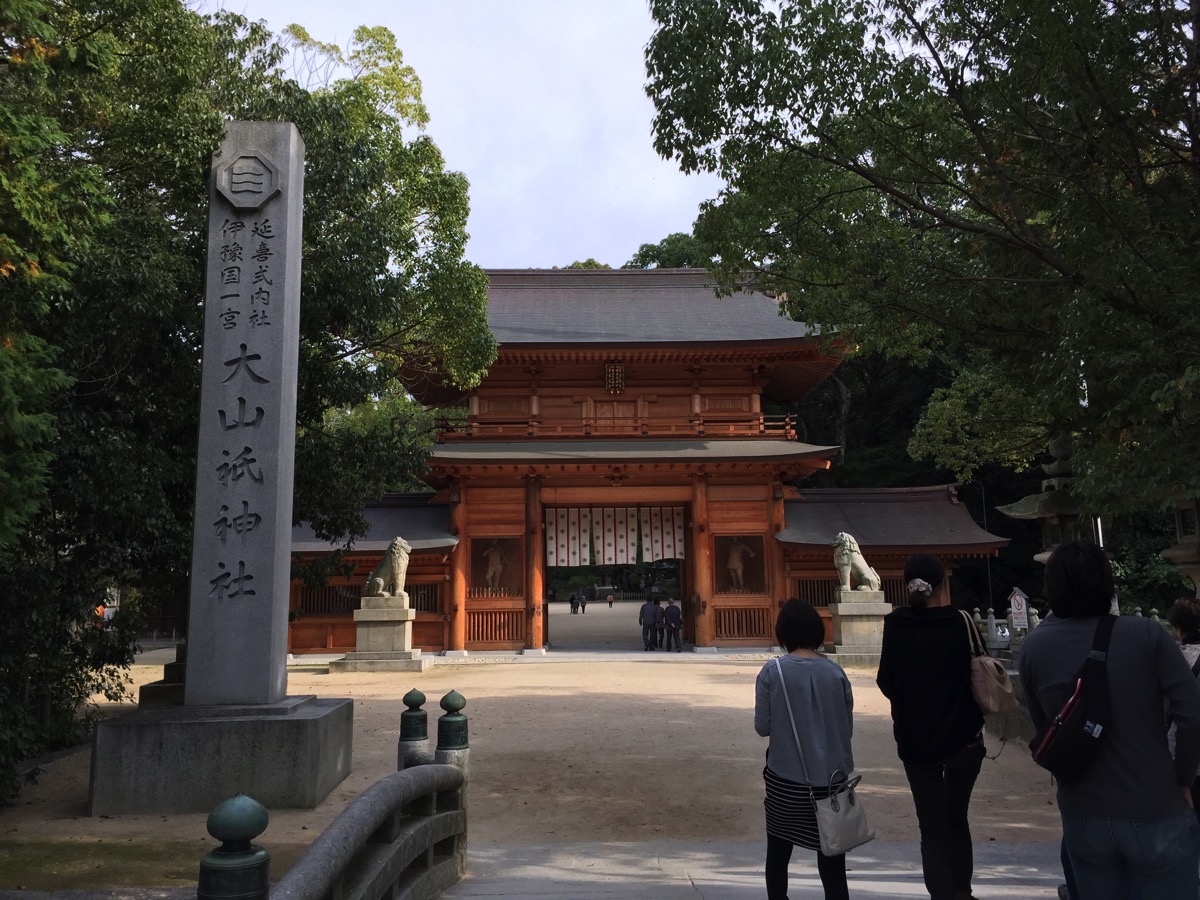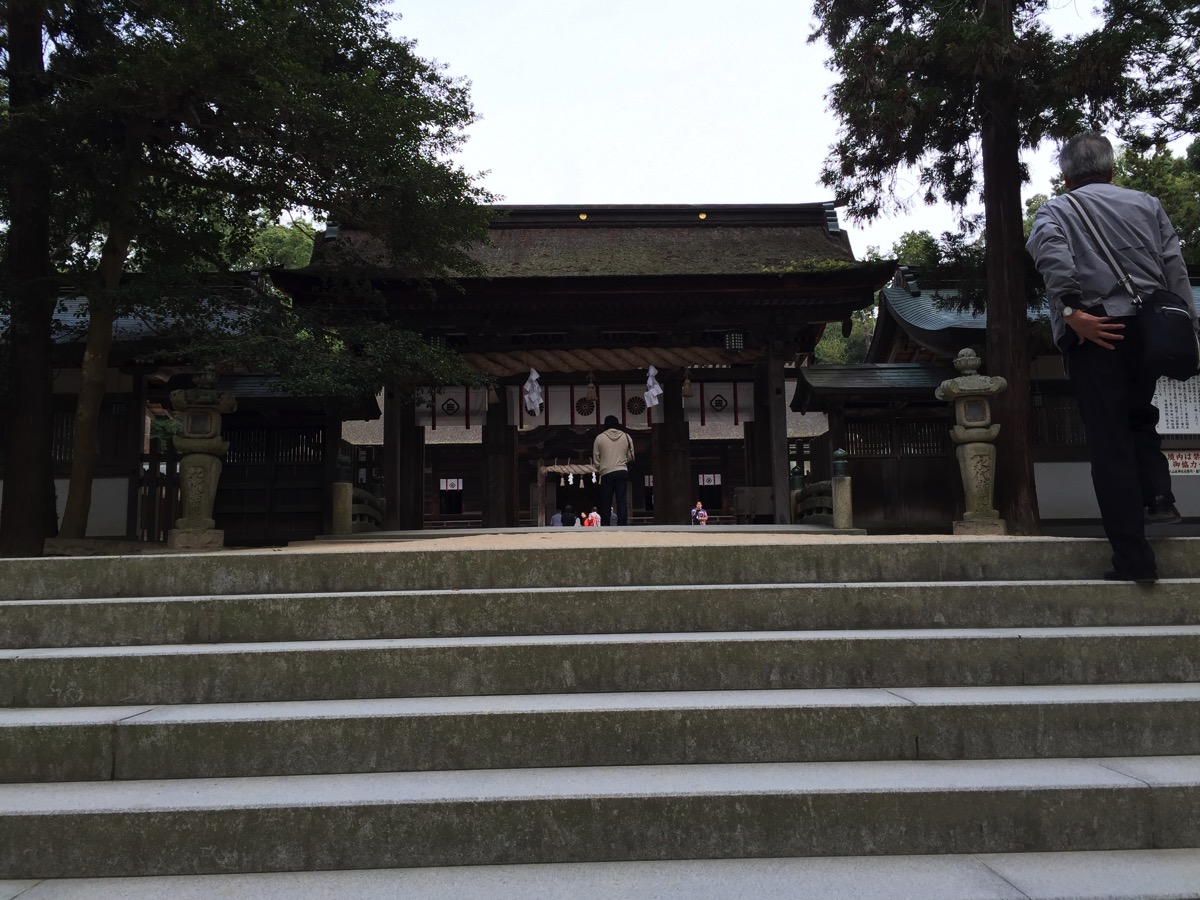 These trees are supposed to be thousands of years old.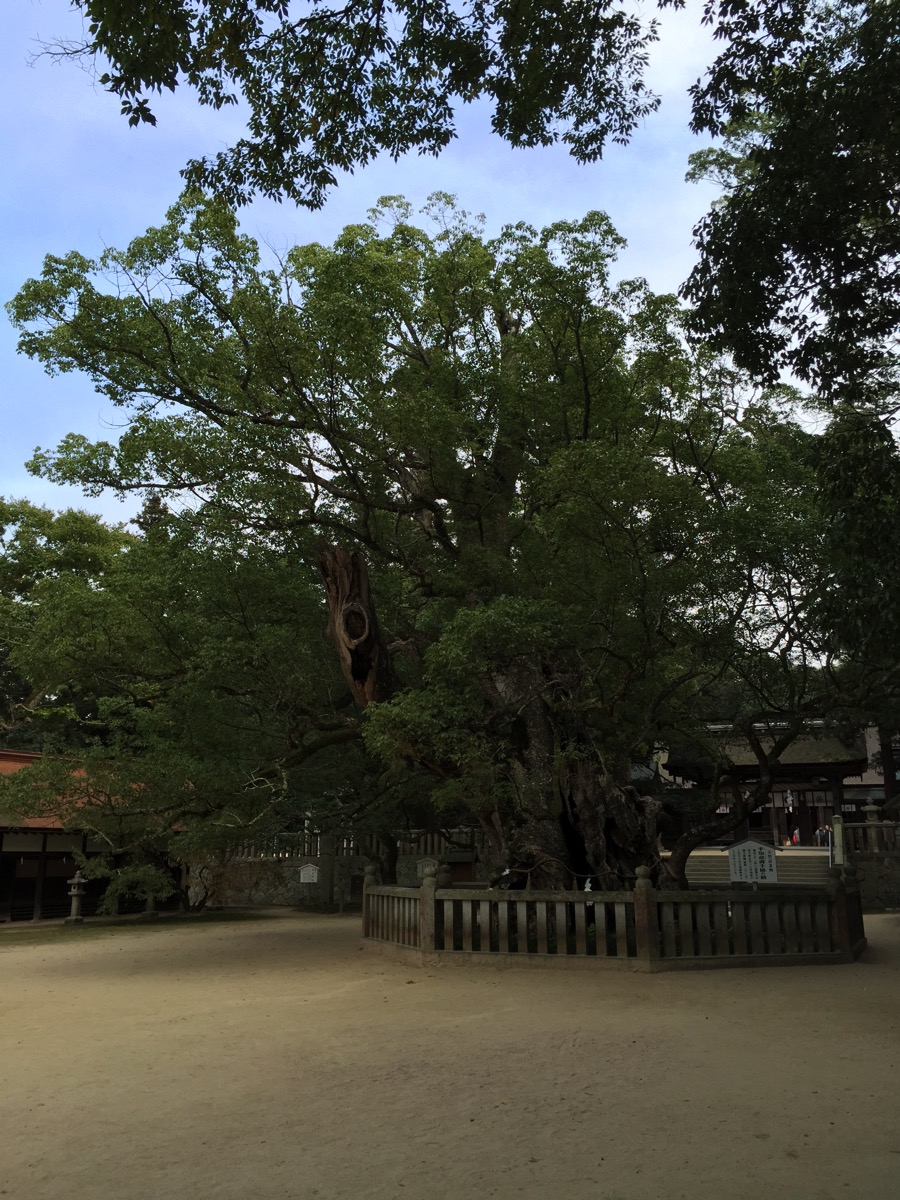 Breakfast at a coffee shop in Imabari, before we went off to look at towels and drive back to Okayama. We went to Imabari to see the towels. The Moomin exhibit in the towel museum was pretty neat, but going all that way for towels is kind of silly. The ultimate purpose, though, was the trip and that was fun.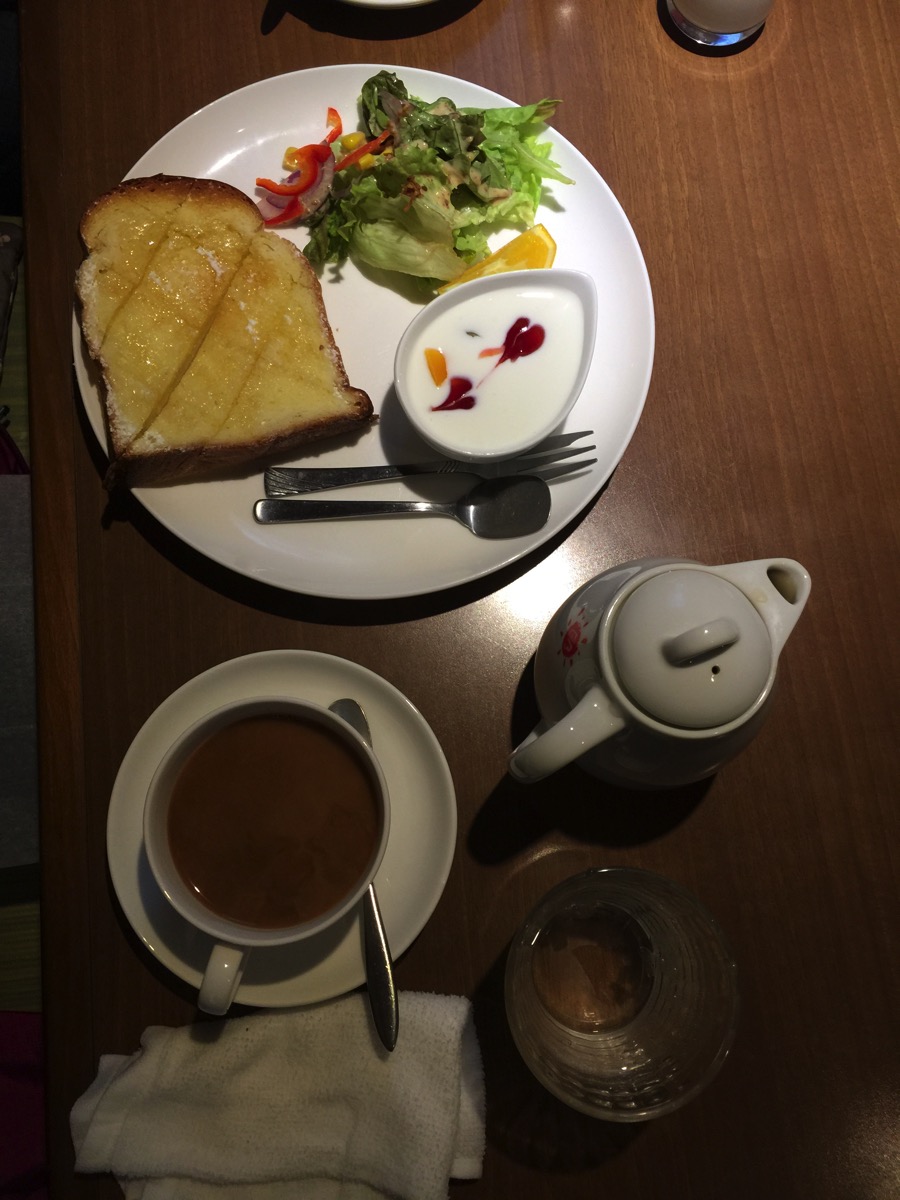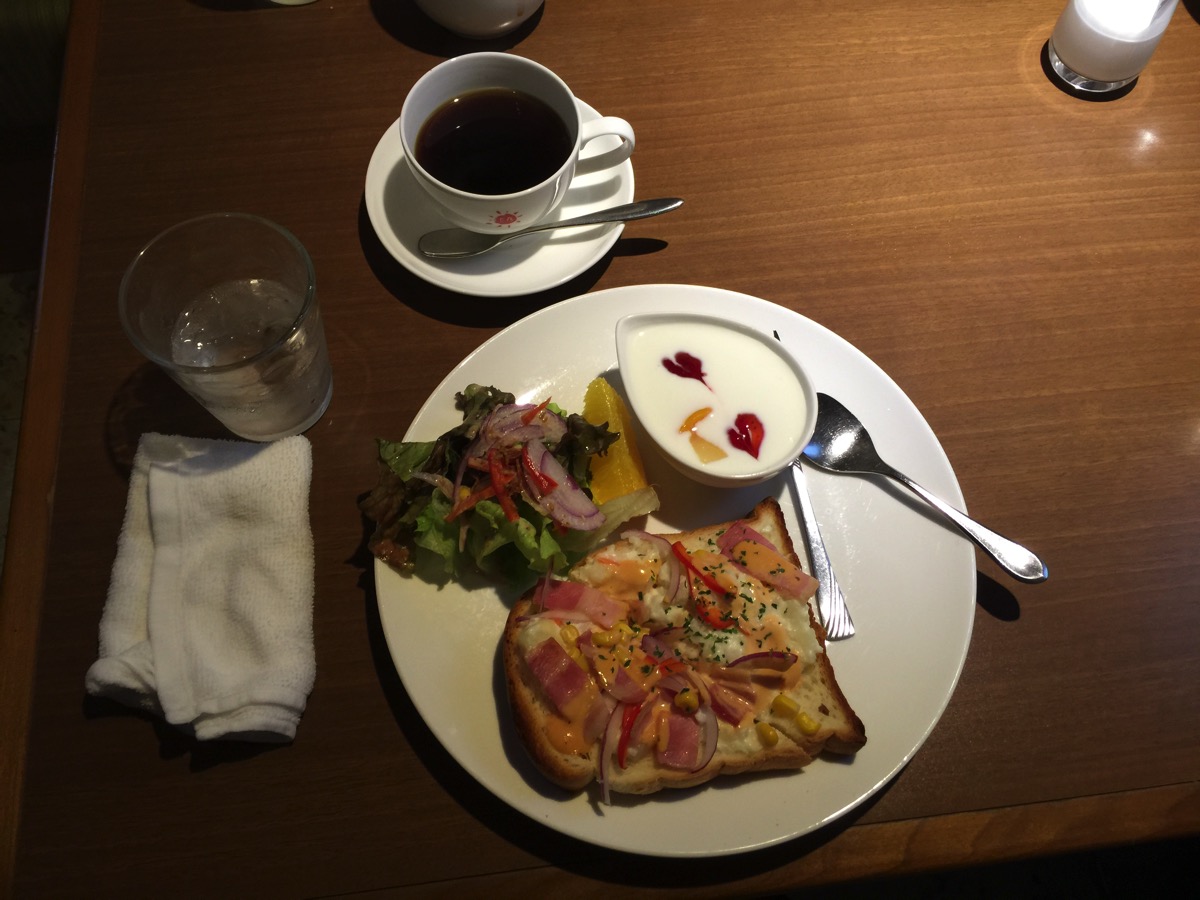 On the way back to Okayama we stopped at a highway rest area and the food was pretty darn good. That's the thing about Japan, the food is good almost everywhere you go (if you like Japanese food).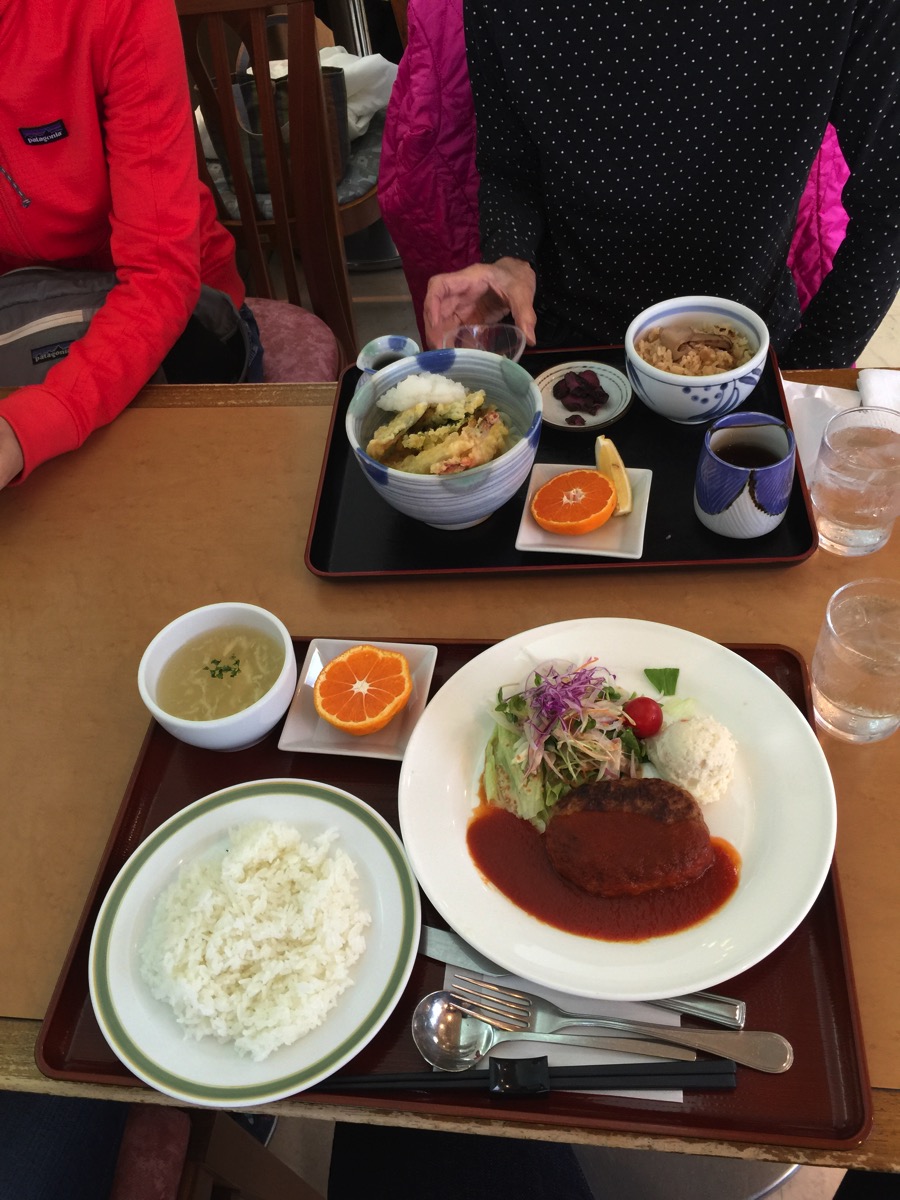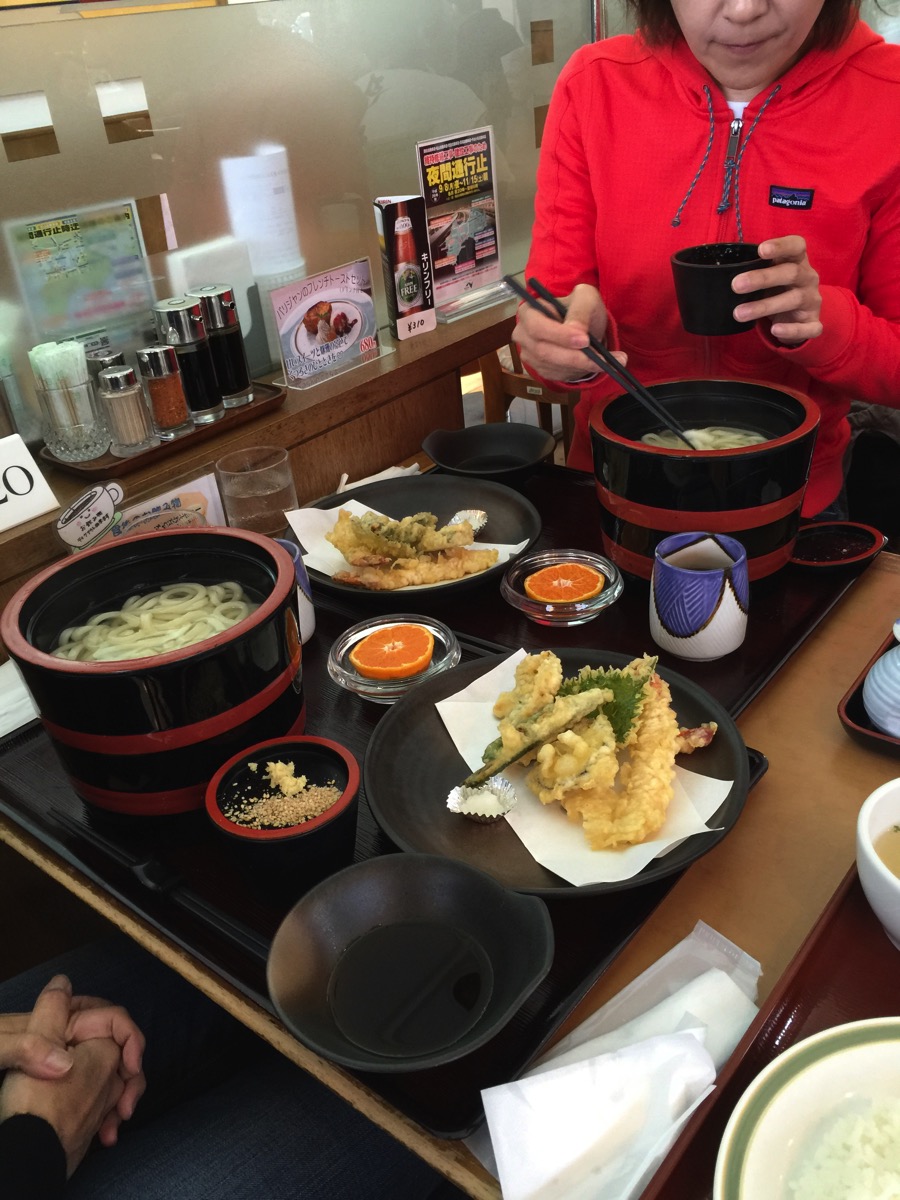 After that we also stopped in Kurashiki, where my sister and brother-in-law worked at the satellite campus of Mount Hood Community College (where they met). The town of Kurashiki is drying up like Tokuyama, but it also has a high-end denim jeans industry and we went to about a dozen small jeans stores. I bought two pairs of Japanese selvedge jeans (like they mentioned on the show blackish) and I haven't even worn the pair from Momotaro. Momotaro also had a pair of silk/denim jeans but were out of my size. Those felt so good that I feel like making the three-hour trip from Osaka just to see if I can buy a pair the next time I go to Japan.
After an overnight in Okayama, it was off to Tokyo. I tried to do too much on the day of our arrival and my sister ended up with a minor migraine. We left our bags at Tokyo station and then headed out to Shibamata. I wanted my mom to have more time to see Katsushika and the Tora-san museum but we had to rush through while my sister tried to take a nap on an aluminum bench. I put them on a train for Shinjuku so they could go straight for the hotel while I went to Tokyo station pick up the SEVEN bags. I looked like a madman going through the station and had to put the train ticket in my teeth. I got a taxi and arrived back at the hotel and, fortunately, my sister was feeling much better.
I was off to have dinner with my old co-worker Suzuki-san. Try to see him on my way through Tokyo. We had kushikatsu and then wandered around Nakano station for a while.
Here's a picture from our favorite breakfast spot – Paul Bassett coffee in Shinjuku.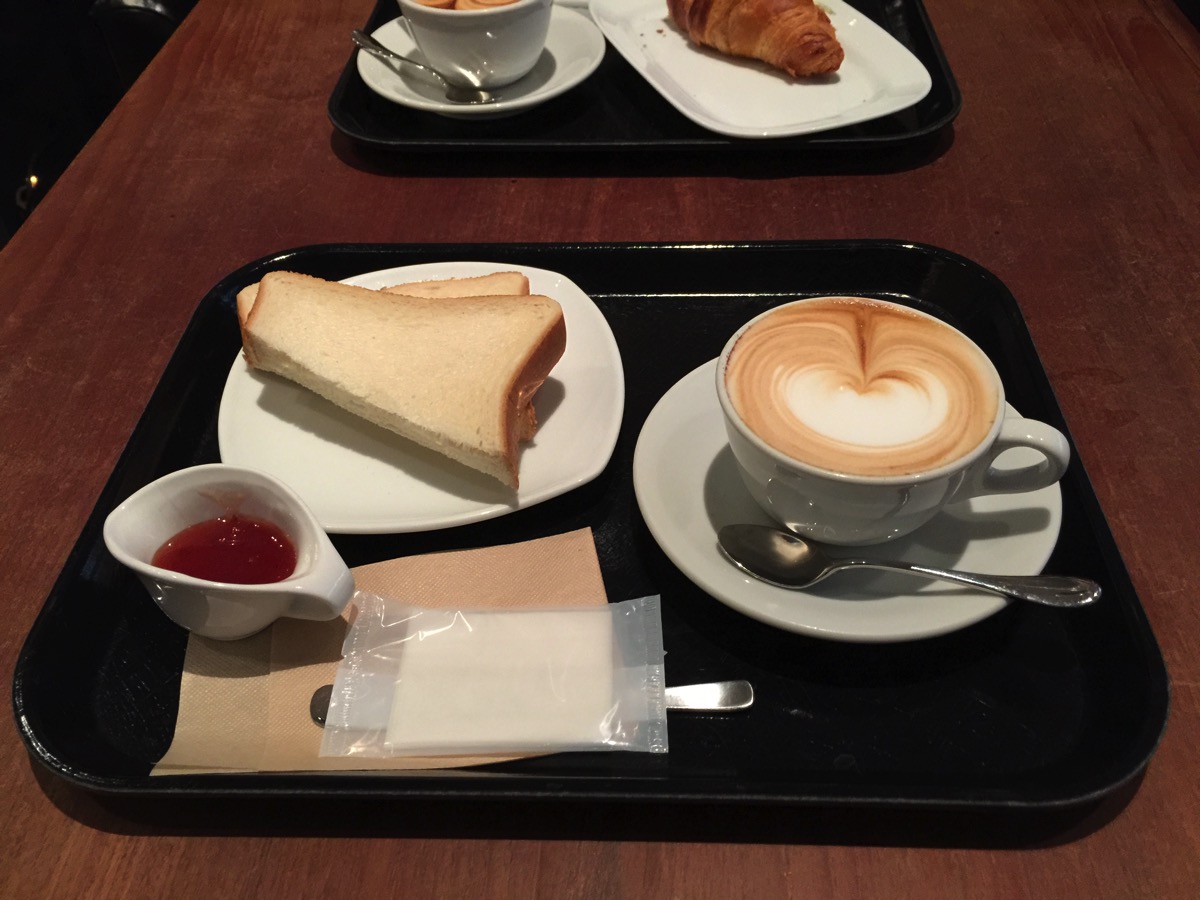 The coffee is excellent, but I wish they'd give me three or four times the amount.
Here's our lunch from a fancy restaurant in the Daikanyama area.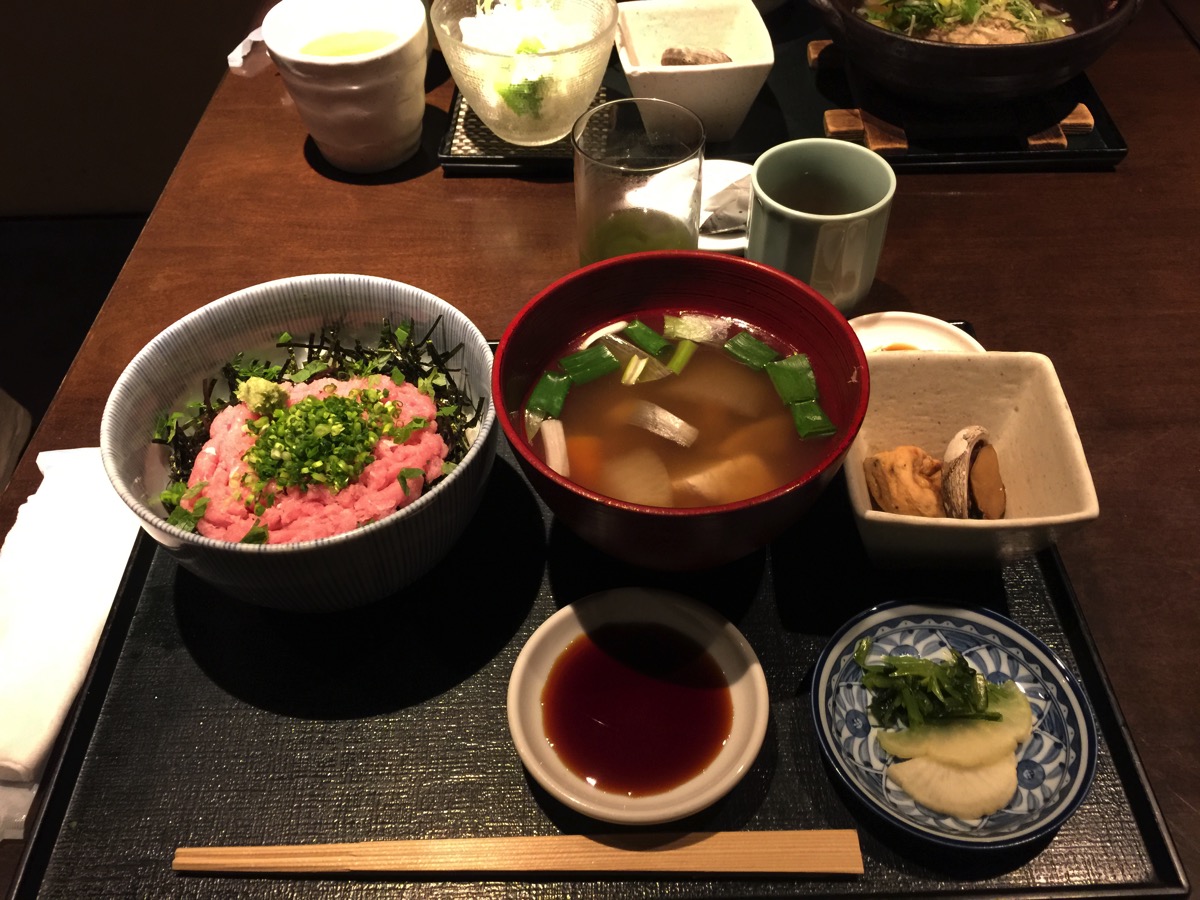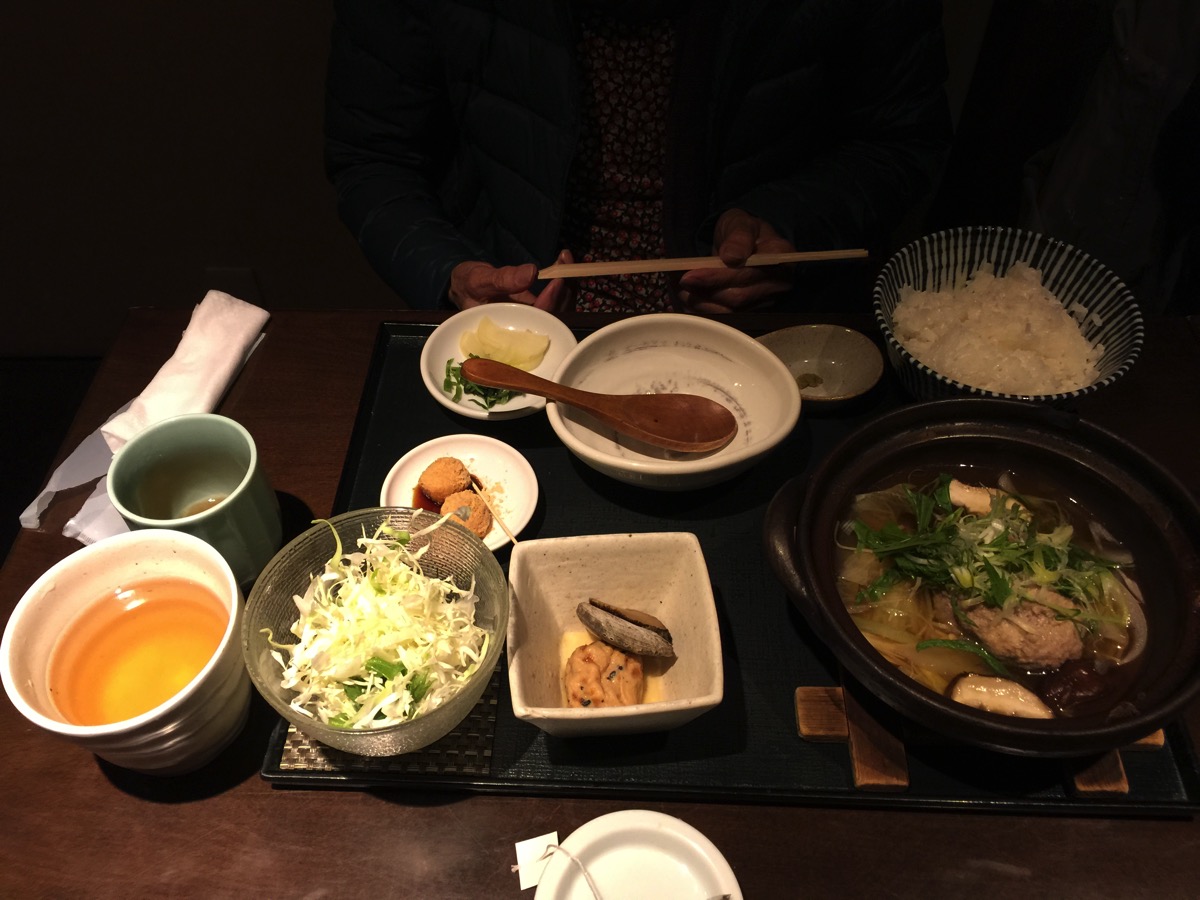 I took a trip by myself to somewhere I wish I could be – doing a sport I had to give up.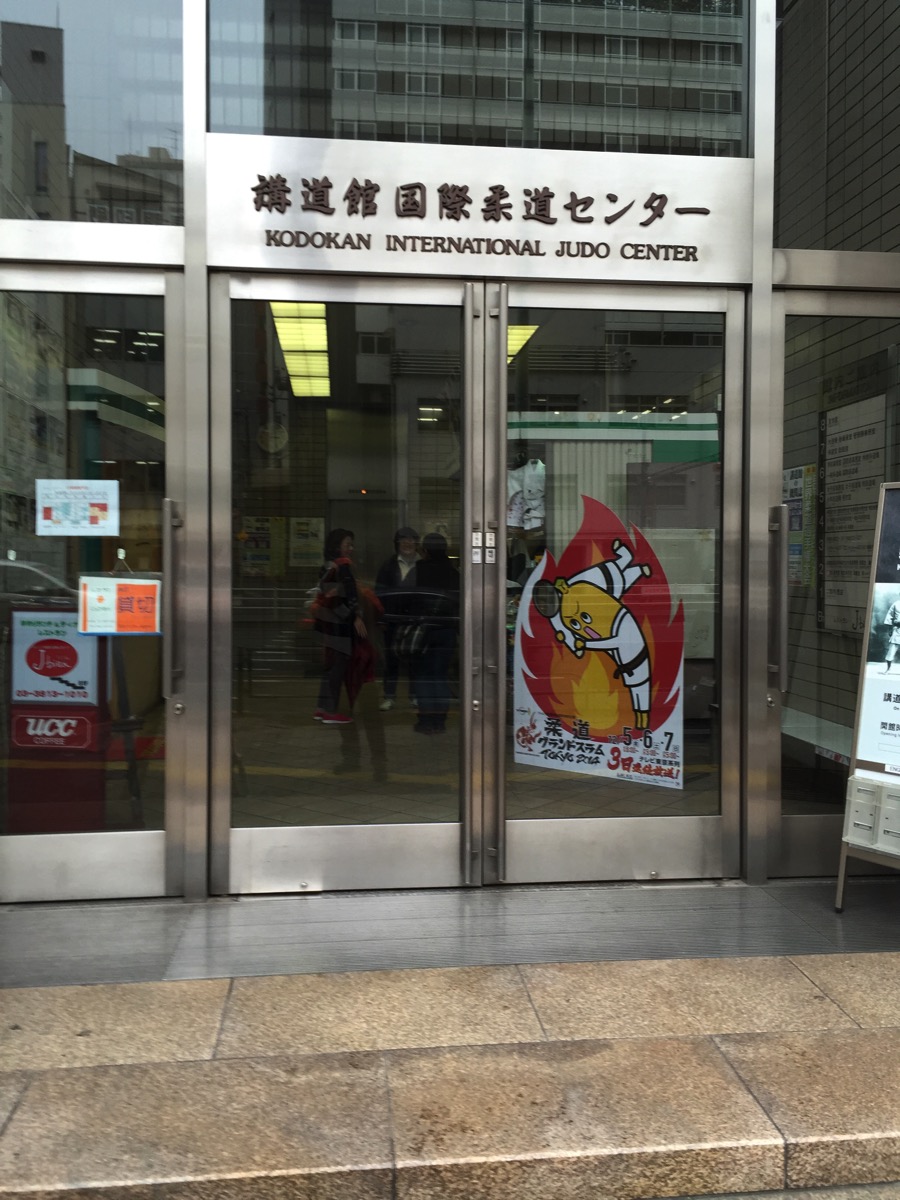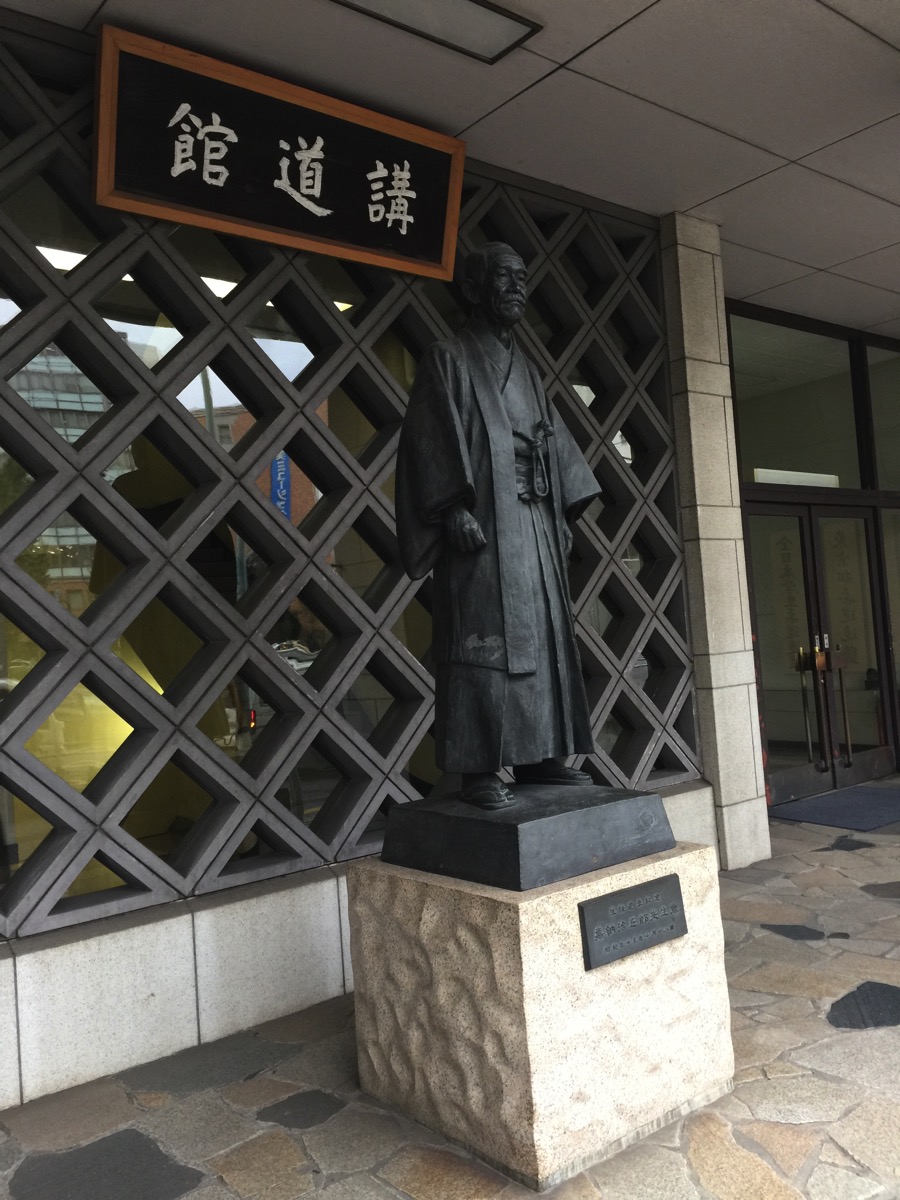 We also saw our artist friend Chicoh Hayasaki and her mom at a fancy Chinese restaurant for dinner in a Shinjuku hotel. I have to include all the pictures because this is was a quite an elaborate Chinese dinner.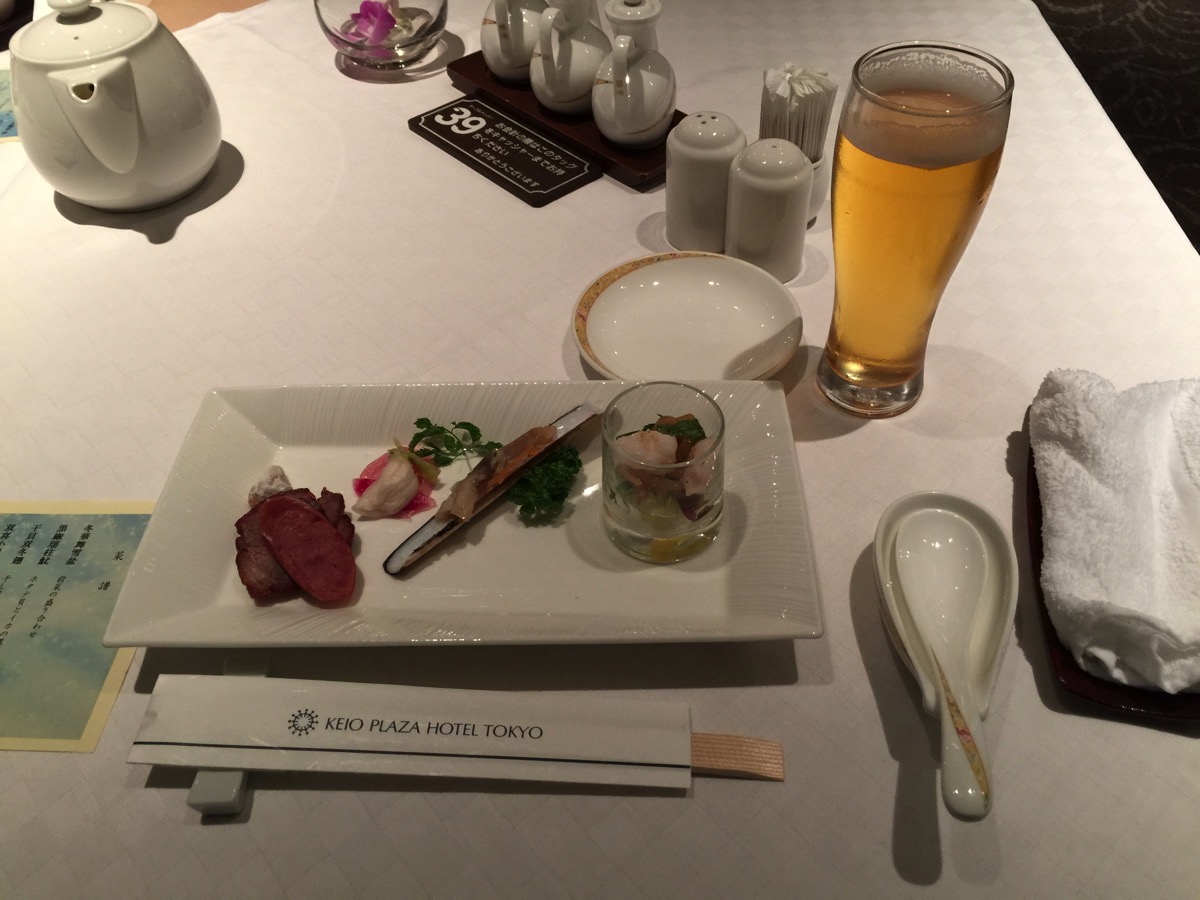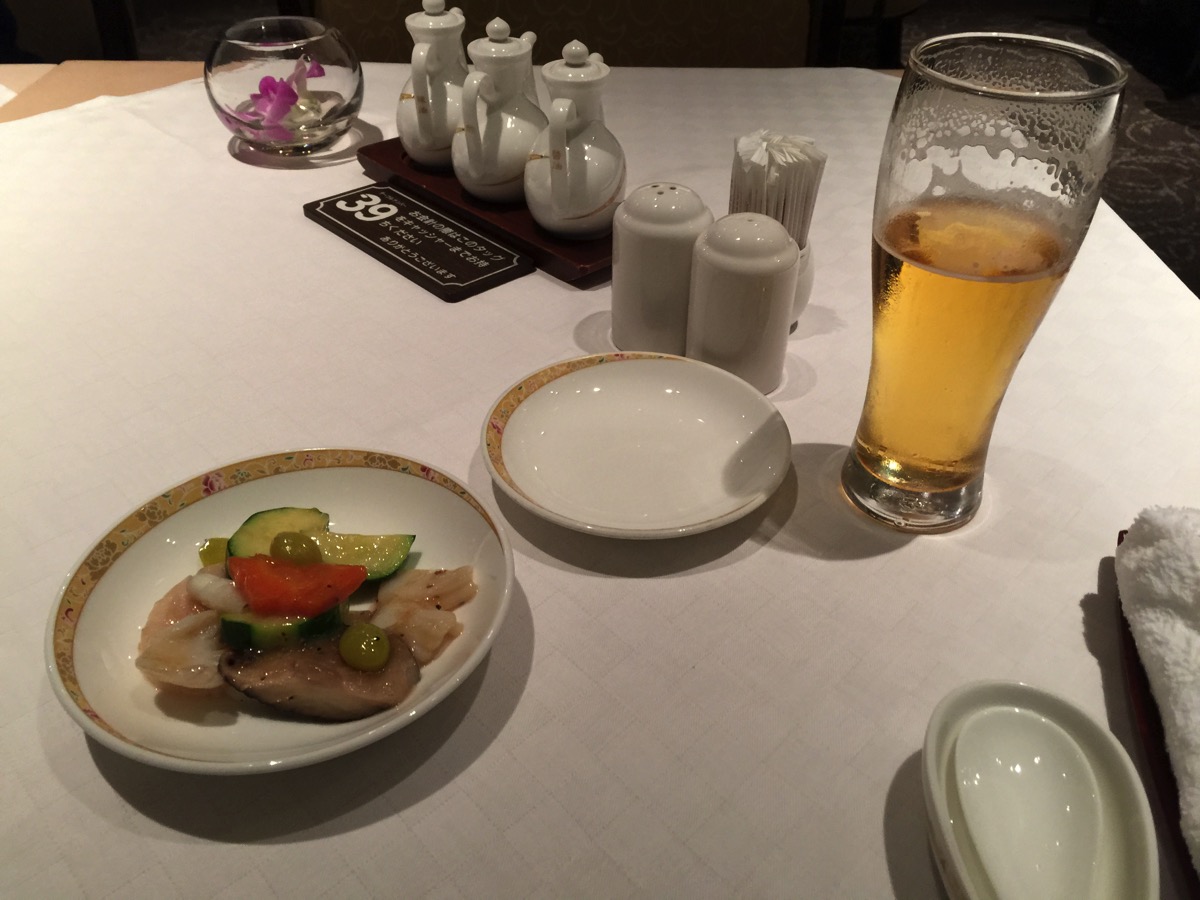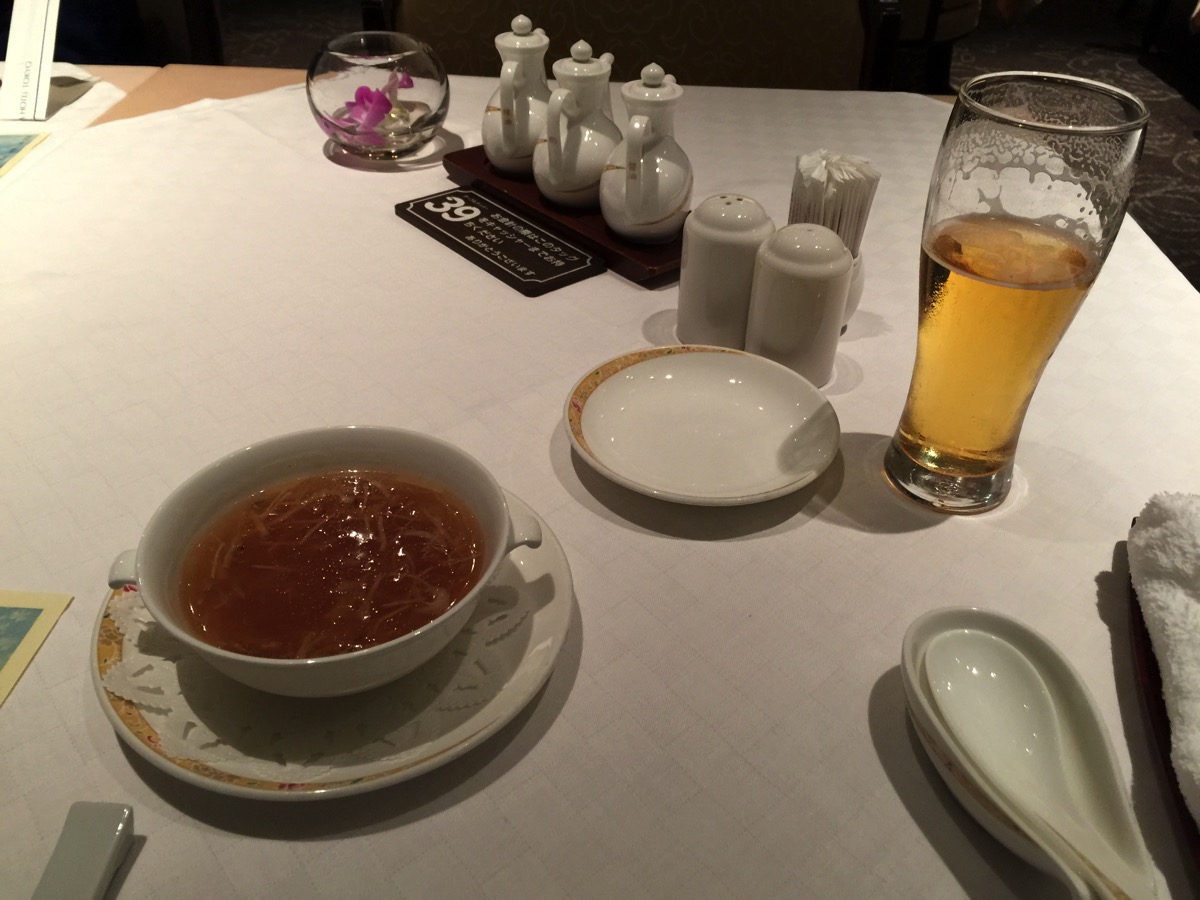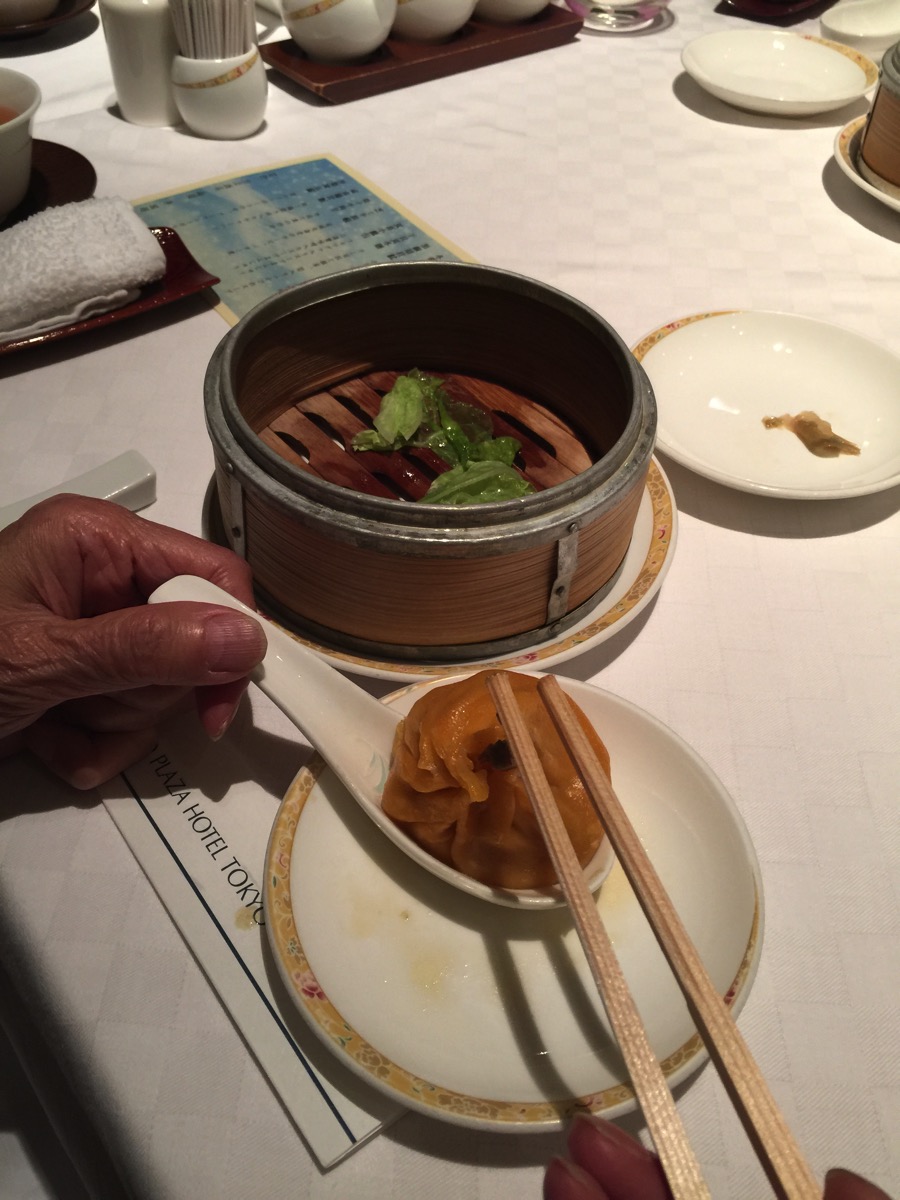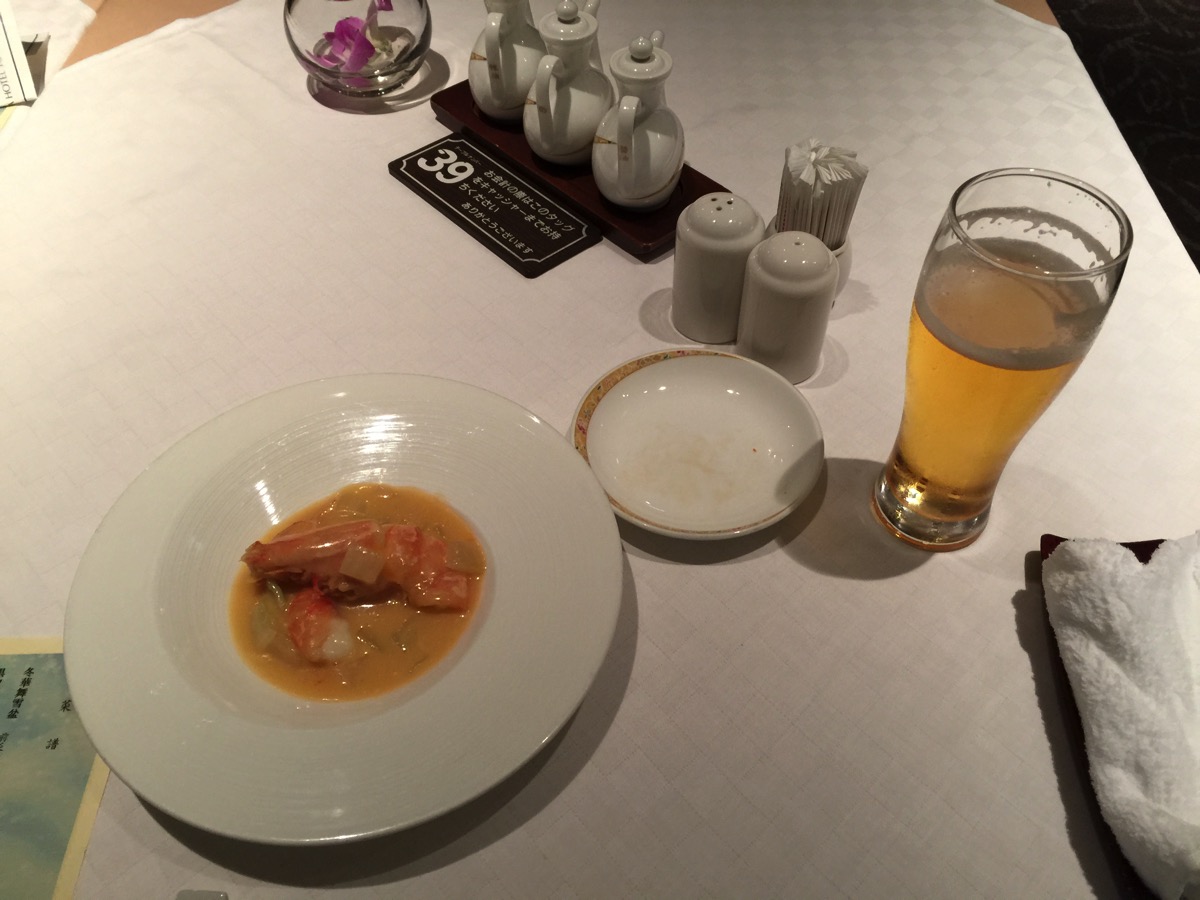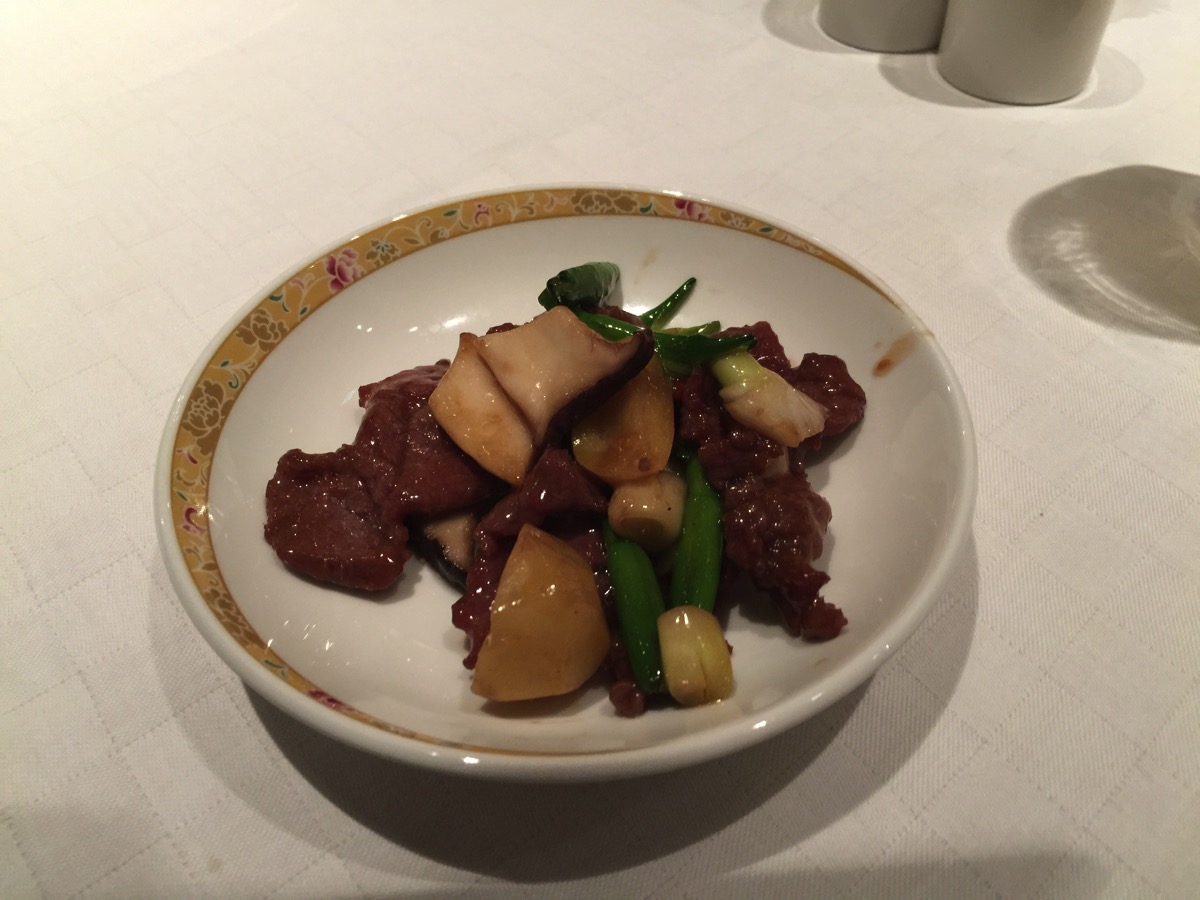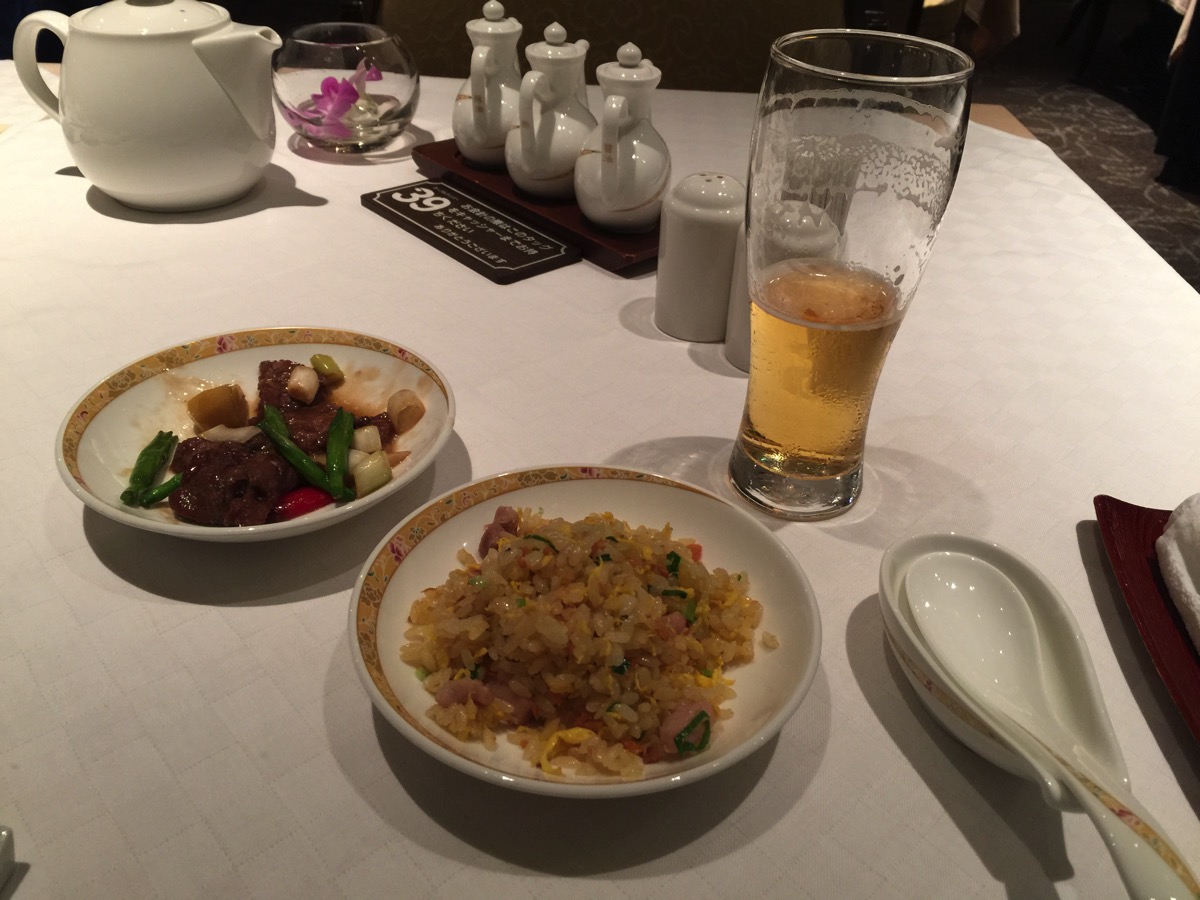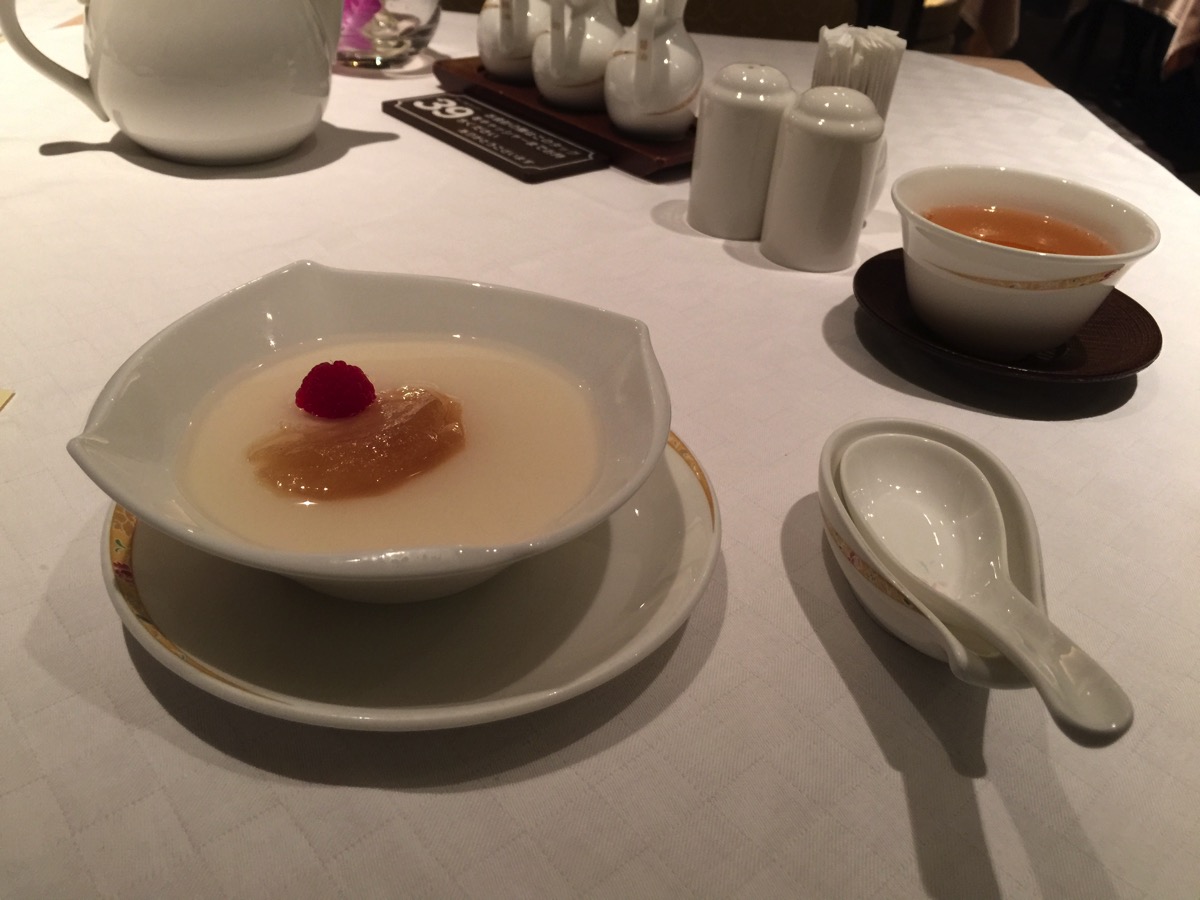 One last full day starting with Paul Bassett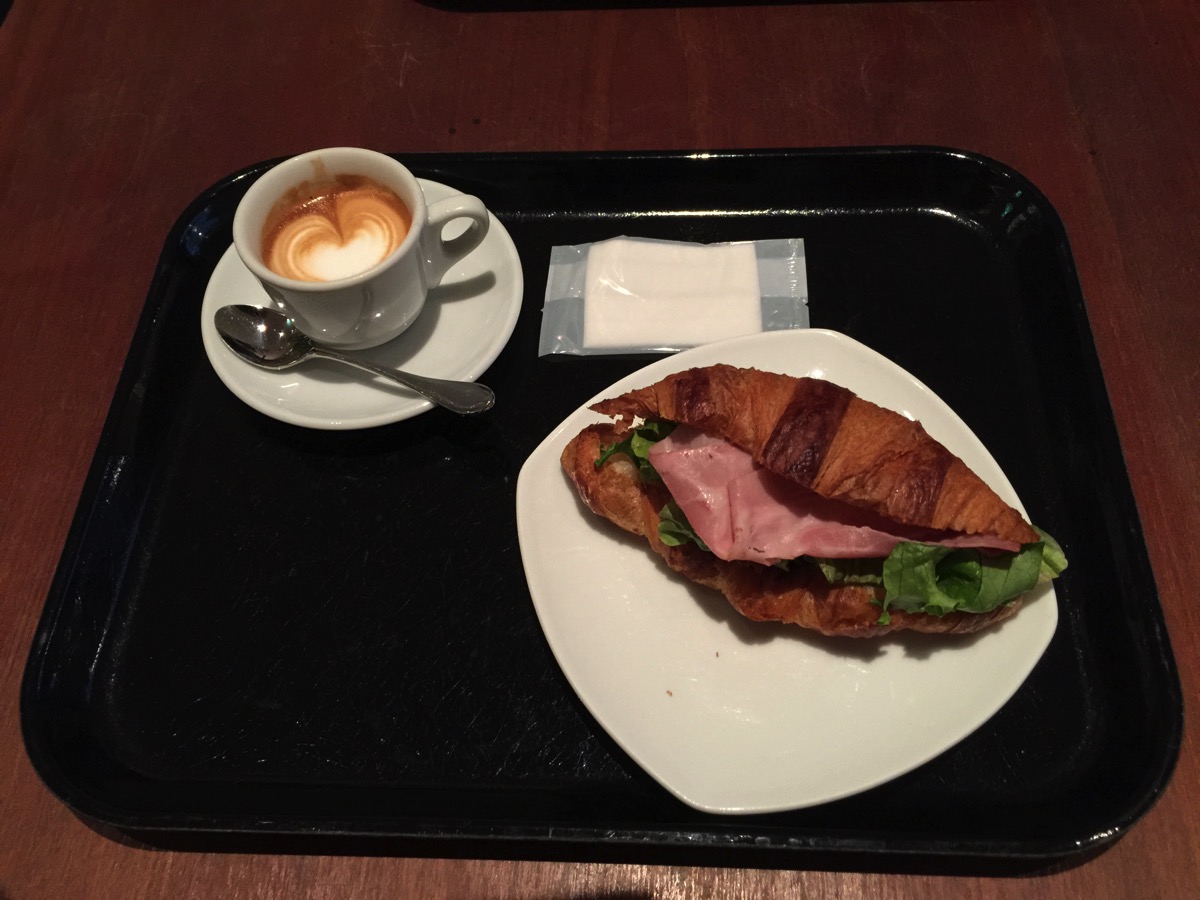 Lunch in the department store.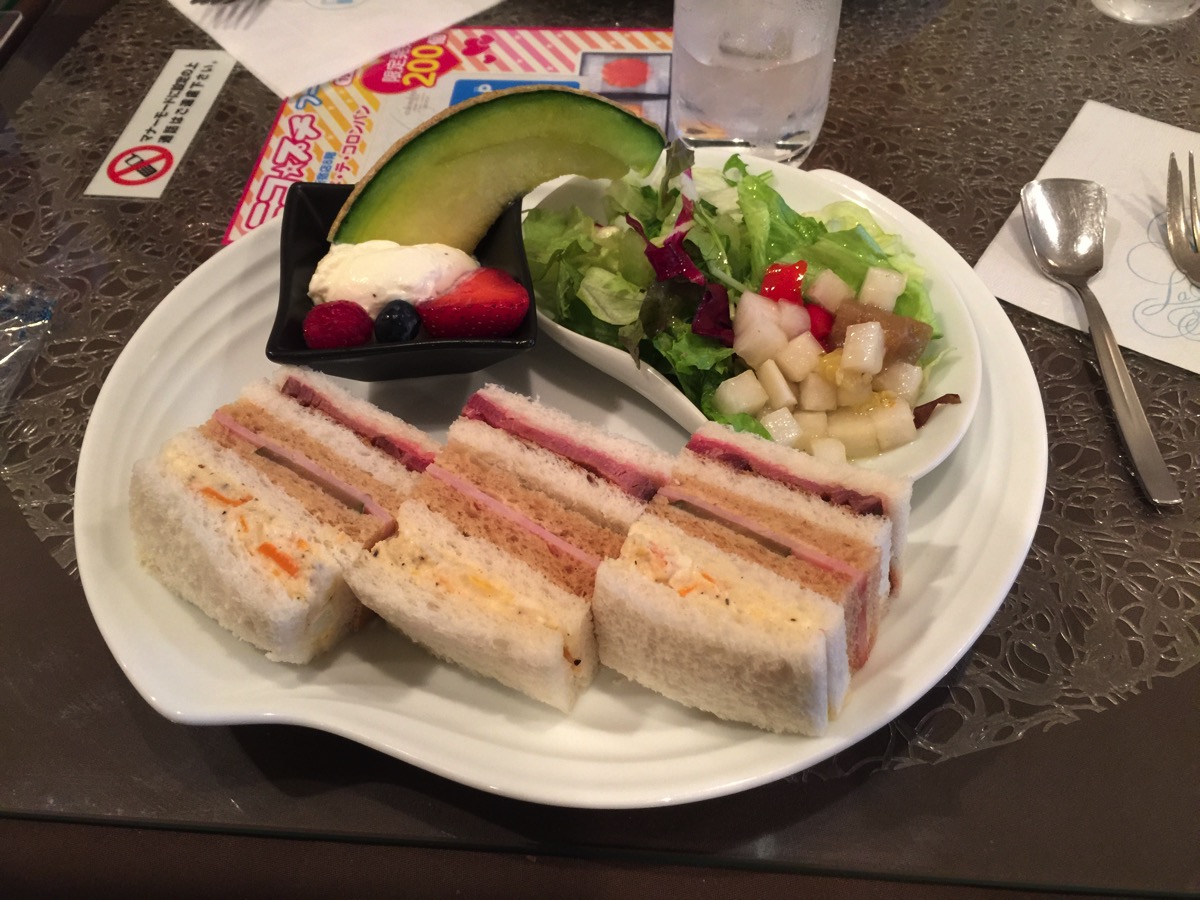 Dinner in another restaurant in a department store.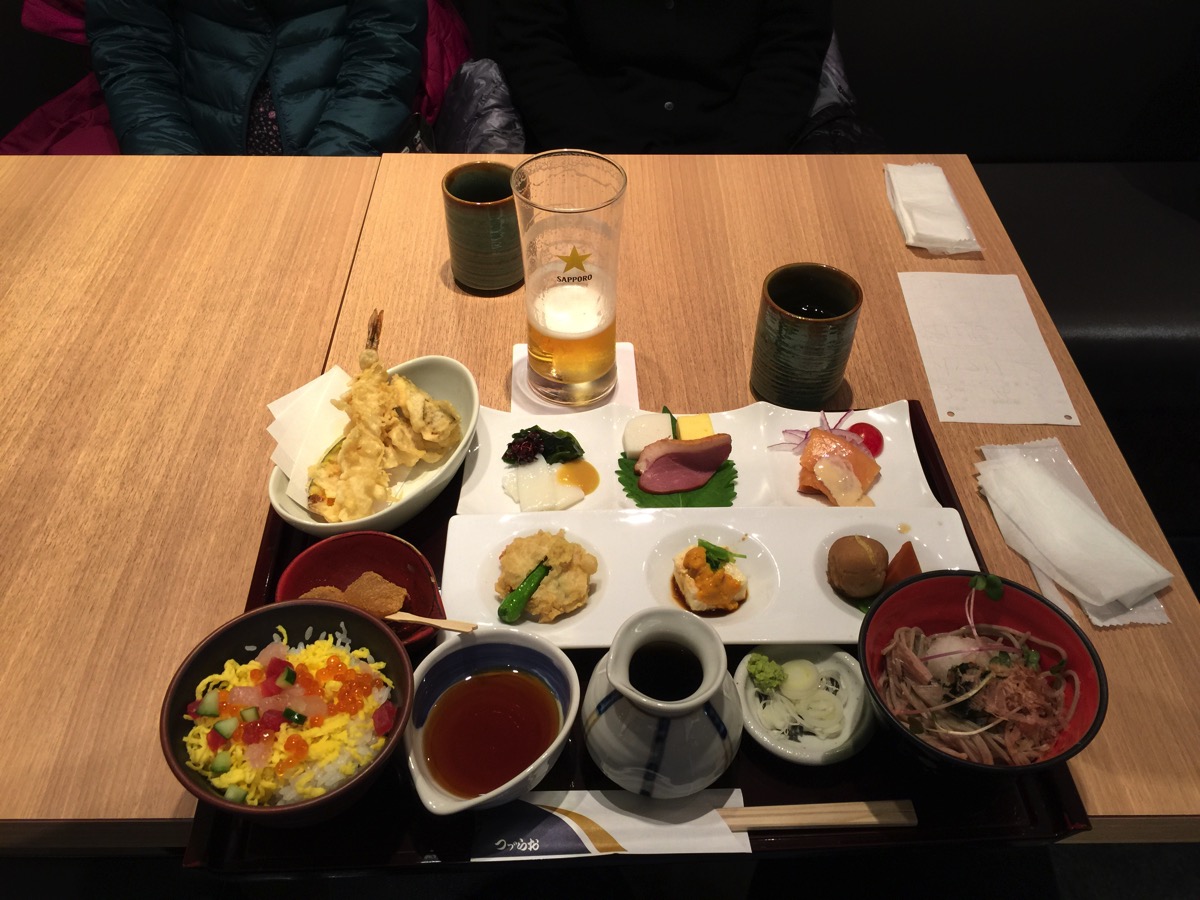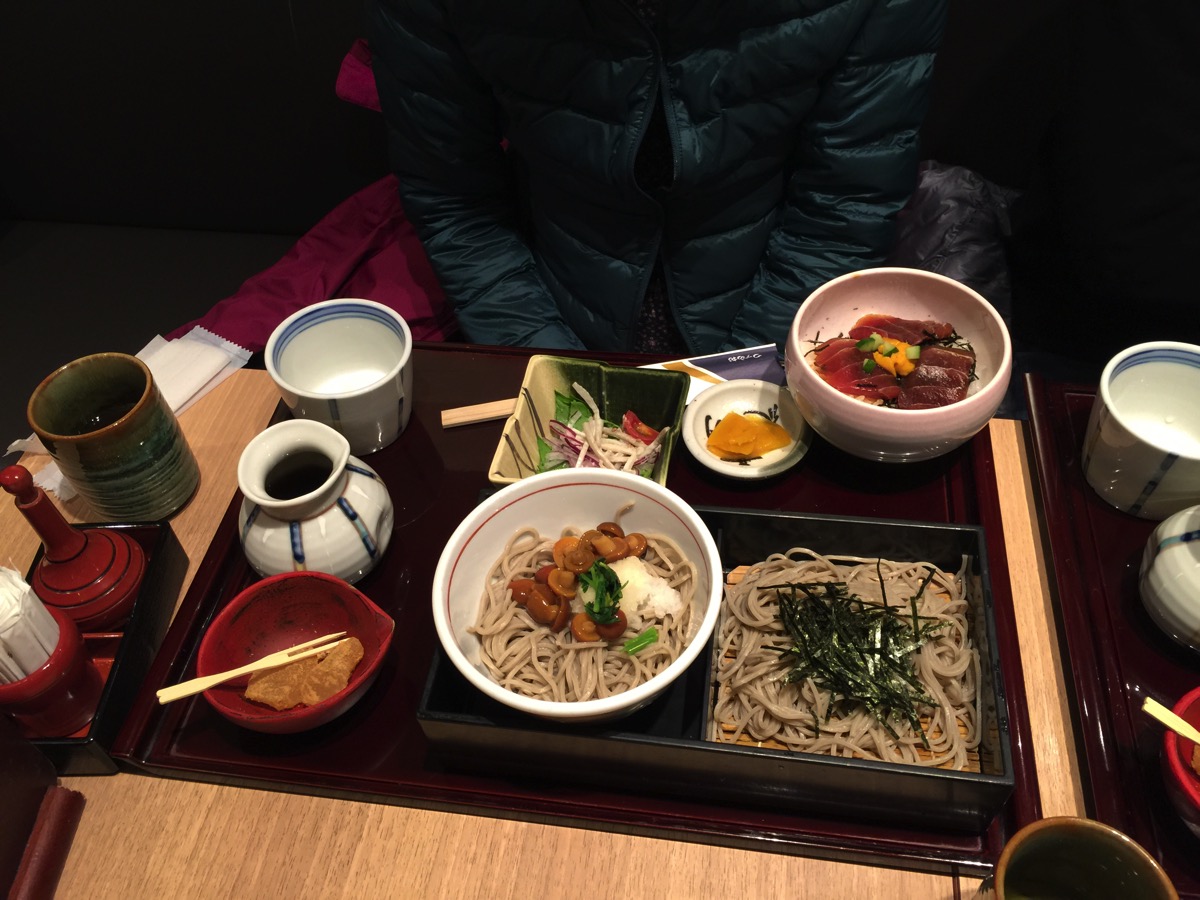 Well, the last day on our way out we went to Tully's and I think we should've gone to Paul Bassett yet again.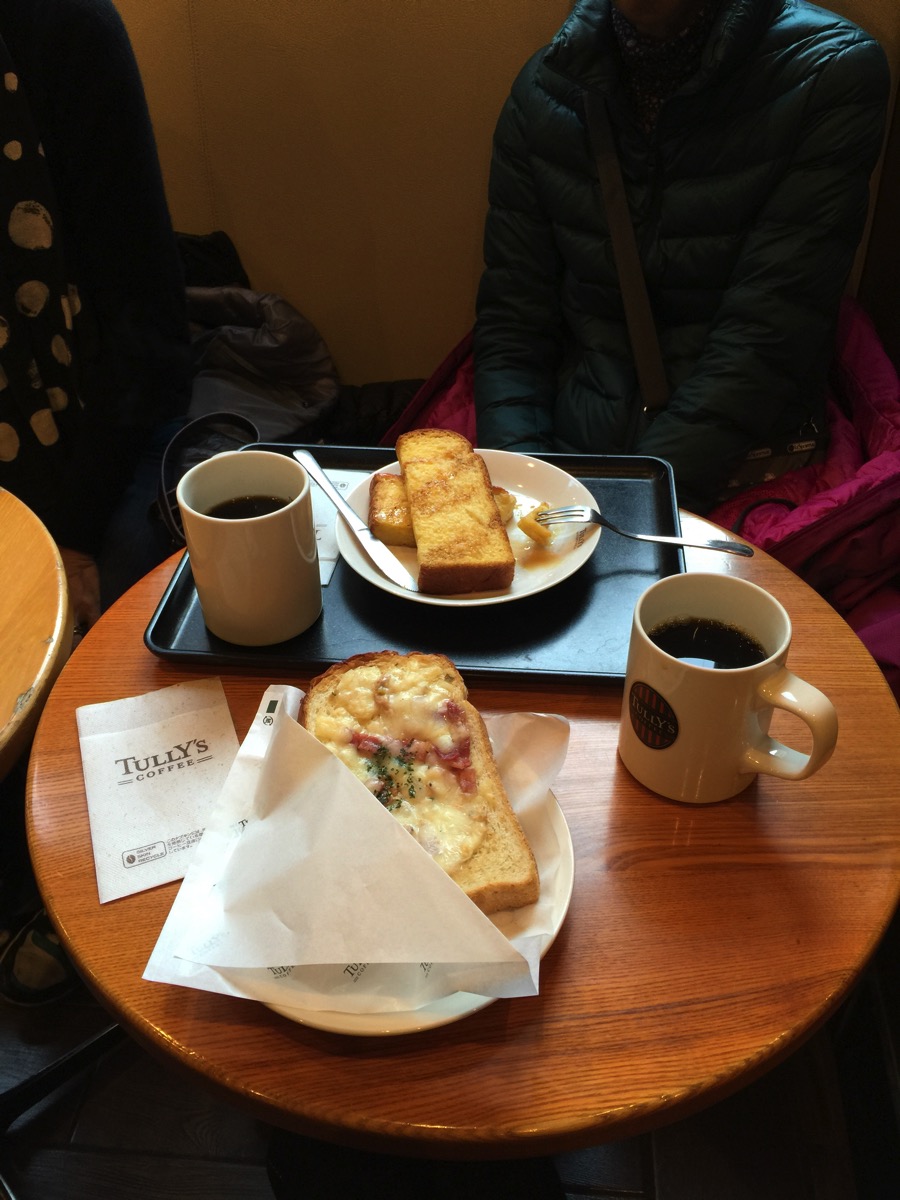 A last candy on the train.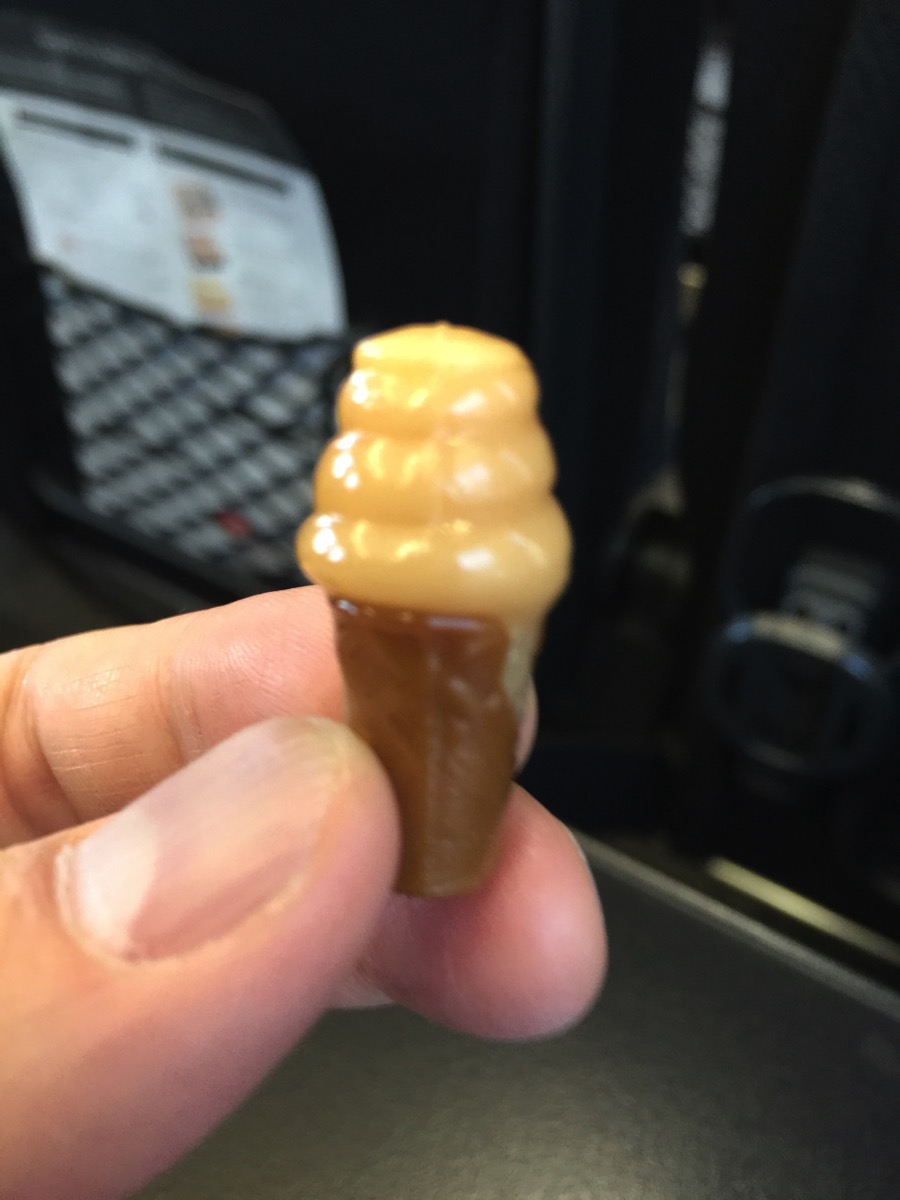 Our traditional lunch at Fujiya in Narita airport.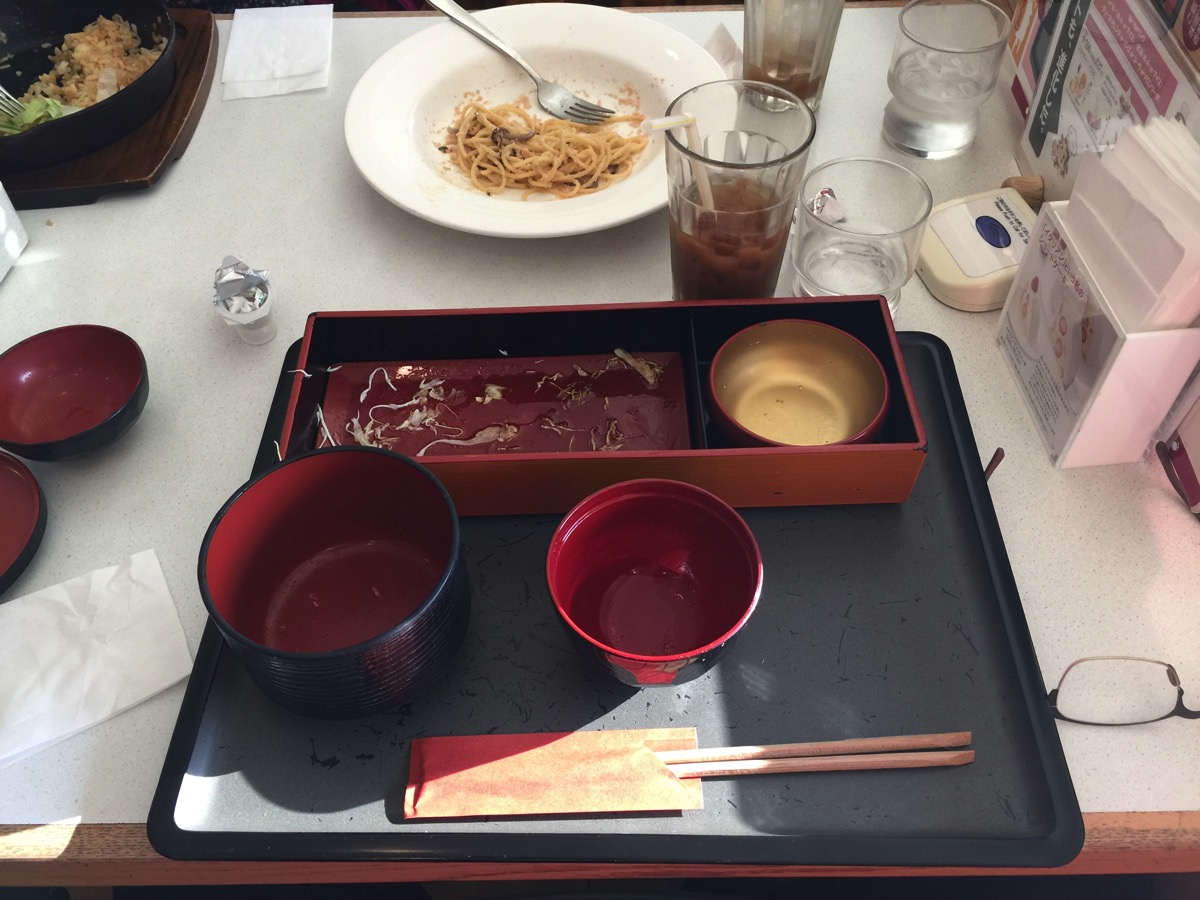 I must've been pre-occupied since this is all I left. You can't see the teeth marks in the bowl.
And finally, back in Portland!