I went to the dentist today and I couldn't really describe what he was going to do. I was told he was adding something and I had no real idea until I got there.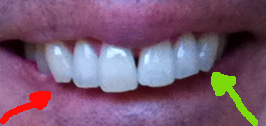 I guess my teeth are wearing because of some reason-or-another (most likely grinding my teeth while I'm asleep like my mom and my sister) and my canines were some weird shape. The red arrow points at a non-modified tooth. The green arrow points at a nice, pointy tooth that the dentist fixed.
Honestly, I'm not sure what to think of it. It's easier to think about fixing the driveway.