Well, not so much hiding. Saturday my friend Greg said he'd come by and kill some time while his daughter was attending a birthday party. But he blew me off. And my friend John wanted help wiring under the whatever-you-call-the-dashboard on Sunday, but he blew me off. And then today…
OK, so that really isn't the complete story. Saturday night I went to a housewarming party at a friend's house. I hadn't seen him for a few years an now he's all all growed up and married with a big house in the suburbs. We were out of there by 10PM, but it was fun nonetheless. I even forgot my jacket there and had to go pick it up the next day. I even had to go back the next day to get my jacket and cell phone that I forgot.
I ended up helping John with his boat on Monday, and he took me out for a ride around Hayden Island. Fortunately, all the wiring I did underneath the whatever-the-dashboard-is-called-on-a-boat worked out and we made it back intact.
I also got a new old computer.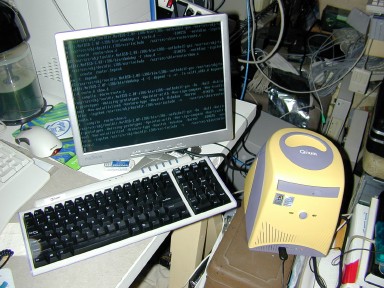 That means I spent a LOT of time trying to get NetBSD running. I even bought a new monitor. All this so I can hook it up to my ham radio.